No Churn Fudge Brownie Ice Cream
Whether you're celebrating St. Patrick's Day, a birthday or any day, rich No Churn Fudge Brownie Ice Cream is sure to become a new favorite! Studded with homemade Guinness brownie chunks, this easy ice cream that doesn't require an ice cream maker AND is perfect for sharing. Makes 12 servings.
Love St. Patrick's Day treats? Don't miss Chocolate Guinness Cupcakes with Baileys Frosting, Chocolate Chip Irish Cream Cake and Mint Chip Guinness Beer Float!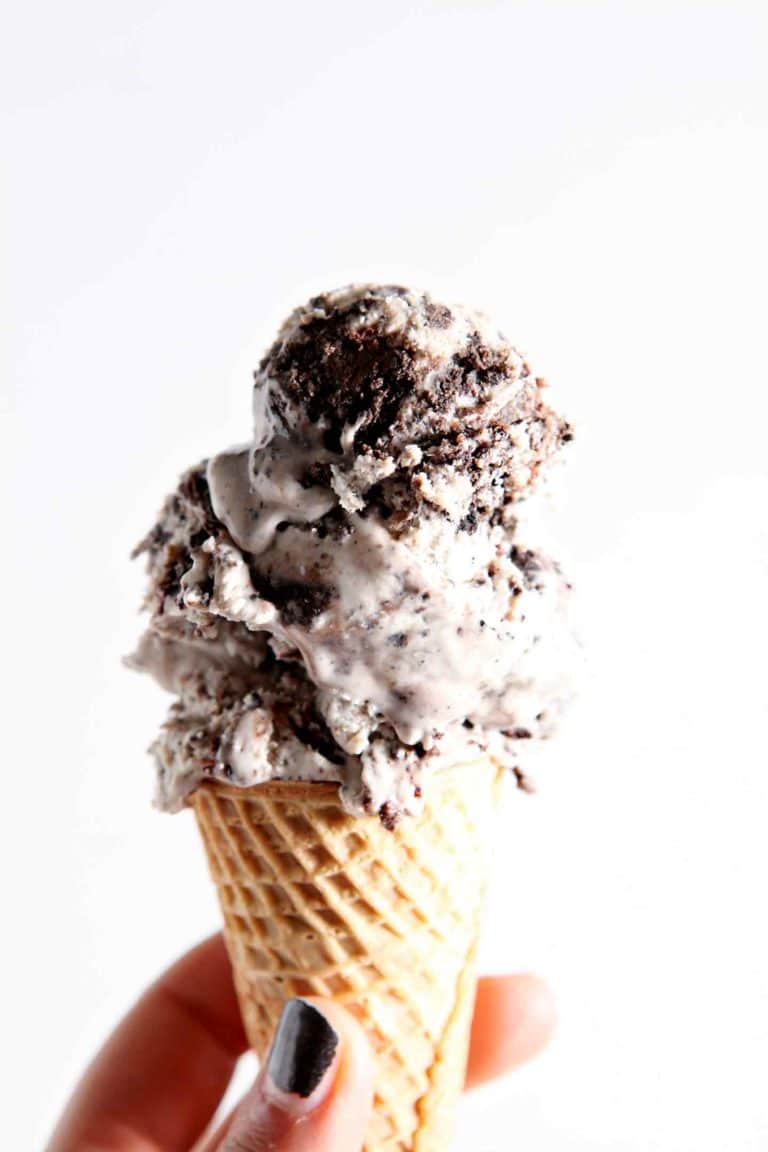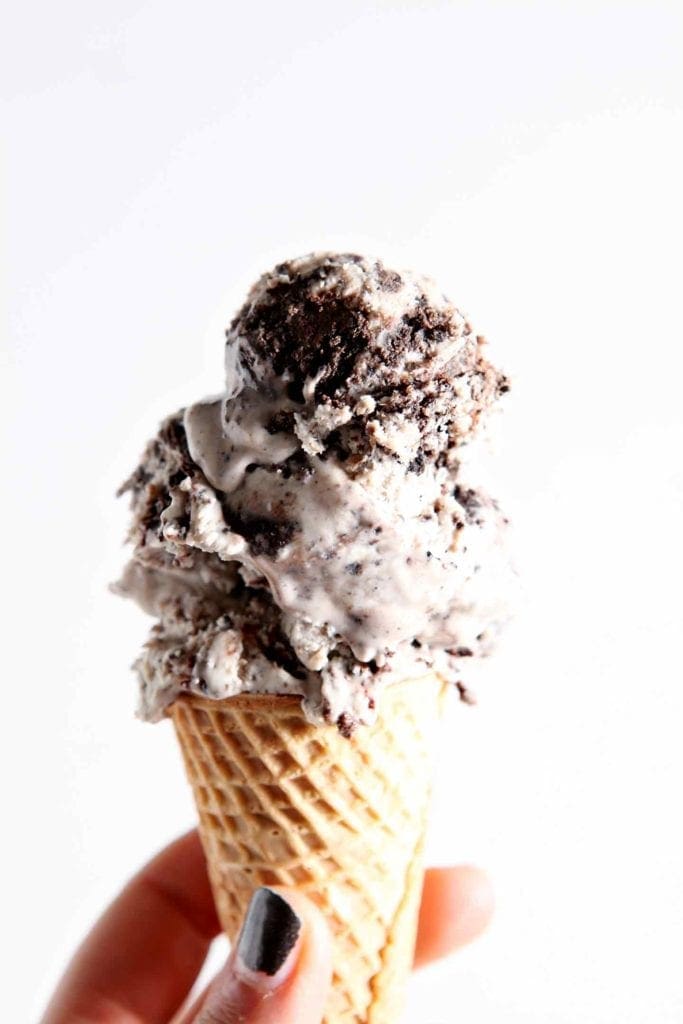 This No Churn Guinness Brownie Ice Cream were originally published on March 14, 2017. The text of this blog post was updated in February 2020.
HAPPY BIRTHDAY, LADY A! We celebrated your birthday this past weekend with family and friends, and you, as always, are a joy. I am so lucky to be your mama.
So today, in celebration of YOU, I made us something sweet to enjoy together since the healthy ice cream I made for your first birthday isn't something I can eat.
Unsurprisingly, you chowed down on a cone after I photographed these beauties and LOVED it.
Why I love this no churn ice cream recipe:
Who doesn't love the combination of chocolate and vanilla together in one bite? This No Churn Fudge Brownie Ice Cream recipe tastes a little like my childhood favorite, Cookies and Cream.
I made homemade brownies to go in the batter, but if that's not your style, feel free to use a boxed mix brownie of your choosing or even a store-bought brownie.
Also, I've made this ice cream recipe easy on us, meaning this NO CHURN ICE CREAM doesn't require an ice cream maker.
You. Are. Welcome.
Other celebratory treats to enjoy with friends and family members: Chocolate Chip Cookie Bars | Funfetti Ice Cream Sandwiches | Mini Stacked Ice Cream Birthday Cakes | Funfettini Birthday Cake Martini (for the adults, obvs)
Need sweet treat inspiration? Head on over to my Dessert Recipe Index for more ideas!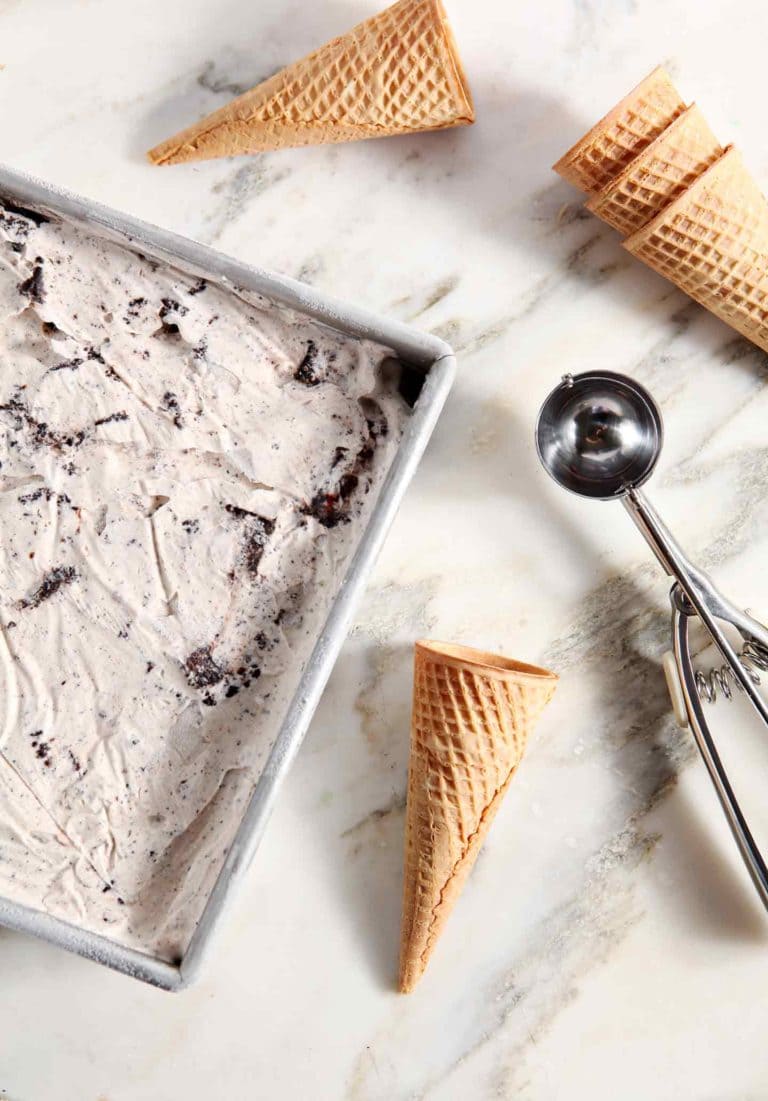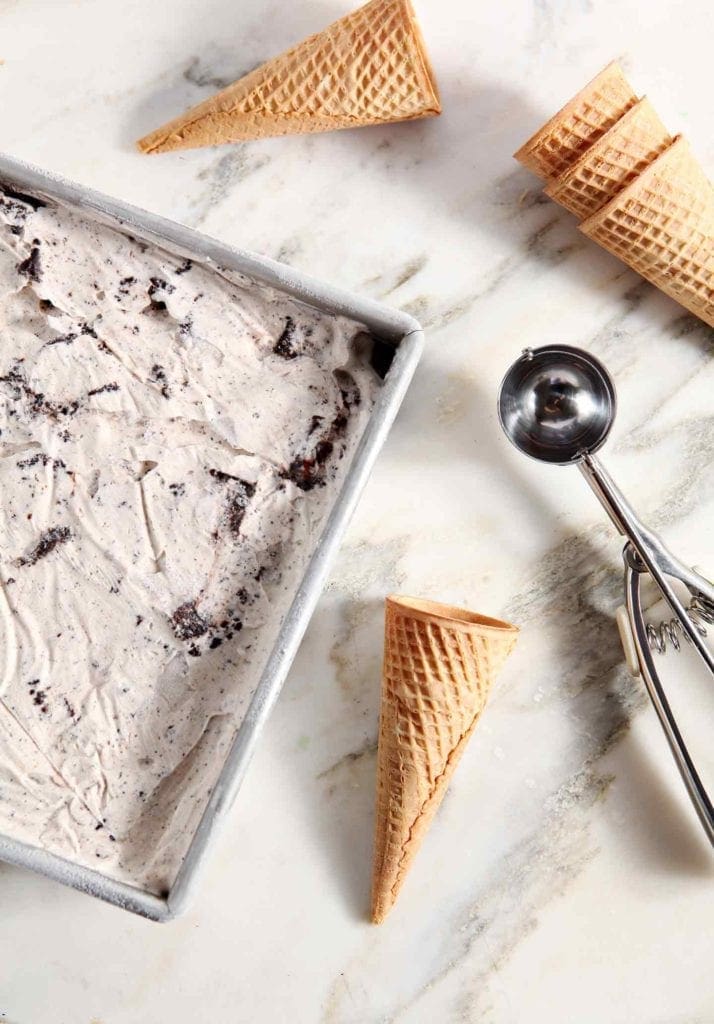 Tools you'll need to make no churn ice cream
The Speckled Palate participates in affiliate programs. As an Amazon Associate, I earn a commission from qualifying purchases. Please refer to my disclosure page for more information about these affiliate programs.
Glass bowls to make both the brownie batter and the ice cream base
9″ x 13″ rectangular cake pan to bake the brownies in. You can also use a square cake pan and bake the brownies in it, then use that to freeze the ice cream in, too.
Hand mixer to mix the brownie batter, as well as the ice cream base
Loaf pan for the ice cream
Plastic wrap to cover the ice cream when it goes into the freezer
2 tablespoon scoop to scoop out the ice cream when ready
In addition to these tools to make our no churn ice cream recipe, you'll also need some ingredients, too:
Special dark cocoa powder
Unsalted butter, melted
Dark brown sugar
Granulated sugar
Ppure vanilla extract
Eggs
Guinness (or another stout beer)
All-purpose flour
Kosher salt
Dark chocolate chunks
Heavy whipping cream
Sweetened condensed milk
For this recipe, I've shared how to make the Guinness Brownies that will be a part of them. However, if you'd like to use a boxed brownie mix or your other favorite type of homemade brownies, have at it!
How to make No Churn Fudge Brownie Ice Cream
First and foremost, bake those incredibly dense and powerfully chocolate brownies. Once baked through and cooled, cut into bite-sized pieces… and then make your no churn ice cream. Please note that you can use your favorite boxed mix brownie or a store-bought brownie that's already baked!
No churn ice cream consists of two ingredients: heavy whipping cream, whipped into whipped cream using a hand or stand mixer, and sweetened condensed milk. That's it.
Once you combine those two ingredients, stir in the brownie bites. Pour your ice cream into a metal pan–I used the same one I baked the brownies in–and pop it in the freezer overnight. Make sure to cover it well with plastic wrap so it doesn't get freezer burn.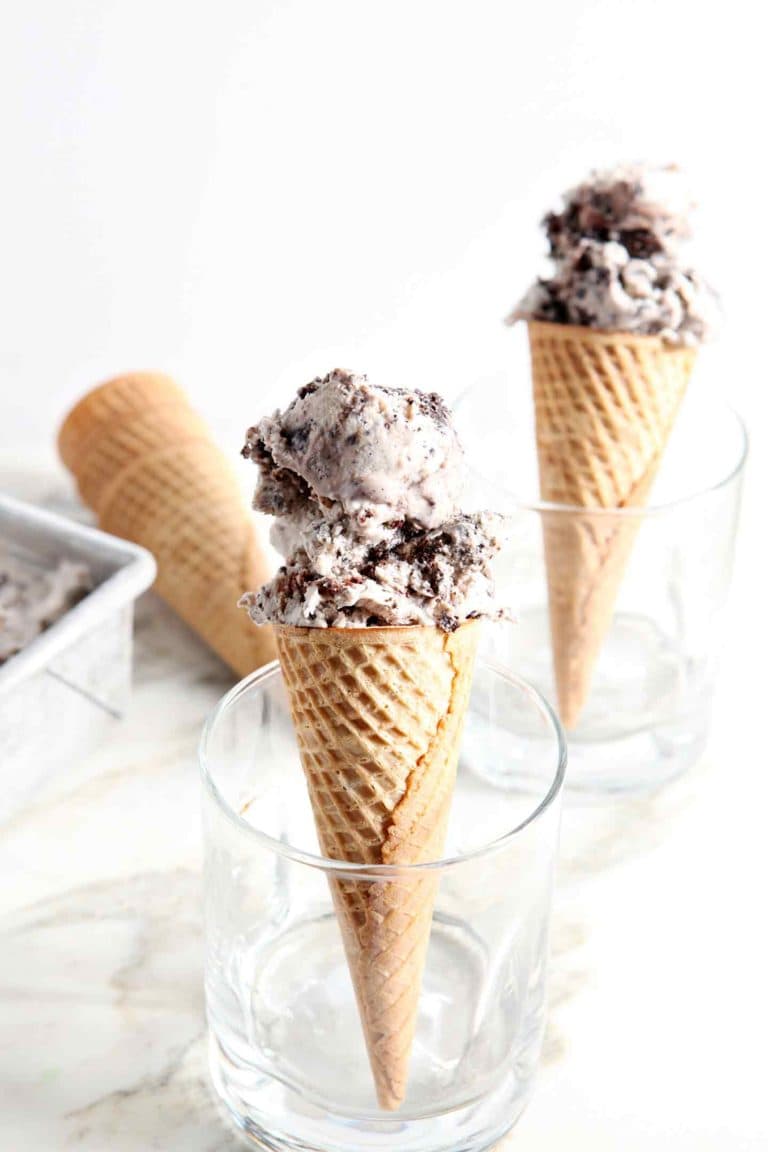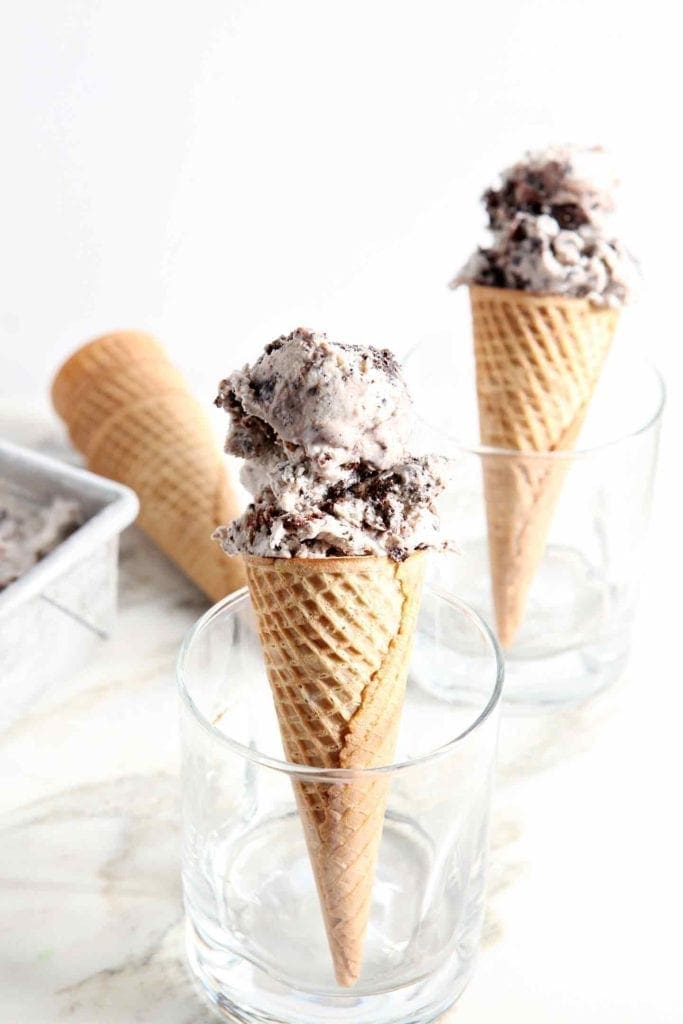 Erin's Easy Entertaining Tips
Homemade no churn ice cream for a party? You bet!
This festive ice cream is perfect for sharing with a crowd, assuming your crowd eats dairy and likes a sweet treat.
This ice cream would be perfect to scoop out for kids and adults alike after dinner has been enjoyed.
For the best scoops, dip your ice cream scooper into a glass of warm water before each scoop.
Letting guests serve themselves? Keep the ice cream on ice! Which is to say, fill a large bowl with ice, and plop the ice cream container into it. Allow guests to serve themselves.
Double the recipe if you're expecting a large crowd! If it doesn't all get eaten, the good news is this ice cream lasts plenty of time in the freezer for you to enjoy after the fact.
Make the recipe in advance, too. You need to give it ample time to chill in the freezer, so make it a day before you plan to host guests.
Looking for more St. Patrick's Day entertaining information? Check out St. Patrick's Day Party Food for inspiration!
Frequently Asked Questions
What does no churn ice cream mean?
It means you don't need an ice cream maker to make it! Which is pretty fantastic if you don't have a large kitchen and/or storage in your kitchen (or just don't want yet another kitchen tool.)
Why should I take extra time to bake BROWNIES before making this ICE CREAM? That seems like a lot of extra work.
Well, first and foremost, the brownies make this ice cream extra decadent because of the Guinness.

Guinness makes the brownies richer and the chocolate more intense. So it's, like, extra chocolate brownies that are decadent and divine. And if you don't have any Guinness on hand, you can substitute in your favorite stout beer–it'll work like a charm!

Secondly, the brownies are integral to this ice cream. After all, this is technically No Churn Brownie Ice Cream.

That said, if you don't have time (or just don't want) to make brownies from scratch, you can purchase a fudge-y box mix or even grab a small pan of brownies from the store. The recipe won't be exactly the same, but you'll have brownies, which are an integral part of this ice cream.
Why would I give beer brownie ice cream to my kid?
When the brownies bake, the alcohol cooks off, leaving the chocolate even more rich and decadent.

If you're concerned about it, make another brownie recipe or purchase a mix from the store to use instead.
How long does this no churn ice cream recipe last?
If you've wrapped it well in plastic wrap, it can last 2-3 weeks in the freezer without a problem.
Other no churn ice cream recipes you might enjoy:
We all love no churn ice cream over here, and there are so many different variations you can try!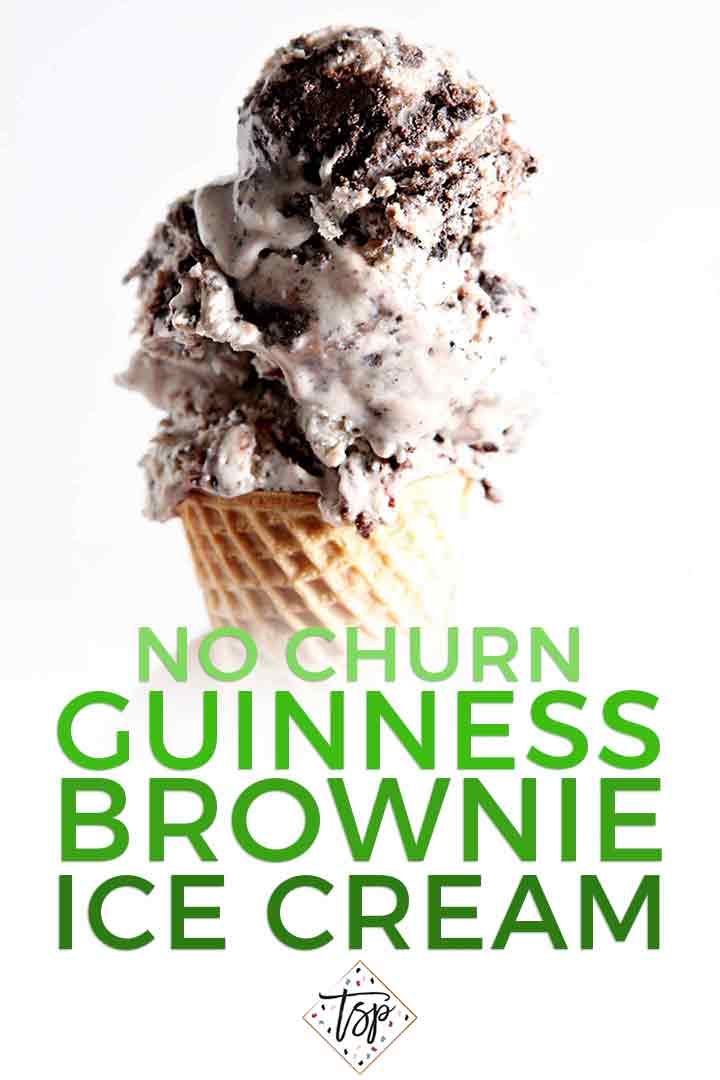 Tips and tricks for the best homemade no churn ice cream recipes
Make the ice cream the day before you want to consume it. It needs to spend at least 6 hours in the freezer to take form.
If you're making the brownies in this ice cream, bake those in advance, too. You want them to cool properly, so at least have them out of the oven 1-2 hours before you pull together the ice cream.
Have cones and bowls on hand whenever you're ready to serve.
This No Churn Fudge Brownie Ice Cream, which doesn't require an ice cream maker, is quite simple to make at home!
And it's oh-so-creamy and wonderful year-round. (I'm lookin' at you, impending summer months!)
Sound like something you want to make? Here's how I made it: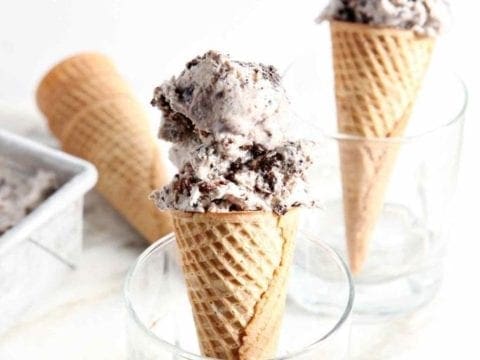 Yield:

12 servings
No Churn Guinness Brownie Ice Cream
Total Time:
6 hours
45 minutes
Whether you're celebrating St. Patrick's Day, a birthday or any day, rich No Churn Guinness Brownie Ice Cream is sure to become a new favorite! Studded with homemade Guinness brownie chunks, this easy ice cream that doesn't require an ice cream maker is perfect for sharing.
Ingredients
Guinness Brownies
½ cup special dark cocoa powder
4 tablespoons unsalted butter, melted
1/3 cup dark brown sugar
1/3 cup granulated sugar
½ teaspoon pure vanilla extract
2 eggs, at room temperature
½ cup Guinness, (or another stout beer)
½ cup unbleached all-purpose flour
¼ teaspoon kosher salt
1/3 cup dark chocolate chunks
Ice Cream
2 cups heavy whipping cream, chilled
14 oz. sweetened condensed milk
Brownies, recipe above, cut into ½" bite-sized cubes
Instructions
Make the Brownies
Preheat the oven to 350°F. Line a 8"x8" square baking pan with parchment paper, then spray with nonstick cooking spray and set aside.
In a large bowl, combine cocoa powder with the melted butter.
Measure the sugars and vanilla into the chocolate mixture. Stir until combined.
Crack the eggs into another bowl, and break the yolks using a fork. Pour into the chocolate and sugar mixture, mixing until combined.
In a medium-sized bowl, whisk together the flour, cocoa powder and salt.
Sprinkle the dry ingredients into the wet ingredients, then add the Guinness. Stir until the mixture is smooth.
Pour the brownie batter into the prepared baking dish. Sprinkle the dark chocolate chips/chunks on top of the batter.
Bake for 30 to 40 minutes, or until the edges are firm and an inserted toothpick comes out clean.
When the brownies are cooked through, remove from the oven, and let cool completely.
Cut into ½" bite-sized cubes. and set aside.
Make the Ice Cream
Pour the heavy whipping cream into a large bowl.
Using a hand or stand mixer, whip the cream. Start off slowly, then increase the speed until the cream transforms into whipped cream.
Pour the sweetened condensed milk into the whipped cream, stirring until just combined.
Sprinkle in the brownie bites, and fold into the ice cream.
Pour into a metal baking dish (I used the baking dish that the brownies baked in, but you can use a loaf pan, too), and press plastic wrap on top of the ice cream.
Freeze overnight.
When frozen solid, scoop, and serve on ice cream cones or in cups, and enjoy!
Recommended Products
As an Amazon Associate and member of other affiliate programs, I earn from qualifying purchases.
Nutrition Information:
Yield:
12
Serving Size:
1 serving
Amount Per Serving:
Calories:

440
Total Fat:

25g
Saturated Fat:

15g
Trans Fat:

1g
Unsaturated Fat:

8g
Cholesterol:

103mg
Sodium:

131mg
Carbohydrates:

47g
Fiber:

1g
Sugar:

39g
Protein:

7g
Nutrition facts are an estimate and not guaranteed to be accurate.