Southwestern Breakfast Burrito Bowls
This post is sponsored by Jennie-O. As always, all opinions and recipes are my own.
Start the morning with Southwestern Breakfast Burrito Bowls! Breakfast doesn't have to be boring… and a burrito bowl serves as a blast of flavor. This recipe involves creamy salsa grits, a sweet potato-black bean hash and ground turkey sausage. The spice is balanced with creaminess from the cheese and avocado. What a meal!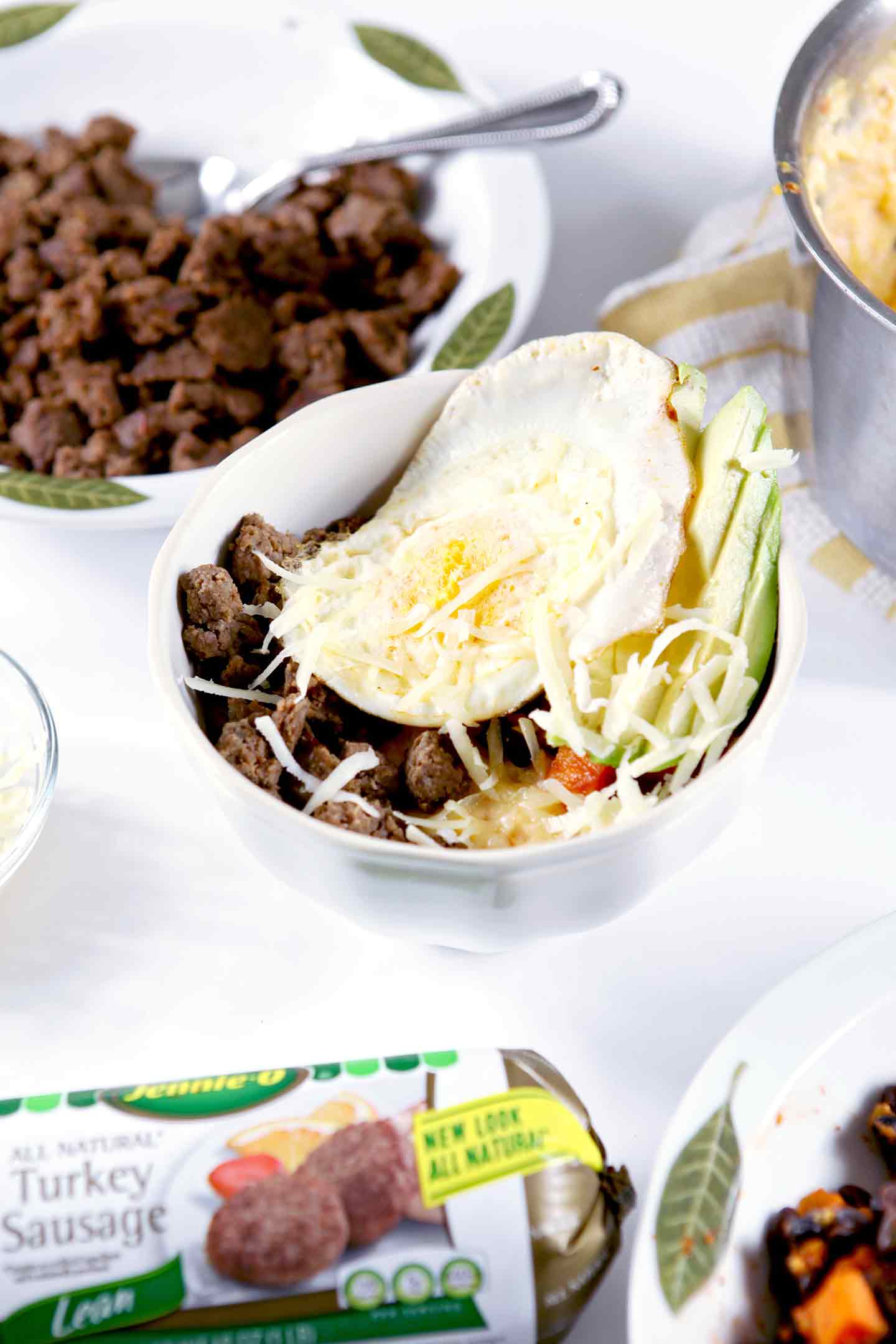 Tennessee meets Louisiana meets Texas with a teeny tiny stop in Mississippi.
That's what this dish is all about: the melding of flavors for an out-of-this-world, ridiculously scrumptious breakfast or brunch that is sure to make your tastebuds happy.
And what better way to do this than by using a Southern staple with some Southwestern flare, a new favorite hash that involves some of my favorite Southwestern flavors, delicious breakfast sausage, topped with an egg, cheese, and some avocado slices.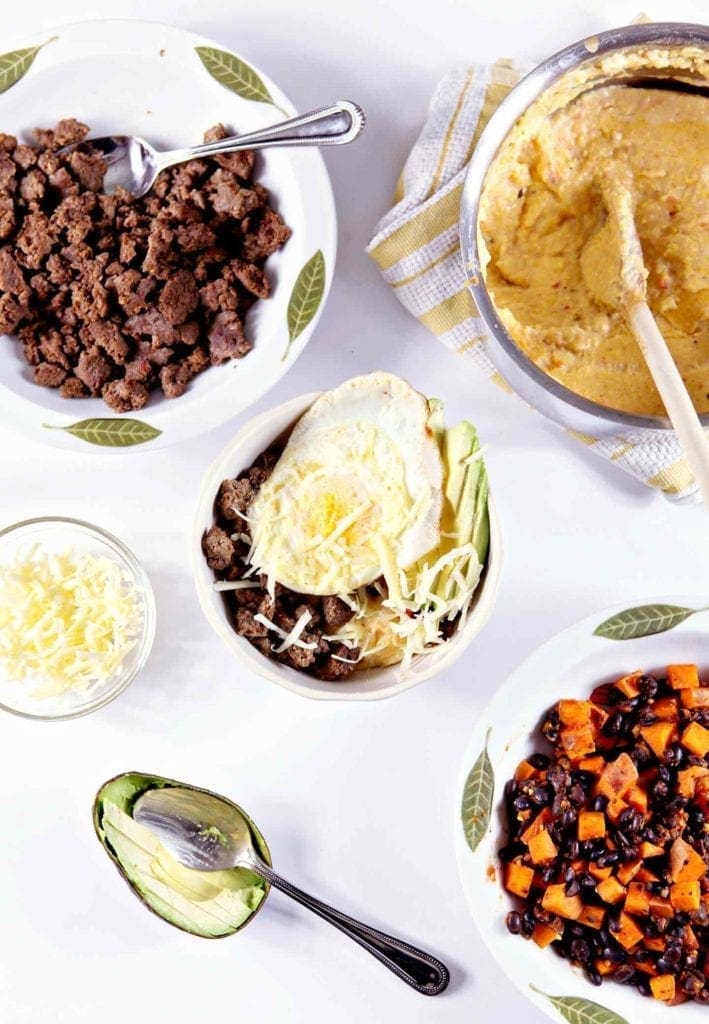 I was super pumped when Jennie-O sent me their All Natural Turkey Sausage earlier this month to use in a breakfast recipe… but it wasn't until Fat Tuesday that I knew what I was going to make.
Every Fat Tuesday, we whip up classic Shrimp and Grits. It's one of our favorite Louisiana dishes, and it reminds me of my time spent in Louisiana, as well as Mississippi.
While I'm a Southern girl through-and-through, we don't make grits often. I actually didn't even try grits until I was in my early 20s, and that was only at the insistence of my best friend's father. However, I fell in love hard and fast.
So it's not surprising that after Fat Tuesday, I had a hankering for more grits.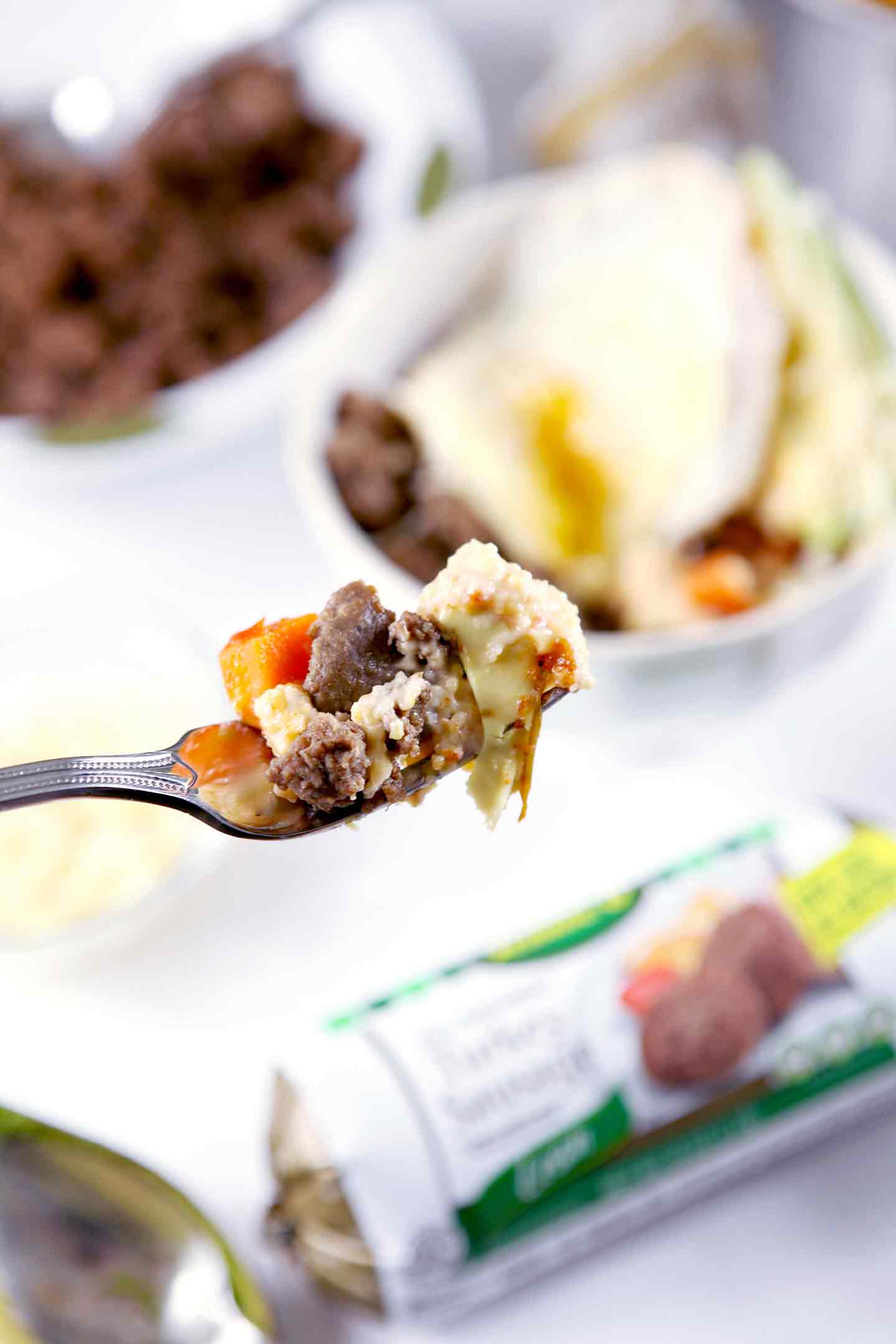 I'd like to tell you the inspiration of this dish came one day when I was eating breakfast with my family.
Unfortunately, I'd be lying.
This dish is an amalgamation, taking parts of different meals I've loved throughout the years and throwing them into one harmonious dish that hits on all the things I love about Southern and Southwestern cuisines.
Here's how it goes: It's got heat without setting your hair on fire. It's got creaminess, but it's not so rich that it will give you a stomachache. And it's got flavor for daysssssssssss.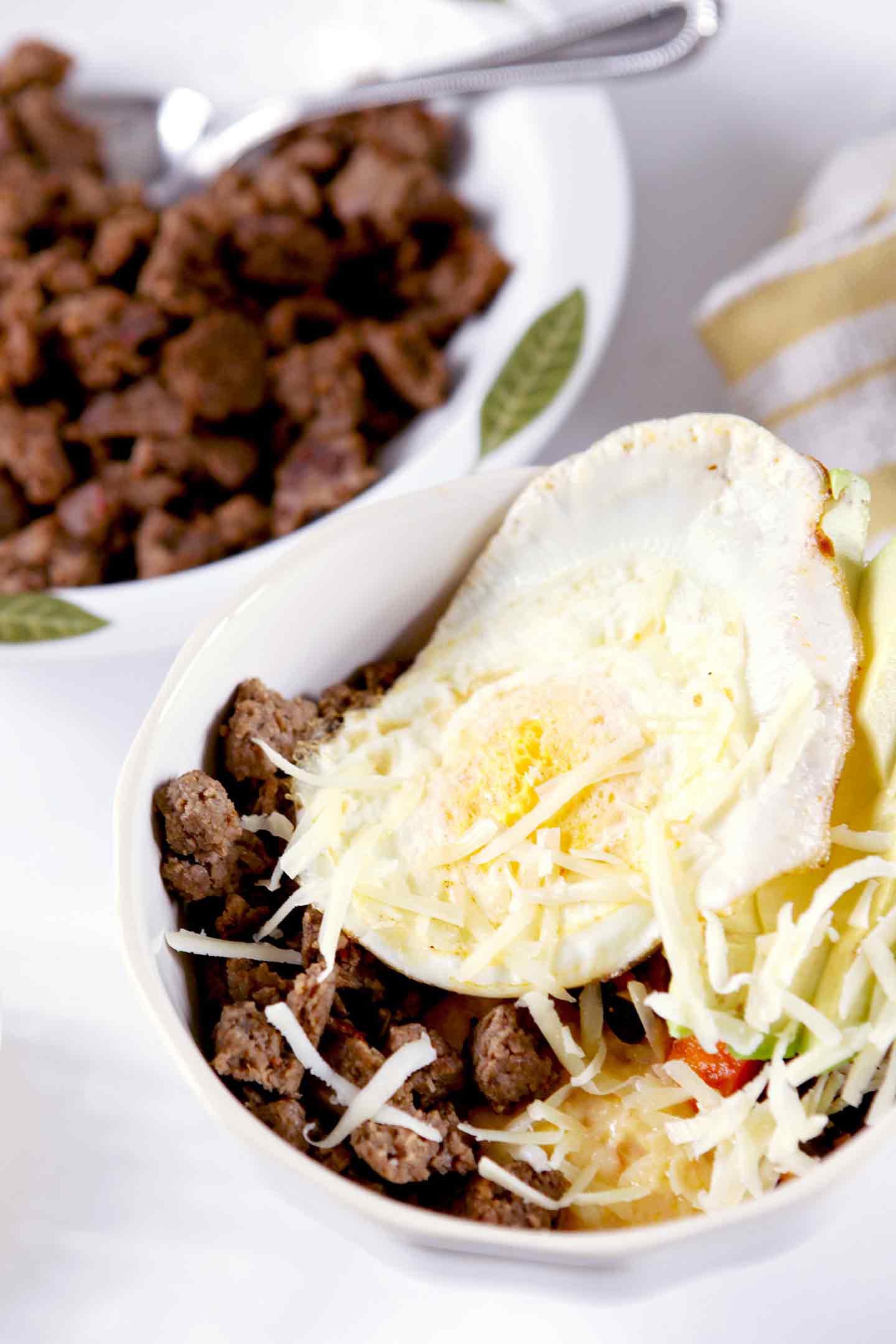 The best part? These Southwestern Breakfast Burrito Bowls take about an hour to make, and the recipe feeds four… so you can host some of your favorites for breakfast/brunch.
Additionally, you can whip up a batch for your family, assuming they're into these flavors!
Our daughter, who was adamantly against grits on Fat Tuesday, was a fan of this creamier, spicier variety, so it gets a toddler thumbs up, too!
Sound tasty?
Scroll on down to find out how to make your own!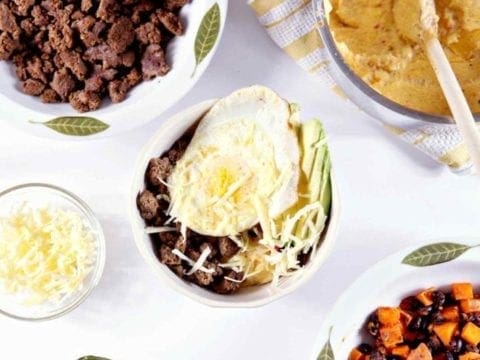 Yield:

4 breakfast burrito bowls
Southwestern Breakfast Burrito Bowls
Start the morning with Southwestern Breakfast Burrito Bowls! Breakfast doesn't have to be boring... and a burrito bowl serves as a blast of flavor. This recipe balances its spice with the creaminess of cheese and avocado. Top spicy, yet creamy salsa grits with a flavorful sweet potato and black bean hash, turkey sausage and a fried egg. Finish the burrito bowl with avocado slices and a sprinkle of cheese. What a breakfast!
Ingredients
Salsa Grits
2 cups milk (whole, 2%, 1% are all fine)
2 cups unsalted chicken or vegetable stock
½ cup salsa
1 cup stone-ground yellow grits
4 oz. cream cheese
Sweet Potato Black Bean Hash
1 medium sweet potato (about 1 ½ cups diced into ½" cubes)
15 oz. black beans, rinsed and drained
1 tablespoon extra virgin olive oil
Salt and black pepper, to taste
½ cup salsa
Breakfast Bowls
16 oz. ground turkey sausage
4 eggs
Salsa Grits (recipe above)
Sweet Potato Black Bean Hash (recipe above)
2 avocados, cut into slices
½ cup white cheddar cheese, shredded
Instructions
Make the Salsa Grits
In a medium-sized saucepan over medium-high heat, pour in the milk and chicken stock. Heat slowly until the mixture begins to lightly bubble, then add the salsa.
When the mixture begins moving again, add the grits and stir vigorously to incorporate.
Cover and lower the heat, cooking for 30-45 minutes, or until the grits have soaked up all the liquid. Open the grits up every 5 or so minutes to stir so they do not become lumpy as they cook.
When the grits have soaked up the liquid, remove from the heat, and add the cream cheese, whisking until the cheese has melted into the grits.
Keep warm until time to serve.
Make the Sweet Potato Black Bean Hash
While the grits cook, dice the potato into ½" cubes and rinse and drain the canned black beans.
In a large skillet over medium-high heat, add the olive oil.
When the oil is warm, add the diced sweet potato to the skillet. Season with salt and pepper, and cook for 8-10 minutes, or until the sweet potato has softened and begins to brown on all sides.
When the sweet potato has softened, add the black beans, and stir to incorporate in the sweet potato. Cook for 2-3 minutes.
Add the salsa to the pan, stirring constantly before removing from the heat.
Transfer the hash to a bowl, and keep warm for later.
Cook the Turkey
Cook the ground turkey in the same skillet over medium-high heat. Remove the sausage from its packaging, and break up with a wooden spoon as it cooks, breaking it down into bite-sized pieces.
When the turkey is completely browned and cooked through, transfer to a plate, and keep warm.
Fry the Eggs
In the same skillet, fry the eggs one at a time. Depending on how you like your fried eggs, the cook time will vary.
Crack the egg into an individual bowl and pour into the preheated skillet. Cook over high heat until the yolk is the desired consistency. Remove the egg from the skillet, and cook the other to order.
Prepare the Bowls
With all the ingredients together, assembly for these bowls is simple.
Scoop the Salsa Grits into the bowl.
Top the grits with the Sweet Potato Black Bean Hash.
Add the turkey sausage to the bowl, as well as the avocado slices.
Top the ingredients with the egg, cooked to your specification.
Sprinkle the cheese on top of the bowls, and enjoy immediately!
Notes
Substitution alert: Instead of white cheddar, you can use pepperjack or any other cheese that you like .
Nutrition Information:
Yield:
4
Serving Size:
1
Amount Per Serving:
Calories:

1087
Total Fat:

62g
Saturated Fat:

20g
Trans Fat:

1g
Unsaturated Fat:

35g
Cholesterol:

407mg
Sodium:

1919mg
Carbohydrates:

62g
Fiber:

19g
Sugar:

7g
Protein:

73g
Nutrition facts are an estimate and not guaranteed to be accurate.