The Cocktail Chronicles: Mustique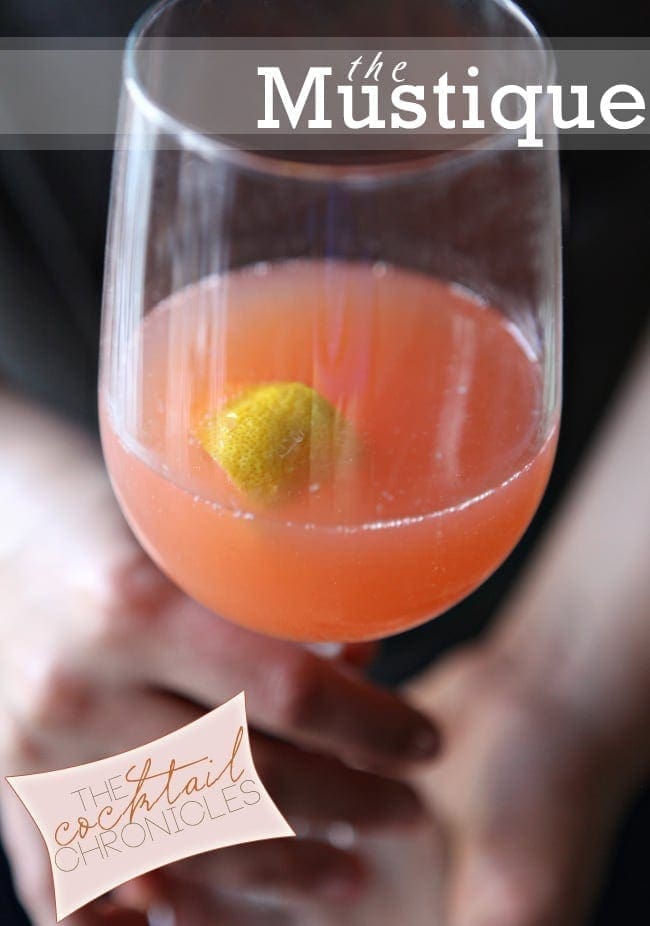 Two things before we dive right in:
1. Apparently, our wine glasses were really water spotted when we took these photos, and I literally cringed when editing these images because of that. And then promptly attempted to Photoshop the worst of the water spots out. And from now on, I'll just be handwashing everything.
2. When I am writing out the author of this drink book, Stuart Walton, I really want to write David Walton instead. EVERY TIME. Sorry, Stuart. I've really got no idea other than David is an actor who was on the short-lived but fun Bent (with LANDRY! From Friday Night Lights!) Maybe equally noteworthy, he is married to an actress whose TV show I loved as a teenager. *shrugs*
… Don't judge me, y'all.
So, there's that.
ANYWHO…
We're taking a tour through the Caribbean during these past few weeks of The Cocktail Chronicles. … And all these drinks make me want to hang out by a pool and/or the ocean, read a lovely book and work on my tan. (After, of course, slathering my skin in sunscreen because that's how I roll. Sadly, if there is no sunscreen involved when I'm outdoors, I look more like a lobster than a gloriously tanned beach babe. Add in my fear of skin cancer, and THAT is reason enough to apply and then reapply sunscreen regularly anytime I'm outside. Even if it is a bit of a hassle in the moment, it'll pay off in the long run.)
Other Cocktail Chronicles drink recipes: Southern Champagne / Bloody Mary / Kingston / Rum Sidecar / Tom Collins / Cosmopolitan / Cutty Sark on the Rocks / Blizzard Bourbon Cranberry Cocktail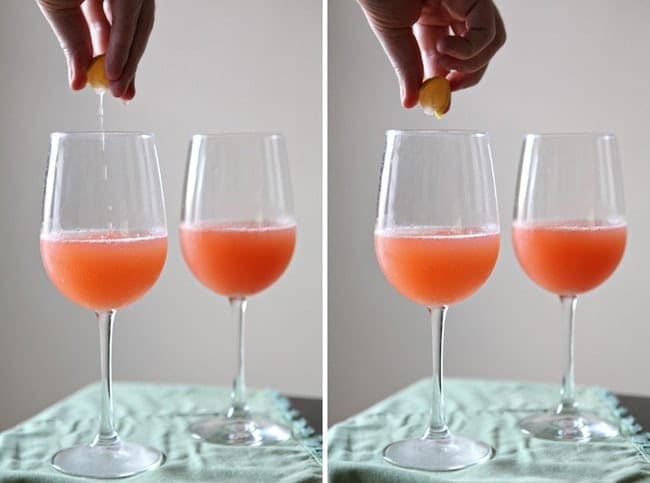 This week, we're visiting the Caribbean isle of Mustique… a mythical place I'd never heard of until we stumbled upon this drink. After doing some research, I learned it is a tiny private island in the West Indies.
If I'm being honest — and let's be real, I'm always honest here since this is, ahem, my blog — Mustique sounds like a place where I'd like to take my next vacation. Any combination of sand, sun, ocean and fabulous, fresh seafood sounds like my idea of heaven on Earth.
Please say y'all agree. (Or someone agrees.)
But before we all get out our swimsuits and decide how exactly we're going to get to Mustique, here's how you make it: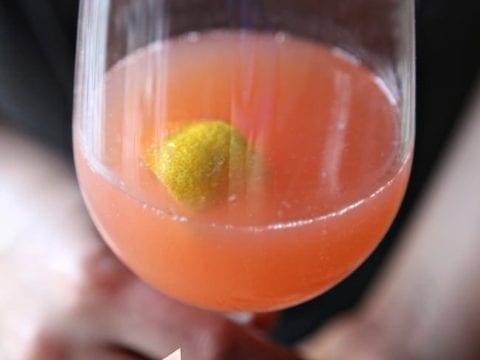 Yield:

1
The Cocktail Chronicles: Mustique
This drink was invented on the Caribbean island of Mustique.
Ingredients
1 ½ oz. light rum*
1 ½ oz. orange juice
2 teaspoons lemon juice
1 teaspoon grenadine
Champagne
Instructions
Shake all but the last ingredient with ice.
Strain into a large wine glass.
Top with fizz, and garnish with a half-slice of lemon.
Nutrition Information:
Yield:
1
Serving Size:
1
Amount Per Serving:
Calories:

257
Total Fat:

0g
Saturated Fat:

0g
Trans Fat:

0g
Unsaturated Fat:

0g
Cholesterol:

0mg
Sodium:

12mg
Carbohydrates:

14g
Fiber:

0g
Sugar:

9g
Protein:

0g
Nutrition facts are an estimate and not guaranteed to be accurate.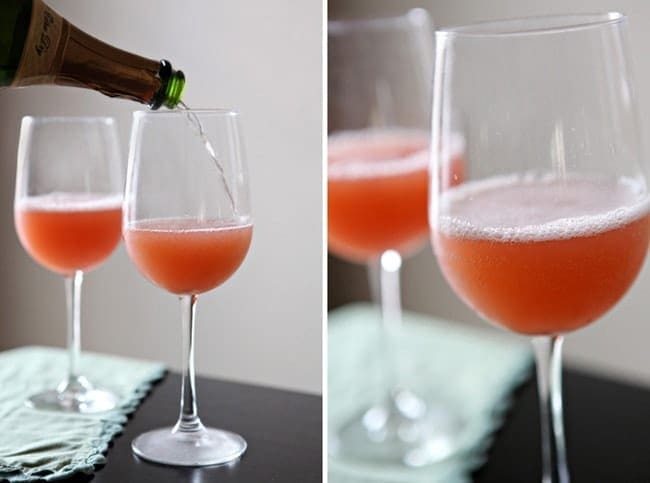 We really, thoroughly enjoyed this drink. After having tried several super alcoholic drinks recently that didn't have anything to neutralize the booze, this was a welcome surprise in our journey through this cocktail book. We both found this perfectly light and refreshing. I think this might be a summertime picnic drink for me… or any kind of outdoor activity once the weather gets nice again.

Five cheers! We highly recommend this. Not only was this drink delicious, but it was good enough for us to want to sip it again!