Spring Pea, Asparagus and Strawberry Salad
Spring "officially" begins next Friday… but we're celebrating a bit early with a delightful salad! Laura Campbell from Laura's Mess shares a delicious, vibrant salad featuring fresh greens, edamame, asparagus, sugar snap peas, strawberries, goat cheese, lemon zest and more!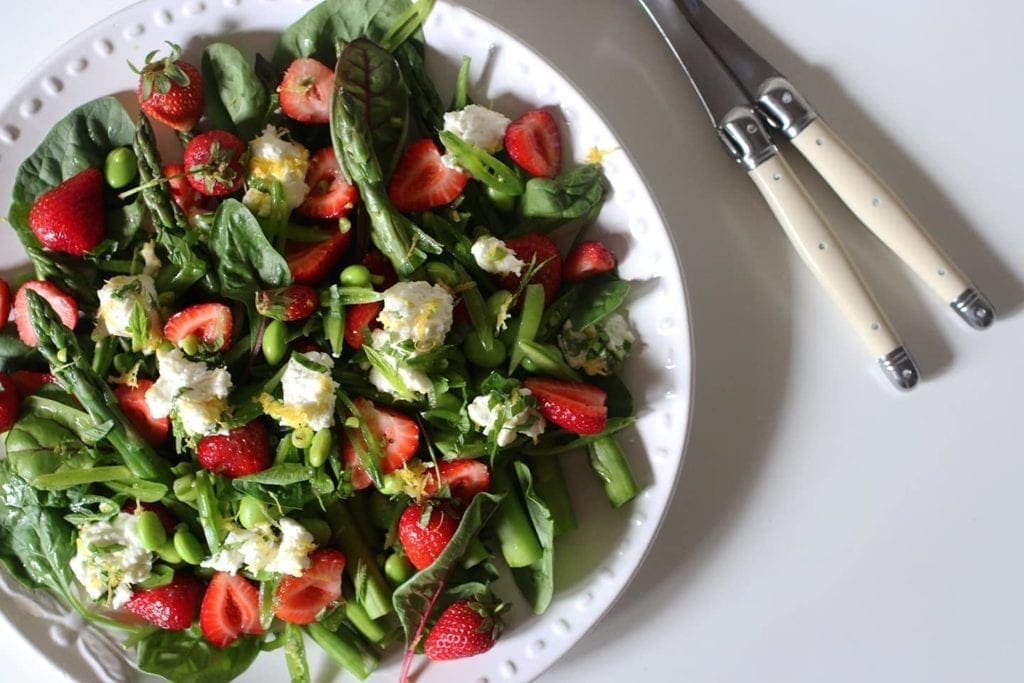 Happy Friday, y'all! I don't remember how Laura and I met, but she's become a lovely friend during the last few years of blogging, and I always leave her site drooling. I'm so excited to be sharing her gorgeous post with y'all today… especially because I desperately want a bowl of this. Laura, do you think you could bring one to me in Texas? I mean, it's only half the world away!
Hello readers of The Speckled Palate! I'm Laura, and I'm writing to you all the way from the humid coast of Western Australia. We're currently experiencing a summer heatwave. It's been over 35°C (95°F) for the past four days with no signs of relief. Rather strange to think about, considering that Erin's Instagram photos have recently looked like the Arctic tundra. By the time you read this post I'll be waltzing through autumn leaves whilst you enter the green months of spring. Weird.
Anyway, geography aside, it's an absolute honour to write this guest post for someone who I've come to consider as a dear friend-across-the-seas. I don't quite remember when I first came across Erin's blog, but over the last year or so, we've entered a beautiful dialogue about our daily lives, Christmas cookies, our shared birthday (one year apart – yep, I'm the older wiser one) and – more recently – Erin's pending motherhood. I am so, so excited for Erin, Winston and their (big sister!) furkid Lucy. I've been eagerly reading Erin's pregnancy updates and can't believe that it's only a month or so 'til Lady Baby enters the world (by the time you read this she should already be here! That's another wow.)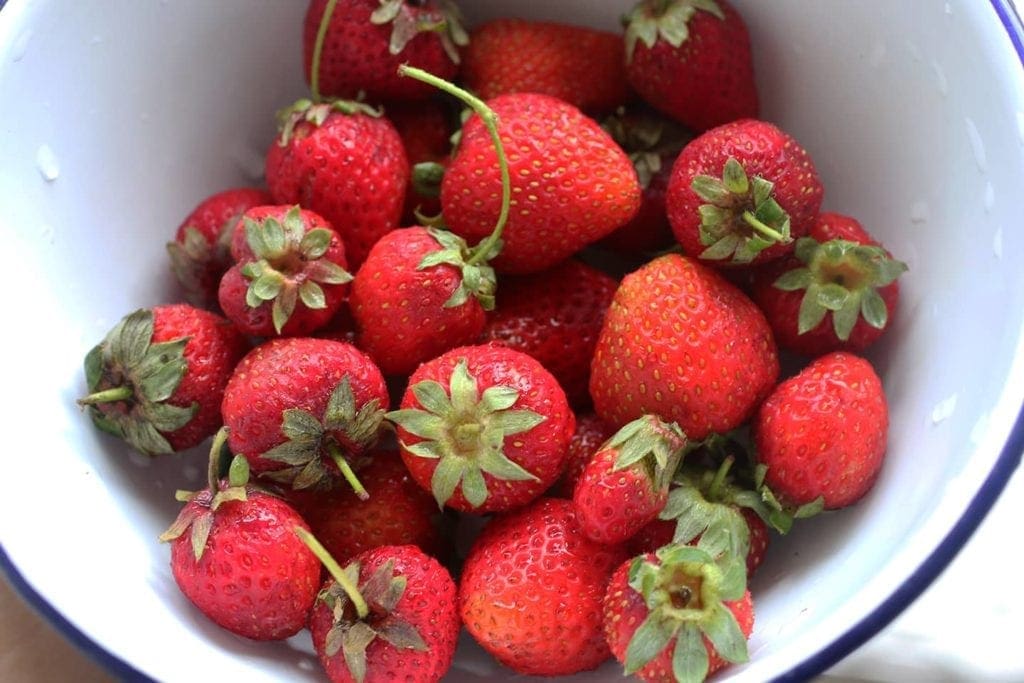 Anyway, before I start gushing like a mad thing, let's move on to the topic of this guest post: salad. More specifically, a spring-themed strawberry salad that's bursting with flavour, colour and seasonal vegetables. I've been loving our Aussie spring and summer produce during the past few months, and it's wonderful to think that you'll soon be experiencing the same abundance of stone fruit, asparagus, chard, leeks and pea greens – perfect on their own or tumbled into a salad or side dish.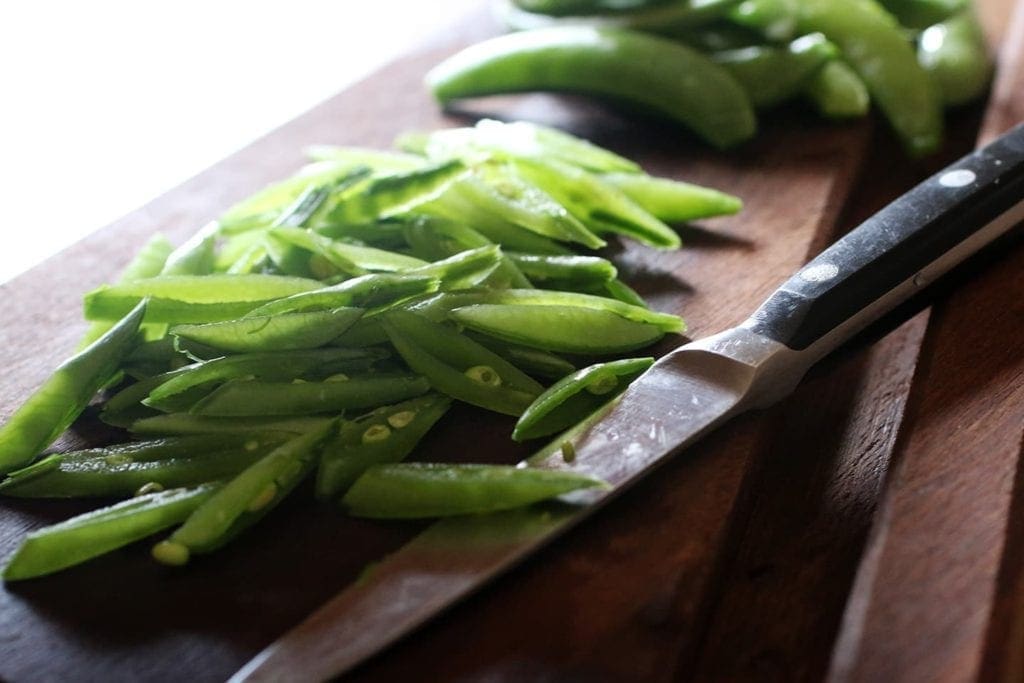 The salad recipe below is more of a concept than an absolute instructional. Feel free to experiment with flavours and textures, harnessing the best fruit and vegetables that you can find. Add a little avocado for creamy goodness or some pea shoots if you can find nice ones at the market. Swap the strawberries for juicy chunks of ripe peach, or add sauteed leeks or sweet onions as a beautiful accompaniment to the goat cheese.
As per my notes, feel free to bulk out this recipe with some cooked and cooled quinoa for a more substantial dish. I've also added the almonds as an 'option' as… well, I'd like to say I was catering for nut-free people but to be honest, I just forgot about them (honestly, I can't even blame baby brain!). If you do add the nuts, they'll provide a gorgeously satisfying crunch…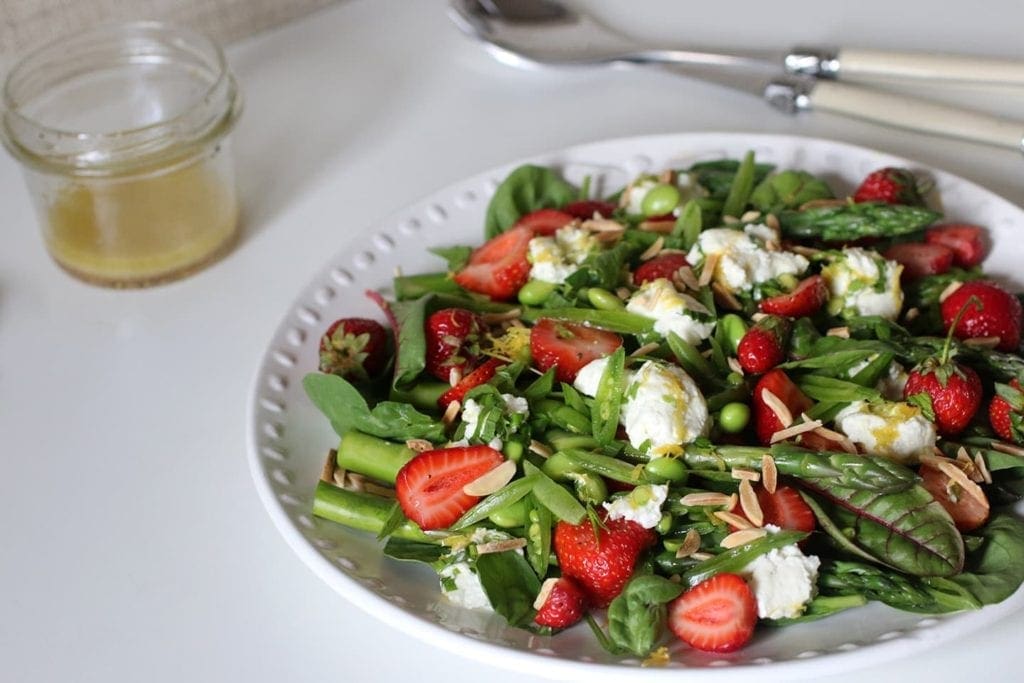 Here's how you can make it: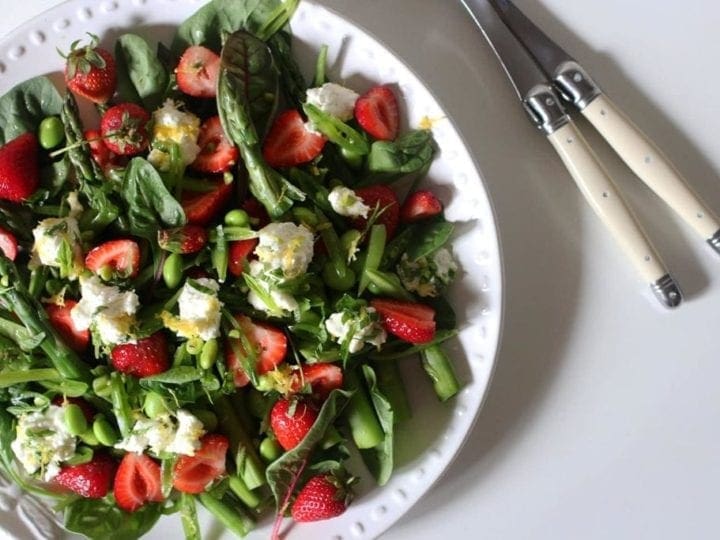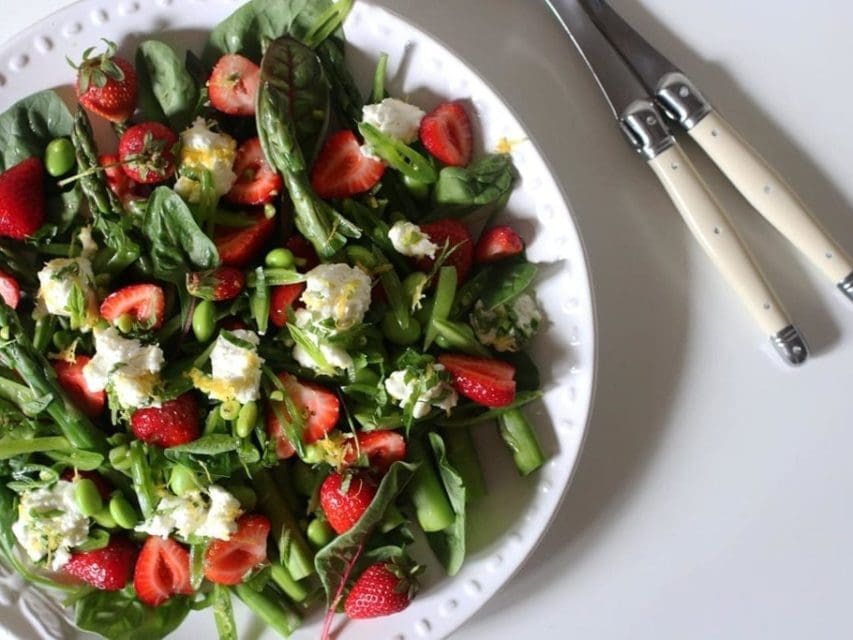 Yield:

4 servings
Spring Pea, Asparagus and Strawberry Salad
Spring is upon us, and what better way to celebrate than with a fresh salad? Laura Campbell from Laura's Mess creates a delicious and vibrant spring salad featuring greens, edamame, asparagus, sugar snap peas, strawberries, goat cheese and more!
Ingredients
Salad
100 g edamame beans, shelled (50g shelled weight) [About ¼ cup shelled edamame]
1 bunch asparagus, ends trimmed
50 g sugar snap peas, stringed [About ¼ cup sugar snap peas]
Large handful of fresh greens, (I used baby spinach and rainbow chard, however watercress or rocket would be lovely)
100 - 150 g strawberries, washed, trimmed and halved (leave a few small ones whole for garnish) [About ½ - ¾ cup strawberries]
100 g fresh goat cheese, (substitute feta), broken into chunks [About 1½ cup goat cheese/feta]
½ teaspoon finely grated lemon zest, (from lemon below)
Small handful of mint, washed and chopped (reserve a few leaves for garnish)
50 g slivered almonds, optional [About 1/4 cup slivered almonds]
Dressing
2 tablespoons cold-pressed sweet almond oil
1 tablespoon extra virgin olive oil
Juice from half a lemon
Drizzle of honey or rice malt syrup, to taste
Sea salt and freshly ground black pepper
Instructions
If using, scatter the slivered almonds over an oven tray and toast them at 180°C/350°F for 8 minutes or until golden brown. Set aside to cool.
Blanch the asparagus spears in hot water for 2 minutes or until bright green. Refresh under cold water, drain and set aside.
Slice the sugar snap peas into thin slivers on a diagonal. Place into a medium bowl with the shelled edamame and sliced strawberries. Pour over enough dressing to coat, then toss and adjust seasoning to taste.
Scatter the leafy greens over a serving platter. Lay the asparagus spears over the top and spoon over the pea and strawberry mix. Combine the goats cheese with the chopped mint, lemon zest and a little extra dressing. Gently mix, then spoon over the plated salad.
Scatter over the whole strawberries, remaining mint leaves and slivered almonds if desired.
Enjoy immediately!
Notes
This salad is wonderful with seasoned grilled chicken, fish or pork on a warm spring day. You can also bulk it out with 1 cup of cooked quinoa and some flaxseeds for a wholesome vegetarian meal.
I mixed my salad dressing with just a tiny bit of honey to retain a 'tangy contrast' to the sweet, juicy strawberries. Don't overdo the sweetness, or you'll throw off the balance of your salad. The ingredients listed above make more than enough dressing for this salad. Add just enough to coat the strawberry and pea mix with a little extra for the goat cheese and leaves. Don't be tempted to pour over the remainder of the jar unless you're adding cooked quinoa as suggested above (save it for another salad!).
[Erin's note: I went in and roughly converted Laura's measurements for American readers who are salivating over this gorgeous salad and want to make it in brackets behind Laura's metric measurements!]
Nutrition Information:
Yield:
4
Serving Size:
1 serving
Amount Per Serving:
Calories:

1692
Total Fat:

41g
Saturated Fat:

14g
Trans Fat:

0g
Unsaturated Fat:

21g
Cholesterol:

39mg
Sodium:

550mg
Carbohydrates:

324g
Fiber:

80g
Sugar:

201g
Protein:

48g
Nutrition facts are an estimate and not guaranteed to be accurate.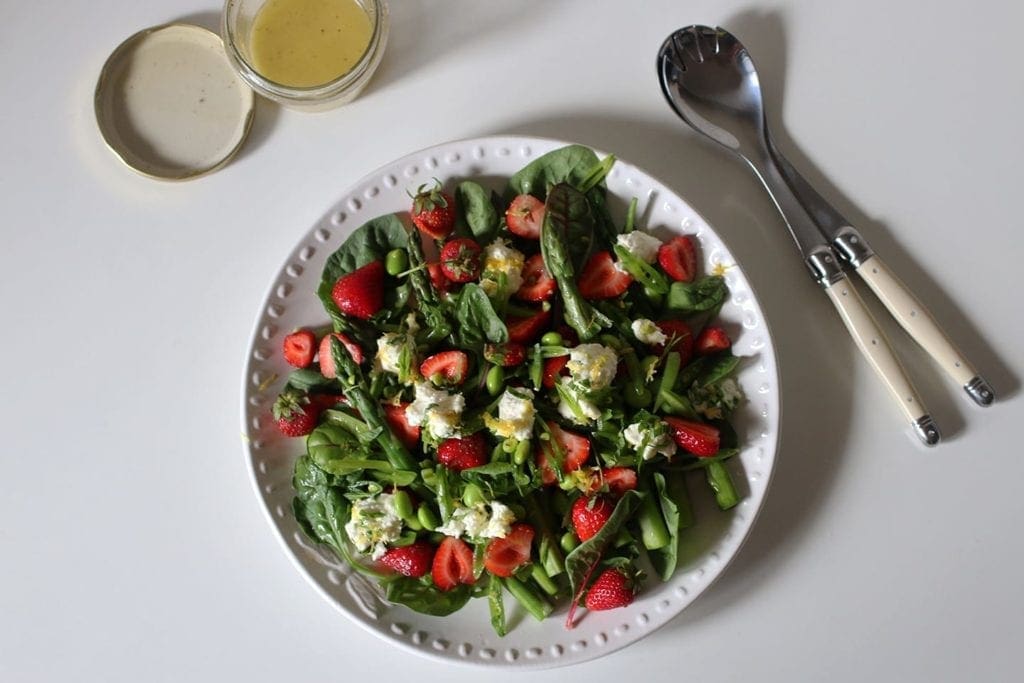 Erin, sending you, Winston and Lucy LOTS of love during your bonding time with Lady Baby. Can't wait to read about your parenting adventures from my apartment across the seas!
—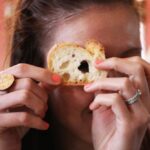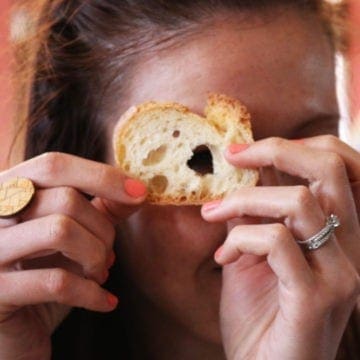 Laura Campbell is a freckle-faced, English-born blogger who lives, works and writes in the sunny city of Perth, Western Australia. She's a Medical Social Worker by day and spends most of her free time cooking up a storm in her tiny apartment kitchen. Laura loves craft beer, cultured butter, avocado and chewy sourdough. She shares her home with her husband, Aaron (an illustrator, 3D artist and bricklayer) and a scruffy brown puppy named Loki.