Instead of using plain vanilla ice cream in a Guinness Float, add salted caramel ice cream for a sweet and salty twist. This Salted Caramel Guinness Beer Float is guaranteed to be a favorite adult dessert! Makes 2 floats.
Love a boozy float? Don't miss out on Mint Chip Guinness Beer Float and Chocolate Guinness Milkshakes with Irish Whiskey Cream!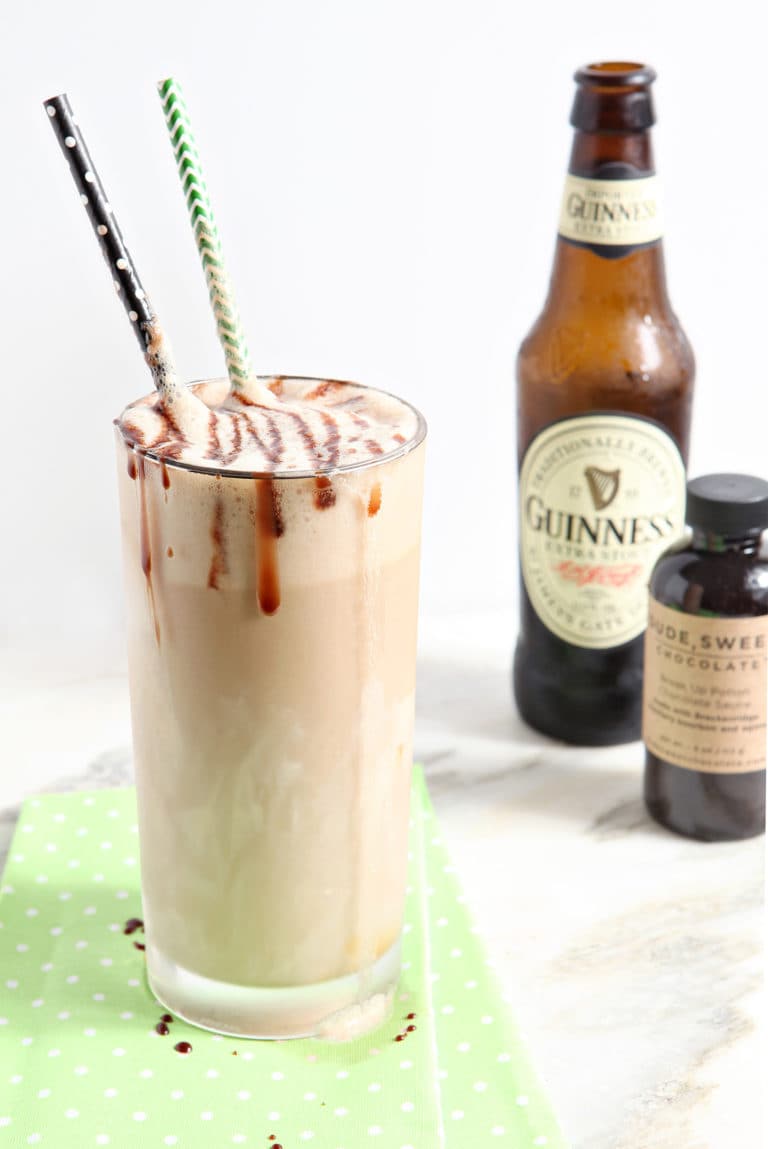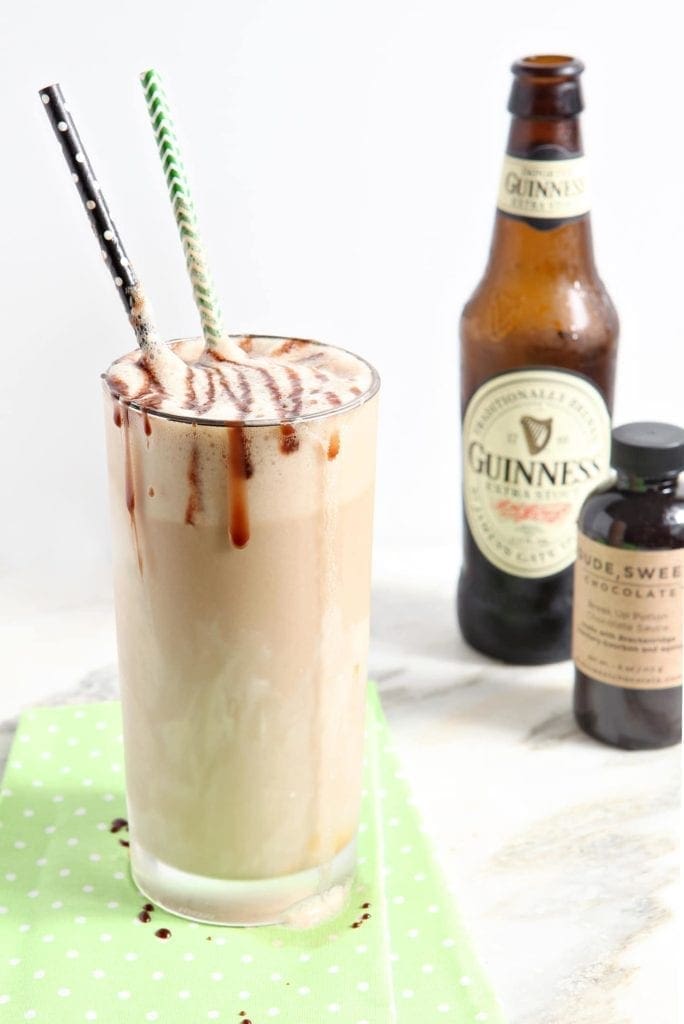 St. Patrick's Day is one of my favorite holidays, and it's just around the corner!
And I love me a good St. Patrick's Day dessert, so this year, I'm upping the ante with a sweet, simple recipe that you can make in no time flat.
The one caveat: you're gonna need a friend to split this monster float with.
Why I love this recipe:
Salted caramel is one of my favorite things because I adore the combination of salty with sweet. And when the stout is added, oh boy.
While it might not sound like it makes sense, please believe me when I say the chocolate and coffee notes of the Guinness combined with the salted caramel is heavenly and decadent and oh-so-delicious.
Then we drizzle on some extra chocolate sauce for good measure, too, because life's too short.
Not only is this delicious, but it takes very little time to make and can easily be doubled, tripled or quadrupled for a crowd.
Other St. Patrick's Day dessert ideas: Chocolate Chip Irish Cream Pound Cake | No Churn Guinness Brownie Ice Cream | Chocolate Guinness Cupcakes with Bailey's Frosting | Irish Cream Biscuits with Boozy Chocolate Ganache
Need more St. Patrick's Day inspiration? Head on over to my St. Patrick's Day recipe index for food ideas!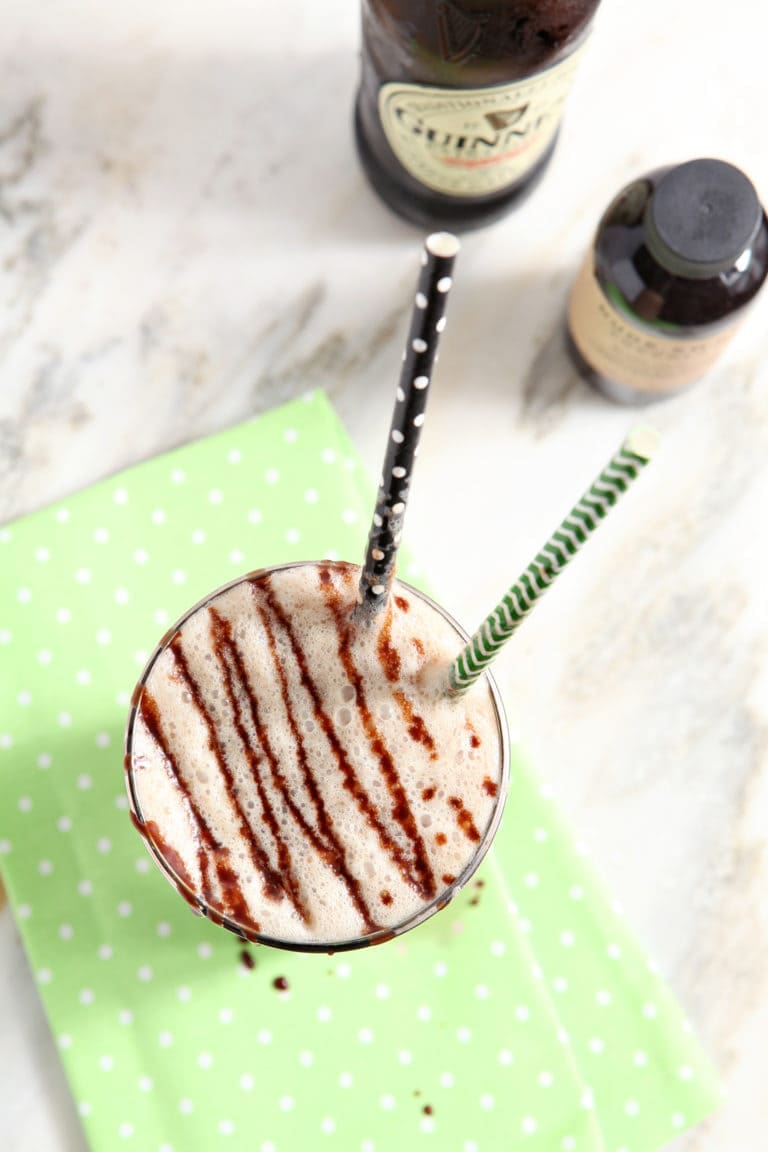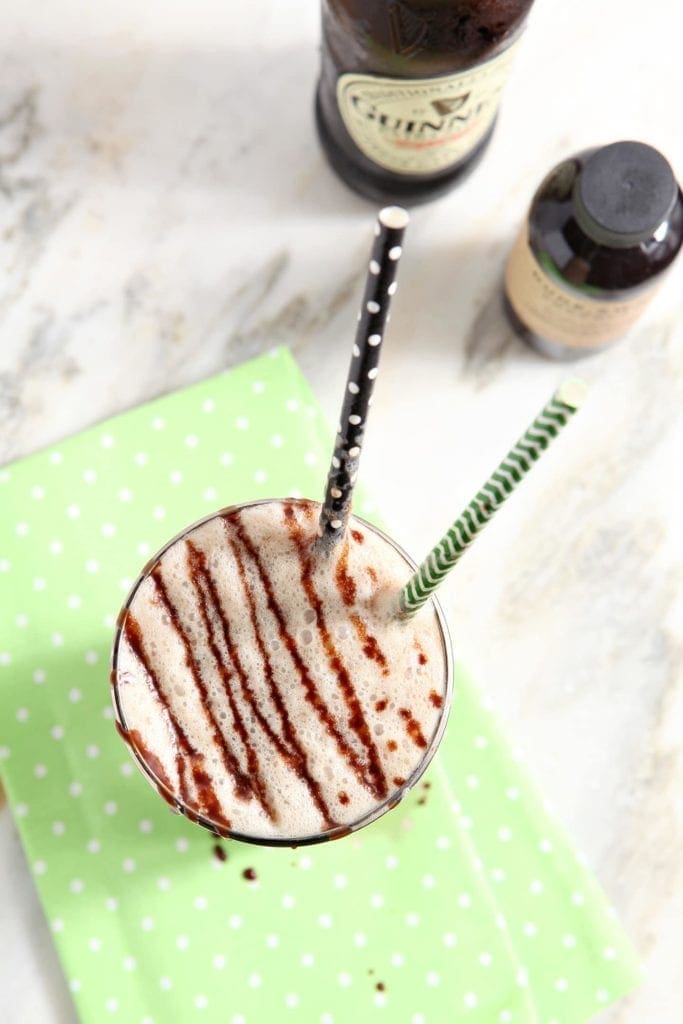 What you need to make this Salted Caramel Guinness Beer Float
Disclaimer: The links below are affiliate links. If you click through and take action, I will receive a small commission. Please refer to my disclosure page. for more information about the affiliate programs The Speckled Palate participates in.
In addition to the tools above, you'll also need:
Salted caramel ice cream or gelato
Guinness beer (or another stout beer of your choosing)
Hot fudge sauce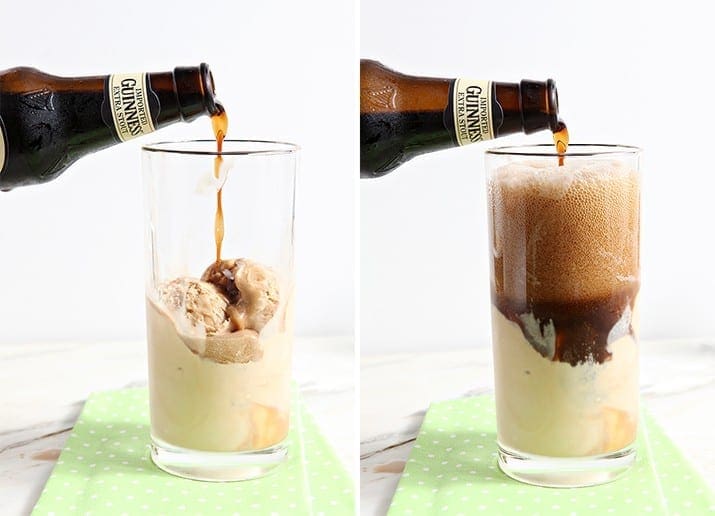 How to make a Salted Caramel Guinness Float
You start off with a base of salted caramel ice cream or gelato. Add a few scoops to your glass.
Once the ice cream is scooped, slooooooooowly pour in your Guinness. Stop every once in a while so the bubbles can dissipate, then continue until your glass is full and the Guinness bottle is empty.
Then once the float is good to go, top with your favorite hot fudge sauce. I recommend checking out Dude, Sweet Chocolate because it's utterly delightful and pairs beautifully with the Guinness-salted caramel combination.
And then once everything is in place, you enjoy!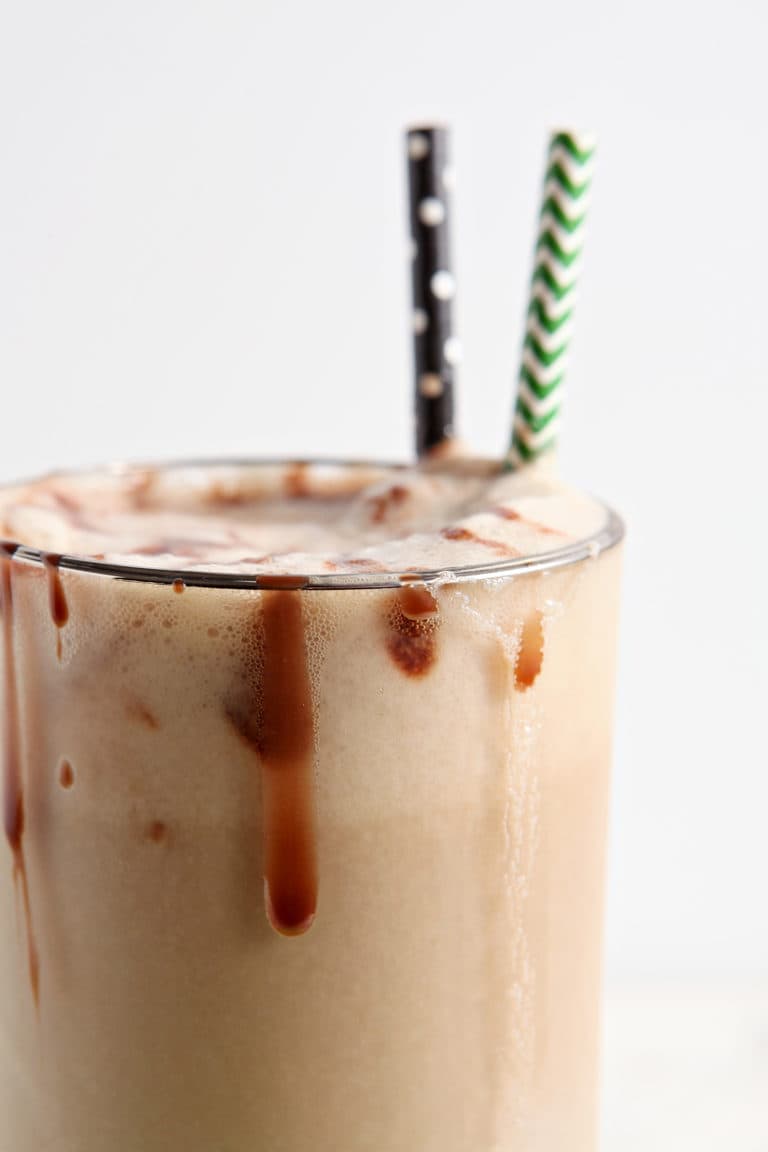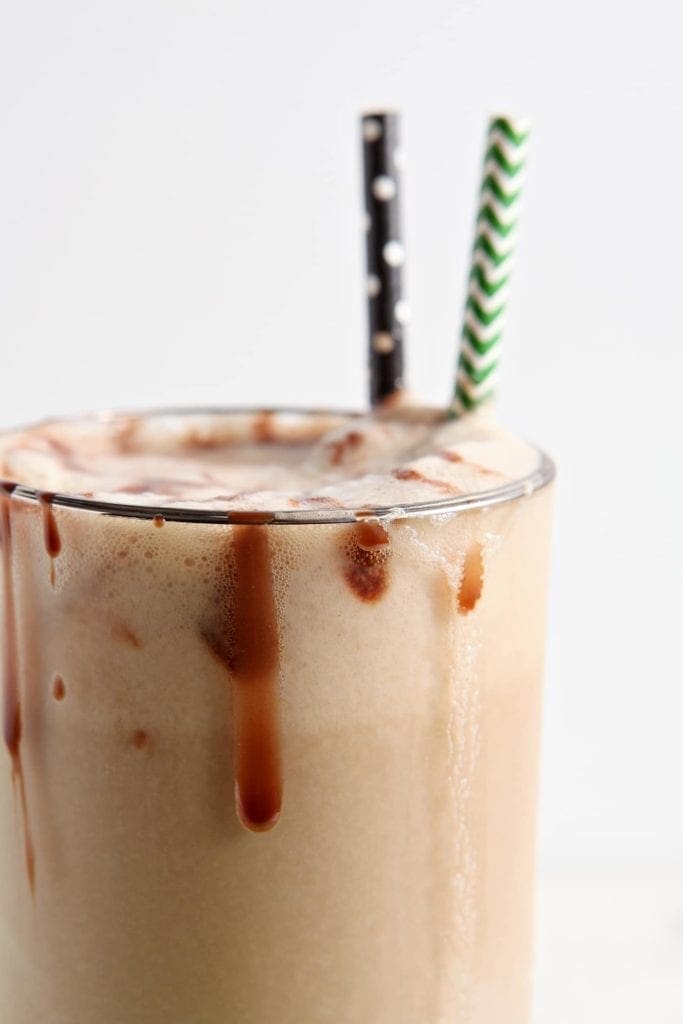 Erin's Easy Entertaining Tips
Who doesn't love a boozy float to celebrate a holiday? RIGHT. (If you're hosting a St. Patrick's Day party, please head on over to learn about St. Patrick's Day Party Food.)
These St. Patrick's Day Guinness Floats would be perfect for an at-home party. They're great for adults for dessert, obviously, and you can use your favorite soda for a kid-friendly rendition of this float, too.
Here are a few other tips and tricks to making beer floats while entertaining:
Purchase more than enough supplies. That means getting extra ice cream and Guinness (or your stout beer of choice.)
Make it an ice cream float bar! This would be especially fun to let guests make their own. Keep in mind that if kids are in the house, you'll want to keep the beer separate and out of reach. I'd make a regular mint chip float for the kids and let adults grab a Guinness from the fridge to make theirs off.
Keep the ice cream cold. If you're having a float bar, situate the ice cream in a champagne tub or a cooler to ensure it doesn't melt.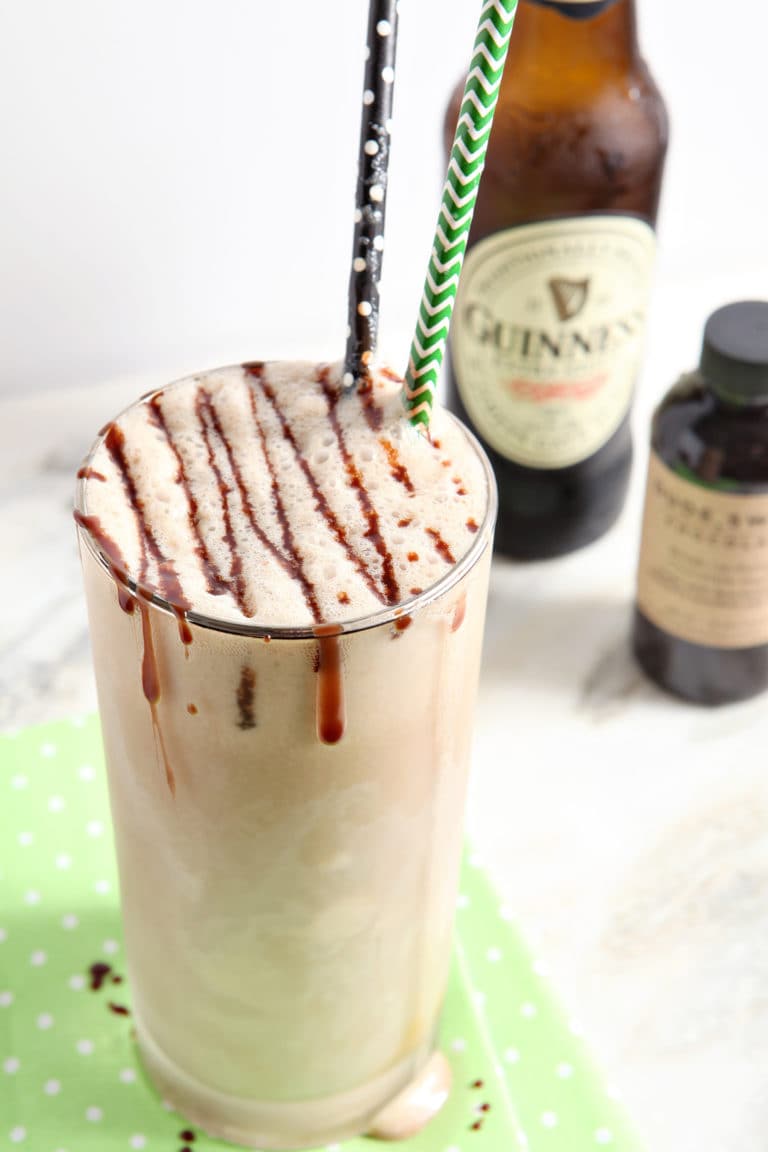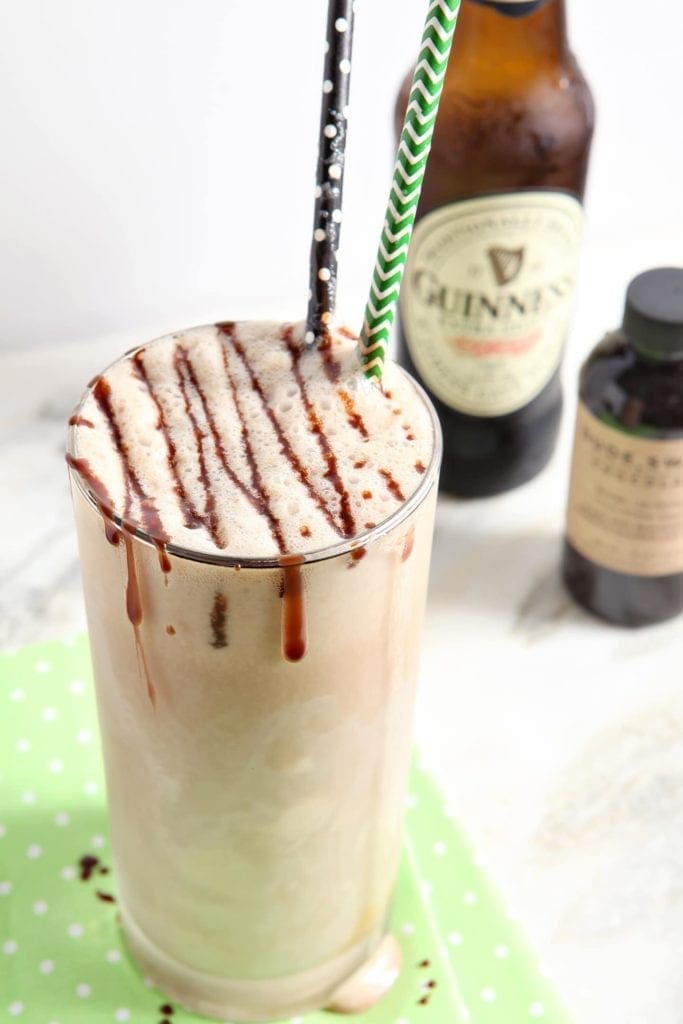 Frequently Asked Questions
What is a beer float?
A beer float is a dessert that combines beer and ice cream. It's like the traditional root beer float, but with your favorite beer instead. (In this case, we're using Guinness for St. Patrick's Day!)
Is a beer float good?
YES! While beer and ice cream might not something you might consider as a good combination, they work super well together.
Does beer and ice cream go together?
Yes, they do! And we use them together in this beer float recipe!
What mixes well with Guinness?
Obviously, ice cream goes well with Guinness. You can also use Guinness in chocolate cupcakes to bring out richness, as well as other drinks.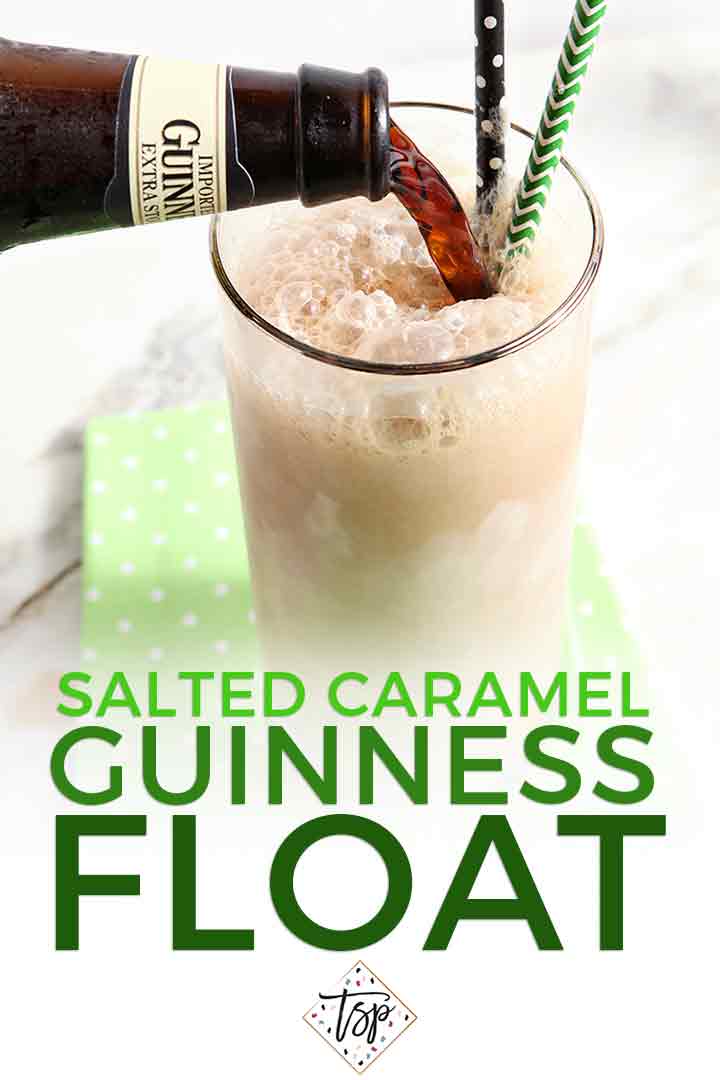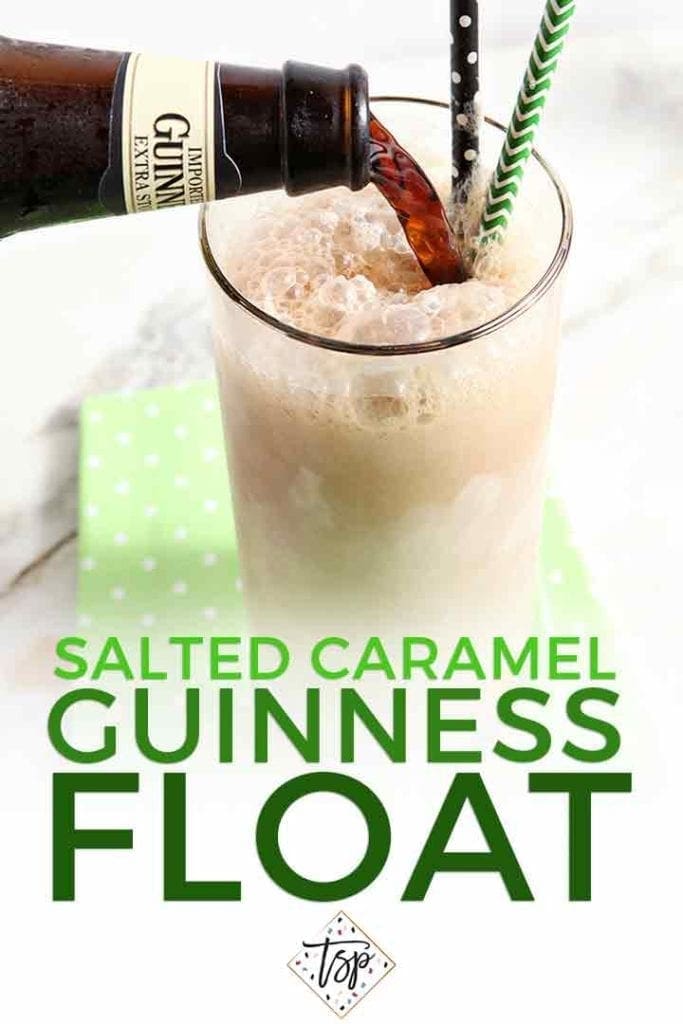 Interested in making this gorgeous float for yourself?
Scroll on down to learn how easy it is to make!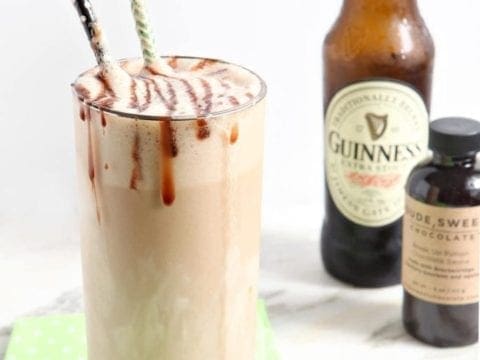 Yield:

2 floats
Salted Caramel Guinness Float
Move over, Guinness Float! There is a new Guinness dessert in town! Instead of using plain vanilla ice cream in your Guinness Float this St. Patrick's Day, consider adding salted caramel ice cream instead for a sweet and salty twist. This Salted Caramel Guinness Float is guaranteed to be a favorite adult dessert!
Ingredients
2-3 scoops salted caramel ice cream or gelato
1 bottle Guinness beer
Hot fudge sauce, for drizzling
Instructions
Scoop the ice cream/gelato into a large glass or float glass.
Pour the Guinness on top of the ice cream/gelato.
Stir until the Guinness is mixed into the ice cream/gelato.
Drizzle hot fudge sauce on the top, and enjoy immediately.
Recommended Products
As an Amazon Associate and member of other affiliate programs, I earn from qualifying purchases.
Nutrition Information:
Yield:
2 floats
Serving Size:
1 float
Amount Per Serving:
Calories:

985
Total Fat:

42g
Saturated Fat:

25g
Trans Fat:

0g
Unsaturated Fat:

14g
Cholesterol:

203mg
Sodium:

572mg
Carbohydrates:

132g
Fiber:

3g
Sugar:

115g
Protein:

15g
Nutrition facts are an estimate and not guaranteed to be accurate.
What will you make for this St. Patrick's Day?
Does this combination sound tasty to you?