Easy homemade Blueberry Lemonade Vodka is the perfect summertime mixed drink. This blender drink mixes together in no time and features frozen blueberries, so you can enjoy it any time of year. Makes 4 lemonade cocktails.
Love lemonade cocktails? Don't miss Vodka Lemonade with Raspberry and Cherry Lemonade Margaritas!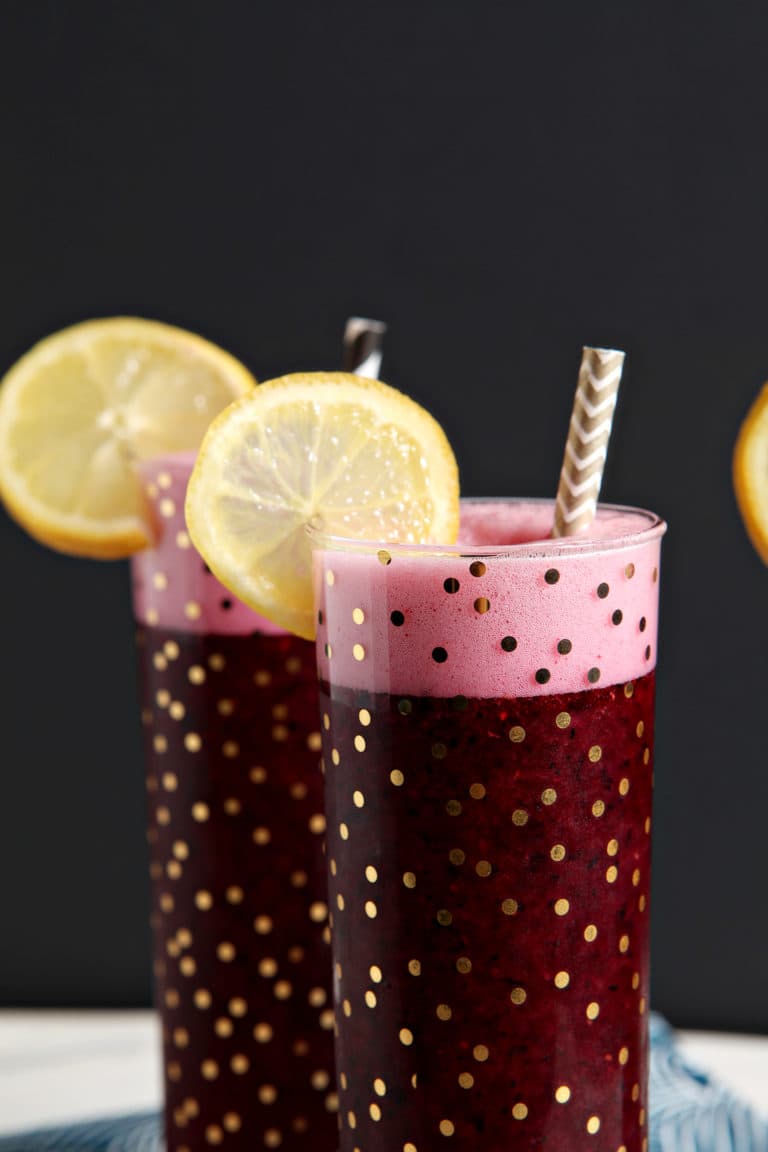 I developed this recipe during a week when our A/C kicked the bucket, and our 4-month-old and I spent a few days over at our neighbors' home while the new A/C and ductwork were being installed. Oh, we also burst a pipe in our irrigation system and flooded our lawn and street, too.
I'm not someone who will tell you, "Oh, just go make yourself a drink!" when the going gets stressful, but there were several moments where a drink sounded like the only thing that might keep me from losing my mind.
Why I love this recipe:
This lemonade cocktail recipe is a new favorite of mine. It's super simple to make and is incredibly flavorful. And if you're into a cocktail that requires sipping due to said drink being strong? Well, this is for you.
This drink is a winner across the board. And I totally suggest making one, especially if you're having a rough week. It would also be perfect to keep cool beside the pool or to sip at a picnic.
Other cocktails to try when it gets hot outside: Frozen Moscow Mule | Peach Margarita | Cherry Bourbon Slush | Frozen Strawberry Margarita | Blackberry Ginger White Wine Slush | Pimm's Cup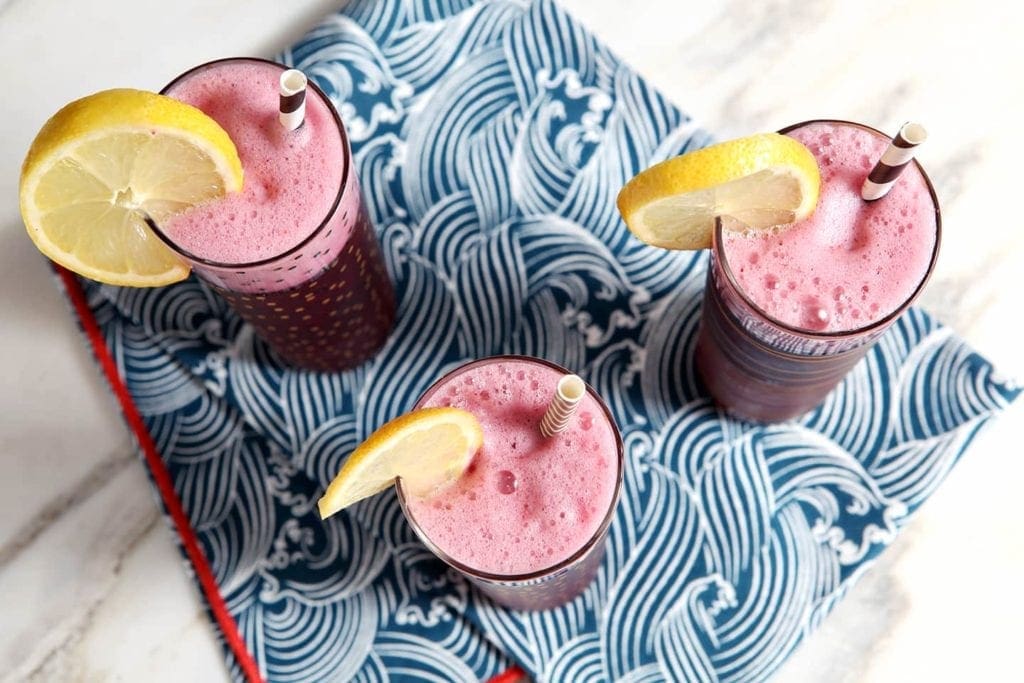 What you need to make this cocktail recipe
The Speckled Palate participates in affiliate programs. As an Amazon Associate, I earn a commission from qualifying purchases. Please refer to my disclosure page for more information about these affiliate programs.
In addition to these tools, you're going to need some ingredients, too:
Freshly squeezed lemon juice—the shelf-stable stuff you can find at the grocery simply will not do. Juice your own lemons or purchase the cold pressed lemon juice from the refrigerated section of your grocery store.
Water—to make our lemonade, obviously.
Simple syrup—homemade simple syrup is my favorite, but there are brands that sell it made for you to make life easier!
Frozen blueberries—they give the drink some extra chilliness, though you can certainly use fresh blueberries, too, if you've got those on hand
Vodka—we're using the plain kind, but you can jazz up this recipe with blueberry vodka, if you've got that on hand
How to make Blueberry Lemonade Vodka
The beauty of this Blueberry Lemonade cocktail recipe is that we're making it in the blender.
First, get all your ingredients together. This means squeezing your lemon juice (if you're not using the cold pressed fresh kind from the store).
Measure everything into the blender. In go the lemon juice, cold water, simple syrup, frozen blueberries and vodka.
Blend until nice and smooth, then pour into your glasses and enjoy immediately!
How to make a blueberry lemonade vodka pitcher
We're going to make our lemonade pitcher the same way that we do the individual drinks because the blender makes this so stinking easy.
Here are the measurements to make a 8-drink pitcher:
¾ cup freshly squeezed lemon juice
3 cups cold water
1 cup simple syrup
2 cups frozen blueberries
8 oz. vodka
Ways to customize this pitcher cocktail to your taste:
Mix it with honey simple syrup to naturally sweeten the drink.
Add less vodka if you don't like stronger drinks.
Make it a mocktail by leaving out the vodka altogether.
Use blueberry vodka in place of the regular vodka for extra blueberry flavor!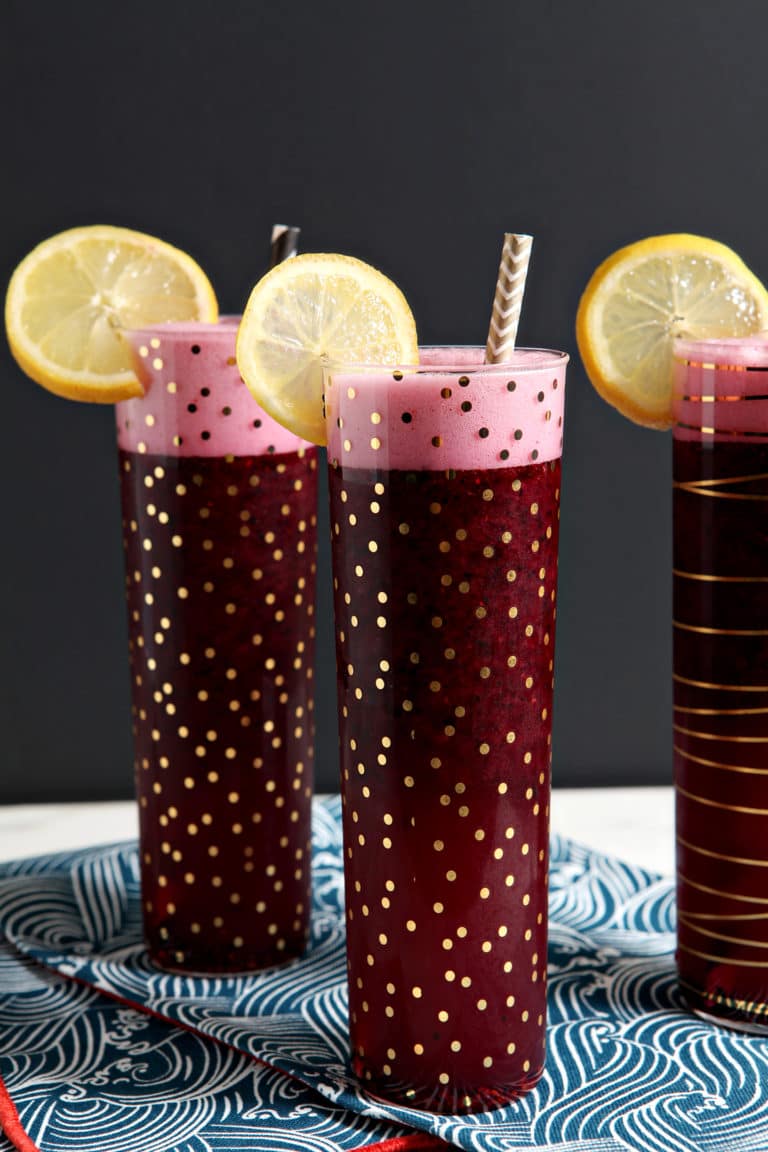 Erin's Easy Entertaining Tips
This Blueberry Lemonade Vodka is a brilliant idea to entertain with, whether you're hosting a Backyard Barbecue, a Tailgate Party at Home or a summertime get-together. It's refreshing and delicious, though I will note that if you're also hosting kids at this gathering that this cocktail needs to be kept separate so they don't get their hands on it. (In fact, if you're serving kids, consider making a pitcher of classic Blueberry Lemonade and letting adults spike theirs with vodka, if they want.)
Make your life easier with some store-bought substitutions, too. Here are a few things you can grab from the store if you're going to entertain with this lemonade cocktail recipe.
Simple syrup

—if you want to make your own lemonade for this cocktail, purchasing pre-made simple syrup is key!

Fresh squeezed lemon juice—you can find this in the refrigerated section of your grocery near the pre-cut fruit. It's a little pricey, but it makes life a lot easier if you don't want to be squeezing a ton of lemons.
Pre-made lemonade—there's no shame in purchasing your favorite lemonade from the store! If that's what helps you make this lemonade cocktail for a crowd, DO IT.
If you're entertaining with this Spiked Blueberry Lemonade, you can make a few things in advance, too:
Simple syrup—you can make a big 'ol batch of this goodness and keep it in the fridge for 2-3 weeks. Do yourself a favor and make it in advance.
Lemonade—this will last you a few days! If you're planning on making a pitcher of the blueberry lemonade, I highly recommend mixing up the lemonade in advance without the blueberries, and letting them hang out in the fridge. Toss them all in the blender together before serving guests.
Frequently Asked Questions
How much vodka to lemonade?
We're using a 2-1 ratio of lemonade to vodka in this cocktail recipe.
Does lemonade and vodka taste good?
Oh my goodness, YES. It's nice and crisp and delicious for the summertime.
What is the best vodka to use in this lemonade cocktail?
Whatever vodka is your favorite is the best vodka to use in this cocktail. Since you'll taste the vodka, I caution you against using a bottom shelf vodka (or a vodka blend). Tito's is my personal favorite brand of vodka.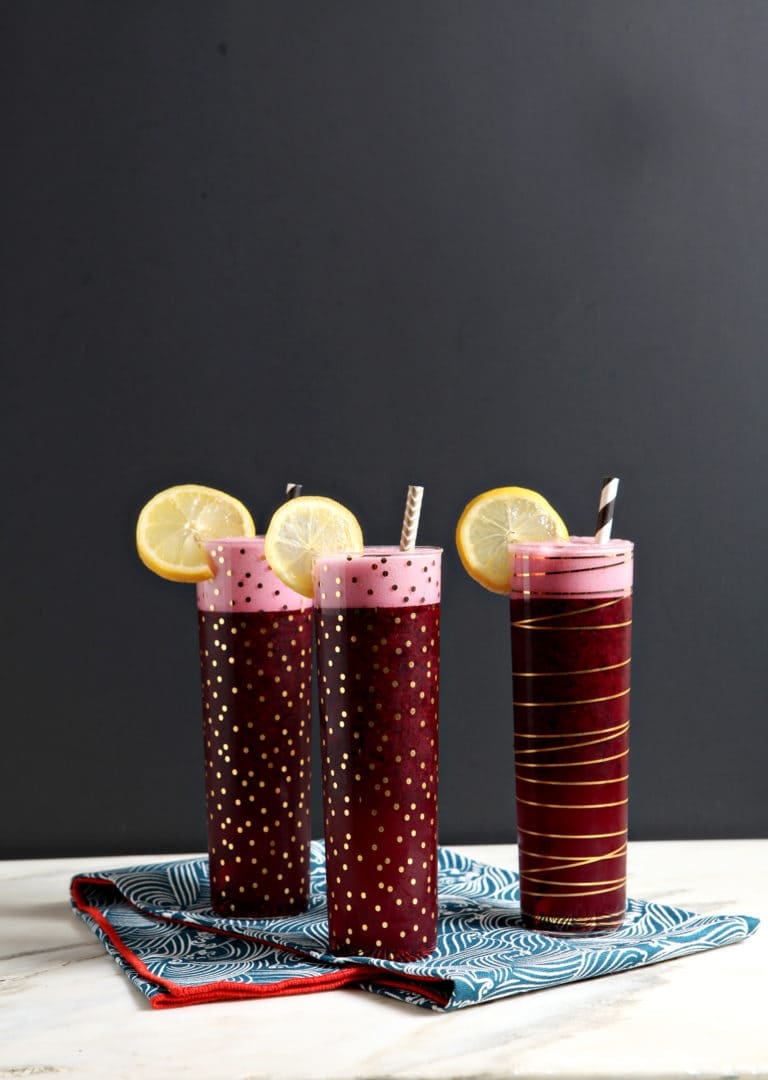 Quick tips and tricks to the best lemonade cocktail recipe
Store-bought substitutions: There's no shame in purchasing lemonade from the store if that makes your life easier. (Be aware that this could make your cocktail a little sweeter, as this lemonade recipe below is more tart.) Also, you can get cold pressed lemon juice and jarred simple syrup from the store, too, if you want to make your own lemonade.
How do I store this recipe? In a pitcher in the fridge for 2-3 days, though I recommend blending it right before guests arrive because we want the frozen blueberries fully incorporated, and they will sink to the bottom of your pitcher if not.
Give it your own twist! Make it a mocktail by leaving out the vodka (or make it less strong by using less.) Use blueberry vodka for extra blueberry flavor. Make it into a pitcher. The world is your oyster!
Other Chilly Drinks We Adore
Interested in making your own?
Here's how you make it for yourself and some friends this summer!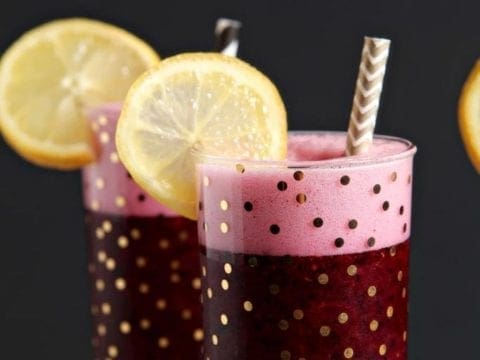 Yield:

2 drinks
Spiked Blueberry Lemonade
Easy homemade Blueberry Lemonade Vodka is the perfect summertime mixed drink. This blender drink mixes together in no time and features frozen blueberries, so you can enjoy it any time of year. Makes 4 lemonade cocktails.
Ingredients
6 tablespoons lemon juice, freshly squeezed
1 ½ cups water, cold
½ cup simple syrup
1 cup frozen blueberries
4 oz. vodka
Instructions
Measure the lemon juice, cold water, simple syrup, frozen blueberries and vodka into the base of a blender.
Blend together until smooth.
Enjoy immediately!
Nutrition Information:
Yield:
4 drinks
Serving Size:
1 drink
Amount Per Serving:
Calories:

362
Total Fat:

0g
Saturated Fat:

0g
Trans Fat:

0g
Unsaturated Fat:

0g
Cholesterol:

0mg
Sodium:

12mg
Carbohydrates:

78g
Fiber:

1g
Sugar:

76g
Protein:

0g
Nutrition facts are an estimate and not guaranteed to be accurate.