Dairy free Cranberry Orange Bars make a scrumptious seasonal dessert! A twist on the classic Lemon Bar, this sweet is a festive holiday treat for the whole family!
I don't know what it is about oranges, but anything that involves them, I immediately consider breakfast.
Maybe it's my years-long love affair with orange juice.
Maybe it's something else.
But whenever I see an orange item on a dessert menu, my brain automatically shouts, "BREAKFAST!"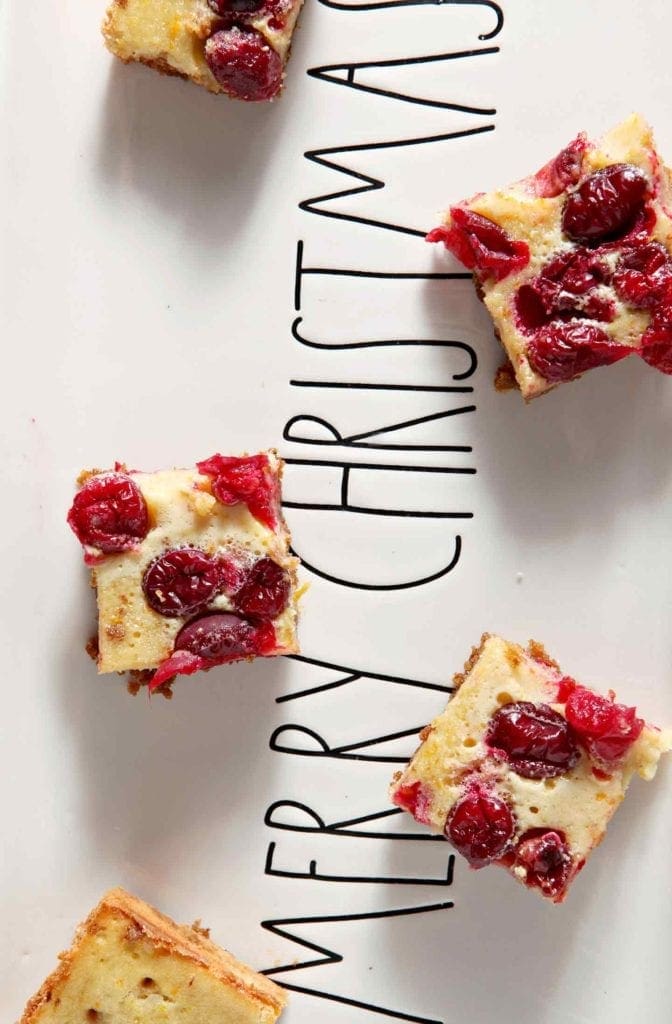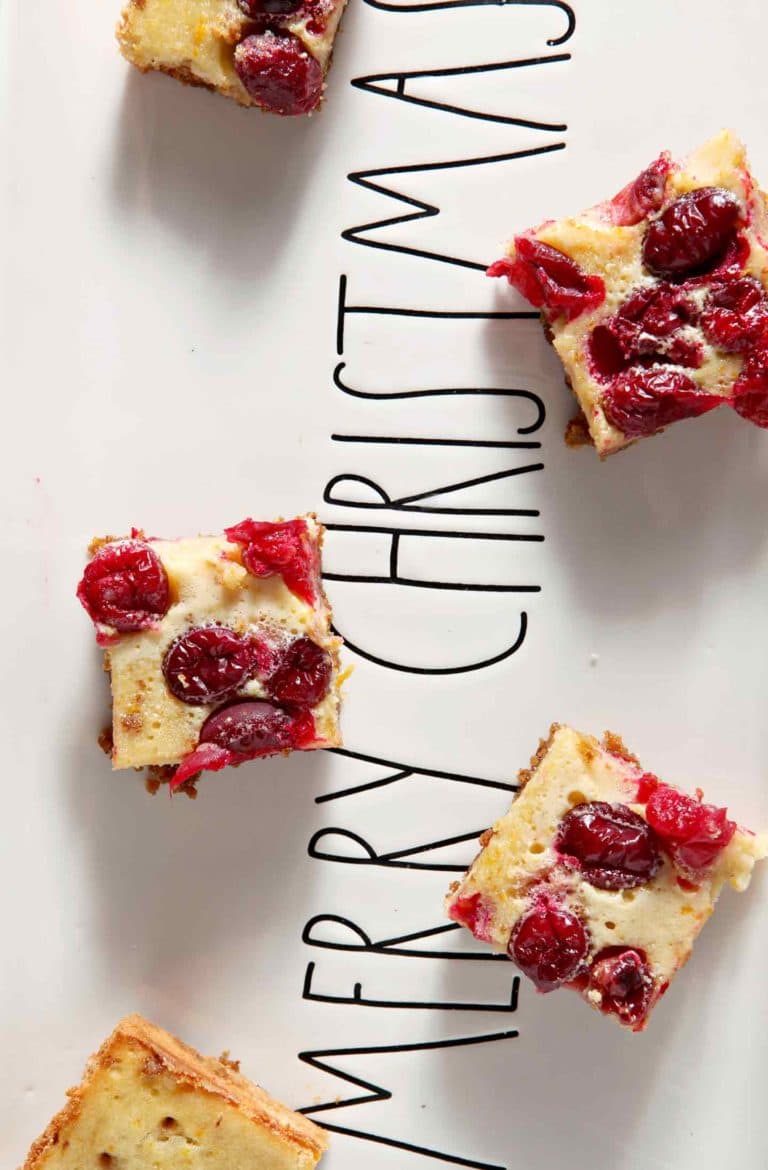 Yes, I realize I'm a weirdo. You don't need to point that out. I'm well aware. 😉
The thing is… I can attest to these Orange Cranberry Bars making a delicious breakfast and dessert. Because I've definitely eaten them as both. And because how could I not enjoy these bars multiple times a day?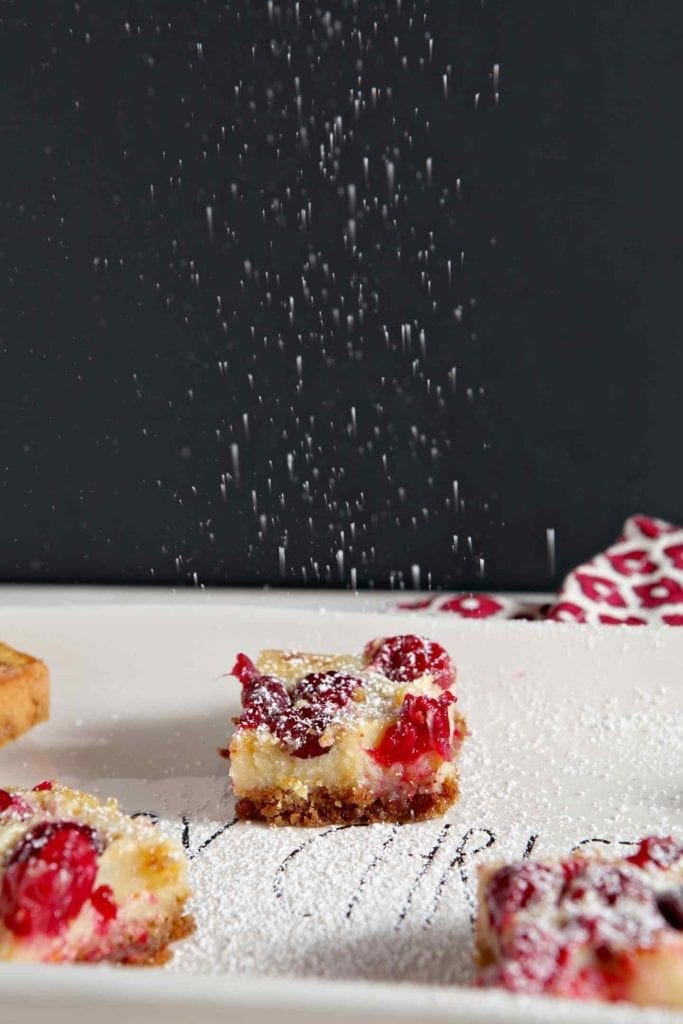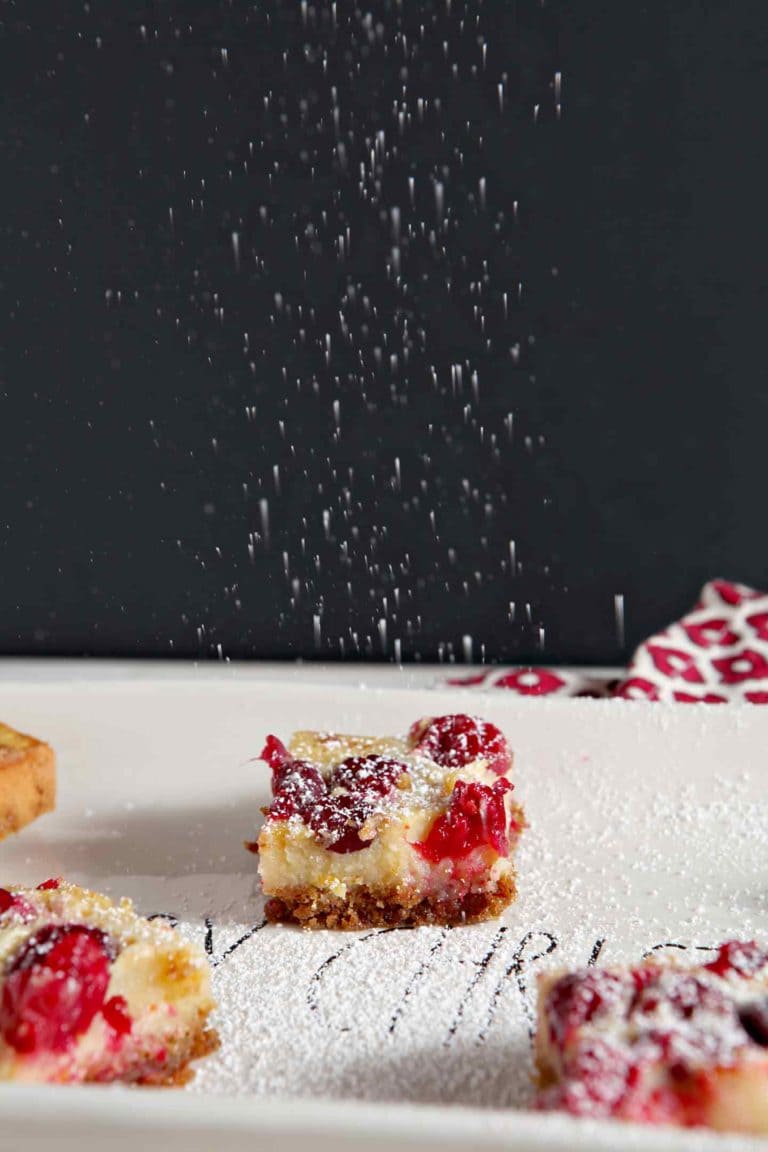 When I was considering what to make for my final Sweetest Season recipe of the year, I thought I'd whip up a lemon bar.
Well, I did that… and it needed some work.
While I was standing in front of my refrigerator – this is a very important part of the food blogging experience, y'all – and wondering what I could do differently, I spotted some orange juice.
Would Lemon Bars taste good if they were ORANGE BARS instead?
After debating with myself for a few moments, checking if I had oranges to squeeze and zest, and realizing I had some fresh cranberries that desperately needed using, too, I decided that yes, I could absolutely make Orange Bars.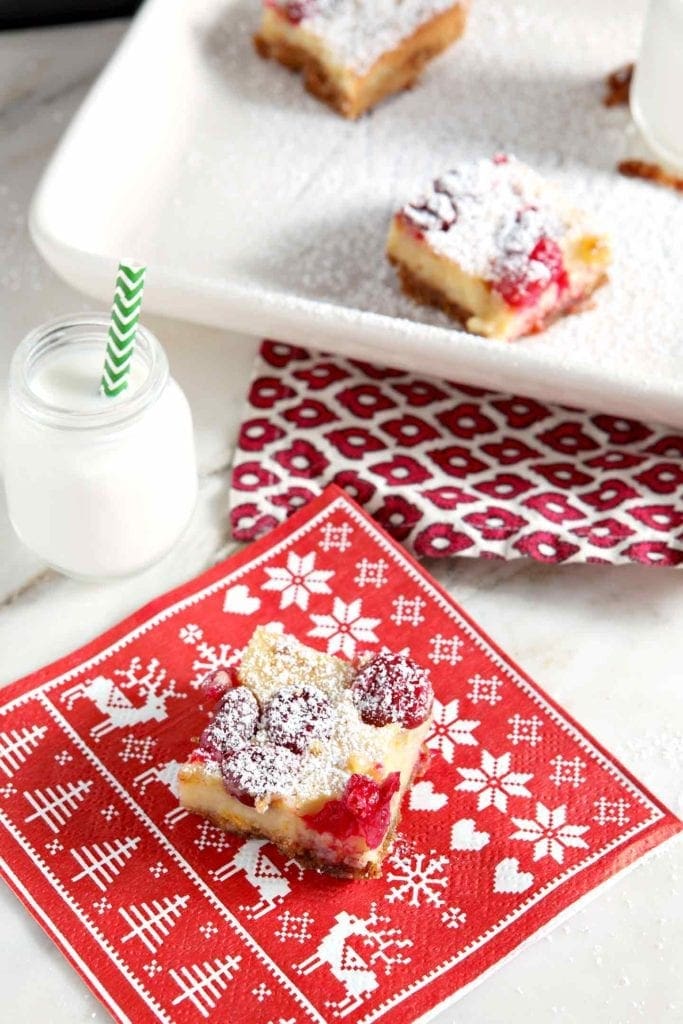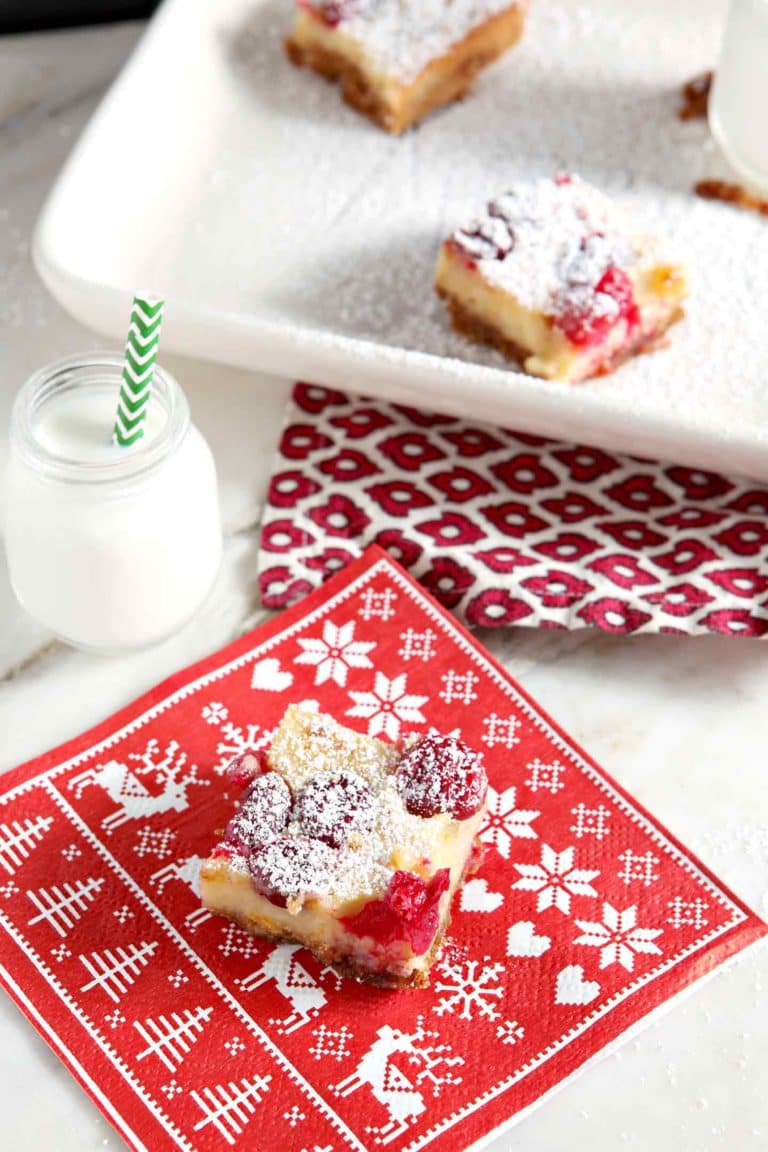 Turns out, this little twist on the classic is darn tasty.
Bonus points: These Orange Cranberry Bars are DAIRY FREE. (High-fives for my lactose-intolerant friends out there!)
Additional bonus points: They're stupidly creamy and simple to make. And they look super pretty because that sprinkling of powdered sugar looks like snow, AND the cranberries add a beautiful pop of red (and much-needed tartness!)
Your holiday party needs them… stat!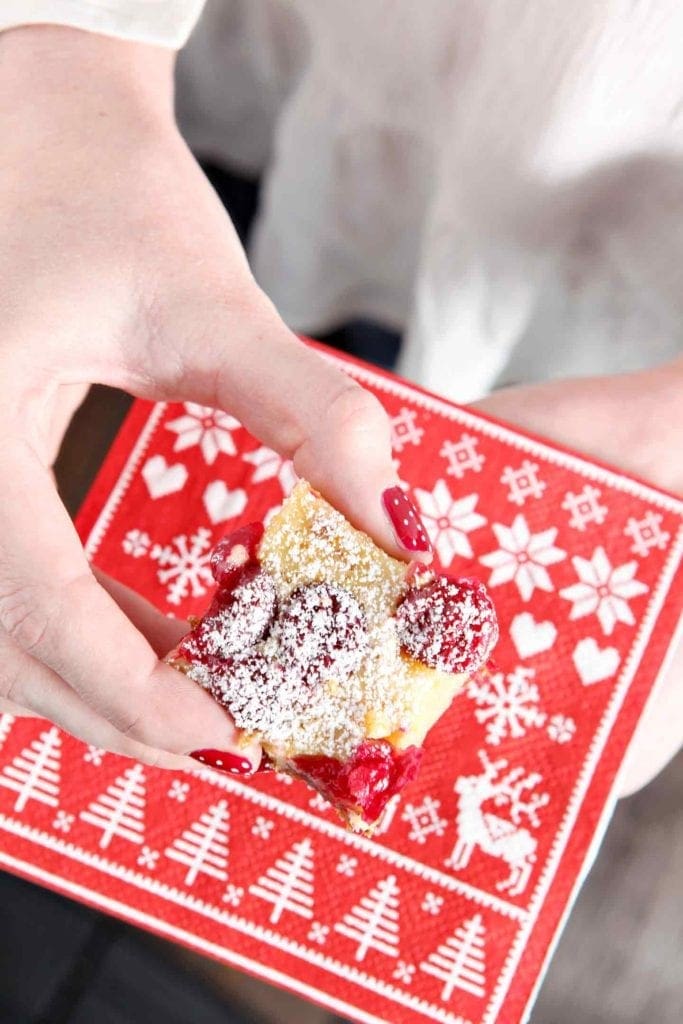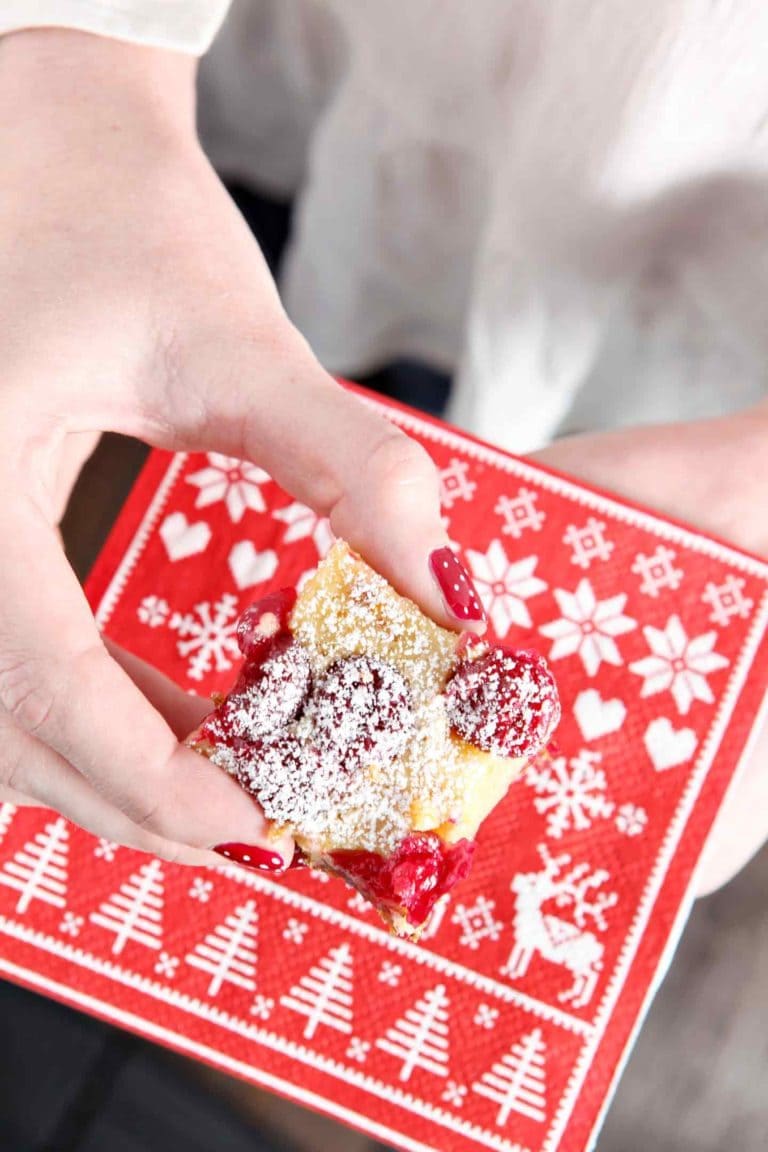 Erin's Recommended Tools/Products for Orange Cranberry Bars
Disclaimer: The links below are affiliate links. If you click through and take action, I will receive a small commission. Please refer to my disclosure page for more information about the affiliate programs The Speckled Palate participates in.
Now who's ready to make these scrumptious seasonal fruit bars?
Here's how I did it: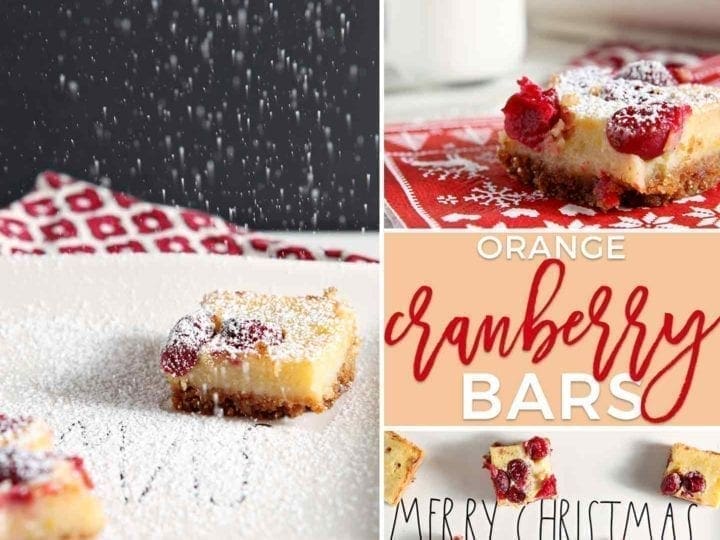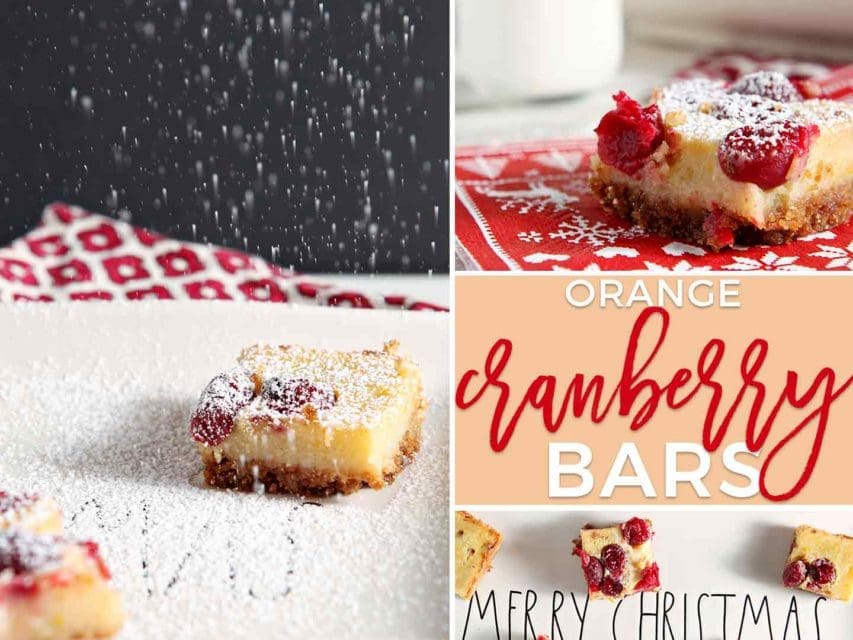 Yield:

18 bars
Orange Cranberry Bars
Total Time:
1 hour
10 minutes
Dairy free Cranberry Orange Bars make a scrumptious seasonal dessert! A twist on the classic Lemon Bar, this sweet start with a crunchy homemade Graham cracker crust. Drizzle silky orange filling on top of the pre-baked crust, then sprinkle on fresh cranberries before baking. When these Cranberry Orange Bars come out of the oven, let cool, then dust with powdered sugar for the finishing touch. What a festive Christmas treat for the whole family!
Ingredients
Graham Cracker Crust
1 ¼ cups Graham cracker crumbs
¼ cup granulated sugar
6 tablespoons coconut oil, melted
Orange & Cranberry Filling
3 eggs, at room temperature
1 tablespoon orange zest
½ cup orange juice, freshly squeezed
1 ½ cups powdered sugar, sifted
½ cup unbleached all-purpose flour, sifted
½ cup fresh cranberries
Powdered sugar, for sprinkling
Instructions
Make the Crust
Preheat the oven to 350°F. Line a 9"x9" baking pan with parchment paper, spray with baking spray and set aside.
In a large glass bowl, measure in the Graham cracker crumbs, granulated sugar and melted coconut oil.
Stir the ingredients together using a spoon or a fork.
Press the crust into the bottom of the prepared baking pan, using a measuring spoon or another heavy object to press it evenly. (The more packed it is, the less of a chance it will break off and float upward into the filling.)
Bake for 25-35 minutes, or until the crust is golden brown.
Remove from the oven, then set aside to cool slightly while you make the filling.
Make the Bars
In another large glass bowl, crack the eggs and add the orange zest. Using a hand mixer, whip the eggs and orange zest together until light.
Add the orange juice to the egg/zest mixture, and mix until incorporated.
Sift the powdered sugar and flour into another bowl together, and sprinkle into the wet ingredients, stirring slowly with the hand mixer until just combined.
Pour the orange filling on top of the slightly cooled Graham cracker crust.
Sprinkle the cranberries on top of the filling, and transfer to the oven.
Bake for 35-40 minutes, or until the bars are cooked through. (I like to put on an oven mitt and shake the pan to see if the filling is jiggly. If so, it needs more time. If not, it's good to go!)
When cooked through, remove from the oven, and let cool completely.
Sprinkle with powdered sugar, and enjoy!
Notes
Please note that the total bake time combines the times for the CRUST, as well as the BARS. Do not bake the bars for 60 minutes!
Adapted from Ina Garten's Lemon Bars recipe.
Store in a sealed container inside the refrigerator for up to a week.
Nutrition Information:
Yield:
18 bars
Serving Size:
1 bar
Amount Per Serving:
Calories:

167
Total Fat:

6g
Saturated Fat:

4g
Trans Fat:

0g
Unsaturated Fat:

1g
Cholesterol:

31mg
Sodium:

39mg
Carbohydrates:

27g
Fiber:

0g
Sugar:

20g
Protein:

2g
Nutrition facts are an estimate and not guaranteed to be accurate.
Oranges: Are they a breakfast food for you, too?
What will you bake this season?