Halfway there! A 20 Week Pregnancy Update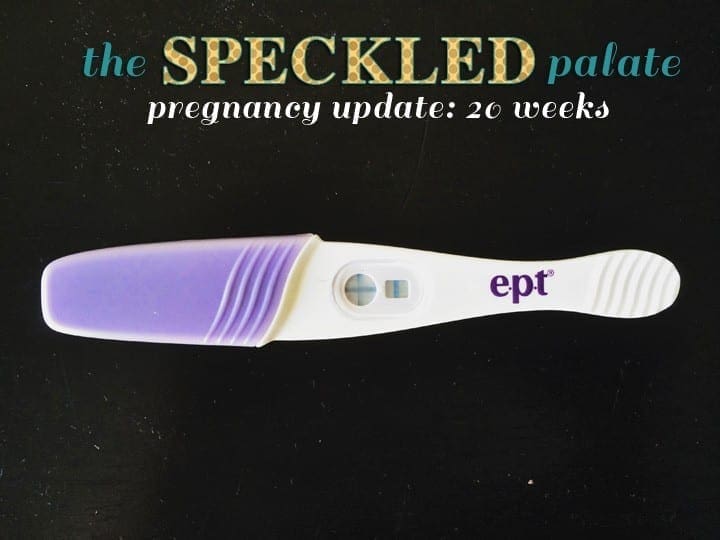 It's hard to believe that on Sunday, I hit the halfway mark of my pregnancy. Where the HECK has the time gone, y'all?
In an attempt to document some of the things about my pregnancy here, I'm going to be sharing a monthly update on pregnancy happenings from here out.
Let's get this thing started, shall we?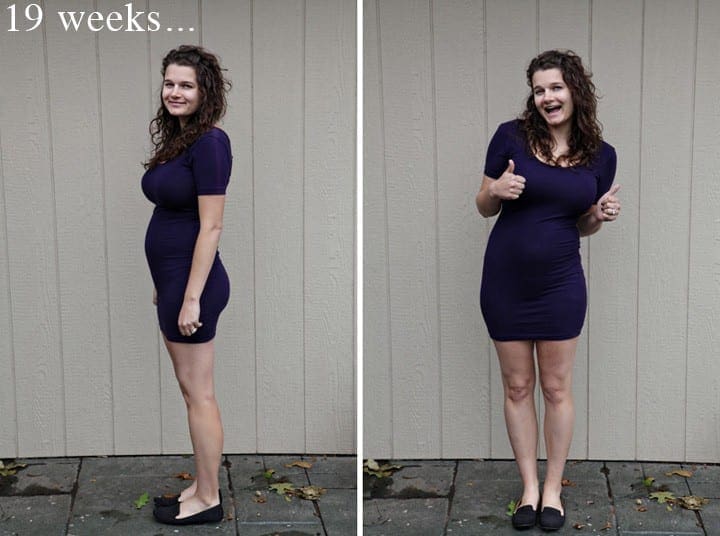 It only took 19 weeks for me to start looking pregnant. Hooray for a baby bump that actually LOOKS like a baby bump!
How far along? 20 weeks.
How big is baby? At last Thursday's sonogram appointment, we were told she is around 10″ long and weighing in at around 12 oz. My pregnancy app says she's the size of a banana this week. A really big banana, apparently.
Total weight gain: ~9 lbs., according to the scale at my doctor's office.
Updates? Due date is still March 1. Lady Baby is right on track, growth-wise, and we're still over the moon.
Symptoms? I'm tired. Not nearly as tired as I was during the first trimester, which I'd to equate to running a marathon without the exercise, but I don't feel "normal." I hear I won't for a while… or maybe never again. Haha.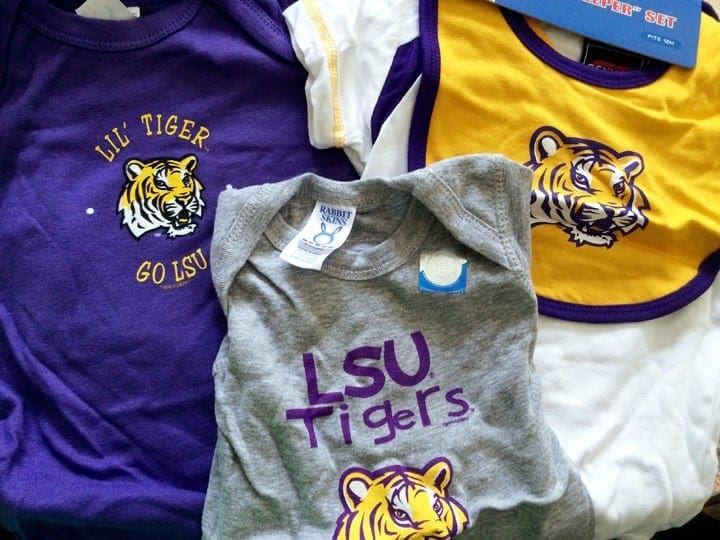 My little sister, who attended the University of Alabama, sent us these LSU onesies for Lady Baby when she first learned the news. Yes, we understood what a big deal it was for a Bama fan to purchase LSU gear for her niece, and we are so grateful. … I might have even cried when I opened up the package.
Missing… Running. Eating sushi and a delicious rare steak. Drinking an occasional beer during a football game.
Feeling… Pretty decent, all things considered. I've gotten more energy during the last month or so, and it's comforting to know I do not need to lie down every afternoon for a nap these days. During the first trimester, if I didn't, my body would revolt, and I'd fall asleep on the couch around 6 or 7 immediately after dinner.
Exercise? Lu and I walk daily in the mornings, and we'll sometimes go out for an evening jaunt with Winston when he arrives home from work. I've never been much of a walker, but I'm adoring this slower pace and spending time with my sweet pup as we both get in a little exercise. Running has been out of the question since it's still so warm in Texas, and I haven't wanted to risk it with the heat, but I'm hoping I can pick that up in the next few weeks as the temperatures cool down some.
Sleep? Some nights, I sleep like a baby. Other nights, I'm wide awake into the wee morning hours. I've started waking up around 2:30 some mornings and can't get back to sleep until nearly 6 a.m. It's exhausting, and I've been struggling with backaches for the last week, which makes sleep less comfortable, too.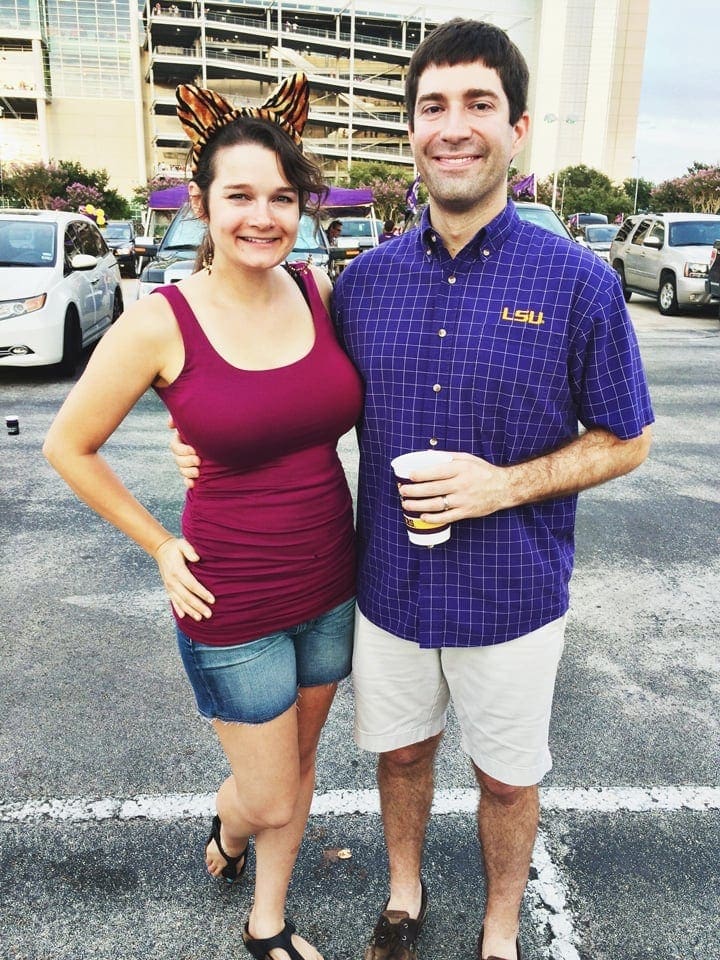 Trying to look stylish while tailgating in Houston at 14 weeks. We trekked south to cheered on the Tigers as they kicked off their football season in a thrilling fashion.

Movement? I think I can feel her, but I'm still uncertain. At last week's appointment, the sonogram technician told me that the movements I probably think are her actually are her because she was moving around so much during the sonogram!
Food cravings?: Cheerio's. Chilled green grapes. Cheese sticks. Cocoa-dusted and/or lightly salted almonds. Anything fried and/or unhealthy. I'm trying not to go crazy with the sweets because I think they're a slippery slope. Everyone keeps saying, "You're pregnant! Eat all the things you want!" And I get it, and I am certainly not denying myself… but when Lady Baby arrives, I don't want to be stuck with a bunch of extra weight from eating Cheeto's and french fries daily throughout pregnancy, ya know? It's all about balance, and I'm doing my best to get as balanced a diet as I possibly can while avoiding the foods that currently make me want to puke.
Aversions? Scrambled eggs. Sautéed spinach. Anything with a slimy texture. Mint toothpaste. (I've been using cinnamon-flavored toothpaste, and it's so much more palatable, even if my husband is completely disgusted by this.)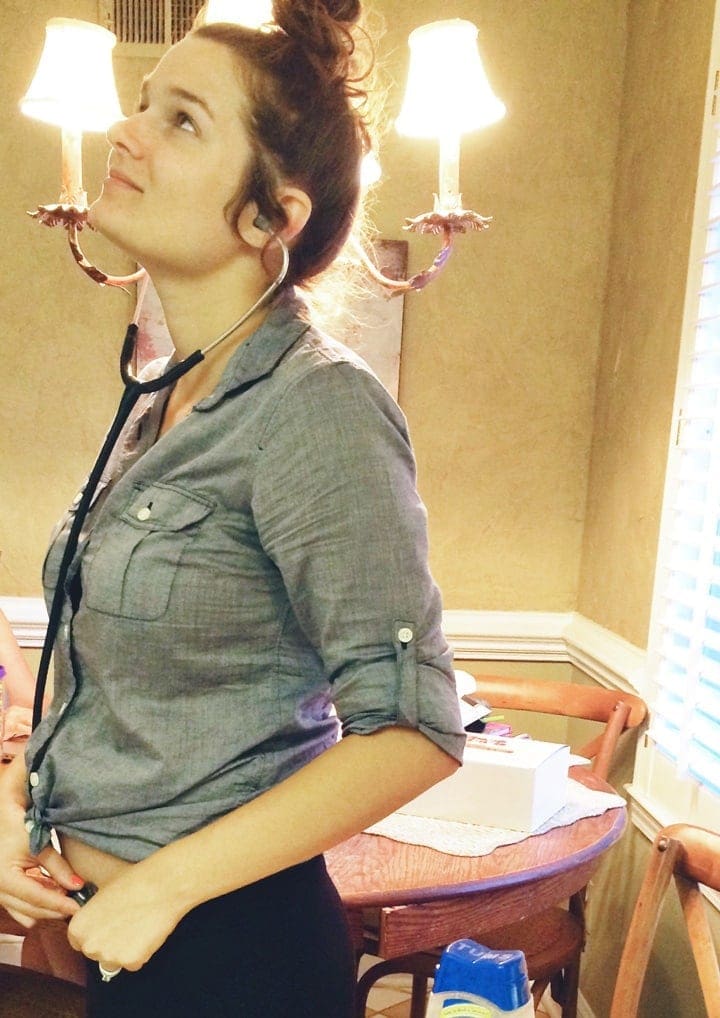 Trying to hear Lady Baby's heartbeat through my sister's stethoscope during a visit to Memphis in August. It was too early to hear anything, but this is one of my favorite random pregnancy photos to date!
Anxious about… Travel in the upcoming weeks and months and being comfortable during said travel. Actually birthing Lady Baby. Trying not to think too much about the latter just yet.
Excited about… Travel in the upcoming weeks and months. We're visiting our families for Thanksgiving and Christmas, and I am really excited to see everyone before I become too big to travel comfortably.
What I'm loving… The outpouring of love and support we've received since announcing the pregnancy last month. This is such an exciting time for us as we prepare for Baby S, and we're so happy everyone has been so supportive and kind during this time. Lady Baby is already so loved, and I have no doubt she'll be spoiled rotten by her grandparents, aunts and all of our family members and friends.
What I'm looking forward to… Winston and I are babymooning in New York later this month, and I am stupid excited. We've been so many places and seen so many things during the last few years, thanks mostly to friends getting married all over the place, but we've only taken three vacations together in the span of our 7.5 year relationship when we weren't going somewhere for someone else. Winston has never been to NYC, so I'm thrilled to get to explore the city with him, check out some of my favorite spots, do some touristy things and enjoy the fall weather!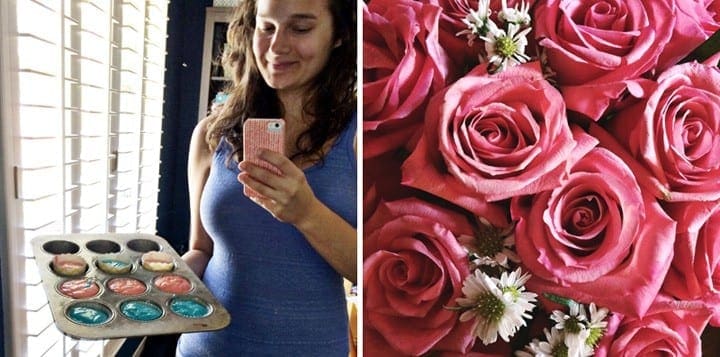 The day we learned the gender of our baby, I baked blue and pink cupcakes to do a reveal! Since we don't live anywhere near our families, we recorded us opening the envelope from the doctor, and after we read the card aloud, we cut into the pink cupcake and devoured! That weekend, my sister got me the most beautiful pink flowers upon my arrival in Memphis for a visit.
…
And that's it!
20 weeks, y'all. Time is flying!
Interested in following along? Here are all of my pregnancy updates to date: 20 weeks | 25 Weeks | 29 Weeks | 32 Weeks | 36 Weeks | 40 Weeks