Whew, y'all. This post was supposed to go live last week, but life got a little frantic.
You see, we put our house on the market last Monday, and it's been a whirlwind preparing and actually keeping up with it. Then I promptly left the state of Texas for Utah to attend a food blogging conference. (More on this in next month's potluck!)
All that is to say that things are GOOD. We're excited about the potential of finding a house that fits our growing family a little better, even though we're really sad to leave the house we started our family in.
But before we get too deep into the month of May, how 'bout we take a look back at the things that made us exceedingly happy in April? Yeah?
To recap, my potluck, as defined by the folks at Merriam-Webster is:
the regular meal available to a guest for whom no special preparations have been made… a communal meal to which people bring food to share —usually used attributively <a potluck supper>; whatever is offered or available in given circumstances or at a given time.
Ready to learn all the things I liked? Let's do this!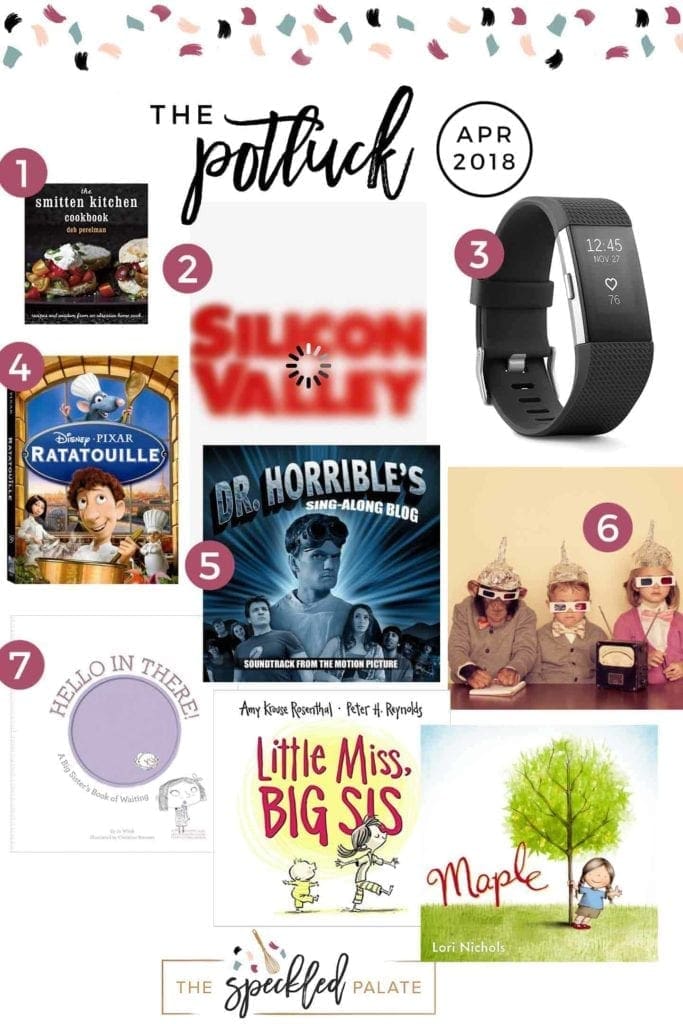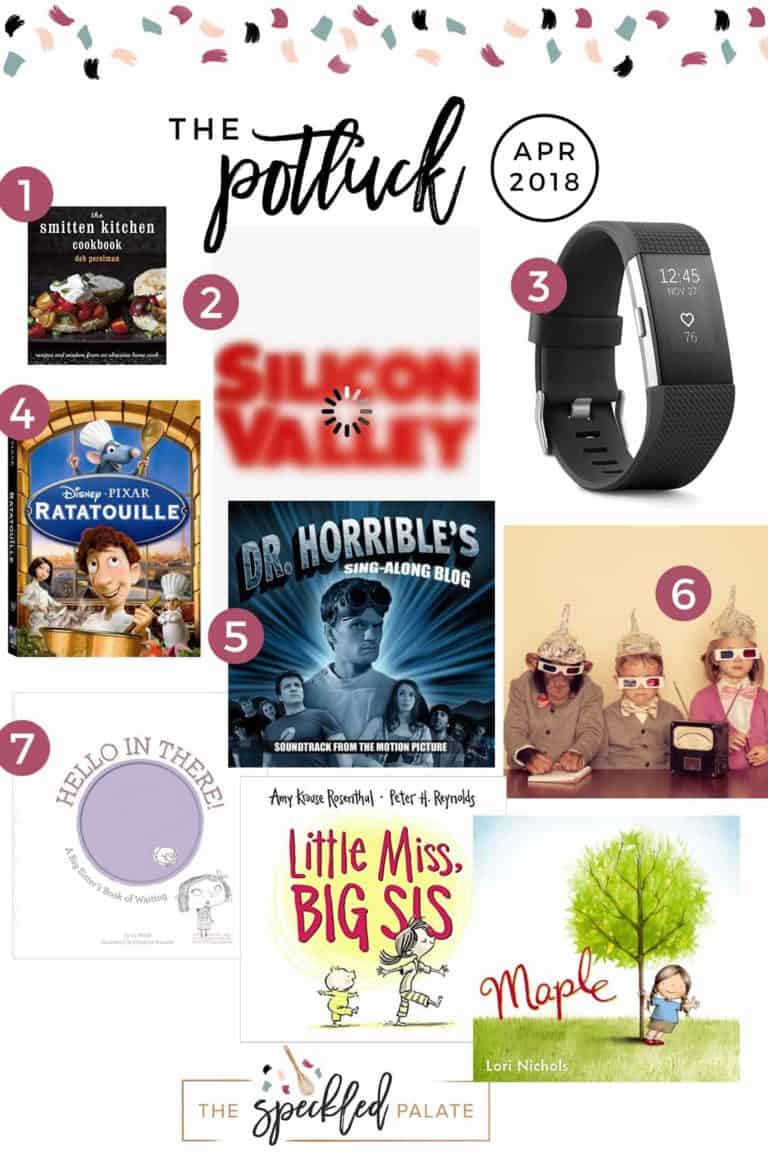 This post contains affiliate links. If you were to make a purchase through one, I would receive a small commission. For more information about the affiliate programs The Speckled Palate participates in, please refer to my disclosure page.
1. The Smitten Kitchen Cookbook: For whatever reason, the Mustard Milanese Chicken in this cookbook has been MAKING MY LIFE recently. As in, I make it about once a week. The only thing that would make it better is if someone (cough, cough) came to my house and made it for me so I could sit on my tush, then enjoy a lovely, crispy chicken dinner.
2. Silicon Valley: This satirical series just makes me so very happy. It's funny, it's dry, it's sometimes inappropriate. It's been one of my favorite things to watch on Sunday nights for the last month. Have you seen it? What do you think of Richard and his band of programmer pals and their new Internet?
3. Fitbit Charge 2: My old Fitbit kicked the bucket earlier in the year, and I was thrilled to replace it with a Fitbit Charge 2. Not only does it track my heart rate, but it pings me whenever I need to get up and get moving. While I'm not doing nearly as much exercise these days as I was last year, it's nice to have a reminder on my wrist, as well as something to hold me (at least a little bit) accountable to moving. Do you have something like this that tracks your activity and steps?
4. Ratatouille: Lady A coined this movie, "Creepy Mouse," back in the fall when it was first introduced to her. As in, "Welcome home, Dada. We watchin' Creepy Mouse." Fast forward to last month. She decided that Creepy Mouse was her fravorite. As someone who happens to believe anyone can cook and who wants to encourage her kid to do anything she sets her mind to–especially cooking–her sudden re-interested in this movie makes me oh-so-happy.
5. Dr. Horrible's Sing-Along Blog: We roadtripped for Easter and rediscovered this delightful soundtrack. Witty musicals make me chuckle, and this one has been doing so for, oh, ten years. Did you discover this when it was released? Have you never heard of it? Either way, do yourself a favor and check it out. (Again.) Now if the sequel would actually happen…
6. Theory of Content Podcast: If you're a food blogger (or, honestly, any content creator who works on the Internet and you want to have a better understanding of HOW your content is found) and not listening to this podcast, you're missing out. Amber and Josh have given me so much to think about since I discovered their podcast last month. I got to listen to them talk SEO and content in person in Utah, as well, which was amazing!
7. Hello in There!: A Big Sister's Book of Waiting (Growing Hearts), Little Miss Big Sis and Maple: Big sister books are where it's at! As you might've learned from a post earlier this month, we are expecting baby #2 in (early-ish) September and couldn't be more excited. She was nicknamed Baby Speckle by a blog pal at last week's Everything Food Conference, and it's already sticking! Lady A is thrilled, too, and she's been loving these books we got for her.
…
What Did You Love In April?
…
Curious about other things I've loved? Check out my other potlucks:
2014: October | November| December
2015: January | February | March | May | June | July | August | September | November | December
2016: January | February |March | April | May | June | July | August | September | October | November | December
2017: January | February | March | April | May | June | July | August | September | October | November | December
2018: January | February | March | April | May | June | July | August | September | October | November | December
2019: January | February/March | April | August