The Potluck: February/March 2019
Continuing the monthly tradition, The Speckled Palate's The Potluck: February-March 2019 includes a new and exciting project I've been working on (that goes live NEXT WEEK), a book recommendation for fellow creatives, a new family favorite game and more. Swing by the blog today to read the full list of things I adored during the months of February and March.
I'll be honest: I've dropped the ball on this whole love list thing recently, and it makes me really sad because I love the potlucks I've been sharing with y'all for years.
The thing is… life is increasingly crazy, and I have a really hard time sitting down and writing, let alone keeping track of all of my favorite things. Hence, this two month potluck.
That said, February and March were lovely. Our older daughter turned FOUR. We took a parents-only trip to Nashville in March. And we're settling into life as a family of four, which feels really good since it feels like I'm constantly trying to find my footing as we navigate this day in and day out.
To recap, my potluck, as defined by the folks at Merriam-Webster is:
the regular meal available to a guest for whom no special preparations have been made… a communal meal to which people bring food to share —usually used attributively <a potluck supper>; whatever is offered or available in given circumstances or at a given time.
Ready to learn some of the things I loved in February and March? Let's do this!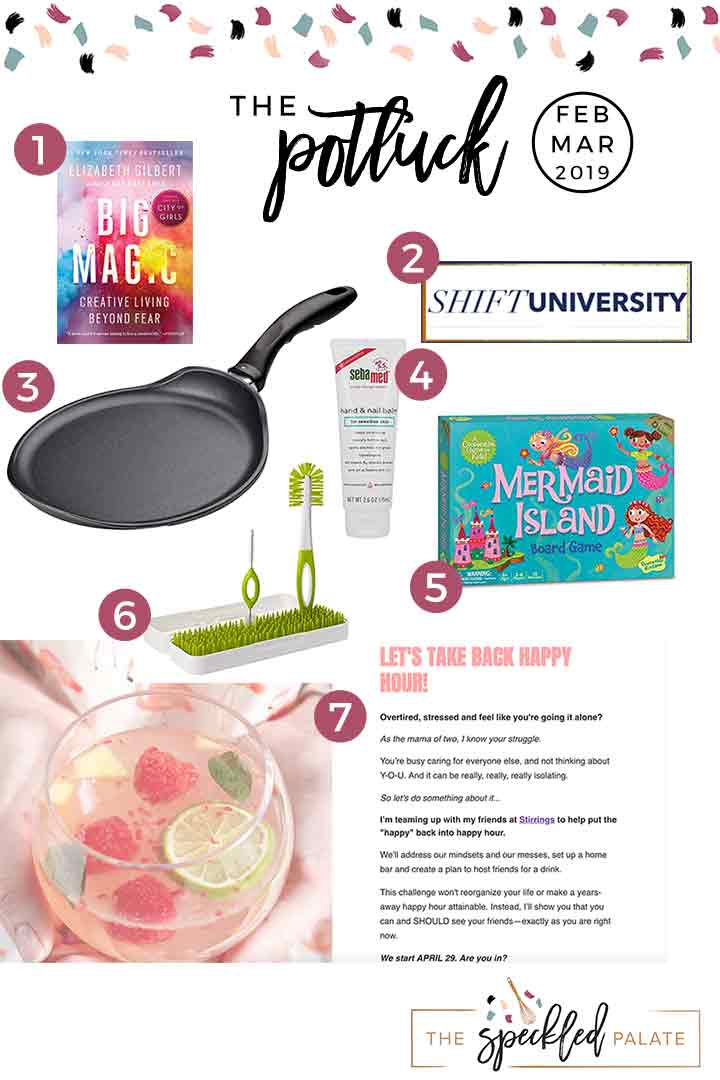 Disclaimer: Some of the links below are affiliate links. If you click through and take action, I will receive a small commission. Please refer to my disclosure page for more information about the affiliate programs The Speckled Palate participates in.
1. Big Magic: Creative Living Beyond Fear by Elizabeth Gilbert: Are you a creative who wants a fire lit beneath you? If so, I highly recommend this book. Big Magic was recommended by several friends, and I'm so, so, so glad I finally picked it up! So, if you want to feel inspired and like you should be doing that thing that you constantly are thinking about, you should pick up this book. (And if you live in Dallas, I'm happy to lend you my copy!)
2. ShiftUniversity with Nicole Culver: The best thing I've done for my business recently was joining ShiftU last year. Since then, I've had a fire lit under me to get things done, even though I don't have a ton of time to do work stuff since I stay home with the girls, too. I feel like Nicole has helped me refine my focus of where I want to take my business, and I am so, so, so excited about this. (See: #7 on this list. I would not have done that if not for Nicole!)
3. Swiss Diamond Crepe Pan: Confession—I'd never made crepes before I received this pan for #SpringSweetsWeek because I assumed they were super challenging. Turns out, they're not if you have the right equipment! This crepe pan made all the difference for my Sweet Breakfast Crepes. And we've been making 'em ever since.
4. Sebamed Hand and Nail Balm: Hooray, hooray for a fabulous product that helps my hands get back to the place they want to be during the dry winter months. My friend, San, recommended this lotion when I asked my Instagram friends what the heck they used to keep their hands happy during winter months. While I'm not in love with the smell, it works like a dream and goes on easy.
5. Peaceable Kingdom's Mermaid Island Board Game: Within the last few months, we've discovered board games. And by we, I mean our older daughter. This Mermaid Island game was a present for her birthday, and we've been playing it a ton. She's super into mermaids and sea witches, so this game was basically calling her name. 😉
6. Boon Trip Travel Drying Rack: When we traveled to Nashville in March, this travel drying rack came in handy since I had to pump for the duration of our travels. We have a full-sized one at our house for all the baby and bottle-related things. I was so happy to discover the travel one, too!
7. The Mama Happy Hour: This is something I've been working on for months… and it's almost here! What is it? It's a free, week-long e-mail challenge series to help mamas (and other busy ladies) reconnect with their people and themselves over an at-home happy hour. During the week, we'll address our mindsets and messes, learn a new drink recipe (that can be made with or without booze because this happy hour is open for all!), stock our bar and more! I'd love if you would join me for this inaugural event!
…
Curious about other things I've loved? Check out my other potlucks:
2014: October | November| December
2015: January | February | March | May | June | July | August | September | November | December
2016: January | February |March | April | May | June | July | August | September | October | November | December
2017: January | February | March | April | May | June | July | August | September | October | November | December
2018: January | February | March | April | May | June | July | August | September | October | November | December
2019: January | February/March | April | August