Could we take a second and marvel on the fact that it's already MAY? How the heck have five months passed? How are we going to hit the halfway point of 2016 NEXT MONTH?
Time is flying, y'all, and today, I'm recapping my favorite things from the month of April. To recap, my potluck, as defined by the folks at Merriam-Webster is:
the regular meal available to a guest for whom no special preparations have been made… a communal meal to which people bring food to share —usually used attributively <a potluck supper>; whatever is offered or available in given circumstances or at a given time.
Around the end of every month, I write up a list of my (current) favorite things. While this list might not be a traditional "meal," I hope to bring some unique products/entertainment/links/etc. that I've recently loved in the hopes that y'all will enjoy them, too.
Who's ready to recap APRIL?
Here we go…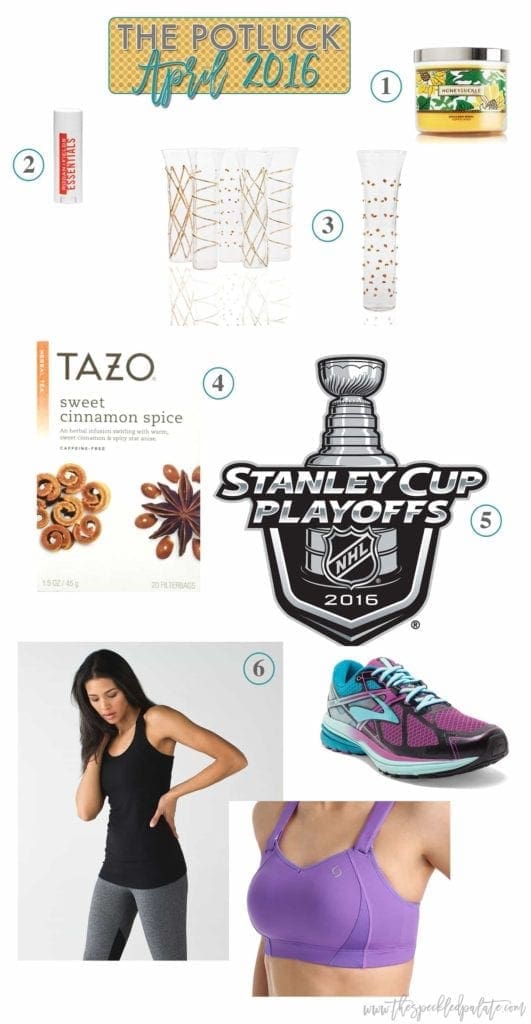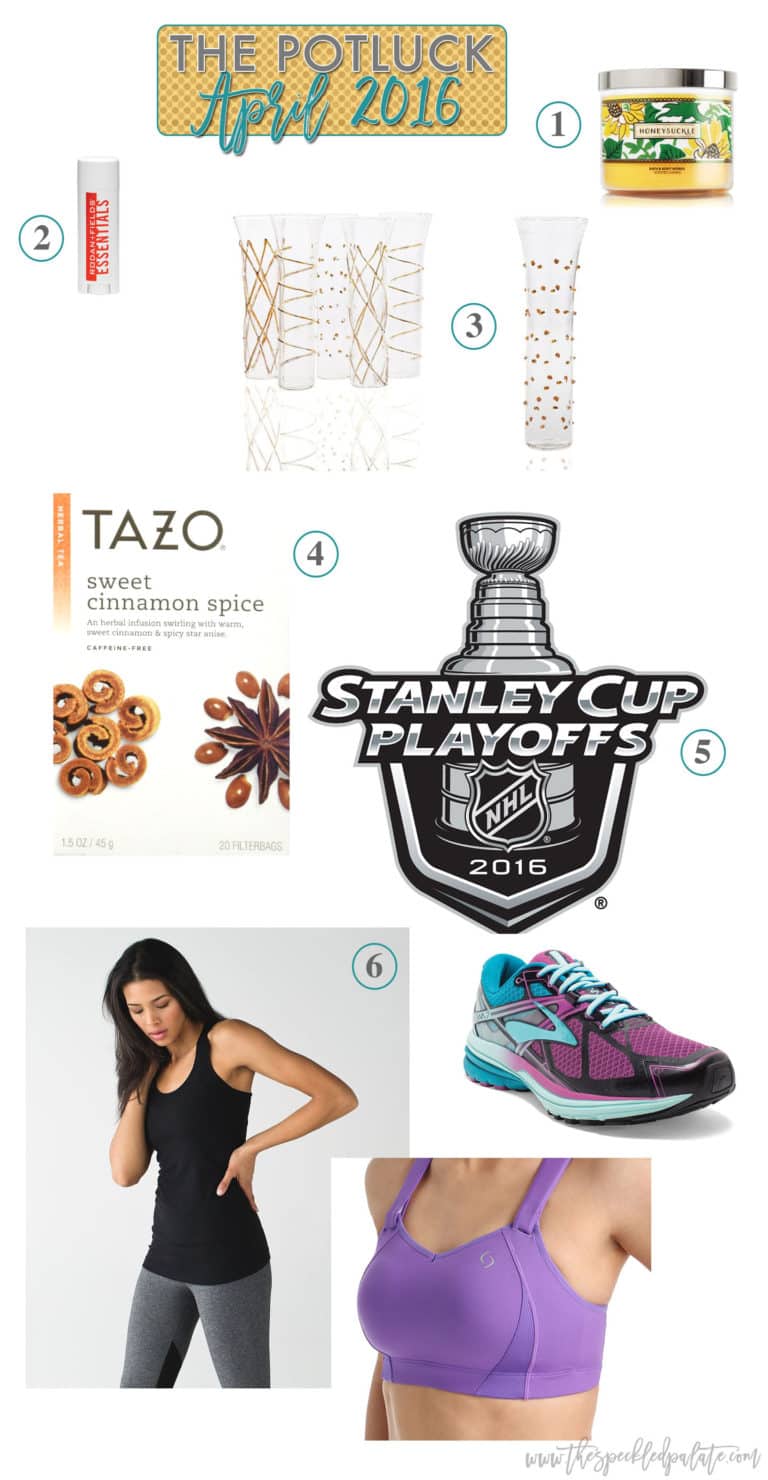 The Speckled Palate participates in affiliate programs. As an Amazon Associate, I earn a commission from qualifying purchases. Please refer to my disclosure page for more information about these affiliate programs.
1. Bath and Body Works Honeysuckle 3-Wick Candle: This candle is my spring and summertime candle JAM. I've talked about my love for scented candles here before, and I rotate ours out based on the season. Honeysuckle is such a refreshing scent. It's not overwhelmingly sweet or overpowering, and I could light this candle in my house for days because it smells so delightful.
2. Rodan + Fields Essentials Lip Shield: My sweet neighbor shared some of this lip shield with me in exchange for sangria. It was a good exchange, because this has been saving my poor lips for months now, and I love it so! It's especially come in handy recently since I've had a neverending sinus infection, which has left me with crazy dry skin.
3. Abigails Gold Champagne Flutes: I cannot stop using these champagne flutes. And I've even used them for non-champagne drinks because THEY'RE SO FUN! Seriously. They're such a gorgeous piece of barware, and I am still over the moon about this Christmas present five months later! Nice work, Mom!
4. Tazo Cinnamon Spice Tea: I wasn't a tea fan until I was suuuuuuper pregnant. I'm talkin' 40+ weeks pregnant and housing raspberry red leaf tea like it was my job. I called it 'Labor Tea,' because my doctor and several friends told me it push my body toward labor. (Spoiler alert: It didn't.) I've been drinking tea like a boss ever since Lady Baby was born, though, and this Tazo tea is my favorite. It's delicious and comforting and the perfect afternoon pick-me-up drink.
5. Playoffs hockey: There's nothing like the Stanley Cup Playoffs, and we've been loving watching all these great hockey games. Sure, the Stars got blown out last week on game 3, but did y'all see the OT in game 4? And the ridiculousness of the Nashville-San Jose triple overtime in their game 4? It's so much fun, and I love that we've got some good sports to watch on our TV.
6. New running gear: I haven't talked about it on the blog just yet, but I got into the Chicago Marathon. Which is equally thrilling and terrifying because the amount of running I've done since Lady Baby was born has been negligable, at best. In preparation for training up to 26.2, I've picked up some new gear for the way. Including some Brooks Ravenna 7 running shoes since my old shoes are worn through, Moving Comfort Juno Sports Bras since my old sports bras no longer fit (BFing mama woes!) and a new Lululemon Cool Racerback, my favorite running shirt for warm weather. What kind of running gear do y'all love?
…
What did you love in the month of April?
…
Curious about other things I've loved? Check out my other potlucks:
2014: October | November| December
2015: January | February | March | May | June | July | August | September | November | December
2016: January | February |March | April | May | June | July | August | September | October | November | December
2017: January | February | March | April | May | June | July | August | September | October | November | December
2018: January | February | March | April | May | June | July | August | September | October | November | December
2019: January | February/March | April | August