The Potluck: January 2016
More than a year ago, I started up a new monthly feature to share some of my favorite things with y'all.
And today? I'm recapping all the goodness I loved in January for this month's Potluck. It's been a crazy month, but a good one, and I can hardly believe it's already FEBRUARY. Where the heck is the time going?
To recap, my potluck, as defined by the folks at Merriam-Webster is:
the regular meal available to a guest for whom no special preparations have been made… a communal meal to which people bring food to share —usually used attributively <a potluck supper>; whatever is offered or available in given circumstances or at a given time.
Around the end of every month, I write up a list of my (current) favorite things. While this list might not be a traditional "meal," I hope to bring some unique and interesting things (products/entertainment/links/etc.) to the table that I've recently loved in the hopes that y'all will enjoy them, too.
Who's ready to recap January?
Here we go…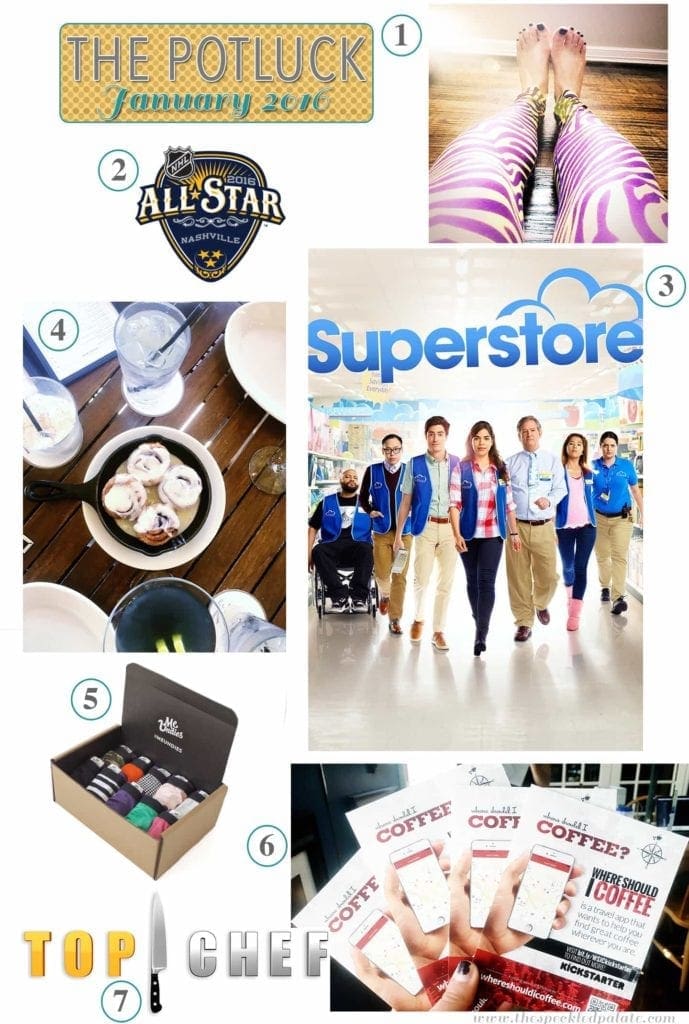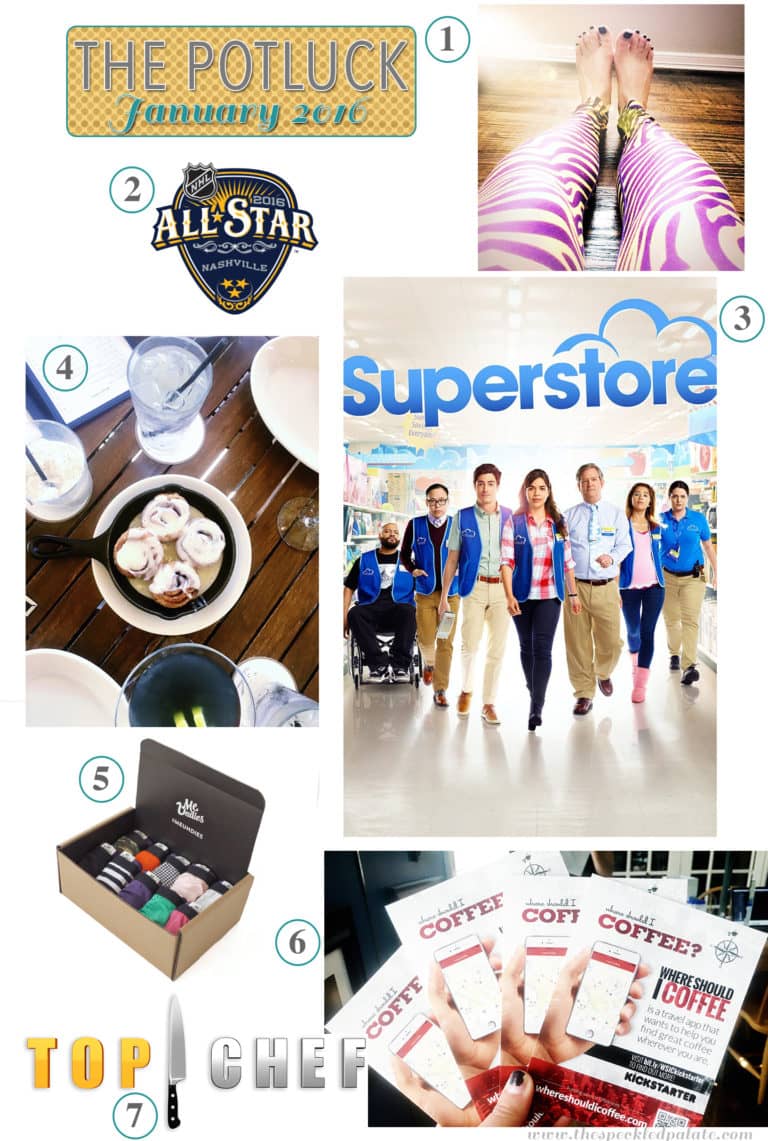 This post contains affiliate links. If you were to make a purchase through one, I would receive a small commission. For more information about the affiliate programs The Speckled Palate participates in, please refer to my disclosure page.
1. Tiger striped running tights: I legit made a friend during a morning walk while wearing these ridiculous (and oh-so-LSU!) running tights. Lady Baby, Lucy and I were climbing the final hill of our neighborhood loop when I heard someone call out, "Did you go to LSU?" from behind me. Turns out, the lady who hollered was wearing an LSU hoodie, and we chatted for about a quarter of a mile about our times at LSU and how small a world it is. This conversation made my morning, and I will continue wearing these tights because they make me happy.
2. NHL All-Star Weekend: Little known fact: I came to love hockey during my time in Nashville. I worked downtown, and my co-workers and I ended up at a few games during my year-and-a-half stint in the city. The All-Star Weekend was this past weekend in Nashville, and I loved watching the coverage and seeing a city I love so much hosting such a great event.
3. Superstore: We binged the first several episodes of this show in one sitting one weekend this month, and I cannot get enough of this comedy. It's quirky. The characters are pretty real. And it's easy to watch for an extended period of time. You know, if you have time for that.
4. Brunch: I went to brunch this past weekend and realized that I hadn't done the whole lazy brunch thing with cocktails and decadent food in more than a year and a half. Clearly, I need to fix this. Now, to find places that are cool with babies brunching, and I'll be golden.
5. MeUndies: Is it weird that I'm recommending this company? I hope not. Winston and I recently discovered them, and the fabric they use is so soft it's unreal. Add in the comfort factor and the fact that they sell underwear, tops, bottoms and socks, and I'm a happy girl! Real talk: I'm all about the comfy clothes these days, and I can see myself lounging in several of their products in the coming months.
6. Where Should I Coffee?: Valorie is one of my sweet friends here in Dallas, and we've had a BLAST creating several coffee cocktails together during the last few months. The WSIC Kickstarter Campaign kicked off last month to raise money to built the app and pay for writers, and I could not be more excited about this project. It's going to provide fantastic information for anyone traveling and in search for local coffee.
7. Top Chef: The new season of Top Chef is a current favorite, and I have thoroughly enjoyed watching the chefs traverse Southern California throughout the season so far. I'm a big Marjorie fan, and I love Isaac. I meaaaaan… how could I not? I spent years of my life in Louisiana, so whenever I hear his accent, I smile. The challenges have been fun, too, and I particularly loved last week's Instagram-based quick fire challenge. Food porn FTW!
…
What did you love in the month of January?
…
Curious about other things I've loved? Check out my other potlucks:
2014: October | November| December
2015: January | February | March | May | June | July | August | September | November | December
2016: January | February |March | April | May | June | July | August | September | October | November | December
2017: January | February | March | April | May | June | July | August | September | October | November | December
2018: January | February | March | April | May | June | July | August | September | October | November | December
2019: January | February/March | April | August