The Potluck: December 2016
Hey there, the first Friday of 2017! I hope this first week has been good for y'all. It's been bonkers here, but equally lovely.
Before we launch into new recipes next week, I wanted to share some of my favorite things from the month of December. December was a great month, full of cheer and baked goods and family and all-around love. It was a bright way to end the year. Honestly, I had a hard time paring this list down for y'all because I didn't want to recommend 10+ items. 😉
To recap, my potluck, as defined by the folks at Merriam-Webster is:
the regular meal available to a guest for whom no special preparations have been made… a communal meal to which people bring food to share —usually used attributively <a potluck supper>; whatever is offered or available in given circumstances or at a given time.
Around the end of every month, I write up a list of my (current) favorite things. While this list might not be a traditional "meal," I hope to bring some unique products/entertainment/links/etc. that I've recently loved in the hopes that y'all will enjoy them, too.
Here are some of my favorites from December: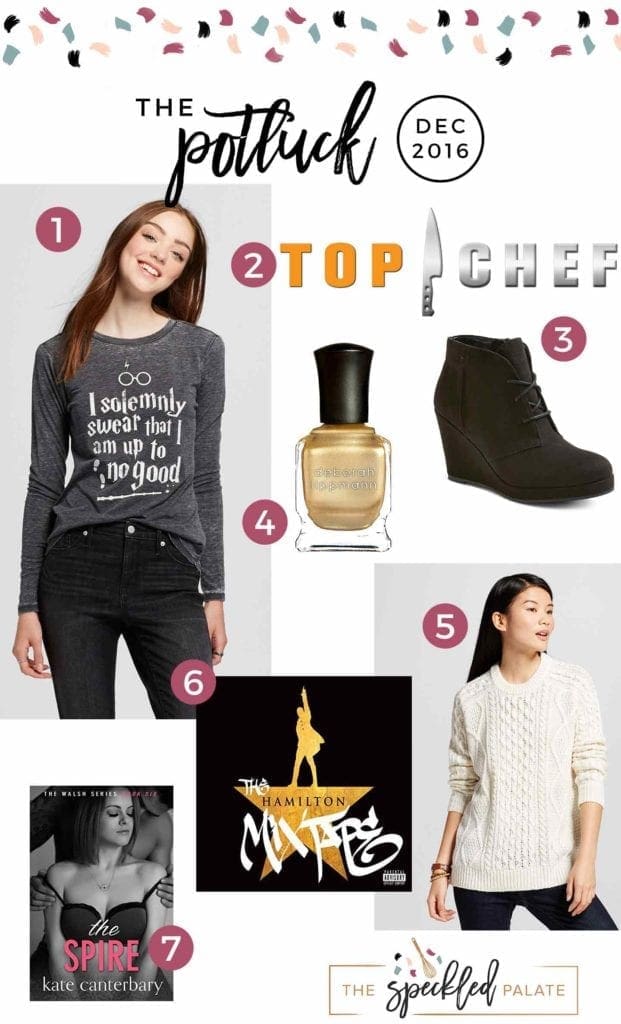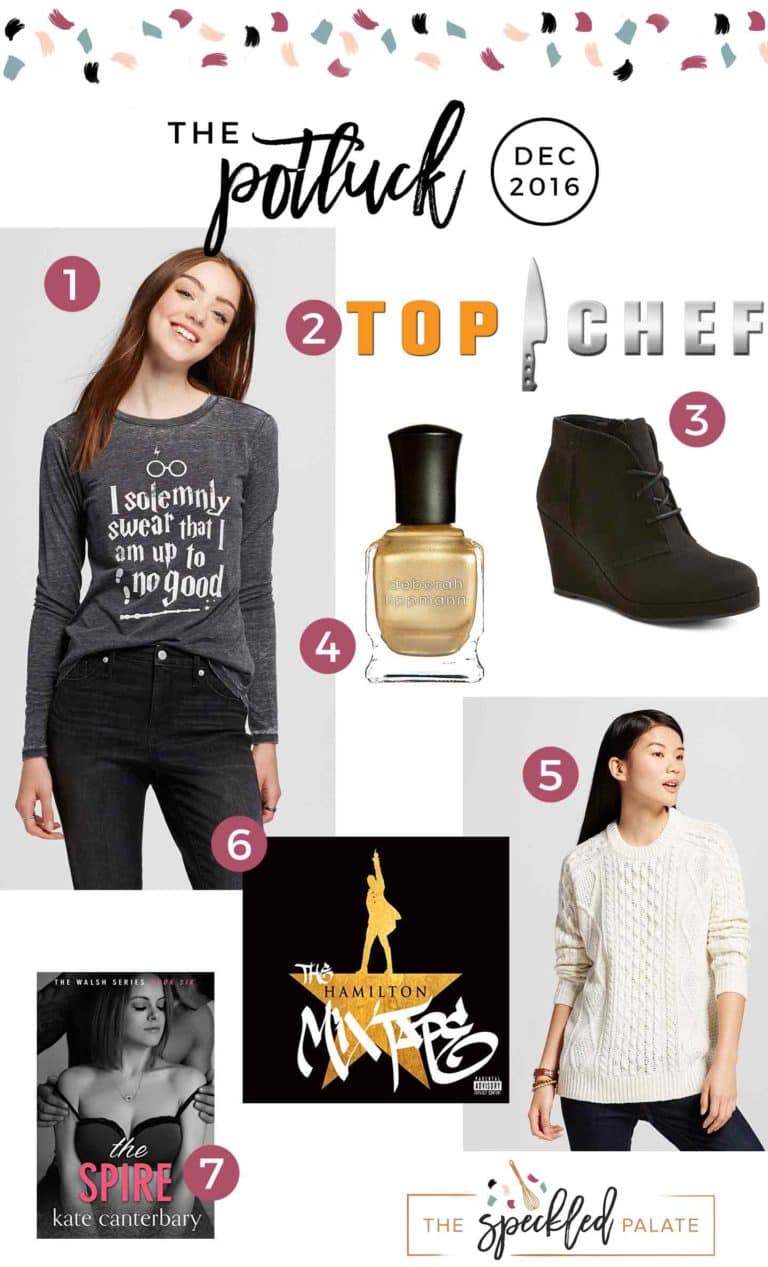 This post contains affiliate links. If you were to make a purchase through one, I would receive a small commission. For more information about the affiliate programs The Speckled Palate participates in, please refer to my disclosure page.
1. Harry Potter® Up to No Good Long Sleeve Tee: This t-shirt found its way into my bag the same day that I purchased those booties. I've been wearing it to bed most nights, and every time I put it on, it makes me smile. I solemnly swear that I am up to no good, y'all…
2. Top Chef: I am beyond thrilled that Top Chef is back and that it's taking place in Charleston. This TV show has been one of my favorites for a long time, and I'm loving all the Southern goodness of this season so far. What do y'all think of it?
3. Terri Booties: I purchased these booties in November for a funeral, and I rocked them several times in December. It should be noted that I never, ever, ever wear heels (because I'm a SAHM and chasing a toddler in heels is a terrible idea), but these came in handy for holiday parties and the occasional night out with friends. The added bonus is these booties are so comfortable.
4. Deborah Lippmann Luxe Chrome Gold Nail Polish
: This polish was my go-to in December because it's so festive. What's not to love about a little bling at the holidays? I'm still wearing it from New Year's Eve, and I have a feeling I'll be repainting my nails with the same color soon.
5. Merona Cable Pullover Sweater: I have this sweater in three colors, and it is cozy. Our weather was everywhere between 80 and 20 in the month of December, and this sweater came in handy for the chillier moments, especially since I have no sweaters left from my pre-pregnancy days.
6. The Hamilton Mixtape: Y'all know I'm a Hamilton fan, and the release of this mixtape, along with excerpts of Lin-Manuel Miranda discussing the songs and the artists singing them (which can be found on Spotify) is beyond fantastic. There are such beautiful takes on these songs, some of which brought me to tears.
7. The Spire by Kate Canterbary
: Fangirl alert. I spoke about Canterbary's series
last month
, and I'm thrilled to tell y'all that this sixth book in her epic series? It did not disappoint. I've read it a few times since it was released in mid-December, and there is so much goodness in it. The mystery. The swoon. The satisfaction. It hits all those emotional high points that I love in a good romance, and it feels so real. If you're a contemporary romance lover, do yourself a favor and
check these books out
.