Continuing the monthly tradition, The Speckled Palate's The Potluck: May 2018 includes several books, a household necessity, a playlist recommendation, a sweet treat and more! Swing by the blog today to get a full list of the things I adored during the month of May.
On one hand, May felt like it flew by. On the other, well, the month felt like years went by before it came to an end.
Needless to say, May was a weird month. However, I'm all about finding the silver linings these days. And goodness, was there a lot of positive that happened last month.
But before we get too deep into this new month (which will hopefully be a LOT kinder to us than May was), how about we look back at the things that made us exceedingly happy in May?
To recap, my potluck, as defined by the folks at Merriam-Webster is:
the regular meal available to a guest for whom no special preparations have been made… a communal meal to which people bring food to share —usually used attributively <a potluck supper>; whatever is offered or available in given circumstances or at a given time.
Ready to learn all the things I liked? Let's do this!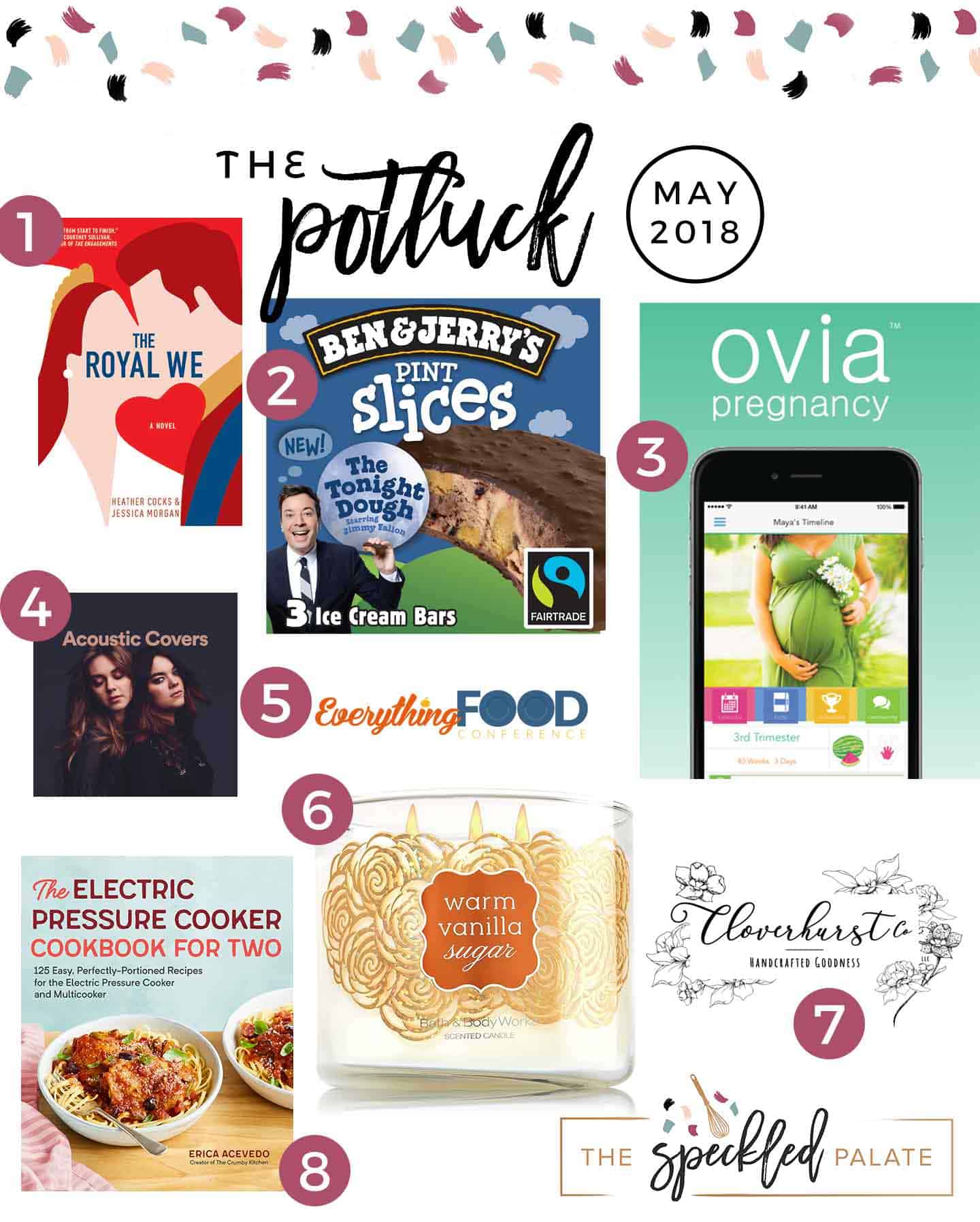 This post contains affiliate links. If you were to make a purchase through one, I would receive a small commission. For more information about the affiliate programs The Speckled Palate participates in, please refer to my disclosure page.
1. The Royal We by Heather Cocks and Jessica Morgan: I've read this book before, but with the craziness of May and the inevitable stress that came along with it, I wanted to do some comfort reading. I've loved this book for an unreasonable amount of time, and reading through it again gave me the warm fuzzies. Have you read this book before? Or do you have one similar to it that you turn to when life gets tough?
2. The Tonight Dough® Pint Slices: Umm, y'all. If you haven't tried these before, you MUST. They are a pregnant lady's dream, and I gobbled my way through this goodness so quickly it was almost unreasonable… How could I turn down a combination of caramel ice cream, chocolate cookie swirls, peanut butter chocolate chip cookie dough and a dark chocolate coating? I could not.
3. Ovia Pregnancy App: A pal recommended this app for me, and it has been bringing me joy every day. Why? Well, my favorite part–other than it giving me oodles of information very quickly–is that I can choose between Fruits and Vegetables, Fun and Games, Weird-but-Cute Animals and Parisian Bakery to measure how big Baby Speckle is this week. (Is anyone surprised that I have her on Parisian Bakery? No? OK, good.)
4. Spotify's Acoustic Covers Playlist: I don't know what it is about a good 'ol acoustic cover, but it just makes me so happy. Throughout this past month, we've been listening to this playlist off and on because sometimes, even a 3-year-old needs a break from Frozen.
5. Everything Food Conference: I attended EFC in mid-May, meeting up with several friends and making even more pals at the Utah-based conference. I'd only attended one blogging conference before, and I so happy to be at this one. Not only did I make connections with other people who are doing what I'm doing, but I learned a ton and am oh-so-excited to start implementing some of the ideas that came about as a result of this conference.
6. Warm Vanilla Sugar Candle: Since our house hit the market in early May, we've been breezing through candles. This one is a long-time favorite because it's comforting and warm and smells kind of like freshly baked cookies. What's not to love?
7. Cloverhurst Co.: My bestie launched her bow company's website this past month! And we received our first Cloverhurst Co. bows, which are stunning. Even though Lady A is currently not a fan of anything in her hair–which, you know, poses a problem since it's already insanely hot in Dallas–I have a feeling she's going to be wearing her bow later this summer to keep her hair from sticking to her face. Mark my words… (And even if she doesn't, Baby Speckle has two bows from Cloverhurst that she will for sure be wearing upon arrival.)
8. The Electric Pressure Cooker Cookbook for Two by Erica Acevedo: This is a first for me, y'all. My pal, Erica, is publishing her first cookbook THIS MONTH! I was given an advanced copy last month… and I was honored to help Erica recipe test earlier this year. (The chili in this book? Outstanding!) I'm super excited for this cookbook to come out because y'all know I adore my Instant Pot, and these meals for two are perfect for our growing family! I'll be doing an Instagram giveaway for a copy of Erica's book soon, as well as post a recipe from the book itself on the 25th. Get excited!
…
What Did You Love In May?
…
Curious about other things I've loved? Check out my other potlucks:
2014: October | November| December
2015: January | February | March | May | June | July | August | September | November | December
2016: January | February |March | April | May | June | July | August | September | October | November | December
2017: January | February | March | April | May | June | July | August | September | October | November | December
2018: January | February | March | April | May | June | July | August | September | October | November | December
2019: January | February/March | April | August