The Potluck: September 2016
I feel like I say this every month… but could we discuss how quickly this year is flying by? How is it almost the middle of October? How is it almost holiday time?
Craziness.
September was an incredible month. Not only did we see friends and family, not only was it my birthday month, but we got the opportunity to travel to San Francisco and Napa Valley near the end, and it was utter perfection. As someone who has only taken a handful of vacations with her husband (that weren't for a wedding or to visit family) in the 9+ years we've been together, this was truly a treat!
My potluck, as defined by the folks at Merriam-Webster is:
the regular meal available to a guest for whom no special preparations have been made… a communal meal to which people bring food to share —usually used attributively <a potluck supper>; whatever is offered or available in given circumstances or at a given time.
Around the end of every month, I write up a list of my (current) favorite things. While this list might not be a traditional "meal," I hope to bring some unique products/entertainment/links/etc. that I've recently loved in the hopes that y'all will enjoy them, too.
Here is September's love list: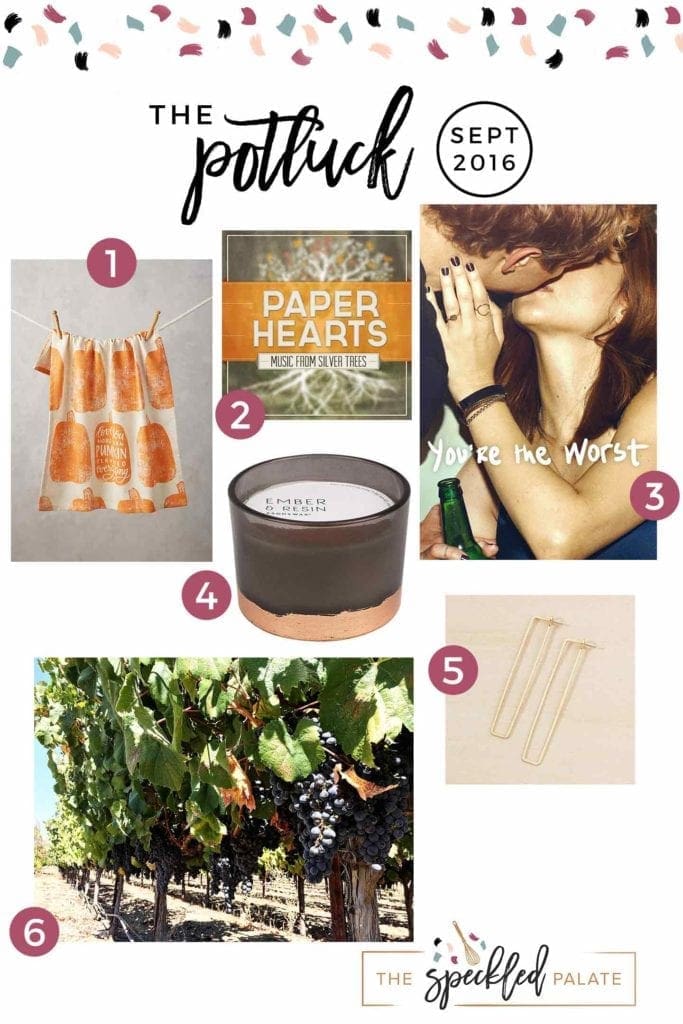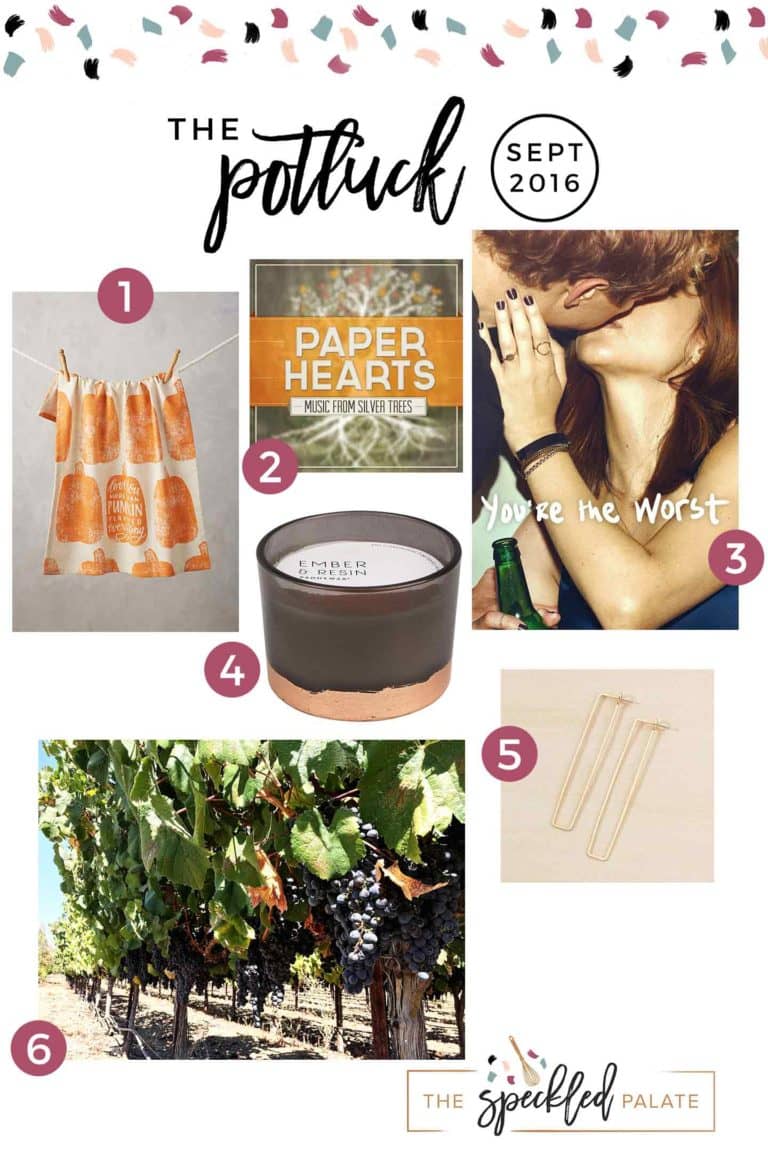 This post contains affiliate links. If you were to make a purchase through one, I would receive a small commission. For more information about the affiliate programs The Speckled Palate participates in, please refer to my disclosure page.
1. Pumpkin Tea Towel: My mother sent this tea towel as a birthday gift and a photo prop. (Family members now send me photo props as presents because they know I'm always on the lookout for something fun and perfect… and how fitting is this?!?) You can't look at this tea towel and not smile. Seriously. Not only did it accompany me to Sprouts last week, but I used it in the photographing of my Pumpkin Spice Sugar Cookies… and it's now adding color to my kitchen!
2. "Paper Hearts" by Silver Trees, feat. Bailey Jehl: I discovered this beautiful song on Spotify in September and cannot stop listening to it. The harmonies are haunting. The lyrics make my heart ache. And it's just perfect. Go have a listen?
3. You're the Worst: I fell in love with this show two years ago, but stopped watching last season due to a lack of time. Luckily, I still DVR'ed the season and saved them. During the month of September, we binge watched the second season and started the third. This show, y'all. I started watching it because it made me laugh. Then the second season becomes more serious and addresses some big issues, namely depression. They portray it in a way I've never seen before. It felt so real and so personal. You're the Worst has matured. No longer just for laughs, it's heartbreaking and heartwarming; terrible and delightful; and oh-so-real.
4. Paddywax Ember & Resin Candle: This scented candle was a birthday present from our lovely nanny… and it smells like the fall. Seriously. I could burn this for hours and be so happy.
5. Skinny Rectangle Minimal Hoops in Rose Gold from Freshie & Zero: One of my sweet friends sent me these beauties for my birthday, and I cannot stop wearing them! They're unique. They're comfortable. I adore the rose gold. And an added bonus: while they're flashy and gorgeous, my toddler has yet to want to touch them!
6. Traveling: How could this not be on my list? We had so much fun in Northern California. We loved San Francisco. Not only did we check out a few touristy haunts, but we experienced some local flavor, too. Then we headed out of San Fran to visit Napa… which we adored. We cannot wait to go back and share it with our friends and family members because it was exactly the kind of vacation we needed! (I'll be sharing more on our trip next week!)
…
What did you love in the month of September?
…
Curious about other things I've loved? Check out my other potlucks:
2014: October | November| December
2015: January | February | March | May | June | July | August | September | November | December
2016: January | February |March | April | May | June | July | August | September | October | November | December
2017: January | February | March | April | May | June | July | August | September | October | November | December
2018: January | February | March | April | May | June | July | August | September | October | November | December
2019: January | February/March | April | August