The Potluck: November 2016
I realize that I generally start this off every month with a remark about how quickly time is flying.
Unfortunately, November felt like it lasted forever, and it hasn't even ended. This month, there was a lot of sadness. And while this time of year is my favorite, I'll be honest: it doesn't feel very happy.
I touched on that sadness in a previous post, and I find myself coming back to it. During Thanksgiving week, another sweet girl we've known for years took her life. And we attended (and my sister played a major role) in a second funeral in the span of two short weeks.
Life is so short, and the years go by so quickly. I can't help but think of those we've lost this year as I look toward the holiday season. I pray we don't endure similar losses ever again. And I pray we can all find peace this holiday season, even though it feels impossible at the moment.
So with that in mind, I'm trying to find the good in November, though it seems frivolous at this point. And I've compiled it in my monthly potluck.
My potluck, as defined by the folks at Merriam-Webster is:
the regular meal available to a guest for whom no special preparations have been made… a communal meal to which people bring food to share —usually used attributively <a potluck supper>; whatever is offered or available in given circumstances or at a given time.
Around the end of every month, I write up a list of my (current) favorite things. While this list might not be a traditional "meal," I hope to bring some unique products/entertainment/links/etc. that I've recently loved in the hopes that y'all will enjoy them, too.
Here are some good things from November: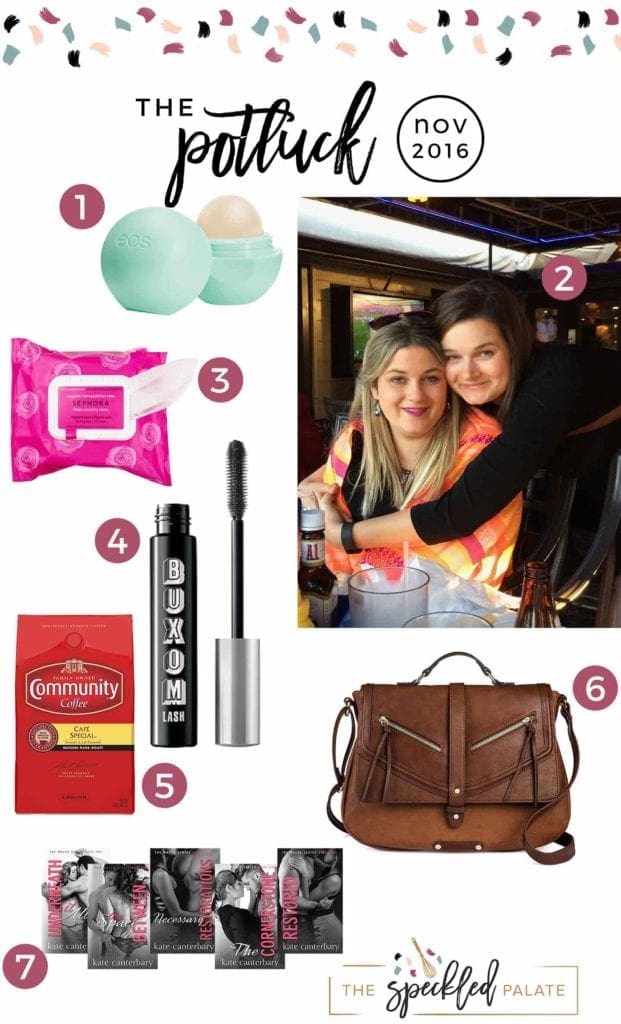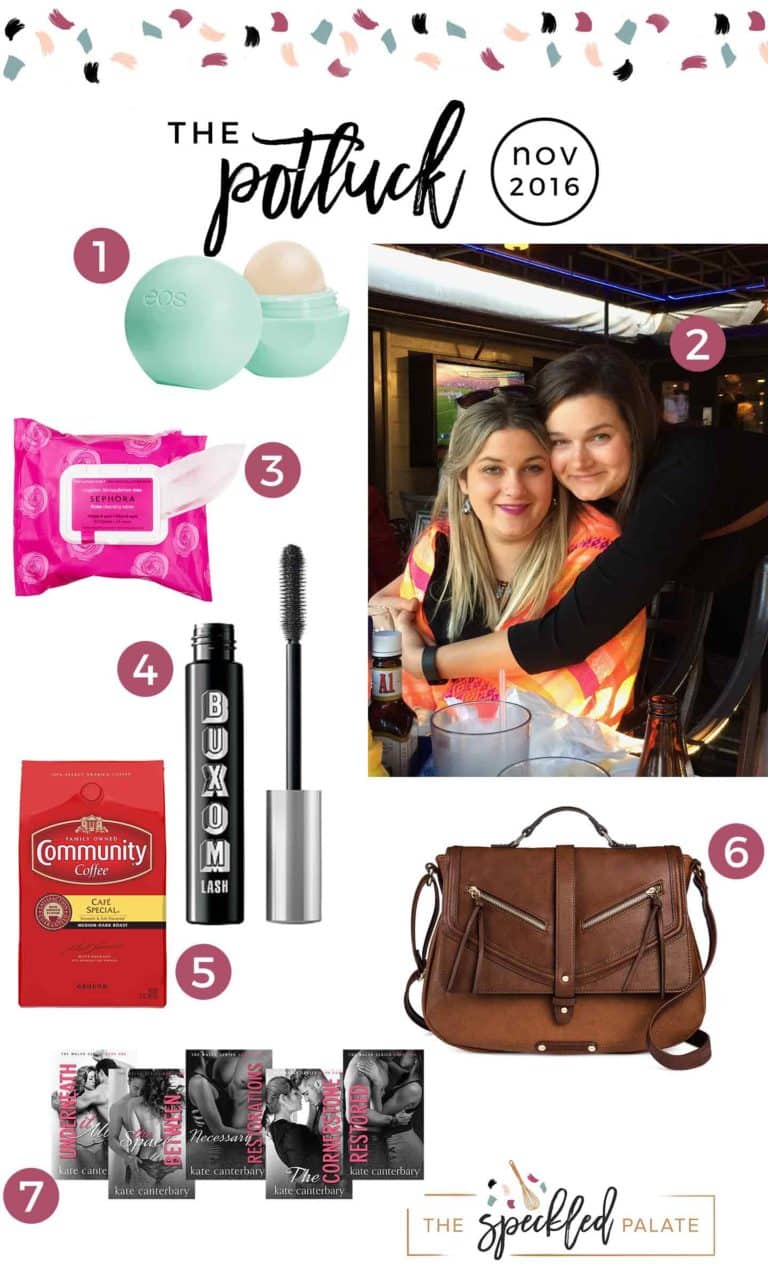 This post contains affiliate links. If you were to make a purchase through one, I would receive a small commission. For more information about the affiliate programs The Speckled Palate participates in, please refer to my disclosure page.
1. EOS Sweet Mint Lip Balm: This lip balm has been my go-to this month. My lips have been so dry, and this balm makes them less chapped. An added bonus? Lady Baby adores it, too.
2. Spending lots of time with my family: I live 8-ish hours away from my family, and even though sad circumstances brought me to Memphis and kept me there for Thanksgiving and beyond, I'm thankful I had the opportunity to spend so much time with my family. While many of the conversations were heavy and sad, we found joy in being together.
3. Sephora Rose Cleansing and Exfoliating Wipes: My poor skin has been so dry with the chillier weather. These rose wipes are the perfect way to remove makeup at the end of the day. The rose is soothing, and these work like a charm.
4. Buxom Lash Mascara: This mascara is my absolute favorite, and I busted it out numerous times in November. It goes on smooth. It makes my short lashes stand out. And it's my go-to beauty product these days.
5. Coffee: Yeah, I know. But coffee has been one of my favorite things. From Starbucks lattes to the homemade pots of java, I love 'em all. And it's helped me get through all the travel and craziness of this month.
6. A+ Women's Classic Messenger Crossbody Handbag: I picked up this purse in October when I realized I'd forgotten to bring a purse to Nashville, and I have adored it ever since. Having carried a giant diaper bag around for the last 1.5+ years, it's nice to have a smaller bag that still has space for various odds and ends. It looks nice. It packs up easily. And it's exactly what I need these days.
7. The Walsh Collection from Kate Canterbary: I realize many of you probably don't read contemporary romance and won't be interested in this rec. If you do and haven't read this series, I highly recommend it. It's smart. It's sexy. The characters are real and flawed and so believably human that I could not put these books down. In fact, I've spent a large portion of the month rereading the entire series in celebration of the sixth book's release in December.