The Potluck: November 2017
November… oh, November.
I'm not going to lie to y'all: I struggled writing this post. Not because there wasn't a lot of goodness in November–because there certainly was, and we had a fabulous time traveling to Georgia for Thanksgiving with my whole family–but because for a majority of the month, I had a nasty ear infection that wouldn't go away. The good news is I'm on the up-and-up and my ENT thinks my ears just needed time and steroids to sort themselves out.
So if today's list seems a little more scattered than usual, that's why. 😉
To recap, my potluck, as defined by the folks at Merriam-Webster is:
the regular meal available to a guest for whom no special preparations have been made… a communal meal to which people bring food to share —usually used attributively <a potluck supper>; whatever is offered or available in given circumstances or at a given time.
Ready for all the stuff I enjoyed? Let's do this!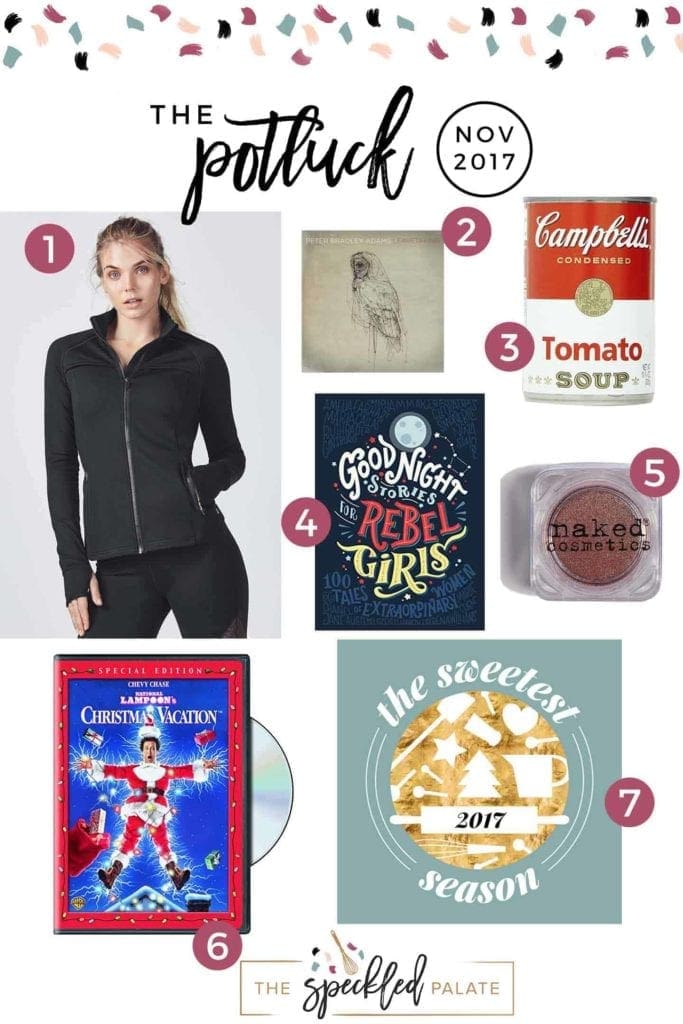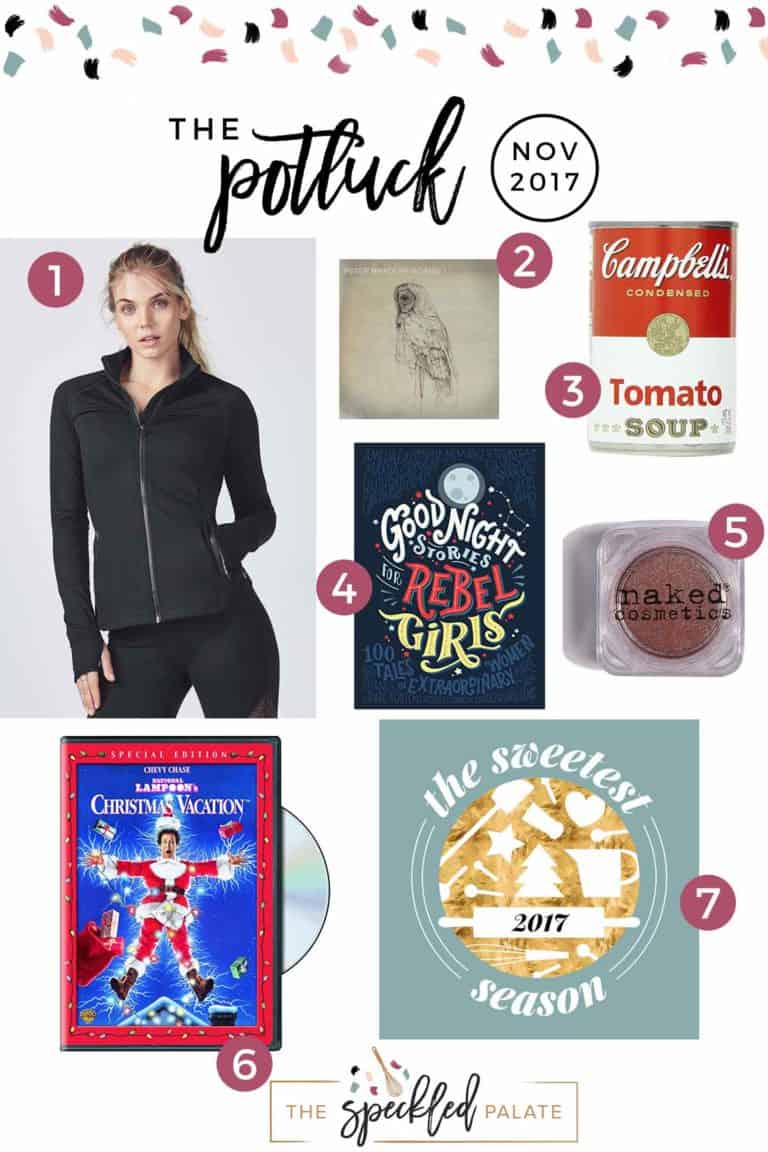 This post contains affiliate links. If you were to make a purchase through one, I would receive a small commission. For more information about the affiliate programs The Speckled Palate participates in, please refer to my disclosure page.
1. Kimmy Jacket: This jacket is everything since the weather is finally, FINALLY turning in Dallas. It's lightweight but warm, the pockets are the perfect size, and it fits well. I purchased this on a whim in early November in preparation for a chilly Thanksgiving Day 5K, and I'm so glad I did. (Not a member of Fabletics yet? You're officially invited through this code!)
2. "Under My Skin" by Peter Bradley Adams: I discovered this song when listening to 'suggested songs' after a Spotify playlist of mine and immediately fell in love. The harmonies. The guitar. The lyrics. This song has it all, and once again, for someone who once thought she'd write and sing songs for a living, this is the perfect combination.
3. Campbell's Tomato Soup: OK, so it feels kind of lame to say that a canned soup was one of my favorite things of a month… but I rode the struggle bus for a long while in November and ate this for about a week straight. It tastes like comfort and my childhood, and that's the kind of thing I need whenever I'm sick. So thanks, Campbell's!
4. Good Night Stories for Rebel Girls: My friend, Valorie, picked this book up for Lady A as a birthday present, and we've thoroughly enjoyed reading the stories and looking at the gorgeous illustrations. While some of the stories are a little too old for Lady A currently, this is going to be a book we enjoy for years to come as we learn about these 100 amazing women.
5. Naked Cosmetics Mother Nature #6: Y'all know I'm not much of a makeup person, but this eye shadow is absolutely stunning and has been getting a workout since it arrived in my ipsy bag in early November! The color is perfect for a warmer smoky eye, and I have a feeling it's going to be worn quite a bit for December celebrations, too.
6. National Lampoon's Christmas Vacation: Christmas Vacation has been and will always be one of my favorite seasonal movies. Obviously, it's not a movie I watch before Thanksgiving, but it's gotten some play already… and my dad and I had a legit Christmas Vacation quoting moment on Thanksgiving Day. After they'd pulled the turkey out of the fryer, my dad said, "If this turkey tastes half as good as it looks…" to which I responded with, "Save the neck for me, Dad." The good news was that it didn't deflate! And it was DELISH.
7. The Sweetest Season Cookie Exchange: This year's virtual cookie exchange was a smashing success! More than 30 cookies were baked in celebration of this annual event, and we've already met our fundraising goal, though we are still raising money for Cookies for Kids' Cancer through the end of the month. I've got so much holiday cookie inspiration right now, and I want to bake all of 'em! Be sure to check out all the recipes made on our recipe index.