In October, I started a new feature to share some of favorite things. I'm continuing this new tradition today with another list of products (and more abstract things) I'm currently adoring.
To recap, I'm sharing my version of a potluck, as defined by Merriam-Webster.
the regular meal available to a guest for whom no special preparations have been made… a communal meal to which people bring food to share —usually used attributively <a potluck supper>; whatever is offered or available in given circumstances or at a given time.
Every month, I'm sharing some of my favorite things. Kind of like Oprah, except I (sadly) cannot send one of each thing to y'all, even though I'd love to. While this list might not appear to be a traditional "meal," I want to provide some different and interesting stuff (products/entertainment/links/etc.) I've recently loved in the hopes that y'all will enjoy them, too.
Needless to say, this month has been a crazy one.
Lady Baby arrived on March 9th, and the rest of March has been a whirlwind as we've settled into this crazy thing called parenthood. I didn't know my heart could be so full, and I didn't know I could be so tired, yet still be able to function and take care of someone other than myself. (Survival skills for the win!)
That being said, here are some of my favorite things from the month of March: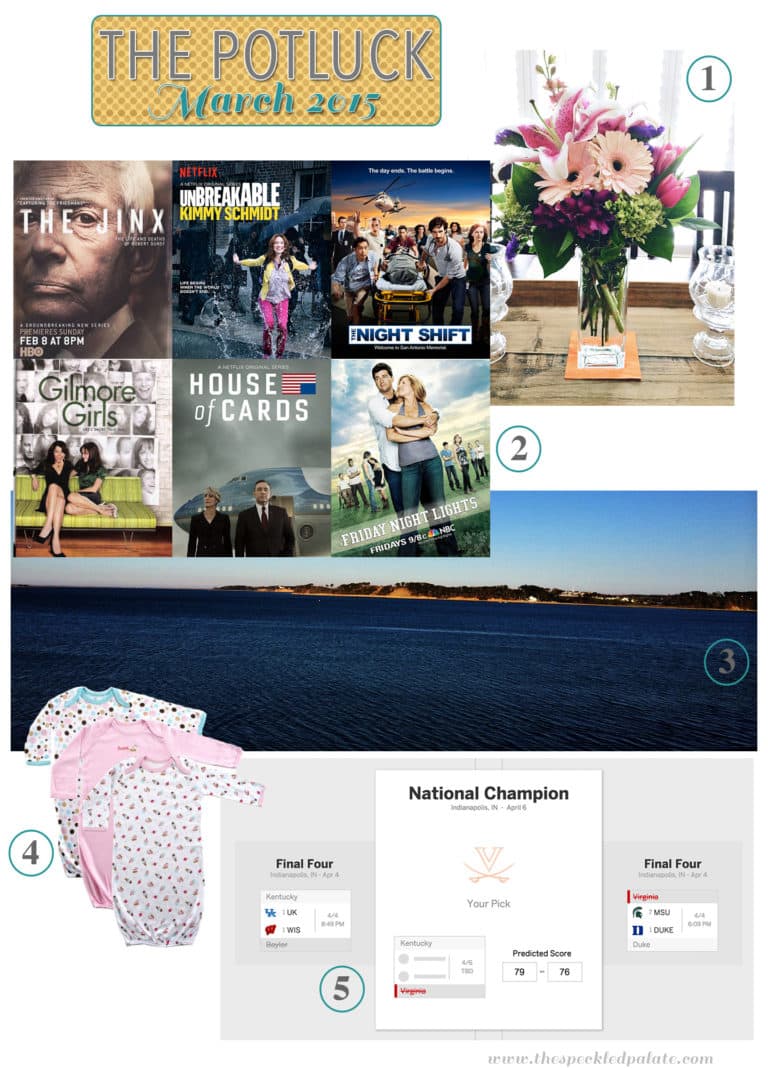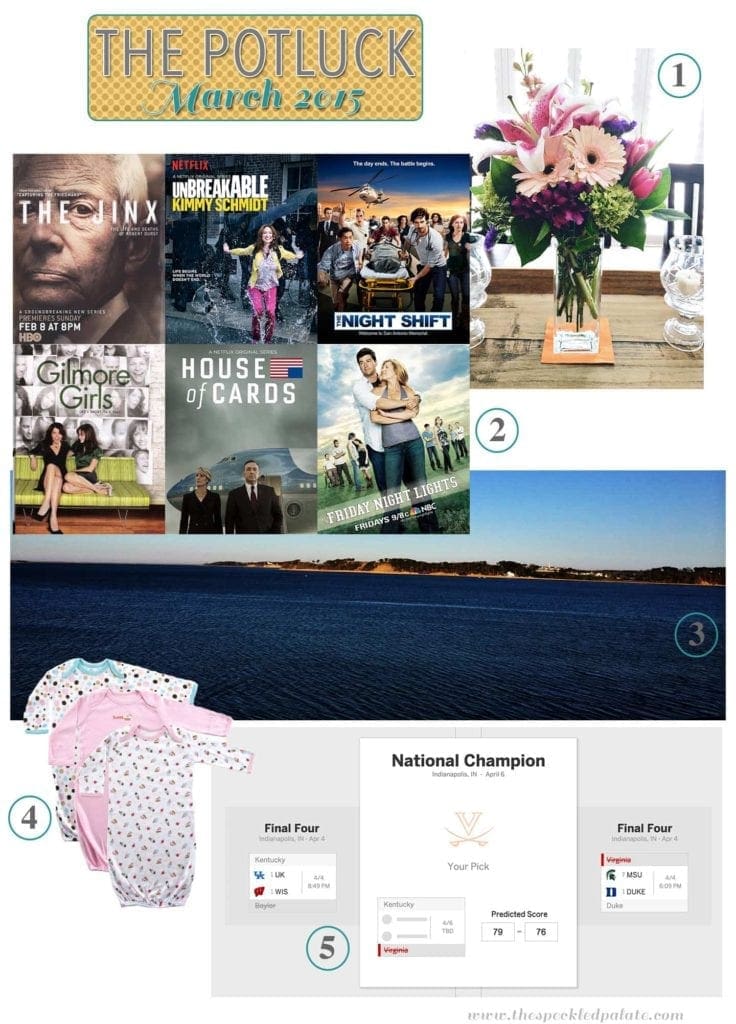 This post contains affiliate links. If you were to make a purchase through one, I would receive a small commission. For more information about the affiliate programs The Speckled Palate participates in, please refer to my disclosure page.
1. The kindness of our families and friends: We're so lucky to have such amazing friends and family members. Our families have come to visit us and Lady Baby, and in the process, they've cooked for us, helped keep our house organized/clean and played with the baby so this new mama can catch a few ZZZ's. Our friends have stopped by to feed us, as well as gift us with timely presents, like additional diapers and swaddles and burp cloths. And we've received so many goodies in the mail for Lady Baby ever since she arrived. (She's already received more flowers than I have in years and owns more monogrammed items than I ever have. The girl is adored!) We feel so loved and supported.
2. Binge watching television shows: Normally, this wouldn't be on my list. Except I've been all about binge watching recently. As someone who has always been go-go-go and a bit of a busybody when she is not working, I've enjoyed taking a step back and relaxing this month as I have settled into motherhood. And apparently, relaxation means watching copious amounts of television when I'm not entertaining or feeding my child. Some of my recent favorites?
3. Water: Yes, it sounds ridiculous, but since I'm nursing Lady Baby, I am thirsty all. the. darn. time. And to combat this thirst, I've got a few huge cups that I like to keep filled to the brim so I won't have cotton mouth as I feed my daughter. (Parenthood problems? I think so.)
4. Baby gowns: Like woah. As a new parent who's never spent much time around newborns until she had one of her own, baby gowns (like this) are a lifesaver. Because you don't want to undress your child and further irritate them during a diaper changing in the middle of the night unless it's absolutely necessary. And because your child is inevitably going to have a diaper explosion.
5. All the sporting events: When I haven't been bingeing on television shows, we're been tuning in to all kinds of sports. Dallas Mavericks? We watched them from the hospital the night I was induced. The Dallas Stars? We've watched hockey multiple nights, too, including the night Lady Baby was born. The Champions League? We like soccer in this house, too! And March Madness? Our television has been tuned in to ALL the games… and it's all kinds of wonderful. That being said, I'm wondering if our daughter is going to the biggest sports fan and a sporty girl or if all these sports are going to sway her into hating all physical activity. Time shall tell… (And yes, that's a snapshot of the bracket I filled out for this year's tournament. So much for choosing an unexpected team to win, huh?)
…
What did you love in the month of March?
…
Curious about other things I've loved? Check out my other potlucks:
2014: October | November| December
2015: January | February | March | May | June | July | August | September | November | December
2016: January | February |March | April | May | June | July | August | September | October | November | December
2017: January | February | March | April | May | June | July | August | September | October | November | December
2018: January | February | March | April | May | June | July | August | September | October | November | December
2019: January | February/March | April | August