The Potluck: February 2015
In October, I started a new feature to share some of favorite things. I'm continuing this new tradition today with another list of stuff I'm digging.
To recap, I'm sharing my version of a potluck, as defined by Merriam-Webster.
the regular meal available to a guest for whom no special preparations have been made… a communal meal to which people bring food to share —usually used attributively <a potluck supper>; whatever is offered or available in given circumstances or at a given time.
Every month, I'm listing some of my favorite things. While they might not appear to be a traditional "meal," I want to provide some different and interesting stuff (products/entertainment/links/etc.) I've recently loved in the hopes that y'all will enjoy them, too.
Fair warning: These are basically all pregnancy-related things because that's currently taking over my brain, as my due date is this weekend. (!!!)
Here are some things I adored during the month of February.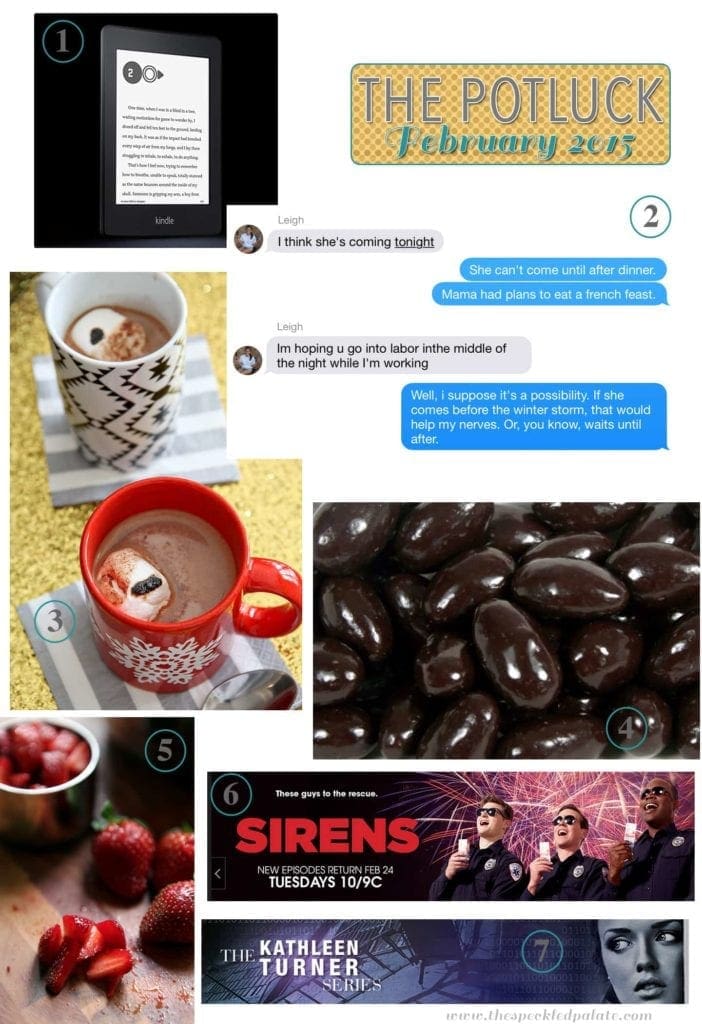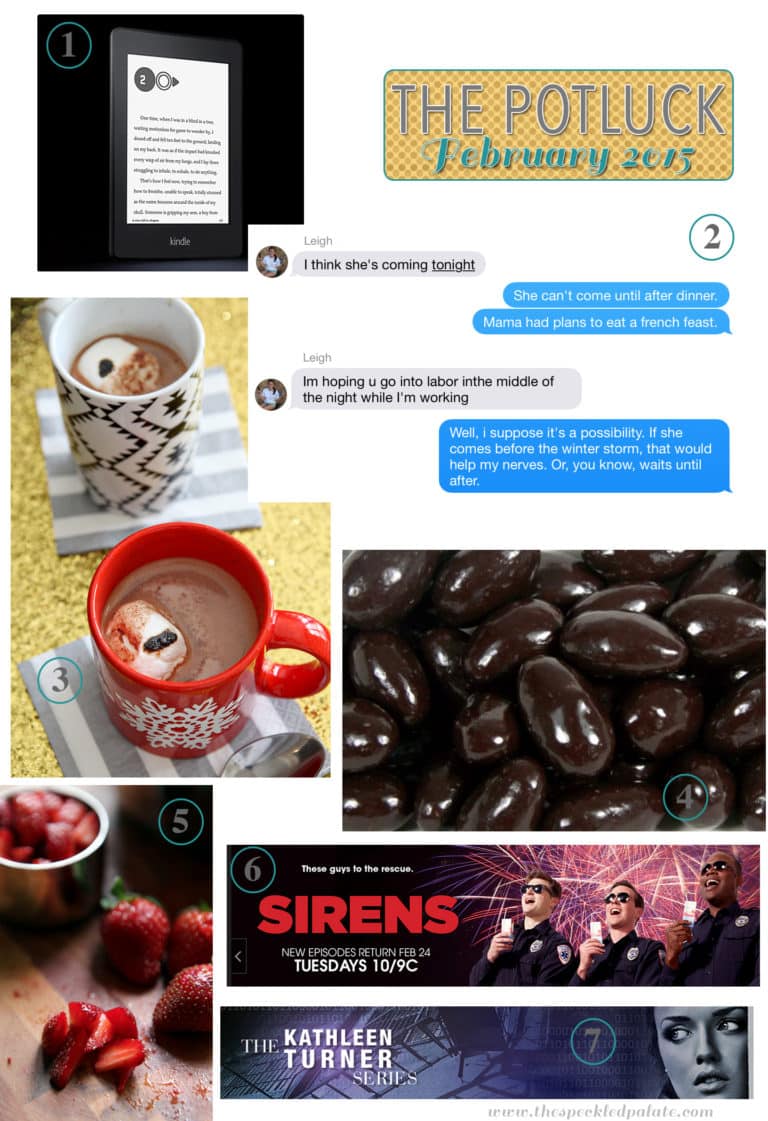 This post contains affiliate links. If you were to make a purchase through one, I would receive a small commission. For more information about the affiliate programs The Speckled Palate participates in, please refer to my disclosure page.
1. Kindle Paperwhite 3G: I've been dealing with pregnancy insomnia these days, and this Kindle with a built-in light has been a lifesaver for those nights I cannot sleep. Instead of lying in bed and unsuccessfully counting sheep, I read a little bit until my brain settles, and I can fall back asleep. It works quite nicely, and it guarantees I won't wake my husband or dog while awake in the wee hours of the morning.
2. Friends and family members constantly checking in: I know some people get annoyed at the end of pregnancy when they're continually asked by various folks in their life about if the baby has arrived… but I seem to be one of those women who actually enjoys the questions. I love that I'm receiving e-mails and texts from friends and family members daily, simply checking in with me. It's fun catching up, and I'm excited for the time I can tell them, "Yes!" to the question, "Are you in labor?" or "Will there be a baby anytime soon?" (Though there will be a baby soon, one way or another. My induction date is set for March 9th, so we're hoping I go into labor naturally sometime soon!)
3. Hot Chocolate: I've been drinking a ton of this these days, no matter if it's hot or cold outside. There's something so comforting about a nice hot chocolate, and I consider it a treat that I thoroughly enjoy indulging in every once in a while. From Starbucks to homemade, it's all good.
4. Dark Chocolate-Covered Almonds: It's kind of embarrassing how quickly I can tear through a pound of these decadent treats. But clearly, I'm not embarrassed enough to omit these goodies from this list…
5. Strawberries: They're a recent craving, and OH MY GOODNESS, y'all. I could eat them all day every day. Luckily, my grocery marked them down to $0.99 per pint (as opposed to $2.99 a pop), and I purchased several, much to the amusement of my husband. I figure there was way worse things for me to be digging these days, right? Right.
6. Sirens: Winston and I binged on the first season on Netflix two weekends ago, and the second season is currently airing on USA. This series, about a pair of EMT best friends and their unit in Chicago, was super easy to get into, and it's hilarious. If you're looking for something lighthearted to get into and don't mind some dirty jokes, I highly suggest checking this series out.
7. The Kathleen Turner Series by Tiffany Snow: It's billed as a "romantic suspense" series, though I found it to be more suspense than romance… and thoroughly enjoyed it! These books reminded me of early Stephanie Plum novels, which were some of my favorite easy reads, and I tore through the first five books in the series in the span of two weeks. I'm trying to ration out the final two… though I don't see them lasting long, either.
…
Curious about other things I've loved? Check out my other potlucks:
2014: October | November| December
2015: January | February | March | May | June | July | August | September | November | December
2016: January | February |March | April | May | June | July | August | September | October | November | December
2017: January | February | March | April | May | June | July | August | September | October | November | December
2018: January | February | March | April | May | June | July | August | September | October | November | December
2019: January | February/March | April | August