Y'all. I cannot believe that August has already begun.
On one hand, this summer feels like it's dragged by. On the other, it's flying, and I can hardly believe that the fall will be upon us within a few months. (Weeks for some of y'all. I'm jealous.)
But before we get too far into August–and its tailgating and school prep–I wanted to look back at the month of July. Specifically, some things I enjoyed. And some things Lady A enjoyed, too. 😀
To recap, my potluck, as defined by the folks at Merriam-Webster is:
the regular meal available to a guest for whom no special preparations have been made… a communal meal to which people bring food to share —usually used attributively <a potluck supper>; whatever is offered or available in given circumstances or at a given time.
Around the end of every month, I write up a list of my (current) favorite things. While this list might not be a traditional "meal," I hope to bring some unique products/entertainment/links/etc. that I've recently loved in the hopes that y'all will enjoy them, too.
Here are some of my favorites from July: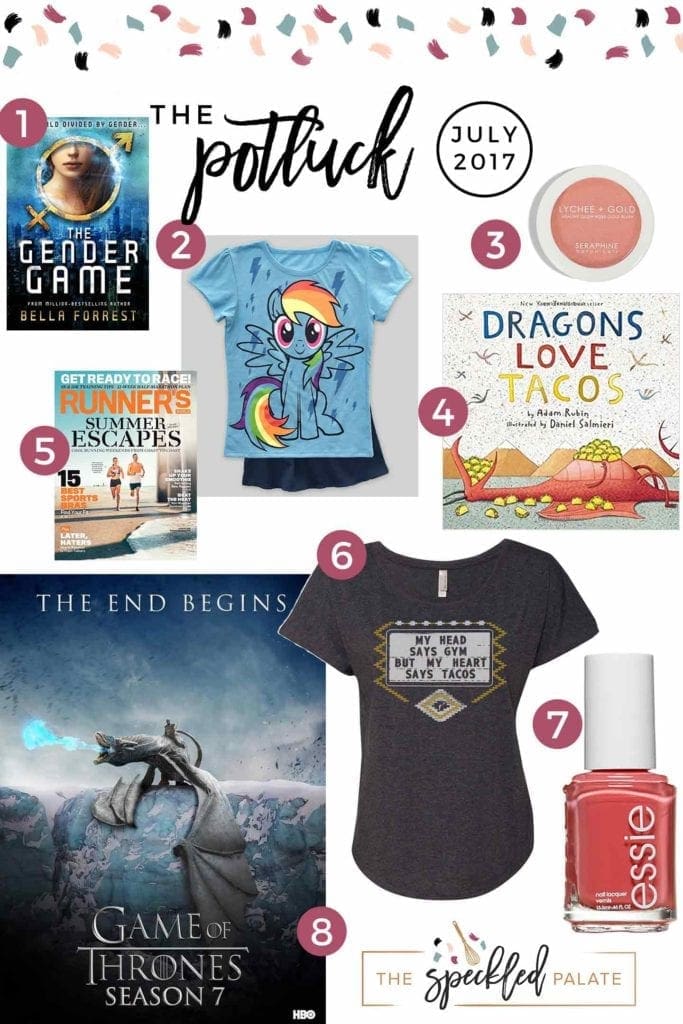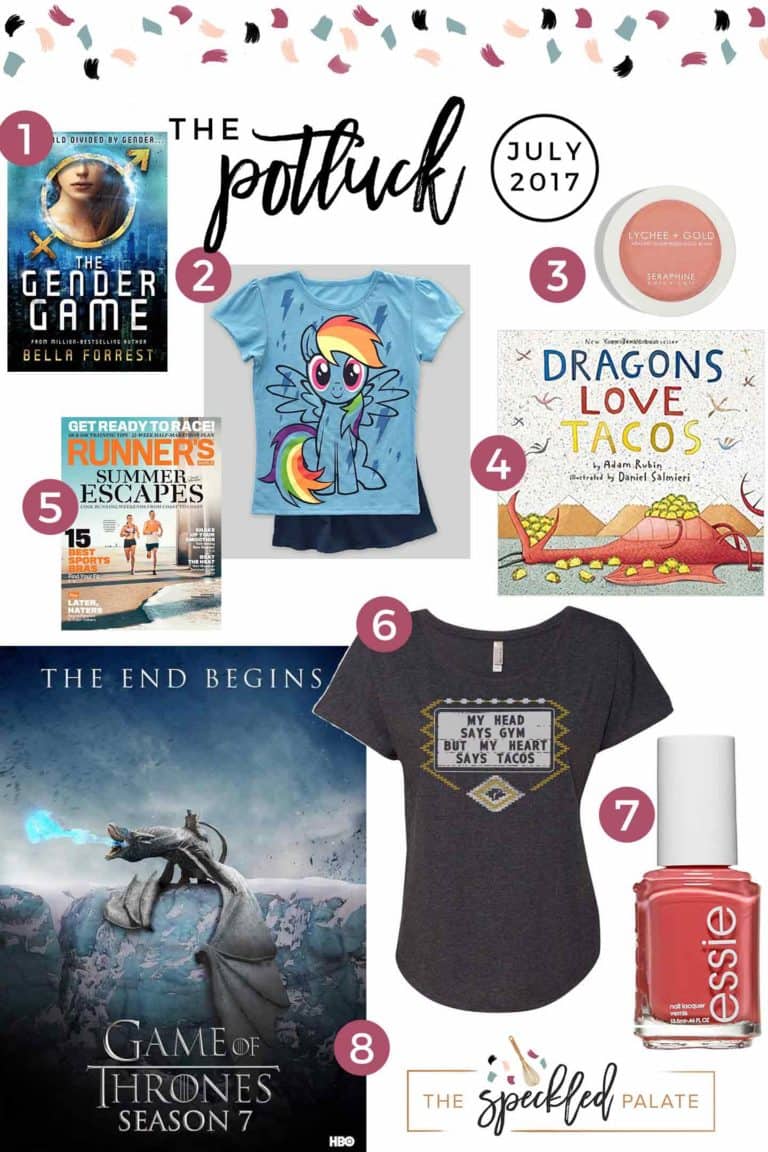 This post contains affiliate links. If you were to make a purchase through one, I would receive a small commission. For more information about the affiliate programs The Speckled Palate participates in, please refer to my disclosure page.
1. The Gender Game series: Surprise, surprise! I have a non-romance recommendation for y'all this month, friends! (And I don't know whether you'll be pleased or dismayed to hear that I've been so sucked into this series that I haven't picked up a romance in weeks…) My Kindle recommended this book to me a few weeks ago, and I decided to give dystopian another go after taking a break near the end of last year. Understandably, I was immediately sucked in. While it's not subtle at all, I found myself compelled by the story and its characters. Before long, I was rooting for the protagonists and hoping for the best possible outcome. I'm currently between books four and five, and I cannot wait to see what happens next. Have YOU read this?
2. My Little Pony Toddler Girls' My Little Pony Cape Short Sleeve T-Shirt:
My daughter is obsessed with My Little Pony. O-b-s-e-s-s-e-d.
She spotted this T-shirt from afar during one of our Target visits this month and insisted upon this T-shirt. When we got home, she immediately stripped off the shirt she was wearing to wear this one.
IT HAS A CAPE.
Cape T-shirts are a thing! WHO KNEW? And who wants one as an adult? … Just me?
3. Seraphine Botanicals Lychee + Gold Healthy Glow Rose Gold Blush: I'm not much of a makeup girl. (Hi, I'm a SAHM who works from home.) However, when this blush arrived in my monthly ipsy bag, I was thrilled. The color is gorgeous. It looks flattering. It stays on. And it gives me a nice dewy glow that I can't get from behind a computer screen. 😉
4. Dragons Love Tacos: When we were in Memphis last month, my aunt got the chance to meet my girl, and she sent this book to us after the wedding weekend. You see, Lady A is a wee bit obsessed with dragons (!) and since we like tacos, too, this book is all kinds of perfect and also hilarious.
5. Runner's World: Maybe it's because I long to be running distances again or maybe it's because I have a stack of these magazines on my bedside table, but I've thoroughly enjoyed the inspiration and wanderlust recent issues of Runner's World has provided. While I won't be going super far in the Texas summer heat, I'm climbing back on the training bandwagon and aiming for a winter half and could not be happier to be moving again.
6. My Heart Says Gym T-Shirt: A few months back, this t-shirt arrived in my mailbox, sent to me from my bestie who knows my feelings on gym vs. tacos. (Always, always, always go for the tacos, friends.) I've been wearing it a ton this month, and every time I do, it makes me smile because I'm lucky enough to have a friend who "gets" me.
7. Essie Cute As A Button Nail Polish: One of my sweet besties here in Dallas dropped off a box of goodies after Lady A arrived nearly two and a half years ago. It included this nail polish, which I am still obsessing over. The pink is so bright for the summertime, and I just love the way it looks on my toes.
8. Game of Thrones: Yeah, I know the rest of the world and I are thrilled about this, but c'mon, y'all. WINTER IS HERE! And so much has already happened in the three episodes of the season! Are you watching, too? What's been one of your favorite parts of the season so far? (As a romance lover, y'all should know which scene made me squeal. My husband rolled his eyes, and when it was followed by doom and gloom, I definitely requested to go back to that scene. I meaaaaaaan… c'mon!)