The Potluck: December 2015
More than a year ago, I started up a monthly feature to share my favorite things! (Kinda like Oprah, except I sadly cannot offer each of you all the products I adored.)
Today, I'm recapping all the goodness I enjoyed in December for this month's Potluck.
To recap, my potluck, as defined by the folks at Merriam-Webster is:
the regular meal available to a guest for whom no special preparations have been made… a communal meal to which people bring food to share —usually used attributively <a potluck supper>; whatever is offered or available in given circumstances or at a given time.
Near the end of every month, I write up a list of my (current) loves. While this list might not be a traditional "meal," I hope to bring some unique and interesting things (products/entertainment/links/etc.) to the table that I've recently loved in the hopes that y'all will enjoy them, too.
Who's ready to discuss my December love list?
Here we go…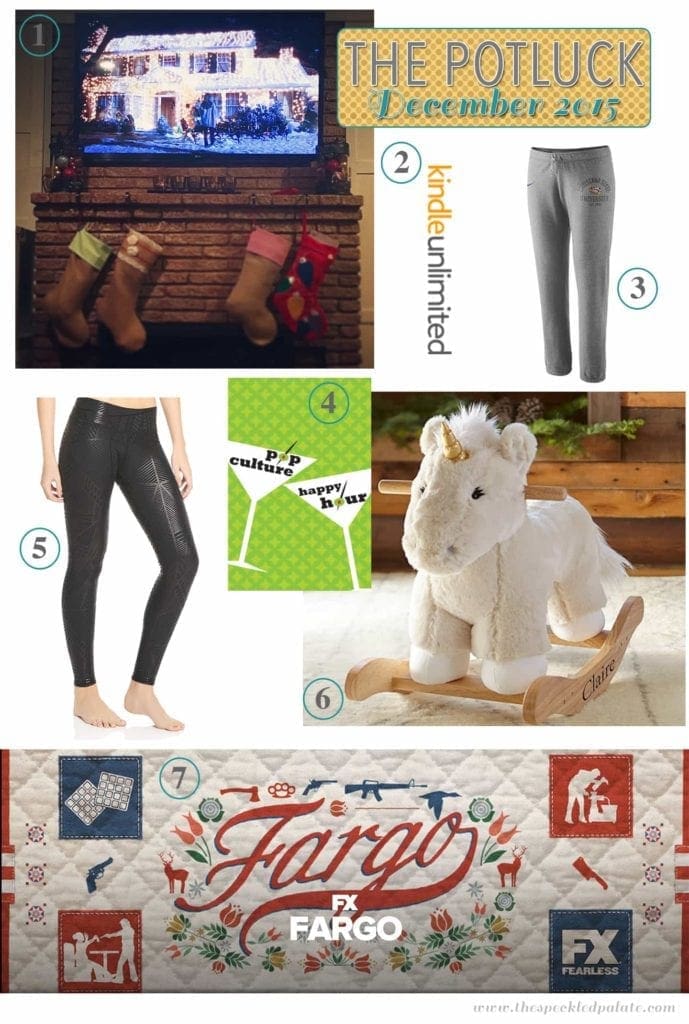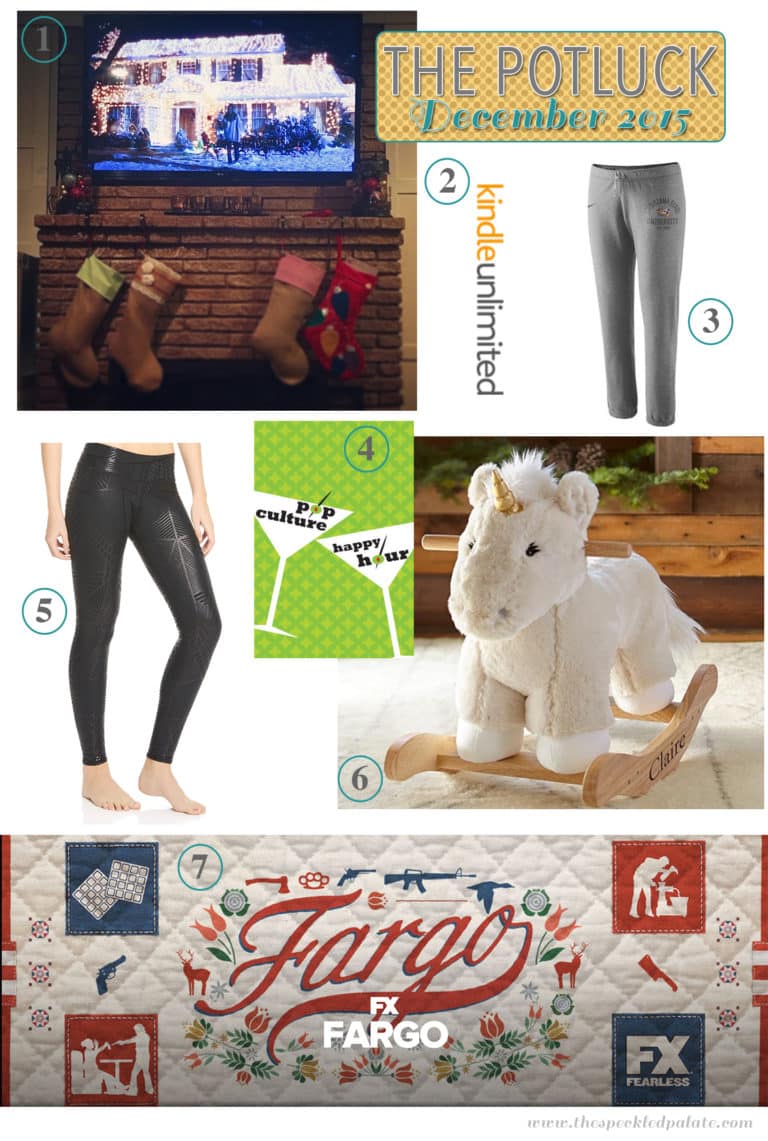 This post contains affiliate links. If you were to make a purchase through one, I would receive a small commission. For more information about the affiliate programs The Speckled Palate participates in, please refer to my disclosure page.
1. New traditions: This year, we decided to stay in Dallas for the holidays instead of traveling to see our families, which is something we have done for the entirety of our marriage (and before we were married, too.) This Christmas was our first Christmas flying solo, so to speak, and we had a fantastic time making some new traditions. They included, but aren't limited to, a Christmas Eve lasagna, a baby play date with friends and entirely too much bacon. Though let's be real… is that actually a thing? We're still undecided.
2. Kindle Unlimited: I cannot tell y'all how many incredible books I've come across by having this subscription service on my Kindle. I used to subscribe to Audible, but when I stopped running last year, I switched over to KU, and I have not looked back. Sure, some of the books I've read (or started to read) are not as good as I'd like for them to be, but I've discovered some new authors who are incredibly talented, so it's a fun thing!
3. Nike LSU Tigers Women's Fleece Pants: I totally stole my husband's LSU sweatpants when I was pregnant, and he has since attempted to reclaim them. Unsurprisingly, he ployed me with these fleece pants, which were a present from him. I miiiiiiiight have worn them every day since.
4. Pop Culture Happy Hour: PCHH is my favorite podcast, and I absolutely adore listening to Linda, Stephen, Glen and their guest panelist(s) weekly during our morning walks. Being a new mom who doesn't spend much time catching up on pop culture things, I enjoy this podcast because it alerts me to movies/books/TV shows and more that I should maybe check out.
5. Fabletics Salar Leggings (in Black Ice Print): I cannot handle how much I adore these leggings, and I might've become a convert to the whole leggings being pants because HOLY COW, they are comfortable, and they look really, really good beneath a simple tunic.
6. Unicorn Plush Rocker: My sister sent this unicorn to Lady Baby for Christmas… and proceeded to make me open it for her three weeks early since she wasn't going to be here on Christmas morning. I cannot tell y'all how much joy this unicorn rocker has brought to our lives. Lady Baby adores it and has the best time kicking her legs and attempting to rock herself as she laughs. It. Is. The. Best.
7. Fargo (Season 2): Winston and I recorded this show back when it was airing, and in the month of December, we binged most of it because we could not help ourselves. The way the story is told is captivating, even if the story is horrifying, and I've enjoyed watching the show for the visuals because the way details are shared visually are so unique. Just a few episodes left until we know the end, too!
…
What did you love in the month of December?
…
Curious about other things I've loved? Check out my other potlucks:
2014: October | November| December
2015: January | February | March | May | June | July | August | September | November | December
2016: January | February |March | April | May | June | July | August | September | October | November | December
2017: January | February | March | April | May | June | July | August | September | October | November | December
2018: January | February | March | April | May | June | July | August | September | October | November | December
2019: January | February/March | April | August