The Potluck: October 2014
Today, I'm starting a new monthly feature that I will share around the end of every month from here out. Yes, I realize it's the beginning of November, but last week was a little nuts, and I ran out of time… so the beginning of this month is just gonna have to work.
It's a potluck!
According to Merriam-Webster, a potluck is…
the regular meal available to a guest for whom no special preparations have been made… a communal meal to which people bring food to share —usually used attributively <a potluck supper>; whatever is offered or available in given circumstances or at a given time.
Interesting, right?
I'm obviously going for a potluck of the latter definition here, though I'll sometimes share food links and love.
Every month, I'll compile a list of some of my favorite things. While it might not be a traditional "meal," I want to provide some different and interesting stuff (products/entertainment/links/etc.) I've been loving in the hopes that y'all will enjoy them, too.
Let's kick this off, shall we?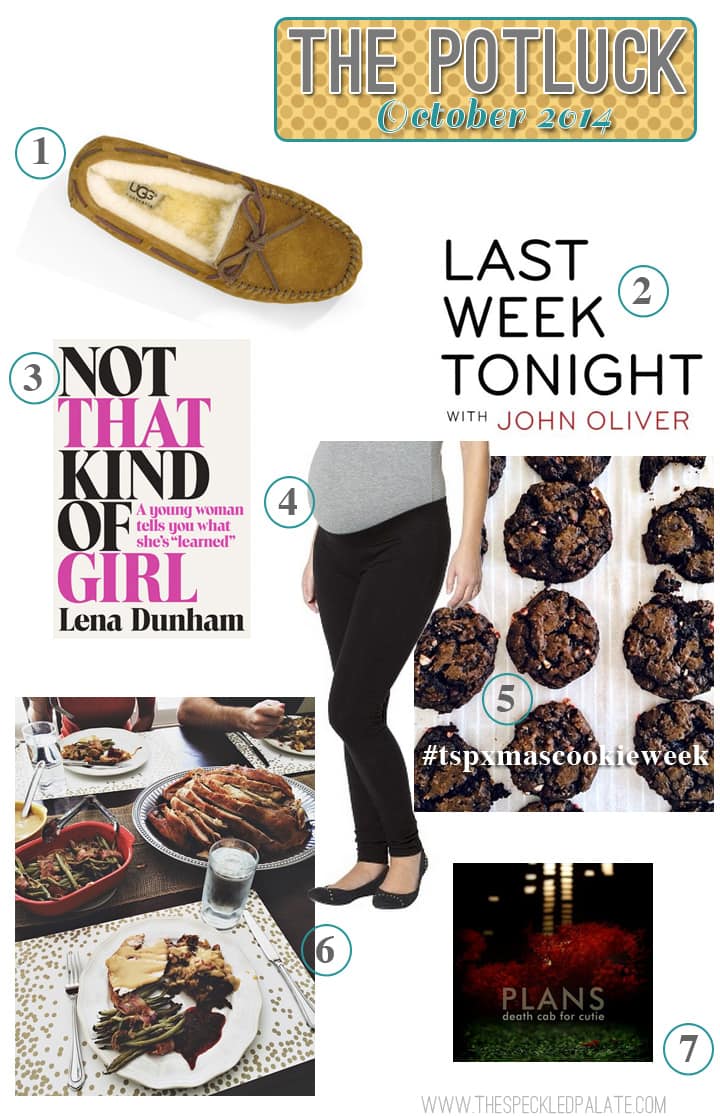 This post contains affiliate links. If you were to make a purchase through one, I would receive a small commission. For more information about the affiliate programs The Speckled Palate participates in, please refer to my disclosure page.
1. Ugg Moccasins: If the temperature is below 60°F, you can find me wearing these at all times around the house. They might not be the prettiest of slippers, but oh my goodness, are they warm and cozy for my chilly toes. (And let's be real: My toes are ALWAYS chilly.)
2. Last Week Tonight with John Oliver: If you're interested in current events and love shows like The Daily Show and The Colbert Report and are NOT watching this show, you're truly missing out. Oliver is brilliant, and I love his weekly commentary on various issues/events.
3. Not That Kind of Girl: A Young Woman Tells You What She's "Learned" by Lena Dunham: I started listening to this novel while walking with Lucy in October, and I adore Dunham's brutal honesty. This book might not be everyone's cup of tea, especially since the subject matter is so broad (and potentially uncomfortable for some readers), but I've always enjoyed books from women my age. I've found that I can generally identify with bits and pieces of the memoir, whether or not the author and I lead similar lives.
4. Maternity leggings: OH SO COMFORTABLE. I basically want to live in these until Lady Baby arrives. (Also? This photo doesn't really do them justice, but I promise they look super cute if you don't awkwardly tuck your shirt beneath them.)
5. The Speckled Palate's Christmas Cookie Week: I'm beginning to plot out my recipes for this year… and I'm SO pumped about hosting this yearly week of baked goodness. AND I would love for y'all to join me in this sugar extravaganza at the beginning of December! Intrigued? Let me know, and I'll reach out to you via e-mail with more details later this month.
6. Upcoming collaborations and excitement: November and December are always exciting with the holidays. This year, I'm thrilled to be participating in a Thanksgiving progressive dinner with other bloggers, collaborating with a new brand, hosting a giveaway or two and working with some blog friends on some fun posts! It's truly an exciting time, and I cannot wait until it can all be revealed!
7. Plans by Death Cab for Cutie: This album has been my autumnal soundtrack since 2005. So much has changed since then, but whenever the weather feels crisp and fall-like, I play this album and travel back in time to when I was a junior in college, beginning work at the newspaper, making new friends, experiencing new things… and first hearing these tunes in backshop at the paper. Every year, I return to these songs, and every year, I take away something new from this quintessential college album.
…
What things did you love in the month of October?
What are you looking forward to in November?
…
Curious about other things I've loved? Check out my other potlucks:
2014: October | November| December
2015: January | February | March | May | June | July | August | September | November | December
2016: January | February |March | April | May | June | July | August | September | October | November | December
2017: January | February | March | April | May | June | July | August | September | October | November | December
2018: January | February | March | April | May | June | July | August | September | October | November | December
2019: January | February/March | April | August