The Potluck: September 2015
Last year, I started a monthly feature so I could share some of my current favorite things with y'all.
October is just around the corner, so I wanted to recap my September love list before we got into this new month and embarked upon ALL things pumpkin.
To recap, I share my version of a potluck, as defined by the folks at Merriam-Webster:
the regular meal available to a guest for whom no special preparations have been made… a communal meal to which people bring food to share —usually used attributively <a potluck supper>; whatever is offered or available in given circumstances or at a given time.
Near the end of every month, I write up a list of my (current) favorite things, a la Oprah (but minus the giveaway, sadly.) While this list might not be a traditional "meal," I hope to provide y'all with some unique and interesting stuff (products/entertainment/links/etc.) I've recently loved in the hopes that y'all will enjoy them, too.
Who's ready to recap September?
Let's do this thing!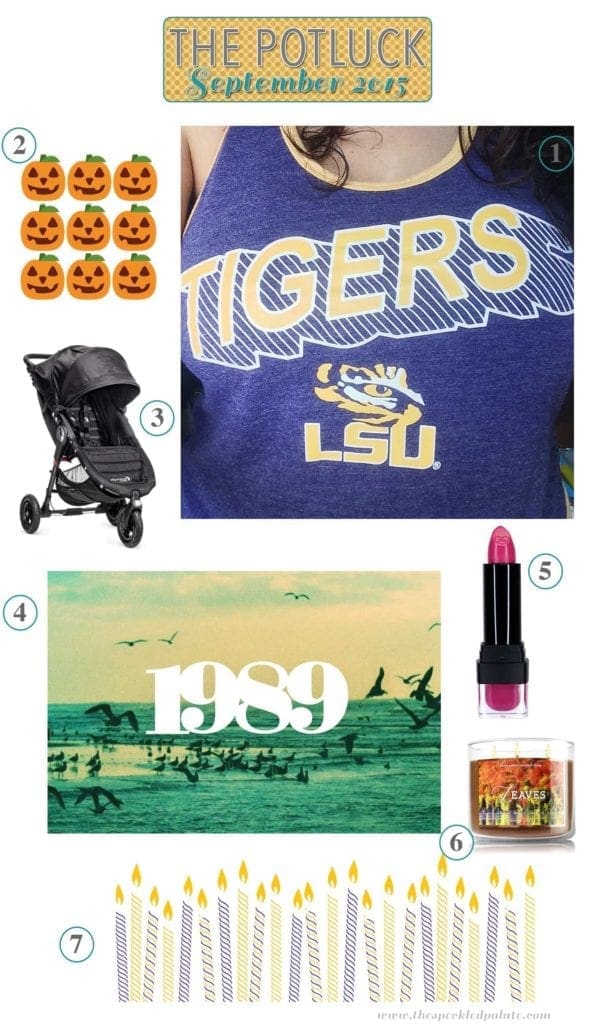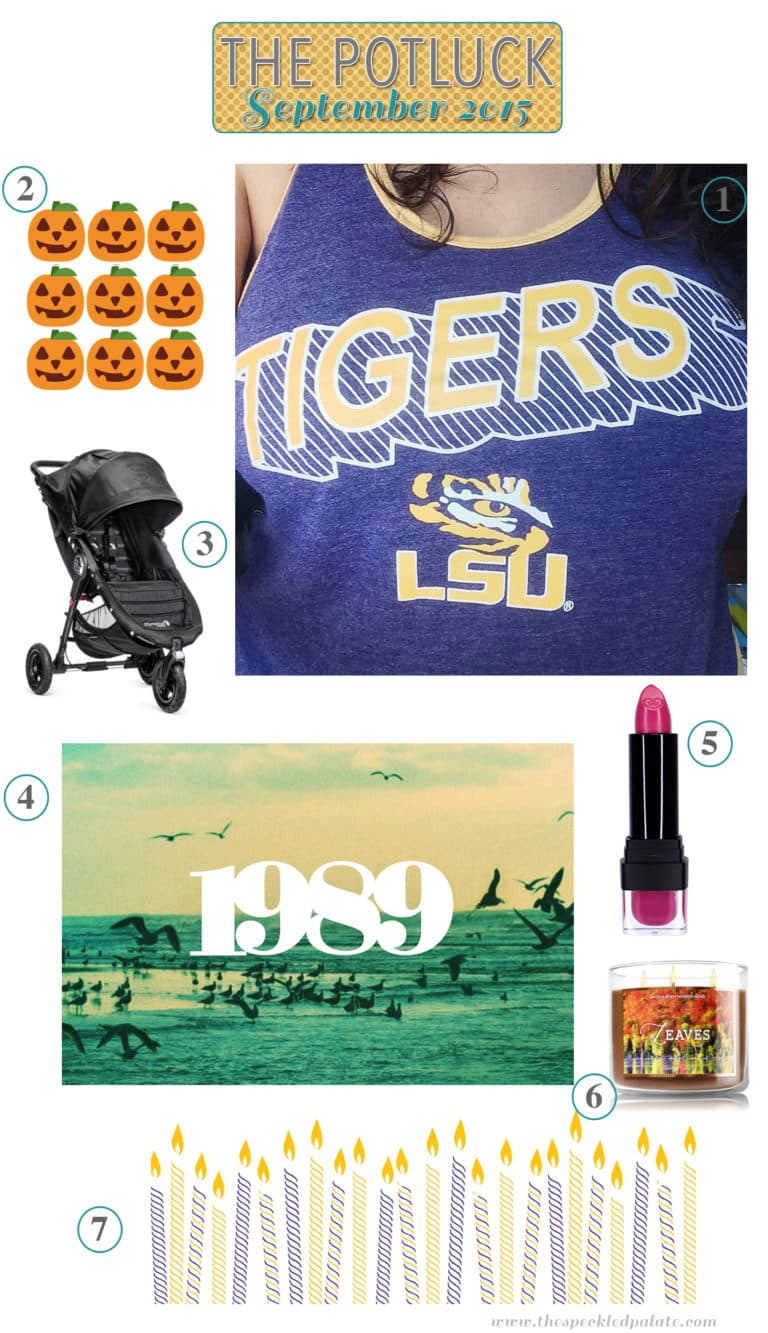 This post contains affiliate links. If you were to make a purchase through one, I would receive a small commission. For more information about the affiliate programs The Speckled Palate participates in, please refer to my disclosure page.
1. LSU football: Football season is here, and it makes my heart so happy! And my team is truckin' along. After the first game, which was LSU's first cancelled game since WWI, the Tigers have surprised me and played well. And Leonard Fournette? I love him. (I think we all do. How could we not?)
2. All things pumpkin: While I'm admittedly not a PSL fan, I do love me some pumpkin goodies, so long as they don't call for copious amounts of nutmeg. I know I'm weird. But whatevs. As the weather cools down a little bit, I've been experimenting with pumpkin and have ALL kinds of pumpkin baked goods to share with y'all during the month of October. Get excited!
3. Baby Jogger City Mini GT Single Stroller: We're walking most days, and this stroller has been a lifesaver. It's lightweight, easy to control and perfect for pushing with one hand while I walk the dog with the other. I'm sure we look like a circus while traipsing the neighborhood, but the baby and the dog really enjoy our morning walks and so do I, so we'll continue with this madness until it gets too cold. If it gets too cold.
4. Ryan Adams' 1989: Like most everyone, I was listening to 1989 last winter and into the spring. Actually, I listened to it so much that my daughter recognized it and was soothed by it after she was born. I'm a huge Ryan Adams fan, too, so when I discovered that he'd made a cover of the ENTIRE ALBUM, I knew I needed to listen. And I loved it, then purchased it and have been listening to it ever since. If you've yet to check it out, do yourself a favor and listen to it now!
5. City Chic Lipstick in One Night Stand: I normally don't like bright lipstick because it looks strange when I hardly wear any makeup. That being said, this came in my Ipsy box this past month, and I adore the bright pink color. While it doesn't go with everything, it makes a bright statement when you're wearing something neutral. And since my wardrobe has been lots of neutrals this summer into autumn, I'm a happy girl.
6. Bath & Body Works Leaves 3-Wick Candle: This candle smells like the fall, plain and simple, and we've been burning it most evenings because it smells so good. While it doesn't remind me of leaves, it has a distinct autumnal scent that makes me a happy girl, especially since we've yet to really feel cooler temperatures this month.
7. Birthday things: 31 is an uneventful birthday, but I've adored all the birthday-related things I have experienced in September. We've been celebrating all month long, and it's been a combination of great food, great company and great times all around. Winston took me out to FT33 on my birthday for one of the best meals of my life, and I've felt so much love from so many people this month.
…
What did you love in the month of September?
…
Curious about other things I've loved? Check out my other potlucks:
2014: October | November| December
2015: January | February | March | May | June | July | August | September | November | December
2016: January | February |March | April | May | June | July | August | September | October | November | December
2017: January | February | March | April | May | June | July | August | September | October | November | December
2018: January | February | March | April | May | June | July | August | September | October | November | December
2019: January | February/March | April | August