So somehow, we're already in the middle of JUNE, and I have no idea where this year is going. It's flying by. Because of this, I'm trying to appreciate and capture the moments as they come. But my goodness, it's going quickly. These last few weeks have been even crazier and made the quiet moments even more precious.
Before we get too far from last month (and before my memory won't go back that far #newishmomprobs), I'm recapping my favorite things from May today. To recap, my potluck, as defined by the folks at Merriam-Webster is:
the regular meal available to a guest for whom no special preparations have been made… a communal meal to which people bring food to share —usually used attributively <a potluck supper>; whatever is offered or available in given circumstances or at a given time.
At the end of every month, I write up a list of my (current) favorite things. While this list might not be a traditional "meal," I hope to bring some unique products/entertainment/links/etc. that I've loved in the hopes that y'all will enjoy them, too.
Who's ready to recap May?
Here we go…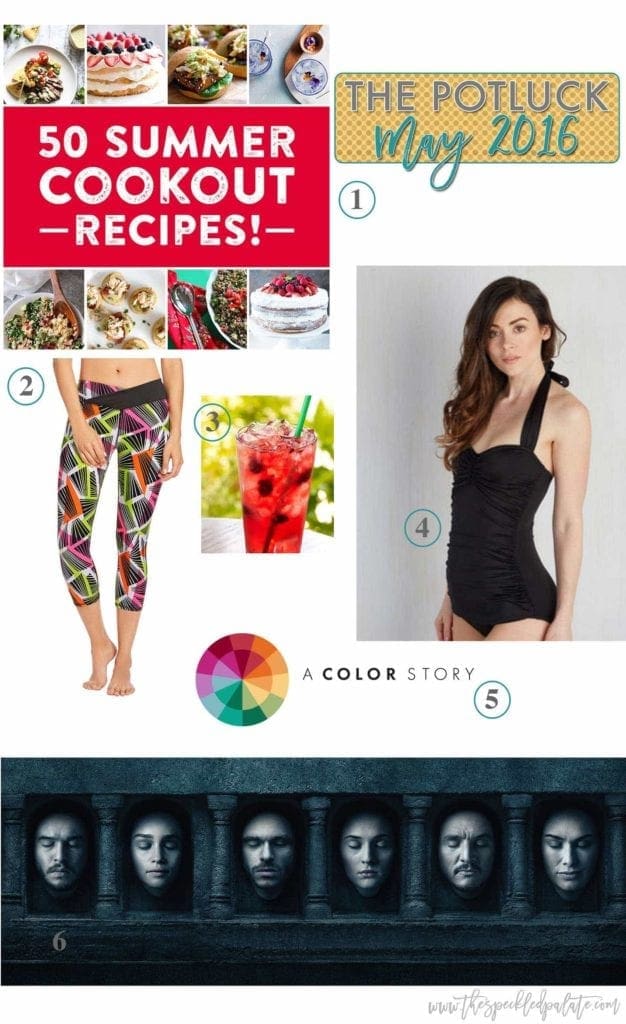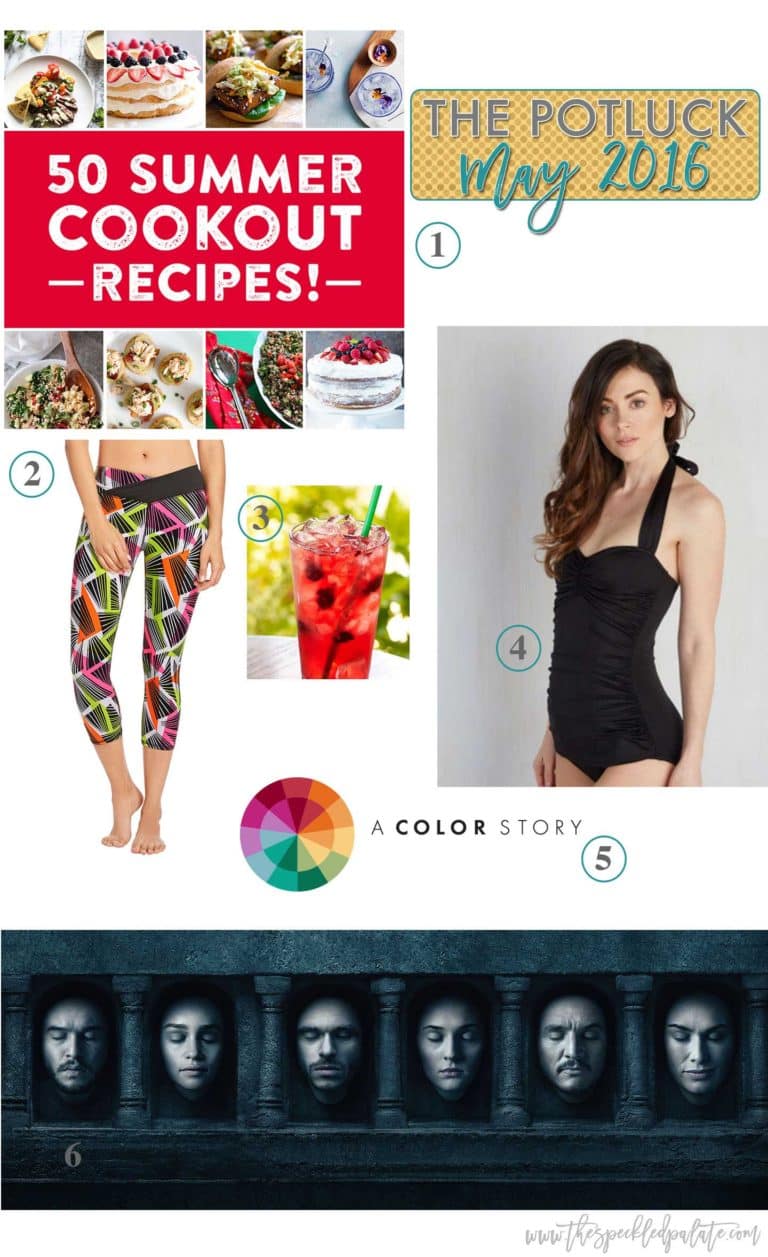 This post contains affiliate links. If you were to make a purchase through one, I would receive a small commission. For more information about the affiliate programs The Speckled Palate participates in, please refer to my disclosure page.
1. The Great Blogger BBQ: I'm so thrilled that Susannah and I were able to bring so many bloggers together last month. We made delicious summertime recipes in anticipation of the unofficial start of summer! I'm looking forward to more blogger collaborations as the year continues. (More information to come about The Sweetest Season and more!)
2. Winn Mid-Rise Capri in Tribal Geo Print/Black: Y'all know I'm a sucker for good workout pants. These Fabletics gems are colorful, form-fitting and perfect for morning runs. While the weather in Texas hasn't been ideal, I've been rocking these tights and feeling stylish as I log my miles.
3. Very Berry Hibiscus Starbucks Refreshers™ Beverage: I cannot get enough of this. As someone who cannot sip coffee into the late morning hours because I'll be awake all evening, this is a delightful refreshment. And since we're getting into mall walk season (AKA "it's too hot to walk with our children outside for more than a few minutes, so let's meet up and walk indoors"), this will be a fantastic drink to enjoy as we power walk and window shop.
4. A Color Story: This photo editing app makes me so happy. It's equally easy and simple to save actions that you like. It's the only app I have found where I can easily and quickly correct a wonky white balance. And as someone who likes to edit photos just after they've been taken so she can pass them along to family members, this app is perfect. Now, if they had a batch editing function, I'd be set!
5. Bathing Beauty One-Piece Swimsuit in Black: Lady Baby's swim lessons started at the end of last month, and after a tearful shopping trip to the mall, I was talking to a friend about my troubles finding a bathing suit. She suggested this beaut from ModCloth, and I'm so glad she did. It's comfortable. It's not matronly. (As someone in her early 30's, I'm not quite ready for that look just yet.) And compared to a lot of other swimsuits, it was pretty affordable. I'll be rocking this swimsuit all summer and feeling uber confident because it's so flattering!
6. Game of Thrones: Could we all agree that this season has been b-a-n-a-n-a-s? Because holy cow. There have been lots of moments where it's been hard to watch, but I have also enjoyed seeing things slowly come together. And the reunions that have happened that I never dared hope for? Pretty darn incredible. Now let's just see how it all pans out as the season comes to a close… and hope our favorite characters survive whatever craziness the finale has slated.
…
Curious about other things I've loved? Check out my other potlucks:
2014: October | November| December
2015: January | February | March | May | June | July | August | September | November | December
2016: January | February |March | April | May | June | July | August | September | October | November | December
2017: January | February | March | April | May | June | July | August | September | October | November | December
2018: January | February | March | April | May | June | July | August | September | October | November | December
2019: January | February/March | April | August