The Potluck: October 2017
Oh, October. It always feels likes the start of busy season, but it's always such a joy.
From our anniversary (hello, SEVEN years of marriage!) to Halloween (hooray for a first Halloween to remember and a peacock princess who was too cute to handle!) to various birthdays and celebrations, it was a lovely month for all.
But before we get too far into November and Thanksgiving recipes, let's take a look back at the month of October.
To recap, my potluck, as defined by the folks at Merriam-Webster is:
the regular meal available to a guest for whom no special preparations have been made… a communal meal to which people bring food to share —usually used attributively <a potluck supper>; whatever is offered or available in given circumstances or at a given time.
Ready for all the stuff I enjoyed? Let's do this!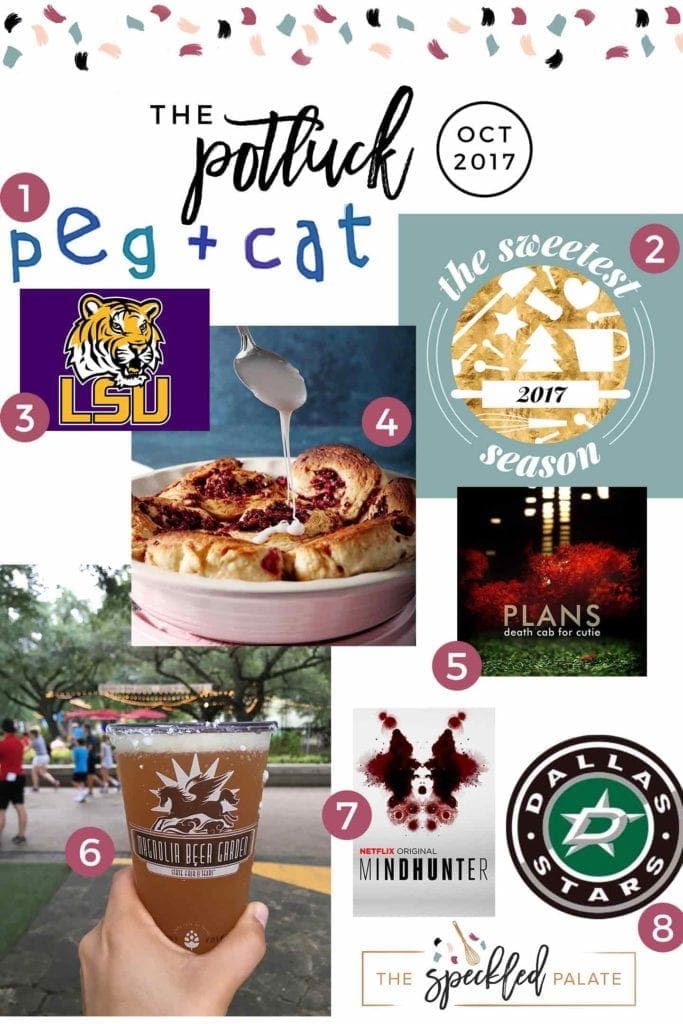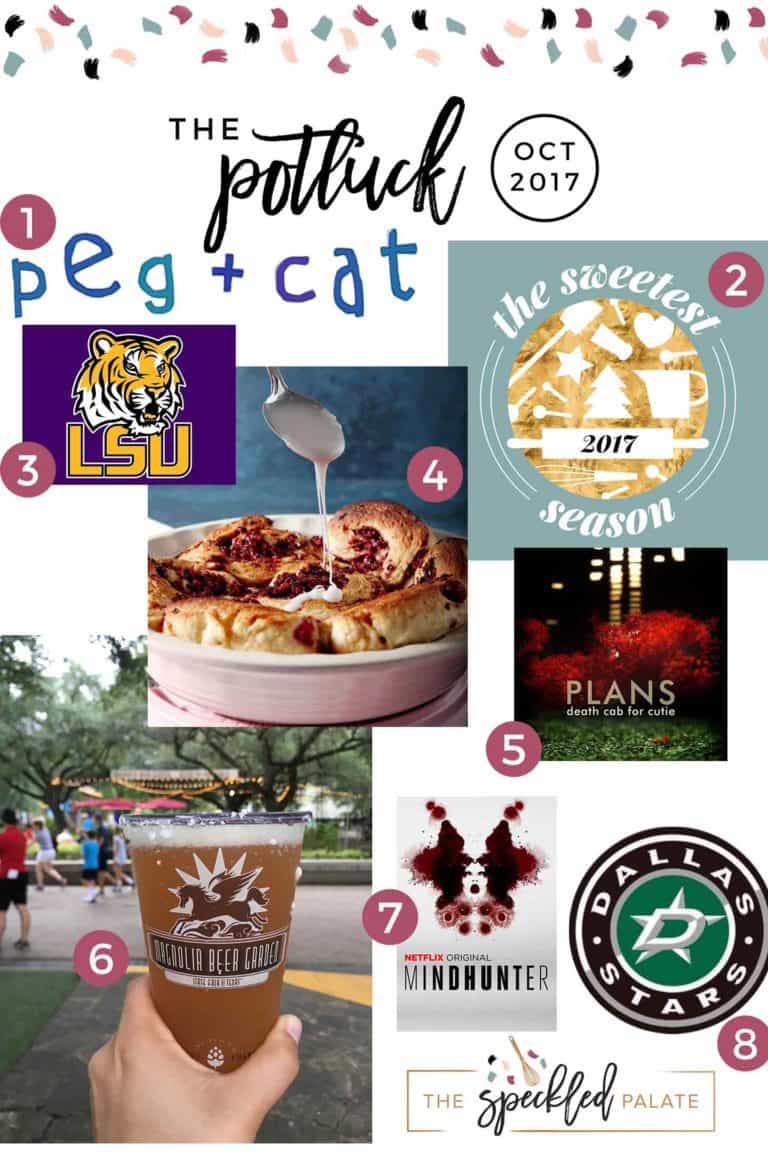 This post contains affiliate links. If you were to make a purchase through one, I would receive a small commission. For more information about the affiliate programs The Speckled Palate participates in, please refer to my disclosure page.
1. Peg + Cat: We're always on the lookout for new shows to watch as a family, and Peg + Cat has become a new favorite. From the theme song (which is so stinking catchy that it'll get caught in your head and you'll bop around to it to the rest of the day!) to the actual content of the show, this show is fun for all family members to watch that doesn't drag on too long, either. I've found one episode is the perfect amount of time for me to get dinner going. 😀
2. The Sweetest Season Cookie Exchange: This year, we're doing things a little different with our festive cookie week. We're teaming up with Cookies for Kids' Cancer to raise money and awareness this holiday season. If you're a blogger and want to join in on the fun, head on over to our sign-up page. If you're a reader and want to contribute to the cause, you can mosey on over to this page and make a donation. (You can also donate through this month and the entirety of December, too, so there's no rush!) I'm just really excited and wanted to share it with y'all in case you want to join in on the fun!
3. LSU Tiger Football: So… I didn't mention 'em in the previous potluck because holy cow, was September a rough month for our young(ish) football team. However, I was impressed by how they bounced back in October and showed up for every game. While our season hasn't been perfect, the team has certainly rallied, and that makes someone who's been a fan for years and years feel a little better about the rocky start.
4. Le Creuset Sugar Pink Heritage Pie Dish: 'Tis the season for all kinds of baking, and I'm o-b-s-e-s-s-e-d with this sugar pink matte pie dish from Le Creuset. (Did you see the awesome Cranberry Cinnamon Rolls I made in it earlier this week? YUM.) The color is spectacular. The product, as always, is solid, and makes for a delicious pie. And I cannot wait to use it for some holiday baking!
5. "Plans" from Death Cab for Cutie: This album is the quintessential fall album for me, and twelve years later, it still holds true and strikes chords every time I listen. And since the temperature dipped in October, I busted out my copy of this album. This year's listening has been sobering and bittersweet but no less meaningful. Do you have any albums like this in your life?
6. State Fair of Texas: Where we live, the state fair is a BIG DEAL. And we had a blast taking Lady A to the fair for the first time when my mother was in town! We nibbled on various snacks. Rides were ridden, including a giant flying elephant and a swan boat. Beers were drank by the adults, including that delightful FUNNEL CAKE BEER in the collage above. And while it was insanely hot, we had a good time introducing our girl (and my mom!) to the fair.
7. Mindhunter: I'm generally not someone for creepy shows, but I find Mindhunter compelling. (Maybe we can write this off as a former journalist thing? Much like Holden, I find it appalling, but still fascinating.) While we haven't finished the first season, we're slowly making our way through it, and I cannot wait to see what happens next.
8. Hockey: Hockey officially came back at the beginning of October, and it's been fun watching games and having sporting events that I actually enjoy playing during random weeknights. Also, hockey fights. I can't be the only one who watches the sport for these, right? 😉 (Yes, I know. You'd never suspect little 'ol me would enjoy a good fight, but I do. There's something kind of goofy about a hockey fight, too, since the fighters are in skates…)
…
What Did You Love In October?
…
Curious about other things I've loved? Check out my other potlucks:
2014: October | November| December
2015: January | February | March | May | June | July | August | September | November | December
2016: January | February |March | April | May | June | July | August | September | October | November | December
2017: January | February | March | April | May | June | July | August | September | October | November | December
2018: January | February | March | April | May | June | July | August | September | October | November | December
2019: January | February/March | April | August