The Potluck: January 2019
Continuing the monthly tradition, The Speckled Palate's The Potluck: January 2019 includes a few Christmas presents put to good use, a new television show, favorite wintertime skincare products and more. Swing by the blog today to read the full list of things I adored during the month of January.
I don't even know where the time is going these days, y'all.
It feels like we were just hosting our New Year's Day party (and eating alllllll the gumbo.) But somehow, it's already halfway through February, and I'm writing up another monthly love list of all the things I loved in January.
January was a good month. While we experienced some pains due to our schedules being wildly inconsistent, we finally settled back into a routine. And we got to really enjoy some of our Christmas presents, too! (More on this in a bit.)
To recap, my potluck, as defined by the folks at Merriam-Webster is:
the regular meal available to a guest for whom no special preparations have been made… a communal meal to which people bring food to share —usually used attributively <a potluck supper>; whatever is offered or available in given circumstances or at a given time.
Ready to learn some of the things I loved in January? Let's do this!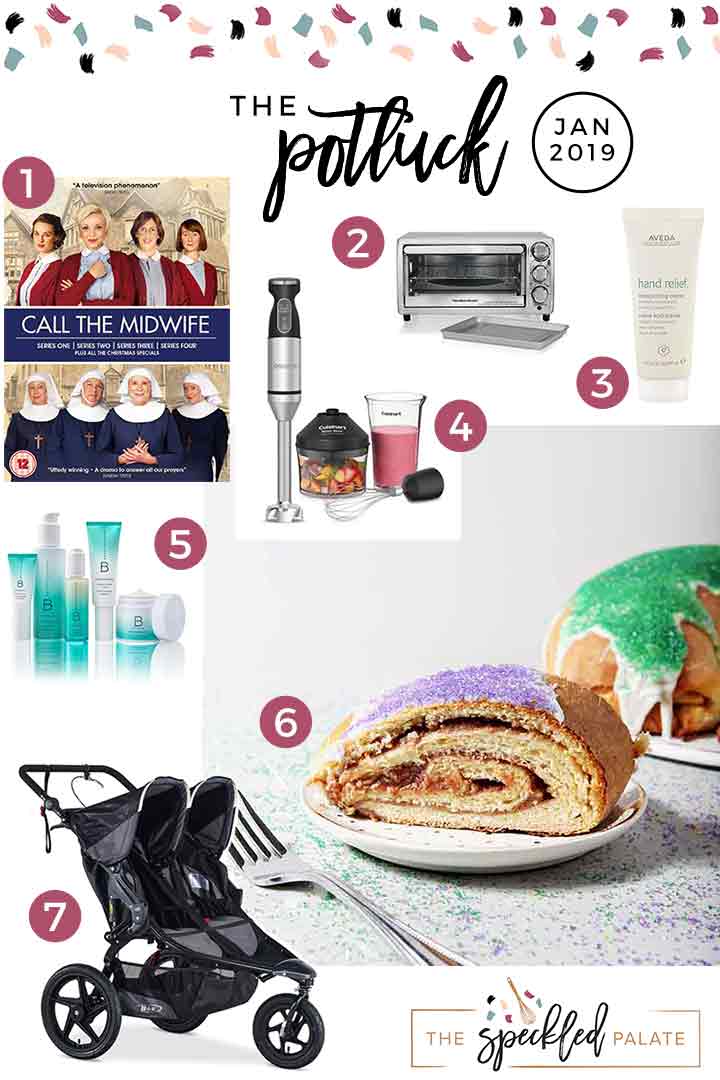 Disclaimer: Some of the links below are affiliate links. If you click through and take action, I will receive a small commission. Please refer to my disclosure page for more information about the affiliate programs The Speckled Palate participates in.
1. Call the Midwife: My mother-in-law recommended this show for me during the holidays, and I started it in January after the craziness calmed down and our older daughter went back to school. And my goodness, is this show absolutely delightful! As someone who finds childbirth and all the things surrounding it fascinating, this show has been a treat. Following midwives in the 1950s in the East End, this show offers a bunch of history, midwife- and childbirth-related insights, but also some laughter, some tears and everything in between. I'm in the middle of season two right now. Have y'all watched this, too?
2. Toasty breakfasts: "Fancy" avocado has been my winter breakfast and lunch go-to because we've been purchasing lots of avocados recently. Here's what I do: Toast my bread in our trusty toaster oven. Slice the avocado. Place the avocado slices on the toast, then drizzle with olive oil. Sprinkle with a little salt, then devour!
3. Aveda Hand Relief Moisturizing Creme: During the winter months, my hands get painfully dry. Between washing them a ton (and washing a ton of dishes because #foodblogger), they tend to get sadder as the months pass. I've been using this Aveda hand creme religiously, slathering it on my poor skin, and it's been working! So if you struggle with dry hands in the wintertime, you need to get some of this!
4. Cuisinart Immersion Blender: I received this blender for Christmas, and my goodness, have I enjoyed using it! From blending up soups (hello, Sweet Potato Bisque) to making the creamiest hot cocoa around, this blender is a wonderful tool to have in the kitchen!
5. Beautycounter Countermatch Collection: In addition to dry hands, my skin gets all wonky after babies. (Thanks a lot, hormones.) And this time around, my friend, Beth, introduced me to Beautycounter. This skincare collection has been a lifesaver, aiding my skin in not being painfully dry or greasy, and helping me create a routine day in and day out. It's the little things when you've got a newborn.
6. King Cake: We made our annual King Cake at the end of January, and it was a smashing success, as always. In celebration of baking up this beauty, we invited friends over for dinner and dessert. It's safe to say that everyone, young and old, adored our cream cheese and raspberry treat, and I am already salivating at the thought of making another one! (If you're unsure if you can commit to the undertaking of a traditional king cake, I urge you to try out my Praline Pull-Apart King Cake or maybe my King Cake Martini!)
7. BOB Revolution Jogging Stroller: This stroller was a Christmas present, too, and my goodness, did we get some good use out of it in January. With shockingly decent weather and our desire to be outdoors, this stroller was put to good use. Whether we were just strolling around the neighborhood or heading to the park, it was so, so, so much easier to get around than by my husband and I each pushing an individual stroller.
…
What Did You Love In January?
…
Curious about other things I've loved? Check out my other potlucks:
2014: October | November| December
2015: January | February | March | May | June | July | August | September | November | December
2016: January | February |March | April | May | June | July | August | September | October | November | December
2017: January | February | March | April | May | June | July | August | September | October | November | December
2018: January | February | March | April | May | June | July | August | September | October | November | December
2019: January | February/March | April | August