Continuing the monthly tradition, The Speckled Palate's The Potluck: April 2019 includes some favorite kid-related products, a piece of clothing, a new favorite kitchen tool and more.
We've officially delved into baby led weaning after our 8-month-old decided to refuse all purees. Our older daughter was super into the puree game, so we fed her those before introducing more solids. This one? She's off to the races for food that looks like the food on our plates, and it's been an adventure!
Needless to say, April was a lovely month… a busy one, too!
Here are a few things that happened:
To recap, my potluck, as defined by the folks at Merriam-Webster is:
the regular meal available to a guest for whom no special preparations have been made… a communal meal to which people bring food to share —usually used attributively <a potluck supper>; whatever is offered or available in given circumstances or at a given time.
Ready to learn some of the things I loved in February and March? Let's do this!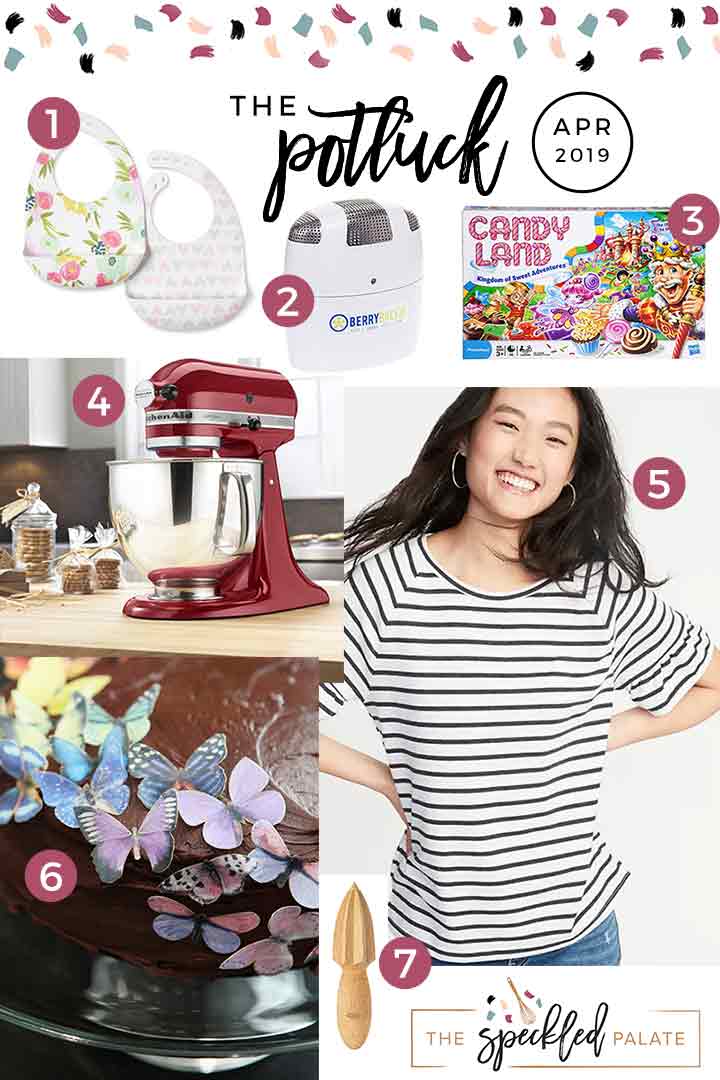 Disclaimer: The links below are affiliate links. If you click through and take action, I will receive a small commission. Please refer to my disclosure page for more information about the affiliate programs The Speckled Palate participates in.
1. Cloud Island™ Silicone Bibs:These bibs have been a lifesaver because baby led weaning is messy. And since these bibs catch things that would otherwise fall into Lady Speckle's seat (and be inevitably eaten by our dog), it saves some clean up for us! Also, they're actually cute and really easy to clean, so I'm into them!
2. BerryBreeze: My mom's husband told me about this refrigerator deodorizer, and I decided to give it a shot since our strawberries seem to go bad within 1-2 days of purchase. Well, it works, y'all, and it was well worth the investment! No longer are berries rotting within days, and we're actually able to eat the entire carton without things getting moldy! Technology for the win.
3. Candy Land: Oh my WORD. Who has played Candy Land since they were a kid? This was another birthday present for our older daughter, and we have love, love, loved playing together as a family and during the afternoon hours. Seeing Lady A get the hang of a board game has been a blast, and it's been fun watching her try to skirt the rules by arranging the cards in a certain way to send her competitors back to the start.
4. KitchenAid Stand Mixer: We've been baking a lot recently, and these Chocolate Chip Cookie Bars are a favorite. (For obvious reasons.) It's so much easier to mix up things like cakes and brownies when using our stand mixer… and I'm finally making use of it instead of mixing everything by hand these days because I simply don't have the time or energy. Who else has a stand mixer that they love?
5. French Terry Ruffle-Sleeve Sweatshirt: I'm notably not fashionable at all and generally wear jean shorts and a t-shirt most days… but this ruffle-sleeve sweatshirt (which is essentially a t-shirt made of sweatshirt material) is the most comfortable and so cute! While it's going to be too heavy for the warm months ahead, it was lovely and comfy to wear in the month of April when it wasn't blazing hot.
6. Rainbow Butterfly Cake Decorations: Quite honestly, I'm still marveling over these cake decorations that we used for our daughter's birthday cake in March. Aren't they gorgeous? (Before you ask: Yes, they're edible. No, they're not super tasty, but they're safe for kids who think they want to eat a butterfly.)
7. OXO Good Grips Wooden Reamer:
Is it nerdy to share a kitchen tool with y'all? Well, if it is, tough, because this wooden reamer has changed my citrus juicing game. For the longest time, I've had a citrus juicer–the kind that you squeeze–and it works fine, but recently, its paint started chipping. I invested in this wooden reamer, and my goodness, does this tool do a good job. Get excited for all kinds of citrusy goodness in the coming months because juicing just got so much easier!