Somehow, it's almost the middle of July. I'm struck by how quickly this year is passing, and I think about a conversation I had with a friend's dad that echoes a John Mayer's 'Born and Raised': "In half the time, I'll be twice my age."
Before we get too far into July (and before I start forgetting all the goodness that happened in June), I'm recapping my favorite things from the month. To recap, my potluck, as defined by the folks at Merriam-Webster is:
the regular meal available to a guest for whom no special preparations have been made… a communal meal to which people bring food to share —usually used attributively <a potluck supper>; whatever is offered or available in given circumstances or at a given time.
Around the end of every month, I write up a list of my (current) favorite things. While this list might not be a traditional "meal," I hope to bring some unique products/entertainment/links/etc. that I've recently loved in the hopes that y'all will enjoy them, too.
Who's ready for a June recap?
Here we go…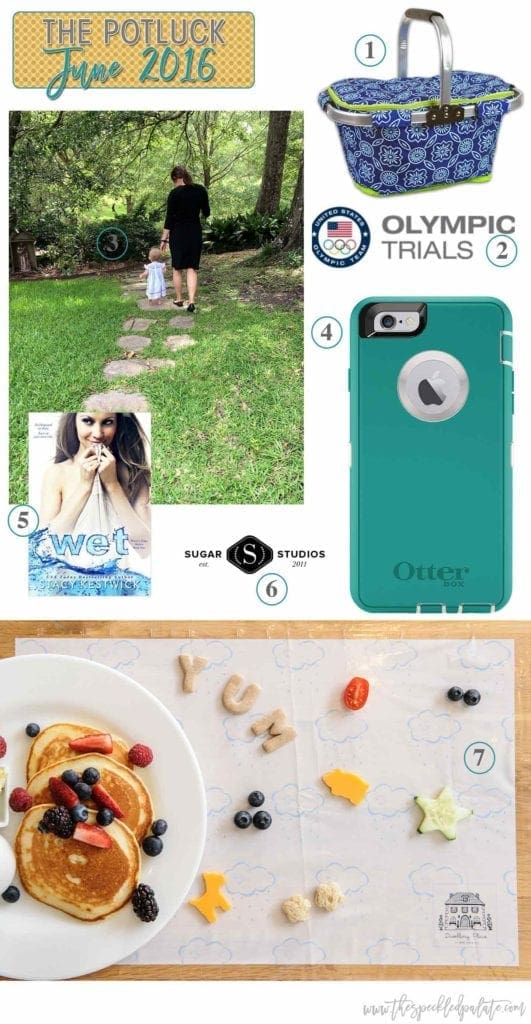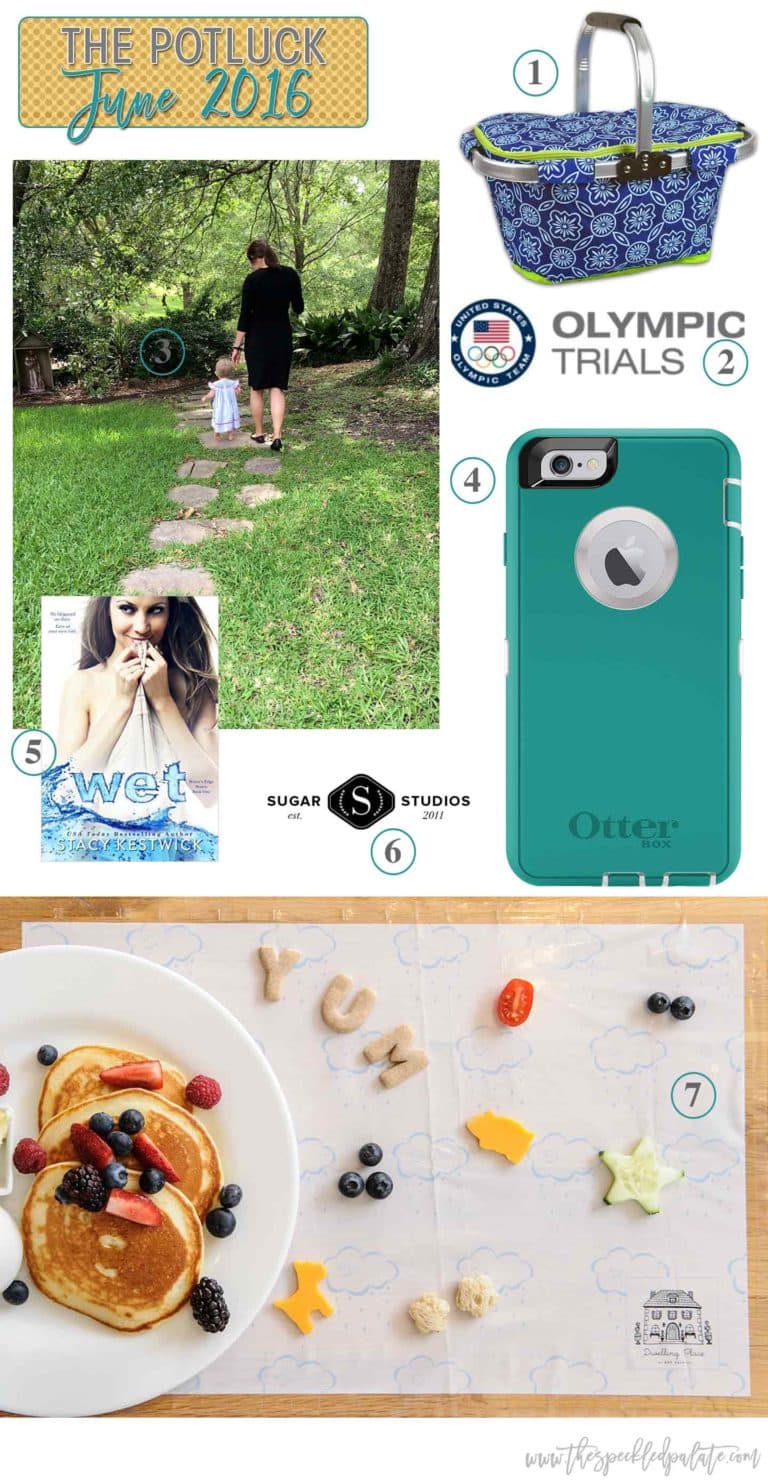 This post contains affiliate links. If you were to make a purchase through one, I would receive a small commission. For more information about the affiliate programs The Speckled Palate participates in, please refer to my disclosure page.
1. DII Insulated Market Basket or Picnic Tote: Summertime is picnic time. I am obsessed with this picnic basket! It's insulated, so it keeps our food cold and carries easily wherever we want to go. And it's large enough to carry food for our little family, which includes a toddler who is a bottomless pit. Bonus points: It folds and is super easy to store. A definite win!
2. U.S. Olympic Trials: I cannot stop watching the Olympic Trials. It has been so exciting to see athletes from all over our nation gather and compete for a spot on the team. The camaraderie makes me smile. So does the competition. And their passion is so evident. One of my favorite events to watch was Track & Field. Fun fact: I ran track in middle school. At the all-district meet, I placed third in the DISCUS. Next time I visit Memphis, I'll find some photos because super skinny, tall middle school Erin was a sight to be seen.
3. Seeing family: We saw a lot of family in the month of June. Unfortunately, it wasn't just for visits. A funeral brought us to Louisiana at the beginning of the month. It was so sad, but we had the opportunity to see our friends and family while there. We found ourselves wishing Pa could've been there to appreciate the gathering and outpouring of love. After we arrived back in Dallas, my mother came to visit for a week of baby wrangling and fun. And then at the end of the month, Lady Baby, Lu and I drove to visit my family for the week leading up to the Fourth of July. How lucky we are to have seen both sides of our family in the month of June.
4. OtterBox DEFENDER iPhone Case: This wasn't a purchase I wanted to make, but my old case cracked and necessitated this. And goodness, I am so happy to have an OtterBox now. Lady Baby enjoys carrying my phone around. She just carries it since she doesn't watch videos or play games, and she drops it from time to time. It's nice to know this sturdy case offers some major protection for butter fingers.
5. Wet (The Water's Edge Series Book 1) by Stacy Kestwick: Looking for a summertime read that'll make you smile? I loved this book from Stacy Kestwick. It's a beautifully written contemporary romance. I could not help but fall in love with Sadie and West and their story. Unsurprisingly, 'Wet' also makes me want to spend a lot of time by the ocean. How could I not since this story is set in coastal South Carolina?
6. Sugar Studios: Y'all know Casey designed The Speckled Palate's new logo and website, right? I could not be more pleased with her work! I adore my site's new look and feel. It's hard to believe that we launched the new design a month ago, and I highly recommend her branding and web design services.
7. Dwelling Place Disposable Placemats: These disposable placemats are SO helpful if your family likes to go out to eat with the baby. Instead of sanitizing the table or trying to keep your toddler from tossing a plate onto the floor, just stick a disposable placemat down. Super easy!
…
What did you love in the month of June?
…
Curious about other things I've loved? Check out my other potlucks:
2014: October | November| December
2015: January | February | March | May | June | July | August | September | November | December
2016: January | February |March | April | May | June | July | August | September | October | November | December
2017: January | February | March | April | May | June | July | August | September | October | November | December
2018: January | February | March | April | May | June | July | August | September | October | November | December
2019: January | February/March | April | August