The Potluck: November 2018
Continuing the monthly tradition, The Speckled Palate's The Potluck: November 2018 includes several clothing recommendations, a new favorite holiday recipe, a big blogger collaboration and more. Swing by the blog today to get a full list of the things I adored during the month of November.
1. How are we so far into December?
2. Where has the year gone?
3. How did November treat you?
November was a pretty awesome month for us. We had a lot of fun, and Thanksgiving was incredible, as we traveled to go see family in Louisiana.
Not only did we get to spend ample time with family, but we also had the chance to catch up with friends at another friend's wedding the same week.
Lovely, I say.
But before we get too far into December, let's continue looking back at November. Specifically, at things I enjoyed during the month in potluck form. To recap, my potluck, as defined by the folks at Merriam-Webster is:
the regular meal available to a guest for whom no special preparations have been made… a communal meal to which people bring food to share —usually used attributively <a potluck supper>; whatever is offered or available in given circumstances or at a given time.
Ready to learn all the things I liked? Let's do this!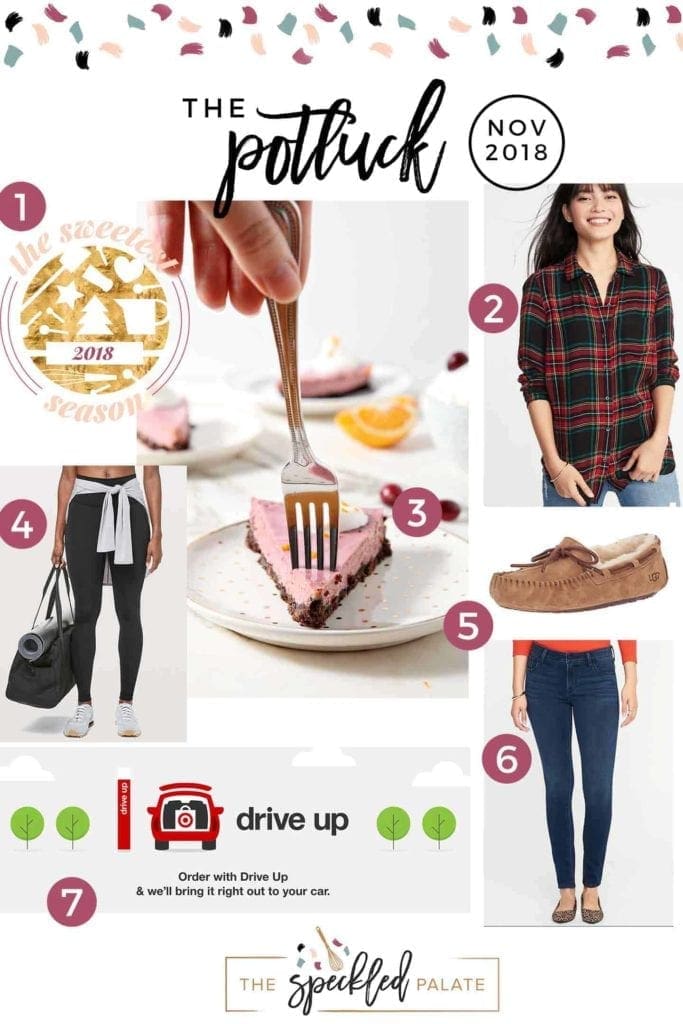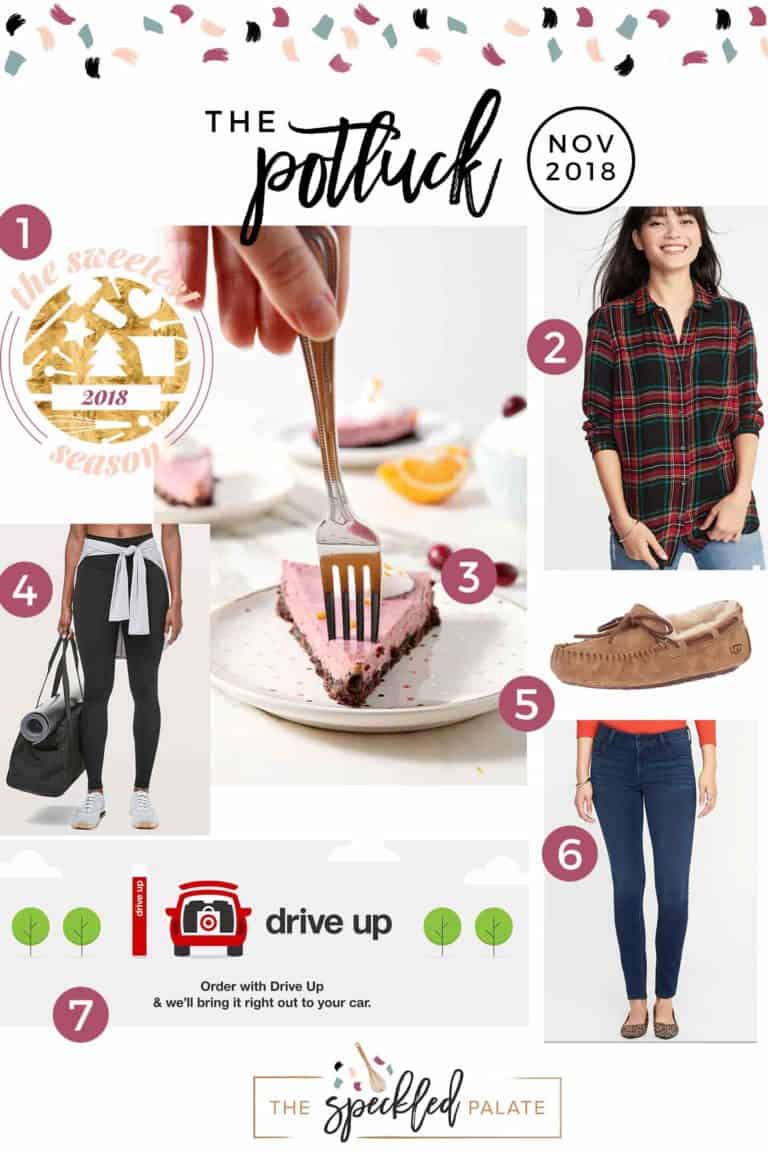 Disclaimer: Some of the links below are affiliate links. If you click through and take action, I will receive a small commission. Please refer to my disclosure page. for more information about the affiliate programs The Speckled Palate participates in.
1. The Sweetest Season: There is nothing that makes me happier than seeing a bunch of people come together this time of year for treats and good cheer. Last month, more than 40 recipes were shared as bloggers baked cookies for a good cause! This year's virtual cookie exchange was a smashing success, and we're still raising money through the end of the year if you'd like to pitch in.
2. Relaxed Classic Soft-Brushed Twill Shirt for Women: Real talk–This shirt is the most comfortable thing ever and fits beautifully, even for a mama with a long torso who's currently breastfeeding. Don't be surprised when I live in this for the rest of winter…
3. Creamy Cranberry Tart: Y'all, this tart is something else. Shared at the beginning of November, it saw some love throughout the month… and I hope people and their families are enjoying it this month, too. We actually baked this as one of three desserts served at our Thanksgiving gathering, and it was gone before the end of Turkey Day! How do you feel about
4. Lululemon Wunder Under High-Rise Tight: These yoga tights are maybe my favorite piece of clothing ever. They're super snug. They're super comfy. They look darn good (even though I purchased them three years ago!) And they're perfect to wear for moving around as a mama.
5. Ugg Dakota Slippers: The temperatures dipped in November, and with the temperature dip came my favorite slippers making their first appearance in our new home. These Uggs are the best. Fur-lined and cozy AF, I plan to be wearing these slippers for the next several months.
6. Old Navy Mid-Rise Rockstar 24/7 Jeans: These jeans are a favorite, and for good reason. They're nice and stretchy, so they're easy for a postpartum mama to feel comfortable in. In addition to that, they also look really good! While I don't plan to wear these jeans forever, they're an awesome in-between option for me right now, and they fit quite nicely.
7. Target Drive Up: Once again, this service has been saving my life. (And quite honestly, when they offer the option to book food and have it brought out to my car, most of my grocery shopping shall be done through the Target app.) I've placed several orders over the last month, and picking things up could not be easier. As an added bonus, I don't spend $100+ every time I go to Target because I wander aimlessly while trying to remember what's on the list I wrote out but left at home… 😉
What Did You Love In November?
…
Curious about other things I've loved? Check out my other potlucks:
2014: October | November| December
2015: January | February | March | May | June | July | August | September | November | December
2016: January | February |March | April | May | June | July | August | September | October | November | December
2017: January | February | March | April | May | June | July | August | September | October | November | December
2018: January | February | March | April | May | June | July | August | September | October | November | December
2019: January | February/March | April | August