The Potluck: November 2015
A year ago, I started up a new monthly feature to share some of my favorite things with y'all.
And today? I'm recapping all the goodness I loved in November for this month's Potluck. (Yes, I realize that I skipped October, but sometimes, that happens. Life gets crazy, as y'all know, and it gets crazier when your 8-month-old is on the move.)
To recap, my potluck, as defined by the folks at Merriam-Webster is:
the regular meal available to a guest for whom no special preparations have been made… a communal meal to which people bring food to share —usually used attributively <a potluck supper>; whatever is offered or available in given circumstances or at a given time.
Near the end of every month, I write up a list of my (current) loves. While this list might not be a traditional "meal," I hope to bring some unique and interesting things (products/entertainment/links/etc.) to the table that I've recently loved in the hopes that y'all will enjoy them, too.
Who's ready to recap November?
Here we go…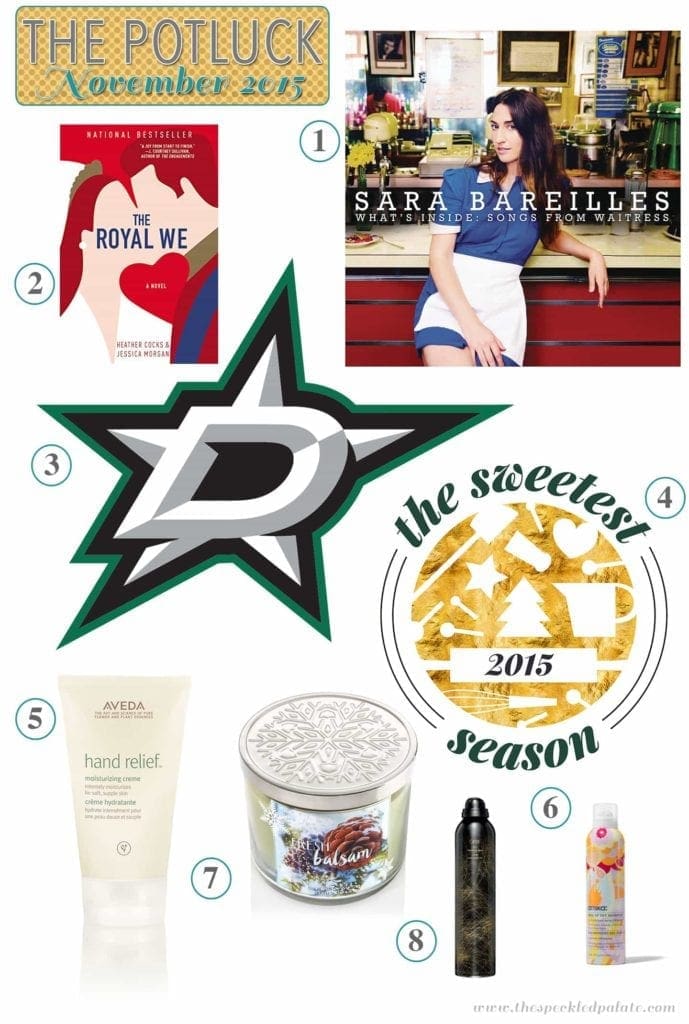 This post contains affiliate links. If you were to make a purchase through one, I would receive a small commission. For more information about the affiliate programs The Speckled Palate participates in, please refer to my disclosure page.
1. What's Inside: Songs From Waitress from Sara Bareilles: I downloaded this album just before the Thanksgiving holiday, and I've been dancing around my house to it ever since. It's all kinds of perfect, and it combines two of my favorite things: one of my favorite movies, Waitress, and the music of Sara Bareilles. And if I lived anywhere near NYC or Boston, I'd totally be attending Waitress: The Musical because I couldn't not!
2. The Royal We: This book is a behemoth, but it is oh-so-good. I heard about it when it was first released and put myself on the waiting list at my library. I finally got the chance to devour it this month! The book follows Nick, a prince, and Bex, an American exchange student, from friendship to more, through drama and happy times and everything in between, and it was delightful. So delightful that I'll probably purchase the book for myself so I can reread it whenever I want. If you're looking for a relatively lighthearted book (that still has a little bit of drama and mystery!), I highly recommend this one.
3. Dallas Stars: I've been referring to the Stars as "my boys" for a while now, and they've been playing spectacularly recently. It has been super exciting to see the team click and score some major victories from home and on the road. I've always been a sporty girl, but hockey is a relatively new sport for me. (I am from the South, after all.) That said, I really enjoy watching the Stars play, and I hope Winston and I can make it to at least one game this season!
4. Baking for The Sweetest Season (and getting more bloggers involved!): The Sweetest Season begins on Saturday, and I am so thrilled to share more cookie recipes with y'all this year, as well as offer an incredibly sweet giveaway. I've got 60+ blog friends baking with me, too, so we're going to flood the internet with all kinds of cookie goodness during the week that celebrates butter, sugar and love, and that makes my heart so happy. If you're interested in baking along with us, check out the info page and fire up your oven!
5. Aveda Hand Relief Moisturizing Creme: My hands get so crazy dry this time of year due to the cold weather, and I've finally found the solution: this Aveda hand creme. It's super thick and luxurious, and it makes my poor, cracked hands feel so much better!
6. amika Perk Up Dry Shampoo: This was a Birchbox goodie, and one I've thoroughly enjoyed on the days where I don't wash my hair. (Oh? You thought new moms washed their hair daily? A-hahaha.) The dry shampoo keeps my hair from getting greasy, as well as adds a little body for second (or sometimes third) day style.
7. Bath and Body Works Fresh Balsam 3-Wick Candle: I told myself I wasn't going to burn this Christmas tree-scented candle until December… but I broke my promise about halfway through November. It was cold outside, and the chilly weather called for a holiday scent. And my goodness, does it smell good! (I maaaaaaay or may not have a stash of these candles for when my first one runs out. Because I'm crazy like that and took advantage of the $12 candle deals in November.)
8. Oribe Dry Texturizing Spray: This stuff is so fantastic, and I got a sample of it in my Birchbox last month. And unfortunately, it's already gone. As someone who doesn't have much time to do her hair these days, it's nice to have something so easy I can spray in and go, and this Oribe adds lovely texture to my curly hair.
…
What did you love in the month of November?
…
Curious about other things I've loved? Check out my other potlucks:
2014: October | November| December
2015: January | February | March | May | June | July | August | September | November | December
2016: January | February |March | April | May | June | July | August | September | October | November | December
2017: January | February | March | April | May | June | July | August | September | October | November | December
2018: January | February | March | April | May | June | July | August | September | October | November | December
2019: January | February/March | April | August