The Potluck: February 2017
YOU GUYS. How is it March already? And how does my baby girl turn TWO next week? It's blowing my mind because these last two years have gone by both quickly and slowly. (Someone, please tell me you understand.)
But! Before we get into birthday goodness, which is going to coincide with St. Patrick's Day goodies my daughter can't eat yet — sorry, Lady A! — I want to look back on the month of February and reflect on what I've enjoyed this month.
To recap, my potluck, as defined by the folks at Merriam-Webster is:
the regular meal available to a guest for whom no special preparations have been made… a communal meal to which people bring food to share —usually used attributively <a potluck supper>; whatever is offered or available in given circumstances or at a given time.
Around the end of every month, I write up a list of my (current) favorite things. While this list might not be a traditional "meal," I hope to bring some unique products/entertainment/links/etc. that I've recently loved in the hopes that y'all will enjoy them, too.
Here are some of my favorites from February: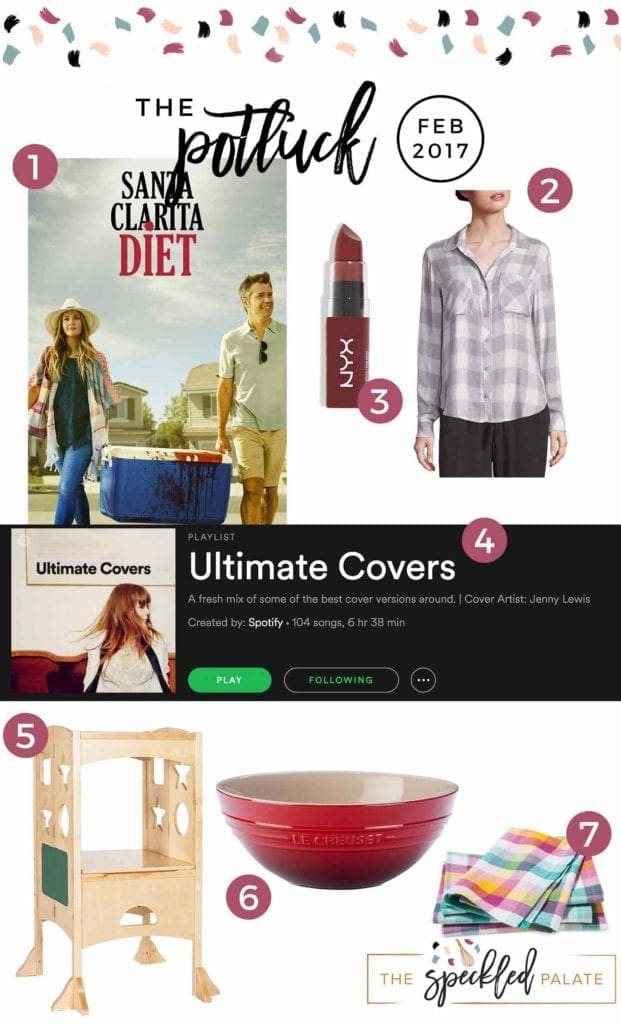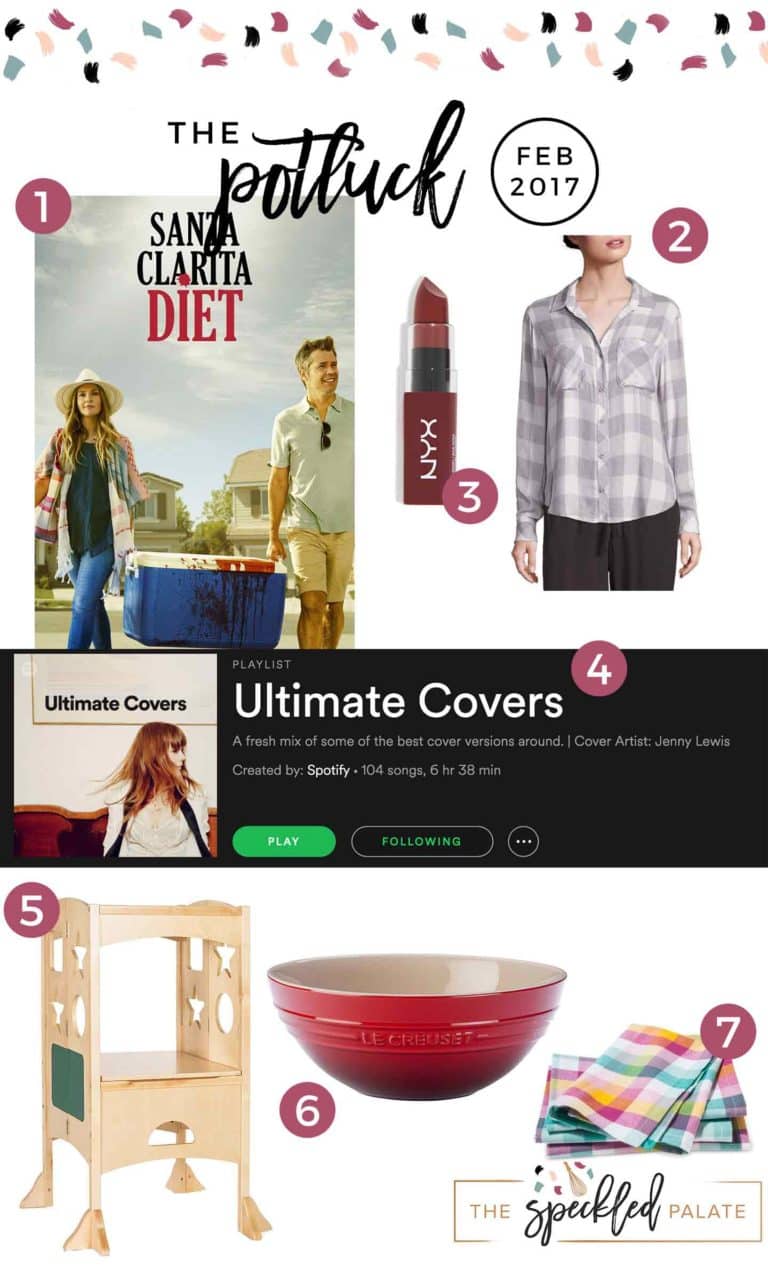 This post contains affiliate links. If you were to make a purchase through one, I would receive a small commission. For more information about the affiliate programs The Speckled Palate participates in, please refer to my disclosure page.
1. Santa Clarita Diet: We started watching this show last weekend when my sister-in-law was visiting… and we watched half of the season in one sitting. It's quirky and quite horrific at times, but there's something endearing about this show and the performances on it. I look forward to sitting down this weekend and finishing off the first season. Anyone else watching, too?
2. Bella Dahl Two Pocket Plaid Button Down Shirt: This shirt was a Christmas present, and even though the weather has been bonkers around here lately, I've gotten quite a lot of use out of this button down. It's soft and cozy without being too heavy. I have a feeling I'll continue wearing this, so long as the days don't get much warmer in March.
3. NYX Professional Makeup Butter Lipstick in Ripe Berry: This was another ipsy discovery… and while I was totally skeptical of the darker shade, it looks SO GOOD, y'all. Granted, I don't wear makeup often because oftentimes, I'm not spending time out of the house that requires it (hello, play dates and gym visits)… but it's fun to add a bit of boldness sometimes, and that's exactly what I did this past weekend with this lipstick.
4. The Ultimate Covers Playlist on Spotify: This playlist has been on repeat for the last month for me. Where else can you find acoustic Beiber, Lady Gaga, Taylor Swift covers and more. I've enjoyed re-discovering some old favorites and some new takes on them.
5. Guidecraft Kitchen Helper: This tower (the "ta-da-da," as Lady A calls it) has come in handy these past few months. A Christmas present from my mom, this kitchen helper puts her at counter top height so she can see and join in on the fun. Lady A enjoys breakfast in her tower most days, and she loves to help her mama and dada prep meals. It's so fun to see her get excited about the food we're making, and we will continue involving her in all the kitchen projects as she gets bigger. It's fun for everyone, even if it's a little bit messy.
6. Le Creuset Large Multi Bowl in Cerise: I received this product as part of a sponsored December post, and I've been loving it ever since. It's the perfect size, and I've used it to mix up cake batters, cookies and more! Since I've been trying to eat more salads these days, this bowl has seen a significant increase in its use in savory dishes, too.
7. Evergreen Turquoise Plaid Yarndye Kitchen Textiles Napkins: I stumbled upon these cuties at Target this month and snatched them up, thinking they'd be a fun addition to our spring tabletop. I also grabbed some bunny ear napkin rings while there, and I have a feeling this bright tablescape and decor is gonna make everyone smile. Especially our daughter, who l-o-v-e-s bunnies.
…
What Did You Love In February?
…
Curious about other things I've loved? Check out my other potlucks:
2014: October | November| December
2015: January | February | March | May | June | July | August | September | November | December
2016: January | February |March | April | May | June | July | August | September | October | November | December
2017: January | February | March | April | May | June | July | August | September | October | November | December
2018: January | February | March | April | May | June | July | August | September | October | November | December
2019: January | February/March | April | August