Continuing the monthly tradition, The Speckled Palate's The Potluck: July 2018 includes a summertime barbecue recipe, my favorite weekly planner, a pair of shoes that's a go-to for any kind of activity, a drink that can be made into a mocktail quite easily and more. Swing by the blog today to get a full list of the things I adored during the month of July.
July was simultaneously one of the longest and shortest months of my life, y'all. On one hand, I'm thankful it's in the rear view mirror. On the other, I cannot believe how quickly it flew by. (Please tell me I'm not the only one who experiences this. Someone… anyone.)
In July, we sold our house. We packed up (most) our belongings. We prepped for a move, which happened in early August.
(Oh, and I'm pregnant, so that's an adventure. As my due date draws nearer, I'm cherishing these last days as a family of three, even though I get more uncomfortable by the week. Summer pregnancies are no joke, y'all.)
But before we get too far into August, let's have a look back at some of the things that are making me happy in my monthly potluck!
To recap, my potluck, as defined by the folks at Merriam-Webster is:
the regular meal available to a guest for whom no special preparations have been made… a communal meal to which people bring food to share —usually used attributively <a potluck supper>; whatever is offered or available in given circumstances or at a given time.
Ready to learn all the things I liked? Let's do this!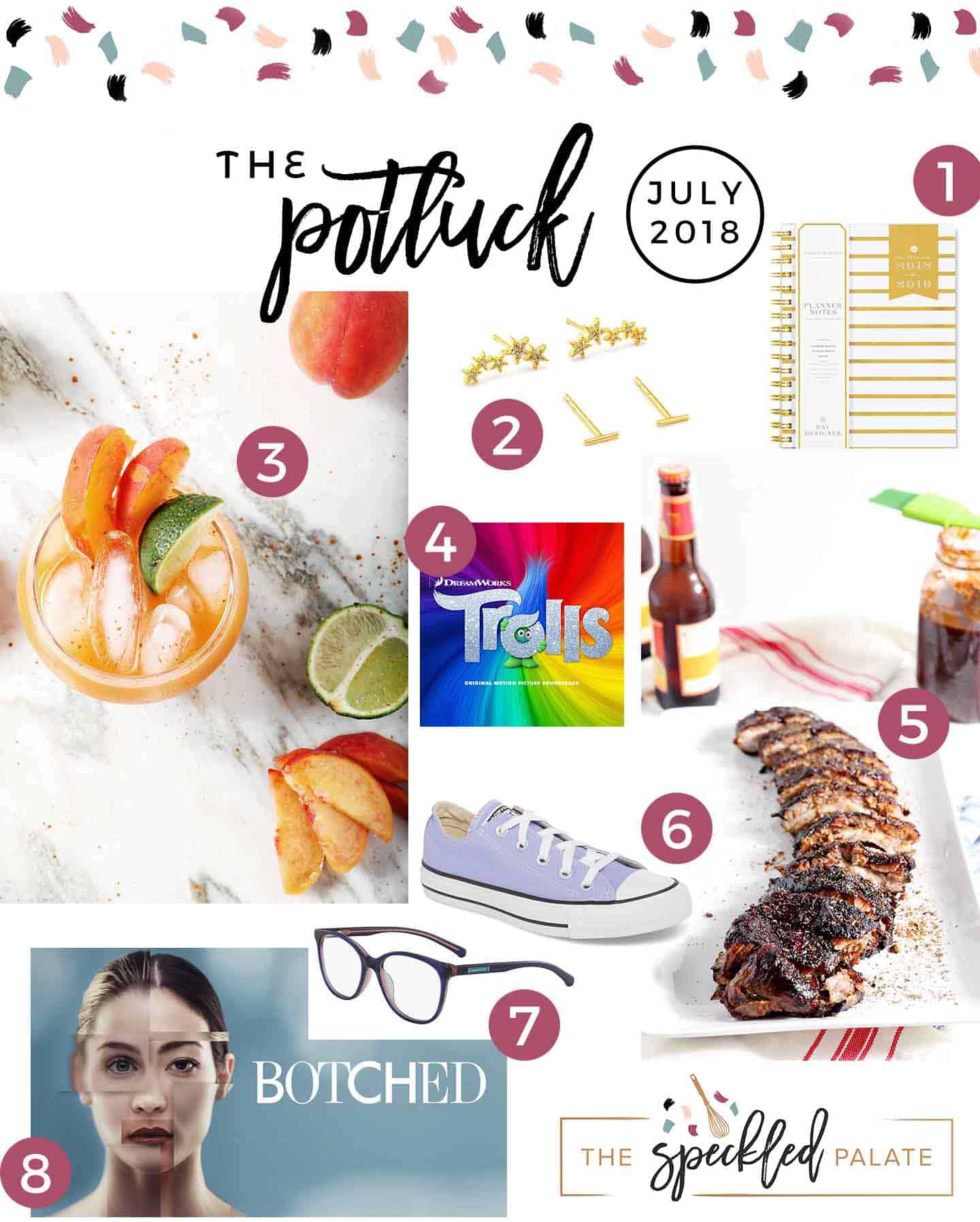 Disclaimer: The links below are affiliate links. If you click through and take action, I will receive a small commission. Please refer to my disclosure page for more information about the affiliate programs The Speckled Palate participates in.
1. Day Designer Stripe Monthly Weekly Planner: This planner kept me organized last year. I was thrilled to purchase a new one this past month (since it's an academic calendar!) It helps me organize my days and weeks with checklists and spaces for notes. While it hasn't seen much use since the move, I foresee it keeping me organized throughout the craziness of the impending season.
2. Tai Jewelry: More than a year ago, I purchased some earrings from a small boutique here in Dallas. Those earrings have held up shockingly well, and since we were in the neighborhood of said small boutique last month, we popped in to discover they still sell this brand! This time, I got some stars and small stick stud earrings. They've both been in my ears ever since.
3. Peach Moscow Mules: I've been making these drinks for myself for the last few weeks (sans vodka, of course) and savoring the last of our fresh peach purée. Not surprisingly, it's been delicious. What's YOUR favorite way to use fresh peaches?
4. Trolls soundtrack: The day Lady A had tear duct surgery last month, we watched a bunch of movies we'd never seen before. Including Trolls. And the soundtrack is something I've been trying to encourage in my car because it's fun and poppy and worth dancing to for sure.
5. Ribs: Y'all, this recipe is the gift that keeps giving because holy cow, is it delightful and perfect for all kinds of summer gatherings.(Did you see that I wrote a guide about hosting a backyard barbecue AND one about the essentials you'll need? If not, check 'em out. And if you join my weekly newsletter, I'll send you a copy of my backyard barbecue cheat sheet for free!
6. Chuck Taylor® All Star® Seasonal Ox Low Top Sneakers: I'm wearing these babies like they're going out of style. (In the moments that I'm not wearing my trusty Birks, of course.) They've been particularly helpful for all the movement of July, which included packing and rearranging and preparing for our move. Also, isn't their color fabulous?
7. New glasses: It's official, y'all: I'm getting old. (No, really. My eye doctor confirmed my age-related astigmatism in July.) It's not terrible yet, but my vision isn't as sharp as it used to be. Because of this, I got a new pair of glasses, and they are SO my speed. Blue, big and fun, I'm gonna be wearing these babies for the necessary tasks!
8. Botched: I'm embarrassed to 'fess up to this one, but here goes. I don't watch reality TV… but I find this show fascinating and educational (on the whole what-not-to-do front, even though I have no interest in having cosmetic surgery). I can't look away… and while I worked while my girl was at school in July, I watched/listened to a LOT of Botched. Anyone else watch this show with the same kind of fascination, too?
…
What Did You Love In July?
…
Curious about other things I've loved? Check out my other potlucks:
2014: October | November| December
2015: January | February | March | May | June | July | August | September | November | December
2016: January | February |March | April | May | June | July | August | September | October | November | December
2017: January | February | March | April | May | June | July | August | September | October | November | December
2018: January | February | March | April | May | June | July | August | September | October | November | December
2019: January | February/March | April | August