The Potluck: September 2017
Y'all, could we talk about how it's already OCTOBER?
September flew by, what with a dreamy week-long vacation, the start of school and football season and birthday festivities. It was a month of change and getting back into a much-needed routine, and we thoroughly enjoyed ourselves.
But before we get too far into this new month and all that fall goodness, let's take a look back at the month of September.
To recap, my potluck, as defined by the folks at Merriam-Webster is:
the regular meal available to a guest for whom no special preparations have been made… a communal meal to which people bring food to share —usually used attributively <a potluck supper>; whatever is offered or available in given circumstances or at a given time.
Ready for all the stuff I enjoyed? Let's do this!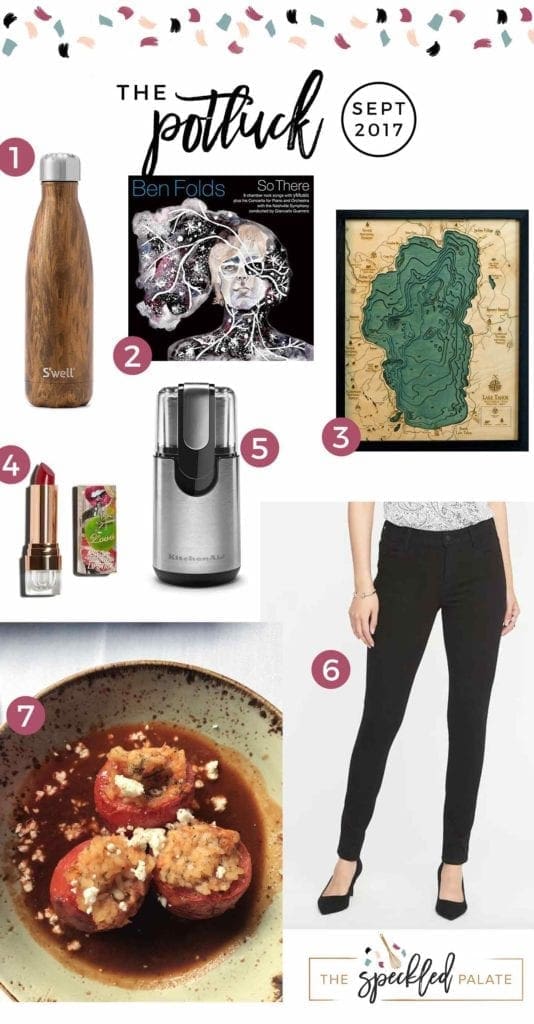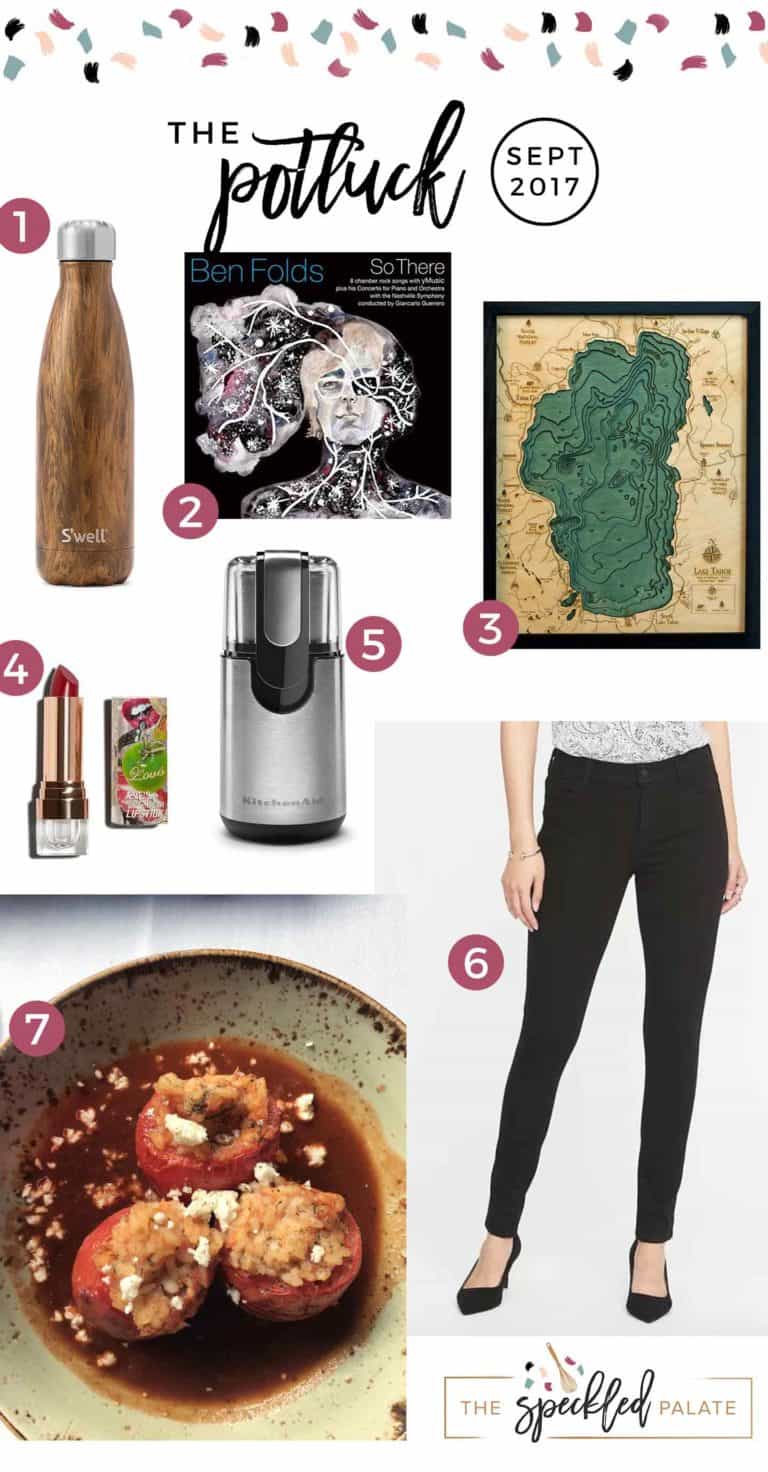 This post contains affiliate links. If you were to make a purchase through one, I would receive a small commission. For more information about the affiliate programs The Speckled Palate participates in, please refer to my disclosure page.
1. S'well Water Bottle: One of the brands I spoke with at SproutsFest sent me home with one of these bottles, and I've been OBSESSED ever since. It's insulated, yet light, and it's perfect for our daily walks. In a normal water bottle, the water becomes air temp pretty quickly. In the S'well Water Bottle, it remains crisp and cold and wonderful. I've kept this beauty by my side at all times!
2. Ben Folds: For my birthday, my husband got us tickets to the Ben Folds Paper Airplanes Tour! And we had a freaking blast! While I felt like the crotchety old concert goer (because–let's be real–as someone who thought she wanted to become a musician at one point in her life, I have OPINIONS when it comes to listening to live music), I thoroughly enjoyed listening to and watching Ben do his thing. My personal favorite moment was when he transitioned from the piano to the drums and played for an extended period of time before going off stage for intermission!
3. Wood Waterway Map: After a run one day in South Lake Tahoe, we stumbled into a delightful little shop called On Tahoe Time. While they technically weren't open yet, we were allowed to poke around… and walked away with a wood waterway map. While there, we decided upon a new tradition: When we travel, we're going to pick up a piece of art or memorabilia from a shop on the trip and put it up on our travel wall when we get home. I think this one will fit right in!
4. Teeez Cosmetics Eve's Ready to Wear Lipstick: Y'all know I'm not much of a makeup girl (hi, toddler mama who works from home), but goodness, this red lipstick is FABULOUS. It arrived in last month's Ipsy bag, and I've been wearing it out. As Lady A said, "You painted your lips! They look pretty!"
5. KitchenAid Coffee Grinder: This was a birthday present, and it has been making me SO happy! Very quiet as it works and efficient, I no longer have to worry about our kid waking up as I make coffee in the morning.
6. The most delightful appetizer ever (that I cannot remember the name of): The first night of our Lake Tahoe vacation, we dined at Jimmy's. To start our meal, we ordered these risotto-stuffed tomatoes in a slow cooked tomato-ouzo broth, sprinkled with feta cheese before serving. It was INCREDIBLE, and I'm so sad I don't remember the name because I want y'all to order it, should you ever find yourself at Jimmy's.
7. Rockstar 24/7 Jeans: I discovered these jeans on a whim back in August, and ever since it cooled off slightly last week, I've been rocking these beauts. They're flattering and SUPER comfortable. Understandably, I've got a pair of these in every color…
…
What Did You Love In September?
…
Curious about other things I've loved? Check out my other potlucks:
2014: October | November| December
2015: January | February | March | May | June | July | August | September | November | December
2016: January | February |March | April | May | June | July | August | September | October | November | December
2017: January | February | March | April | May | June | July | August | September | October | November | December
2018: January | February | March | April | May | June | July | August | September | October | November | December
2019: January | February/March | April | August