The Potluck: January 2017
Hey there, February. How you doin'?
I'm really excited to share some of my favorites from January because I discovered a lot of goodness that I think y'all will enjoy, too! So before we continue with Valentine's recipes, I wanted to share January 2017's potluck.
To recap, my potluck, as defined by the folks at Merriam-Webster is:
the regular meal available to a guest for whom no special preparations have been made… a communal meal to which people bring food to share —usually used attributively <a potluck supper>; whatever is offered or available in given circumstances or at a given time.
Around the end of every month, I write up a list of my (current) favorite things. While this list might not be a traditional "meal," I hope to bring some unique products/entertainment/links/etc. that I've recently loved in the hopes that y'all will enjoy them, too.
Here are some of my favorites from January: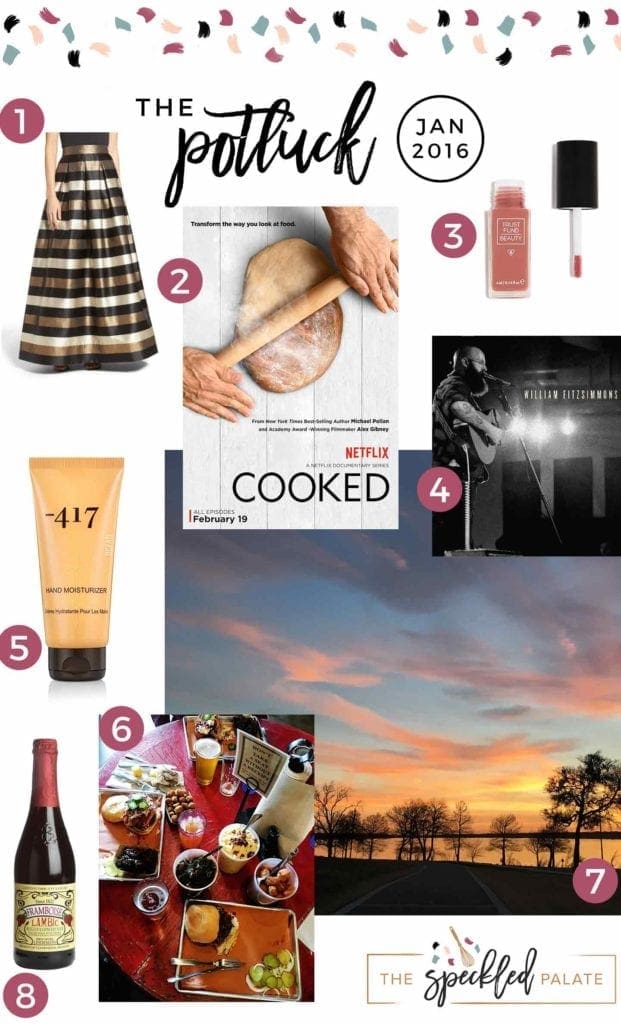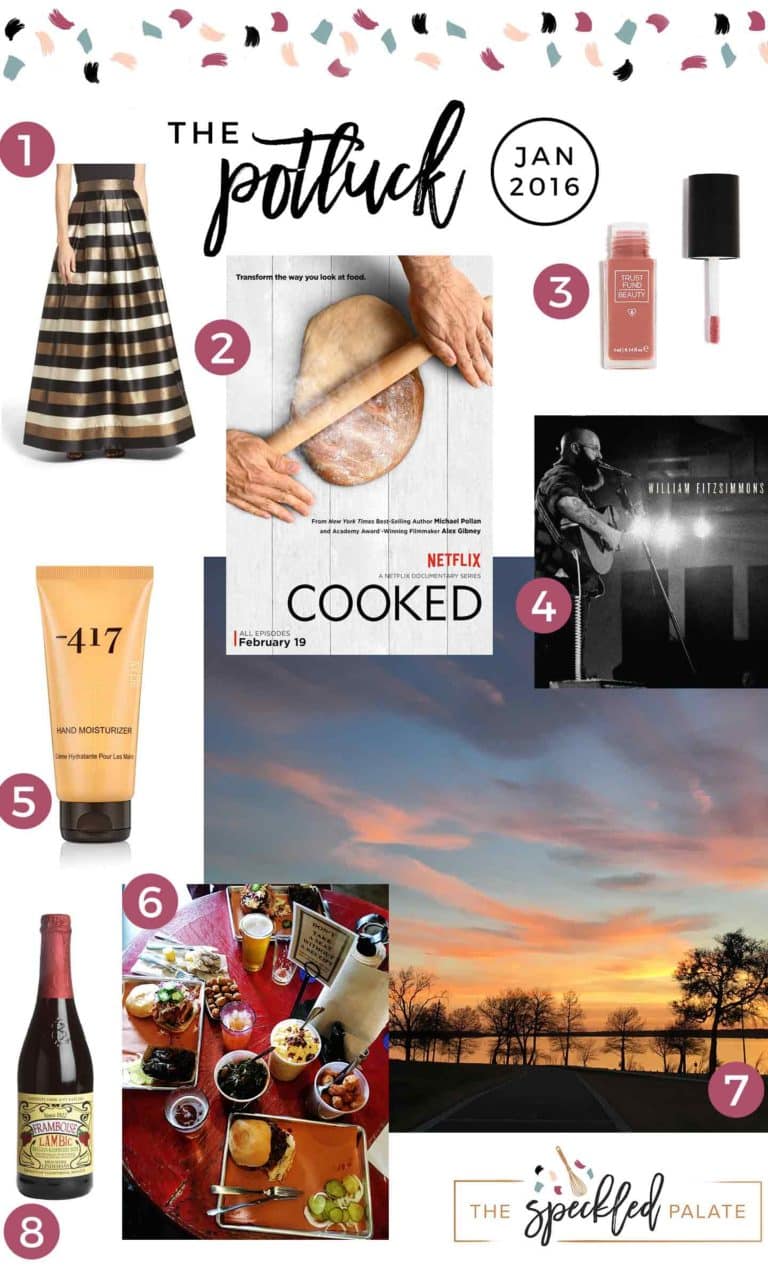 This post contains affiliate links. If you were to make a purchase through one, I would receive a small commission. For more information about the affiliate programs The Speckled Palate participates in, please refer to my disclosure page.
1. Eliza J Metallic Stripe Ball Skirt: Y'all know I'm not much of a girlie girl and that I live in jeans and blouses… but this skirt just makes me so happy. It was a splurge for the New Year's Eve wedding we attended, and I just adore everything about it. It's flouncy. It's shiny. It's perfect for a fancier get-together. And I look forward to wearing it again for an event in April!
2. Cooked: Winston and I started watching this on a whim, and I'm so glad we did. Not only is it gorgeously shot and food-centric, but we both learned something new with each episode. If you're a food geek, you'll be into this, too!
3. Trust Fund Beauty Lip Gloss in Method to the Madness: I was skeptical when this showed up in my January ispy bag because of the color… but it's wonderfully natural-looking! I'm always on the lookout for things to keep my lips happy during the winter months, and this gloss adds a nice color without being sticky.
4. William Fitzsimmons's "Heartless" cover: I never thought I'd be recommending any cover of a Kanye song to y'all… but here we are. I discovered this song in December and listened to it on repeat in January. Something about the slower tempo paired with Fitzsimmons' vocals just makes this cover heartbreakingly beautiful.
5. -417 Dead Sea Cosmetics Hand Moisturizer: Dry hands, rejoice! This moisturizer has worked magic on my extremely dry hands. It doesn't have a strong scent, either, and it's perfect for slathering on after doing a sink-full of dishes. #foodbloggerproblems
6. Trying new restaurants: Sometimes, it's hard to break out of a routine, especially when you have a toddler and have a few tried and trusty places that you enjoy. In January, we tried a few new restaurants, and the experiences were a great success. Pecan Lodge was by far my favorite. Their brisket was to-die-for, and the giant servings of sides we got? Also wonderfully tasty.
7. Appreciating nature: The weather was a little ridiculous in Dallas last month, yo-yoing from the 20s to the 80s in the span of a day. But that didn't stopped us from enjoying the great outdoors. We've seen some gorgeous sunsets and spent a lot of time running around outside in January on milder days. When it was chilly, we bundled up for walks to see the neighs (horses) and peacocks.
8. Lindemans Framboise Lambic: When I was in college, Framboise was my all-time favorite drink to start a night right. There was only one bar in town that served it on tap (huzzah, the Chimes!), and I just adored every sip of it. I rediscovered it during the month of January. It's just as good as I remembered, and I've got a fun drink for y'all featuring it coming next week!
…
What Did You Love In January?
…
Curious about other things I've loved? Check out my other potlucks:
2014: October | November| December
2015: January | February | March | May | June | July | August | September | November | December
2016: January | February |March | April | May | June | July | August | September | October | November | December
2017: January | February | March | April | May | June | July | August | September | October | November | December
2018: January | February | March | April | May | June | July | August | September | October | November | December
2019: January | February/March | April | August