Continuing the monthly tradition, The Speckled Palate's The Potluck: August 2019 includes a TV show we can't stop watching, a few new kitchen gadgets we've discovered, essentials for cookie baking and more.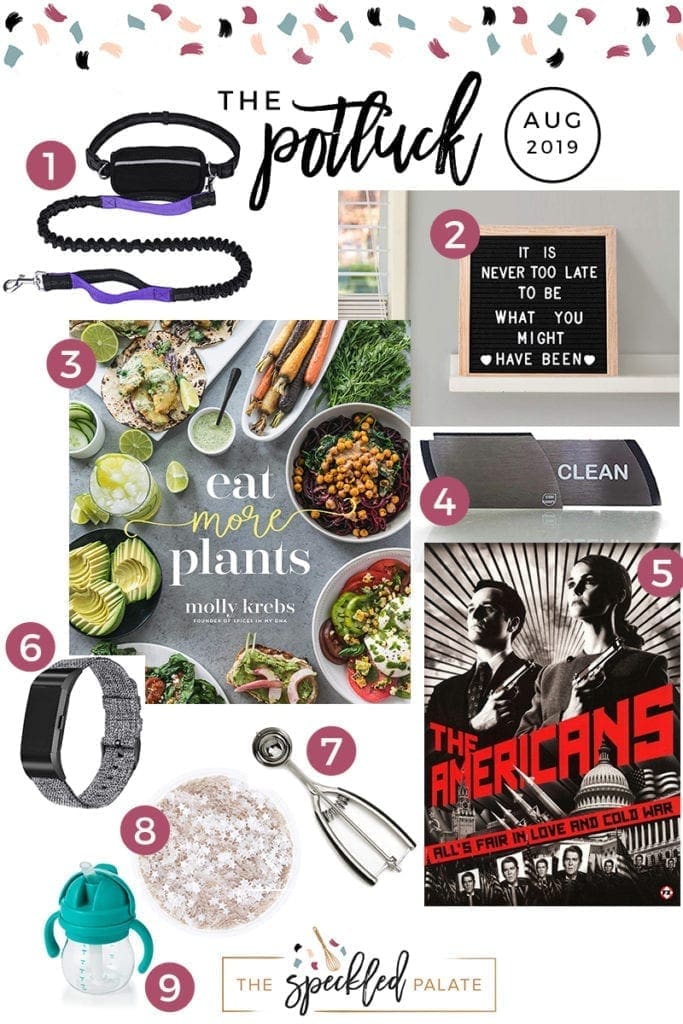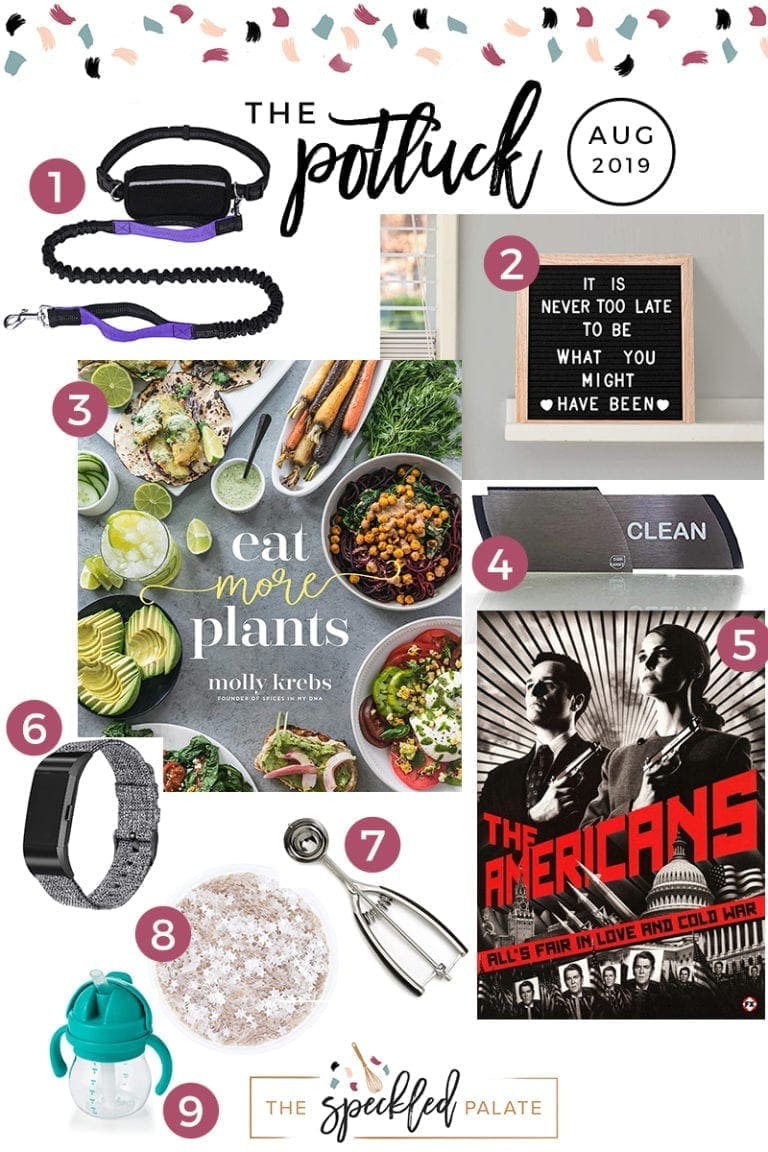 I know, I know, I know. It's been several months since I shared a love list with y'all, and I'm sorry for that, but life has been bonkers. Quite honestly, I've had a hard time sitting down and writing a post like this for y'all, even though I know you enjoy them, and I enjoy rehashing all the good there was in a month.
So let's get back into it again, shall we?
Here are a few things that happened in August that were momentous for us:
Our older one started PreK! We found out she was admitted few weeks before the start of school, so our year looks a little different than we thought it might, but she is loving her new school, and so are we.
Our younger one started Mother's Day Out. While it's a challenge for us both (hi, separation anxiety from her mama-sized lovie/paci and guilt/relief/guilt/everything in between for me), I know it's going to be a good thing for us both because she'll get to know people outside of the house and I'll get some work time to myself for the first time in more than a year.
My husband and I completed a Whole20 (instead of the Whole30 since, well, a whole month is a challenge.) I love to do a quick reset like this because it always helps remind me that veggies are delicious, so are fruits, and food doesn't have to be (or look) fancy to taste wonderful.
To recap, my potluck, as defined by the folks at Merriam-Webster is:
the regular meal available to a guest for whom no special preparations have been made… a communal meal to which people bring food to share —usually used attributively <a potluck supper>; whatever is offered or available in given circumstances or at a given time.
Ready to learn some of the things I loved in August? Let's do this potluck thing again!
The Potluck: August 2019
Continuing the monthly tradition, The Speckled Palate's The Potluck: August 2019 includes a TV show we can't stop watching, a few new kitchen gadgets we've discovered, essentials for cookie baking and more.
Disclaimer: The links below are affiliate links. If you click through and take action, I will receive a small commission. Please refer to my disclosure page for more information about the affiliate programs The Speckled Palate participates in.
Photo Credit: www.amazon.com
I have Allie from Miss Allie's Kitchen to thank for this leash, which has changed our walking game permanently. Before this leash, we couldn't bring sweet Lucy on our walks because there was no way I could handle a rambunctious dog, as well as a double stroller.
With this hands free leash, Lucy can walk with us without me needing to guide her… and she's so happy! And so are we because she can join us and enjoy the neighborhood streets as we get in our daily steps.
Photo Credit: www.amazon.com
Real talk: I'm not a Pinterest mom, no matter how hard I try, but my goodness, I'm trying. I ended up purchasing this felt letter board on a whim because it seemed like a good day for back to school photos. (And honestly, I was tired of hand lettering signs that got recycled immediately after a few images were taken.)
So far, we've used this letter board for back to school photos, as well as first birthday photos for Lady Speckle. It was also on display at her birthday party this past weekend, so I think it was a good purchase!
Photo Credit: www.amazon.com
I'm so thankful to have gotten to know Molly, this gorgeous book's author, through a mastermind this summer, and to have chatted with her at length. She released Eat More Plants mid-August and was kind enough to send me an early copy of her veggie-packed cookbook.
So far, we've made her Hidden Zucchini Macaroni and Cheese, which our entire family (even the baby!) approve of, and my husband and I looooooooove the Cucumber Margaritas, too. And honestly, I cannot wait to continue making more dishes out of Molly's book as the weather begins to change.
Photo Credit: www.amazon.com
One of my more recent pet peeves is people loading dirty dishes into a dishwasher filled with clean dishes. (Is it really that challenging to tell the difference? Apparently so.)
My husband, who knows of this pet peeve of mine, mentioned his work had something like it… and I'm ashamed to say that attaching a sign or getting a magnet never crossed my mind until that point. But when he mentioned that, I immediately searched for a magnet and purchased one for our dirty dishes.
Pet peeve soothed. And dirty dishes no longer end up in the clean dishwasher—huzzah!
Photo Credit: www.amazon.com
Some of our friends suggested we check out this show during the summertime, and oh my goodness, once we watched the pilot of this series, which is available on Amazon Prime, we couldn't stop.
It's about two KGB spies posing as Americans during the 1980s before the fall of the Soviet Union. It's fascinating and terrifying, and more and more things keep happening, so obviously, we've been blazing our way through the series.
Have you watched this show before?
Photo Credit: www.amazon.com
My Fitbit Charge 2's band was on its last legs this summer, so I ended up ordering a canvas band on a lark. And I've been pleasantly surprised with it.
This canvas is decently soft, and the grey colors match so many items and outfits I wear. Which is a good thing since my Fitbit tan is insane right now. 😉
I also like that this band looks nice and that it was relatively cheap!
Photo Credit: www.amazon.com
I don't know why, but we baked a ton of cookies in August. And it might be in part due to me investing in a new cookie scoop, as our old one started falling apart before we moved out of the old house last fall.
This stainless scoop is perfect for more than just cookies, too, so if you're wanting to enjoy a small scoop of ice cream, make lots of mini meatballs or scoop muffins into a tin or more, it's exactly what you need!
Photo Credit: www.amazon.com
Technically, we got these silver stars for July 4th, but I wanted to share them with y'all because they are so festive and fun, and our older one is o-b-s-e-s-s-e-d.
If you're into decorating—whether you're decorating cookies, cakes, muffins or more—these silver stars add some flash! And they're edible, too, so that's a win.
Photo Credit: www.amazon.com
This summer, I ended up throwing out every one of our sippy cups because they all smelled of spoiled milk, and I just could NOT with them anymore.
After lots of research, I ended up ordering a few of these OXO Tot Transitions Cups with straws, and Lady Speckle loves them. While it took her a little while to sort out how to make the straw work, she's very much into it now… and now that she turned one, she's drinking milk out of these cups, too!
…
What Did You Love In August?
…
Curious about other things I've loved? Check out my other potlucks:
2014: October | November| December
2015: January | February | March | May | June | July | August | September | November | December
2016: January | February |March | April | May | June | July | August | September | October | November | December
2017: January | February | March | April | May | June | July | August | September | October | November | December
2018: January | February | March | April | May | June | July | August | September | October | November | December
2019: January | February/March | April | August