Last year, I launched a monthly feature so I could share some of my current l-o-v-e-s with y'all.
Today marks the first of September, so I wanted to recap all of my August adores before we get too into this new month. (Which happens to be my birthday month, huzzah!)
To recap, I share my version of a potluck, as defined by the folks at Merriam-Webster:
the regular meal available to a guest for whom no special preparations have been made… a communal meal to which people bring food to share —usually used attributively <a potluck supper>; whatever is offered or available in given circumstances or at a given time.
Near the end of every month, I write up a list of my (current) loves. While this list might not be a traditional "meal," I hope to provide some unique and interesting stuff (products/entertainment/links/etc.) I've recently loved in the hopes that y'all will enjoy them, too.
Who's ready to recap August?
Let's do this thing!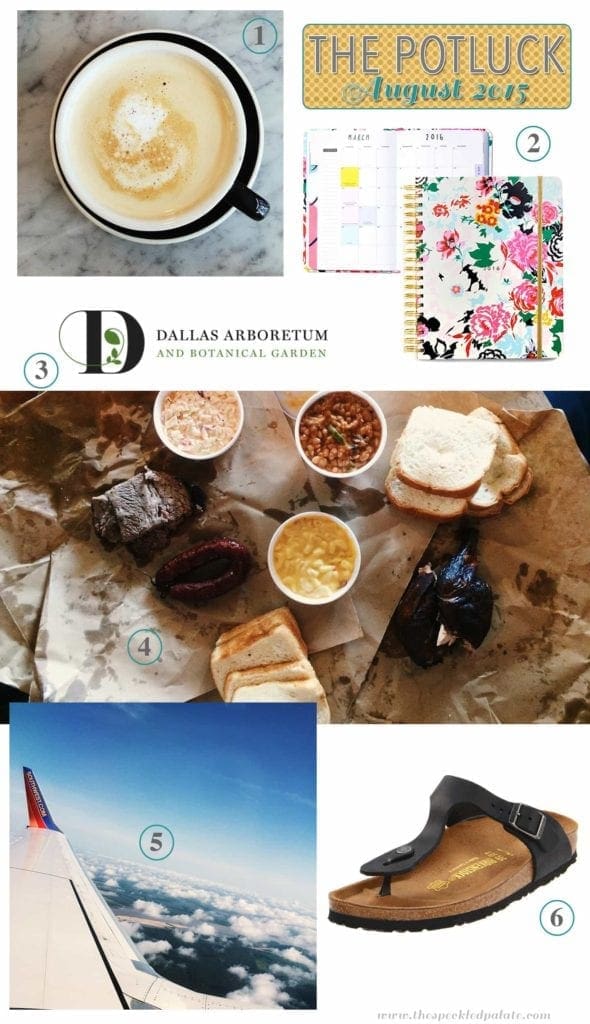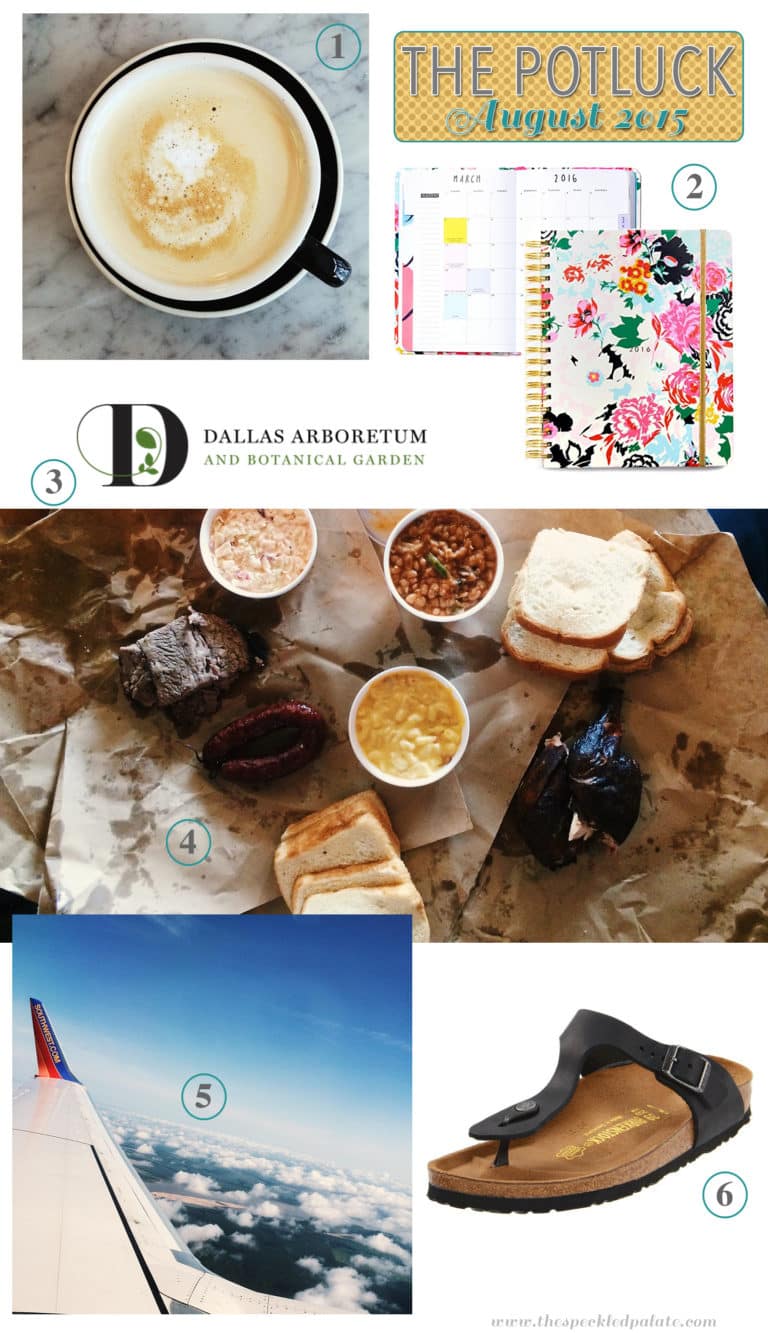 This post contains affiliate links. If you were to make a purchase through one, I would receive a small commission. For more information about the affiliate programs The Speckled Palate participates in, please refer to my disclosure page.
1. Lattes: It's about the little things in life, and I've been enjoying my fair share of lattes recently. Coffee chain lattes? I'll take it iced and to go. Boutique coffee shop? I'll hang out a while and enjoy this gorgeous cup.
2. Ban.do Florabunda Large Planner Agenda: I've officially jumped on the paper planner bandwagon, and while it's taking me a little while to get the hang of it, I'm ADORING being able to make notes in pen on a planner. I particularly love this Ban.do one because it has so many fun additions and has more than enough space to jot down notes on a weekly and monthly basis. Now, to get all my appointments jotted into it and start using this thing for the greater good!
3. The Dallas Arboretum and Botanical Garden: One of my friends invited me to walk with her and her son this month at the Arboretum, and it was all kinds of lovely. I have no doubt we'll be back walking more when the weather cools down a bit and when we can take some photos of Lady Baby with pumpkins!
4. Exploring Dallas (and eating all kinds of good food): I love exploring my city, and since Lady Baby is pretty happy to come along for the ride, I've been visiting and trying all different places this city has to offer. A friend and I have a set lunch date. And whenever someone is visiting? That's cause for celebration and trying something else new!
5. Air travel: Lady Baby and I hopped on a plane to surprise my mom for her 60th birthday. I was terrified about this, never having traveled alone with her before, but it was incredibly easy. Not only were the people at Southwest fabulous, but my fellow passengers were so helpful and kind as we trekked to Memphis and back.
6. Birkenstock Women's Gizeh Thong Sandal: Winston purchased me a replacement pair of these beauties (which I originally purchase during my summer in Italia nine years ago) for Christmas… but my feet were too swollen because of pregnancy to know if they'd fit. I made him send them back, afraid my feet would change sizes forever. (After all, we all know someone whose feet got bigger during pregnancy.) Well, the swelling has gone down, my feet stayed the same size, and my new pair of Gizehs came in this past month. I've been breaking them in and am oh-so-happy to have my favorite sandals to wear again!
…
What did you love in the month of August?
…
Curious about other things I've loved? Check out my other potlucks:
2014: October | November| December
2015: January | February | March | May | June | July | August | September | November | December
2016: January | February |March | April | May | June | July | August | September | October | November | December
2017: January | February | March | April | May | June | July | August | September | October | November | December
2018: January | February | March | April | May | June | July | August | September | October | November | December
2019: January | February/March | April | August