Last October, I started a new feature to share some of my favorite things. Kind of like Oprah. Except I don't have the means to hand out all my favorite things to y'all, as unfortunate as that is. And it might be kind of awkward trying to hand out items like sports teams, sooo…
Whatever the case, I'm continuing this series today with another list of products (and more abstract things) I currently adore.
To recap, I'm sharing my version of a potluck, as defined by Merriam-Webster.
the regular meal available to a guest for whom no special preparations have been made… a communal meal to which people bring food to share —usually used attributively <a potluck supper>; whatever is offered or available in given circumstances or at a given time.
Every month, I'm sharing some of my favorite things. While this list might not appear to be a traditional "meal," I want to provide some different and interesting stuff (products/entertainment/links/etc.) I've recently loved in the hopes that y'all will enjoy them, too.
May has been a bit bonkers, but it has been lovely as our baby is continually growing and learning new things. Lady Baby has quite the personality, and she's keeping me busy! We spend a good portion of our days doing tummy time, laughing, chatting, reading books and eating. I've also started working out again, and I love the calm of my workouts, even though they're sometimes interrupted.
So, without further ado, here are some of my favorite things from the month of May: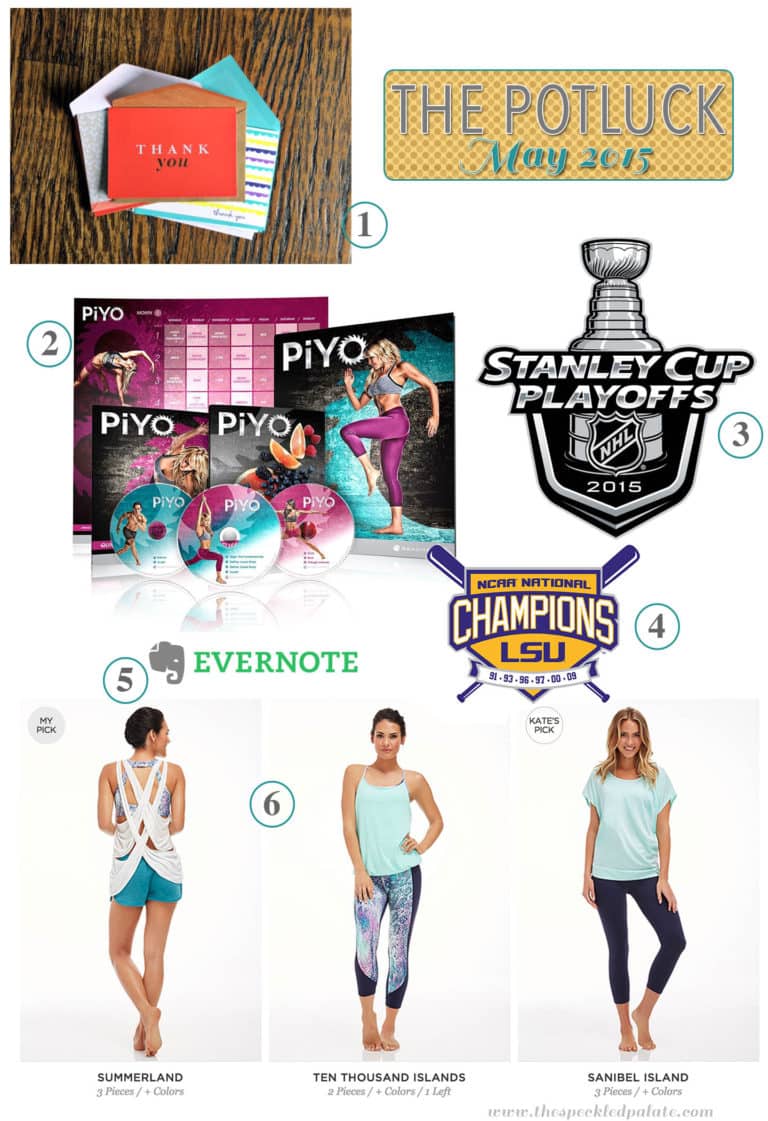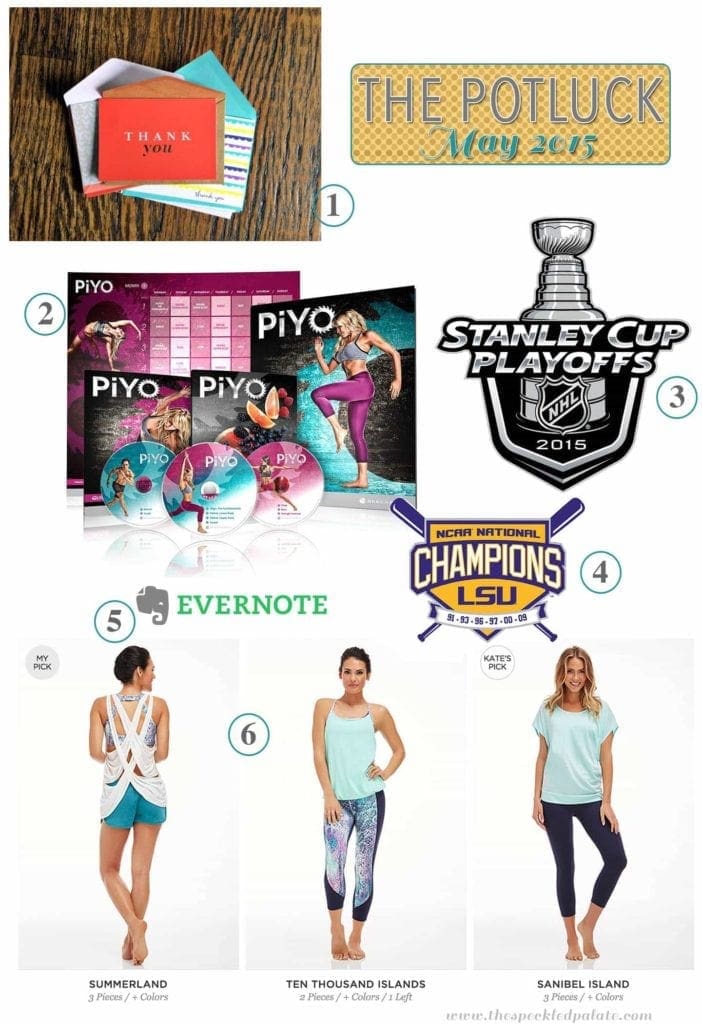 This post contains affiliate links. If you were to make a purchase through one, I would receive a small commission. For more information about the affiliate programs The Speckled Palate participates in, please refer to my disclosure page.
1.Writing thank you notes. Yes, I know this is weird, but I love me a good old fashioned written letter. Since we've received so many lovely presents for Lady Baby during the last few months, I've been writing notes to our friends and family members. There's nothing like a handwritten note in the mail, and I love sending thanks this way, as well as simply writing a letter to express gratitude. So much more personal than an e-mail and a lovely surprise to receive, too.
2. PIYO. I started working out again after taking ten weeks off post-birth, and it feels amazing. PIYO is tough, but I love the challenge it presents to me on a daily basis. As someone who has stuck mostly to high impact workouts in the past, I'm digging how low impact this is and how intense using your body weight to create resistance and build strength can be! I'm really excited to see the physical transformation, too, and to start feeling more like my "old" self again after nearly a year of not feeling that way.
3. The Stanley Cup Playoffs. My husband laughs because I love watching hockey, even though I'm the most peace-loving person he knows. (This might be true.) … Except I love a good fight. Specifically, in hockey. As a kid, when I was asked why I loved playing basketball, I said, "Because I get to push people down and not get in trouble." NO JOKE. So there should be no question why I enjoy the physicality of hockey, right? Right.
4. LSU Baseball. I'm admittedly a bad baseball fan, but I adore this time of year for the excitement of it all. We've been watching more baseball recently. And even though LSU lost to Florida last week in an SEC Tournament semifinal game, I'm excited to see the guys kick things off today against Lehigh as their first step toward Omaha. Geaux Tigers!
5. Evernote. Since I'm not tethered to the computer as much as I was before baby, Evernote has become an integral way to keep myself organized. Not only can I keep lists of things that need doing, but it helps me write down my thoughts and sometimes, actual blog posts, from the app on my phone, which is permanently attached to my hip these days.
6. Fabletics. I've only gotten one outfit so far, but I'm impressed. As a runner, I'm always on the lookout for high-quality workout clothes that are comfortable and allow me to move without the kinds of unfortunate workout-related pains that we shouldn't discuss here. The Salar Capri tights and the Aruba Wrap Top I got last month? Perfect for all kinds of physical activity, which is a good thing considering this mama has jumped back on the workout bandwagon, and it feels g-o-o-d.
…
What did you love in the month of May?
…
Curious about other things I've loved? Check out my other potlucks:
2014: October | November| December
2015: January | February | March | May | June | July | August | September | November | December
2016: January | February |March | April | May | June | July | August | September | October | November | December
2017: January | February | March | April | May | June | July | August | September | October | November | December
2018: January | February | March | April | May | June | July | August | September | October | November | December
2019: January | February/March | April | August