It's MAY! Who's pumped that the summertime is within reach?
I don't know about y'all, but I cannot wait to make homemade popsicles with my daughter this summer. I also can't wait for swim lessons that start up in June, nor can I wait for summertime get togethers that revolve around grilling and spending time outdoors. But before we get too far into May and too deep in our summer daydreams, it's time to recap the month of April.
To recap, my potluck, as defined by the folks at Merriam-Webster is:
the regular meal available to a guest for whom no special preparations have been made… a communal meal to which people bring food to share —usually used attributively <a potluck supper>; whatever is offered or available in given circumstances or at a given time.
Around the end of every month, I write up a list of my (current) favorite things. While this list might not be a traditional "meal," I hope to bring some unique products/entertainment/links/etc. that I've recently loved in the hopes that y'all will enjoy them, too.
Here are some of my favorites from April: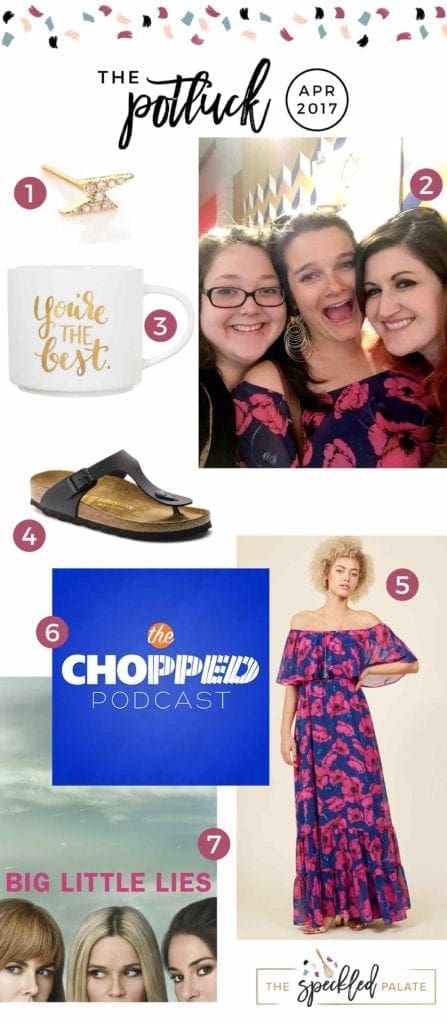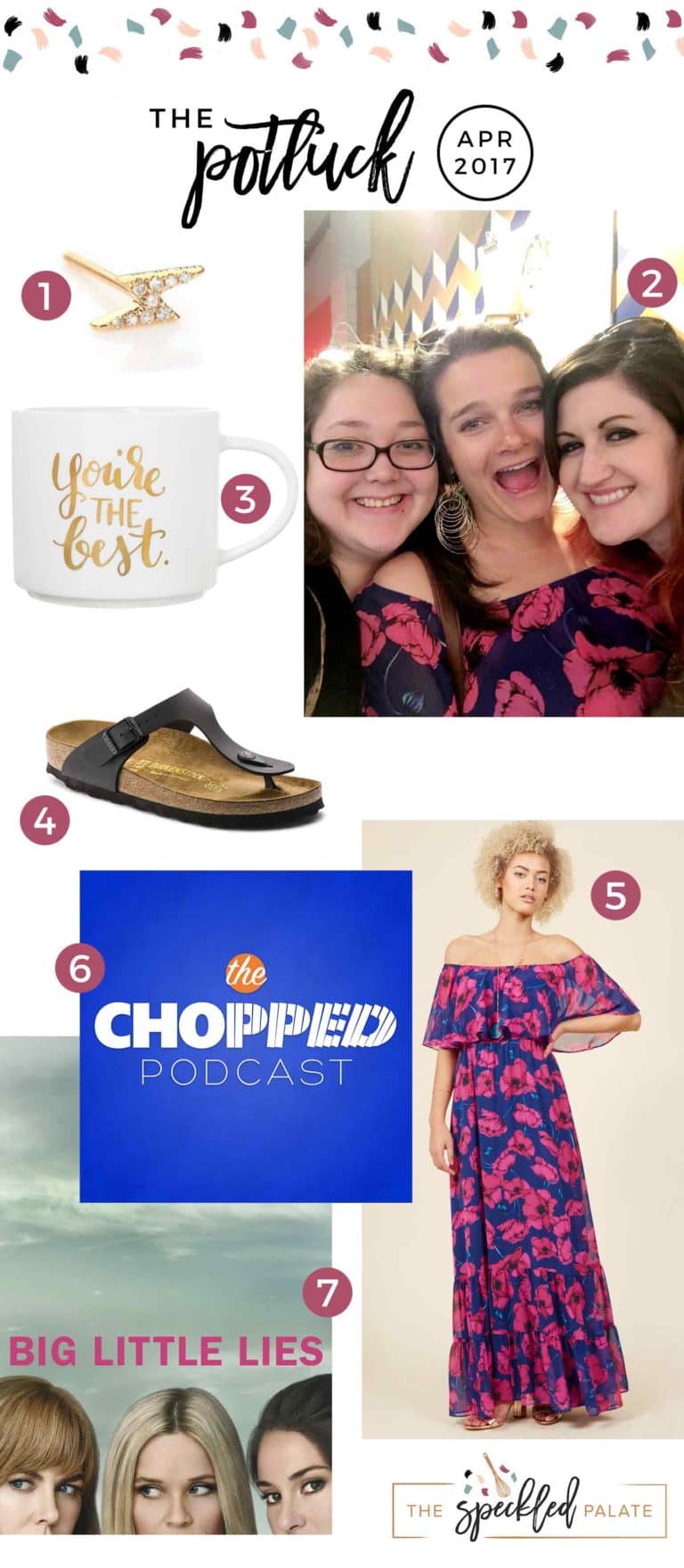 This post contains affiliate links. If you were to make a purchase through one, I would receive a small commission. For more information about the affiliate programs The Speckled Palate participates in, please refer to my disclosure page.
1. Mini lightning bold earrings (similar to these): Not gonna lie: I've been obsessed with these Harry Potter-esque earrings since I picked them up in early April. I popped into a little boutique to peruse their glassware selection and discovered these beauties at the checkout. They haven't left my ears since.
2. Travel and Conferences: In April, I traveled to Charleston for the Mediavine Conference. Not only did I get to meet a some of my favorite bloggers (and some folks I've known for a looooong time), but I learned a ton and came away from the conference with a new direction and some new/exciting/terrifying goals. In addition to Charleston, Winston and I jetted down to Houston for a black tie work event for him. I got the chance to wear my Eliza J Metallic Stripe Ball Skirt again, which I absolutely adore, and we had a lovely evening.
3. You're the Best Mug: I'm a little bit obsessed with this mug and have been drinking all the things from it. *shrugs* Who wouldn't like to be complimented every time they take a sip?
4. Birkenstock Women's Gizeh Thong Sandal: Whenever the weather heats up, I live in these shoes. And this year is no different. I've been wearin' 'em daily since last month, and it feels like coming home. Added bonus that Birks are now apparently back in style. Lady A has a little pair that I picked up from Target that are sparkly and match mine!
5. Fabulous Influence Maxi Dress in Magenta: How fabulously summery is this dress? I purchased it on a whim with a credit I had leftover from last summer's swimsuit shopping and I'm so glad I did because it was perfect for Charleston. I look forward to wearing it a ton this summer, too!
6. Chopped Podcast: I'm a sporadic podcast listener, and I don't always have time… but when I'm driving around and running errands or running on the treadmill, I really enjoy gleaning some information. The Chopped Podcast is a recent favorite, and I've picked up several tips and tricks, as well as enjoyed the conversations Marley has with her guests. If nothing else, it gives me something awesome to think about and chew over for myself and TSP.
7. Big Little Lies: I'm a few episodes in… but I cannot stop watching this show! Anyone else addicted? If so, don't tell me anything… I want to reach the end before we discuss!
…
What Did You Love In April?
…
Curious about other things I've loved? Check out my other potlucks:
2014: October | November| December
2015: January | February | March | May | June | July | August | September | November | December
2016: January | February |March | April | May | June | July | August | September | October | November | December
2017: January | February | March | April | May | June | July | August | September | October | November | December
2018: January | February | March | April | May | June | July | August | September | October | November | December
2019: January | February/March | April | August