Last year, I launched a monthly feature to share some of my favorite things with y'all. Because it's fun to share the stuff I've been digging, and because I think y'all might like some of the same things, too.
Since it's the end of June — where the heck has the year gone?! — I'm continuing this series today with another list of products (and more abstract things) I currently adore.
To recap, I'm sharing my version of a potluck, as defined by the folks at Merriam-Webster:
the regular meal available to a guest for whom no special preparations have been made… a communal meal to which people bring food to share —usually used attributively <a potluck supper>; whatever is offered or available in given circumstances or at a given time.
Every month, I share some of my favorite things. While this list might not be a traditional "meal," I hope to provide some unique and interesting stuff (products/entertainment/links/etc.) I've recently loved in the hopes that y'all will enjoy them, too.
June… it's been a month, y'all. A good one, for sure, and we've seen a lot of changes as our girl gets older and more mobile. We've traveled, we've eaten, we've been more active and are enjoying the summertime, even though it's a bit, uh, toasty in Dallas.
So, without further ado, here are some of my favorite things from the month of June: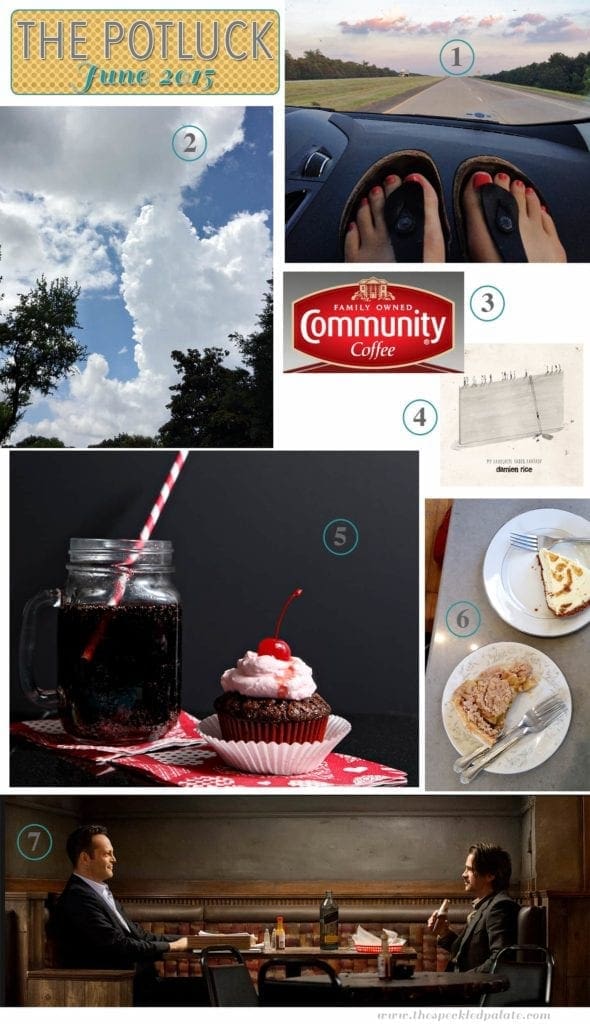 This post contains affiliate links. If you were to make a purchase through one, I would receive a small commission. For more information about the affiliate programs The Speckled Palate participates in, please refer to my disclosure page.
1. Road trips: We took our first road trip with Lady Baby this month… and it was a blast! While it certainly was different than previous road trips and included crawling into the back seat to do some entertaining and serenading, I was happy we took the plunge and visited our friends and family in Louisiana. We'll be taking another road trip in July, and I cannot wait to introduce Lady Baby to everyone when we visit my family in Memphis!
2. Sunshine-y days and long walks: It's hot in Dallas, but not too hot to enjoy a long walk on a pretty day. While I've walked significantly less since having Lady Baby, it still feels wonderful, and I hope I can ramp up my walking once again.
3. Community Coffee: I haven't really drank much coffee since I got pregnant because the taste didn't sit well with me… but coffee was much-needed this month. We're unsure if Lady Baby is going through a sleep regression, a growth spurt, teething or a combination of the three, but this mama has needed some liquid energy to add some pep to her step, especially since she's been waking up at all hours to feed a hungry babe.
4. Damien Rice's My Favourite Faded Fantasy: I'm a little late on the bandwagon on this one, but I have always adored Damien Rice… and his new(ish) album is nothing short of spectacular. His time off did him some good because these songs are a lot different than the songs from 9 Crimes.
5. New photography backgrounds and props: This month, I picked up some black granite tiles and a black display board (like the kind you'd use for a science fair) to create a new backdrop for food photography. Since we got the windows replaced in our home in February, I've been lighting my images using off camera flash, and I wanted to try something different. And I've come to realize that the dark backdrop is perfect for displaying various recipes!
6. Pie: Yes, I realize this is a random thing for me to be enjoying… but pie just sings of the summertime, and I've had a few slices this month that have made my tastebuds do a happy dance. Emporium Pies is by far my favorite spot in Dallas… though homemade pie is definitely good by me, too. I'm thinking that we'll make an apple or peach pie this weekend for July 4th festivities.
7. True Detective: Please tell me some of y'all have been watching this season of True Detective. I can't decide what I think about it — no surprise there — but I adore that Tim Riggins and Regina George are combining their powers to potentially solve crime(s). And after watching Sunday's episode? Well… as Winston put it, "This show is so messed up." And I agree… except I've gotta know what happens next and who's behind all this crazy stuff. Murder mystery/psychological thriller addict, party of one.
…
What did you love in the month of June?
…
Curious about other things I've loved? Check out my other potlucks:
2014: October | November| December
2015: January | February | March | May | June | July | August | September | November | December
2016: January | February |March | April | May | June | July | August | September | October | November | December
2017: January | February | March | April | May | June | July | August | September | October | November | December
2018: January | February | March | April | May | June | July | August | September | October | November | December
2019: January | February/March | April | August