The Potluck: October 2018
Continuing the monthly tradition, The Speckled Palate's The Potluck: October 2018 includes a few new mama recommendations, a heartwarming rom-com, a pretty new kitchen essential for our new home and more. Swing by the blog today to get a full list of the things I adored during the month of October.
Y'all. October was simultaneously super long and super short.
Our sweet baby had a few dicey weeks where she screamed for hours on end without fail. It didn't matter the time because she was gonna fuss about it. Once confirmed there wasn't anything horribly wrong with her doctor, we started her on probiotic drops. Those seem to have made all the difference!
Once Baby Speckle was feeling a little more human, things started flying by.
Several friends brought by food and got to meet our newest addition. Grandparents visited. An aunt came to meet her new niece. We played soccer at our neighborhood park when it wasn't raining cats and dogs. And we trick-or-treated.
Overall, it was quite lovely, but those weeks where Speckle was grumpy were rough.
Soooooo before we get too far into November, how about we take a look back on some of the things/products I enjoyed last month?
To recap, my potluck, as defined by the folks at Merriam-Webster is:
the regular meal available to a guest for whom no special preparations have been made… a communal meal to which people bring food to share —usually used attributively <a potluck supper>; whatever is offered or available in given circumstances or at a given time.
Ready to learn all the things I liked? Let's do this!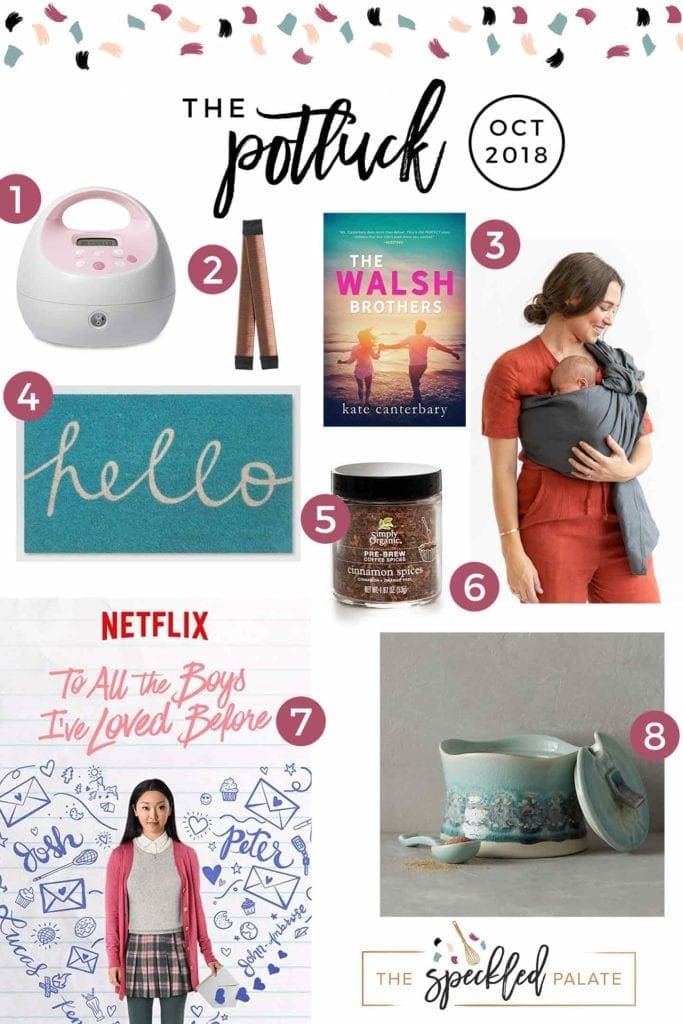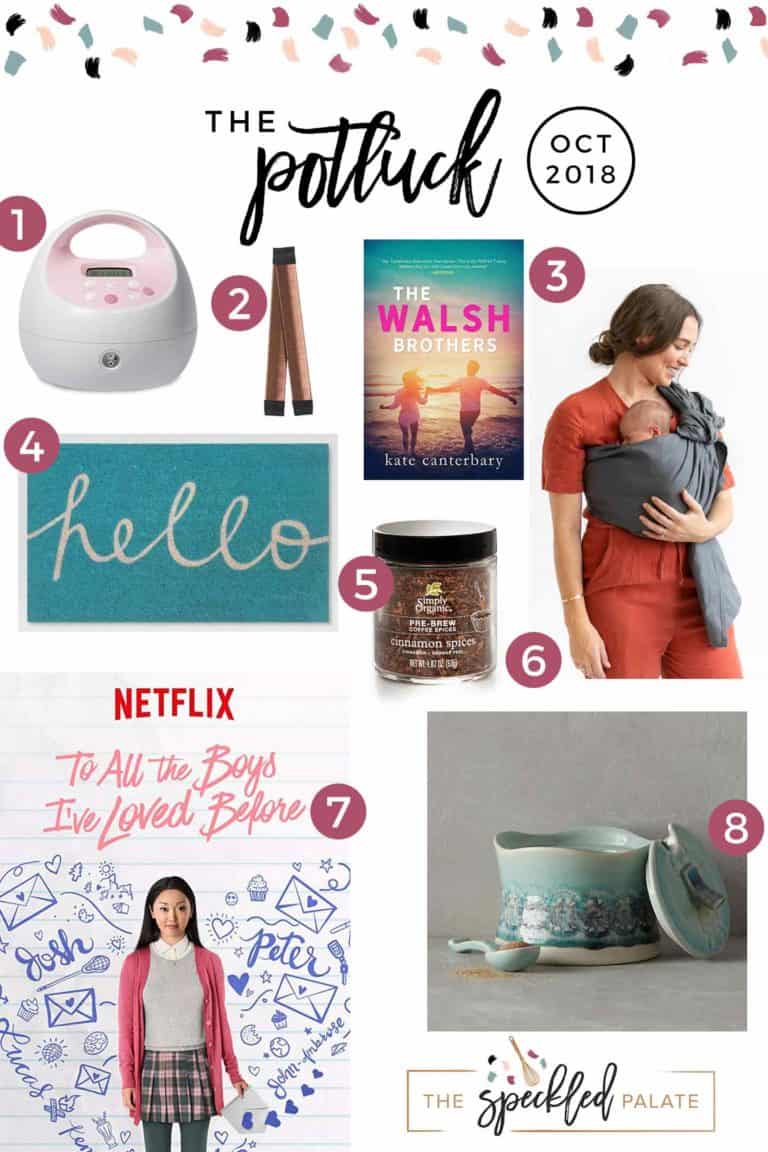 Disclaimer: The links below are affiliate links. If you click through and take action, I will receive a small commission. Please refer to my disclosure page for more information about the affiliate programs The Speckled Palate participates in.
1. Spectra S2 Electric Breast Pump: Honestly, I feel like such a nerd dropping this link in this month's potluck, but honestly. This pump is MAGIC. Since my girls are three and a half years apart, my insurance would cover a new breast pump, and after speaking to several friends, I decided to give the Spectra a go. And y'all, it is so much more efficient and comfortable than my old pump! Gone are the days of me crying as I attempt to pump any amount of milk for my baby. Now, Speckle actually needs to eat the pumped milk and not throw a fit anytime someone gives her a bottle, but baby steps…
2. Hair Bun Maker: Back when I was running a ton before we had kids, one of my friends commented that I always had the messiest ponytails. The same thing went for buns. Now, I don't know how to do much when it comes to my hair, so this bun maker has come in handy. While I love to wear my hair down, I've found that this baby has a sixth sense about it. When my hair is clean, she seems to enjoys spitting up all over it. So the bun maker… it makes an actual pretty bun for me and makes it EASY peasy!
3. The Walsh Brothers by Kate Canterbary: Is it any surprise that I'm recommending this, y'all? Ms. Canterbary put together this compilation of the first three books in her Walsh Series and added in some extra bonus content. And since I was due to start a reread of the Walsh Associates, I figured I'd pick up this one to see what was going on with Matt, Patrick, Sam and their ladies. If you're a romance reader, 10/10 recommend, as this series has become a sort of reading comfort food for me that's perfect to snuggle up with on a chilly day.
4. Blue Hello Cursive Doormat: This is yet another new house purchase, and I just love it. It sits by the back door, matches my living room decor/colors and makes me smile every time I walk by it. And it's functional, too, so we no longer have wet shoe prints tracked throughout the house on rainy days.
5. Simply Organic Cinnamon Spices Pre-Brew Coffee Spice: I received a bottle of these cinnamon spices at SproutsFest back in August. It smelled so good that I brewed some coffee with it in September, but I really used it in earnest last month because it actually felt like fall. The spices–which don't include sweetener like any flavored syrups you might add to your brew–add such a lovely scent and pop of flavor to freshly brewed coffee. Also, cinnamon is a long-time favorite, sooooo…
6. WildBird Ring Sling: When I couldn't find our cloth baby carrier (and then later learned that a friend had it, HA!), I asked recommendations. This WildBird came on a glowing recommendation from another friend, and I sprung for one back in October. We still don't have a double stroller because I want to do ALL the research and am also a little lazy/preoccupied, so I wanted to get a soft carrier for Speckle to ride along in as I pushed her big sister around our new neighborhood. And for an easy thing to carry her in during school drop off. The only negative is that Speckle keeps spitting up all over the sling, but I figure she'll grow out of that.
7. To All The Boys I've Loved Before: Y'all remember those late-90s romcoms that were ridiculously delightful? This one is in that vein and made me oh-so-happy when I watched it last month!
8. New sugar pot: Our old glass sugar pot–the one we received as a wedding present–had a chip in it from our move to Dallas nearly six and a half years ago. But it was still hanging on until the move to the new house, when the lid met its end. I fell in love with this sugar pot, and it's such a lovely addition to our black-and-white kitchen. I even got the creamer because who doesn't enjoy a matching set?
…
What Did You Love In October?
…
Curious about other things I've loved? Check out my other potlucks:
2014: October | November| December
2015: January | February | March | May | June | July | August | September | November | December
2016: January | February |March | April | May | June | July | August | September | October | November | December
2017: January | February | March | April | May | June | July | August | September | October | November | December
2018: January | February | March | April | May | June | July | August | September | October | November | December
2019: January | February/March | April | August