The Potluck: December 2017/January 2018
Happy Wednesday, y'all, and Happy Valentine's Day!
Confession time: This post was supposed to go live last month… but my daughter got sick, then I got sick. In short, I decided to give myself some grace and let this sit for a month.
So today, we're combining my favorite things from December and January. *shrugs*
To recap, my potluck, as defined by the folks at Merriam-Webster is:
the regular meal available to a guest for whom no special preparations have been made… a communal meal to which people bring food to share —usually used attributively <a potluck supper>; whatever is offered or available in given circumstances or at a given time.
Ready for all the stuff I enjoyed? Let's do this!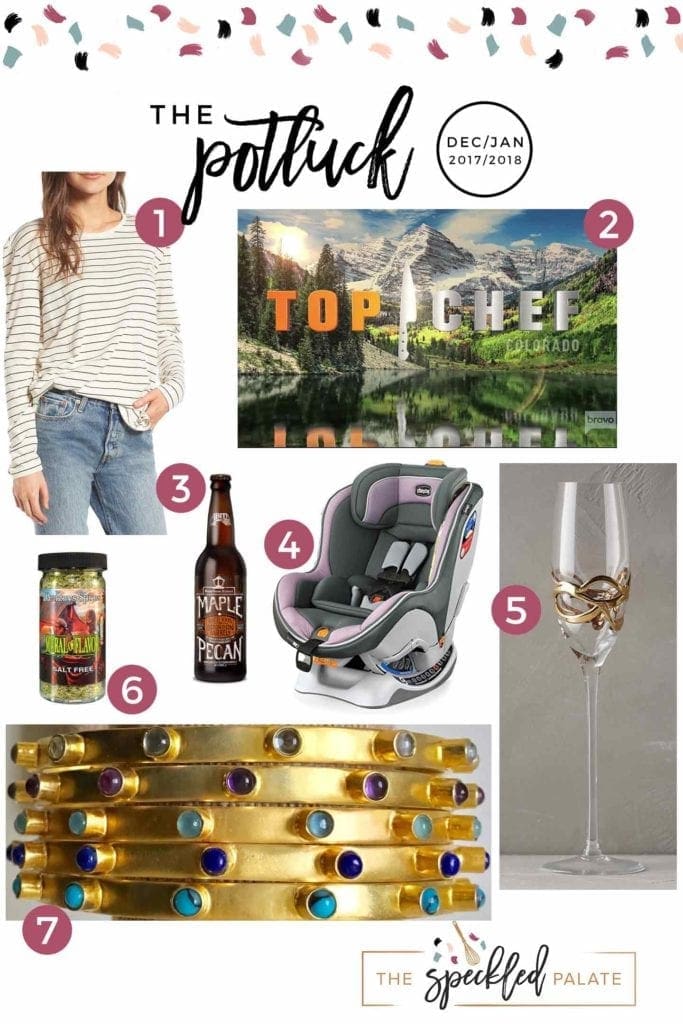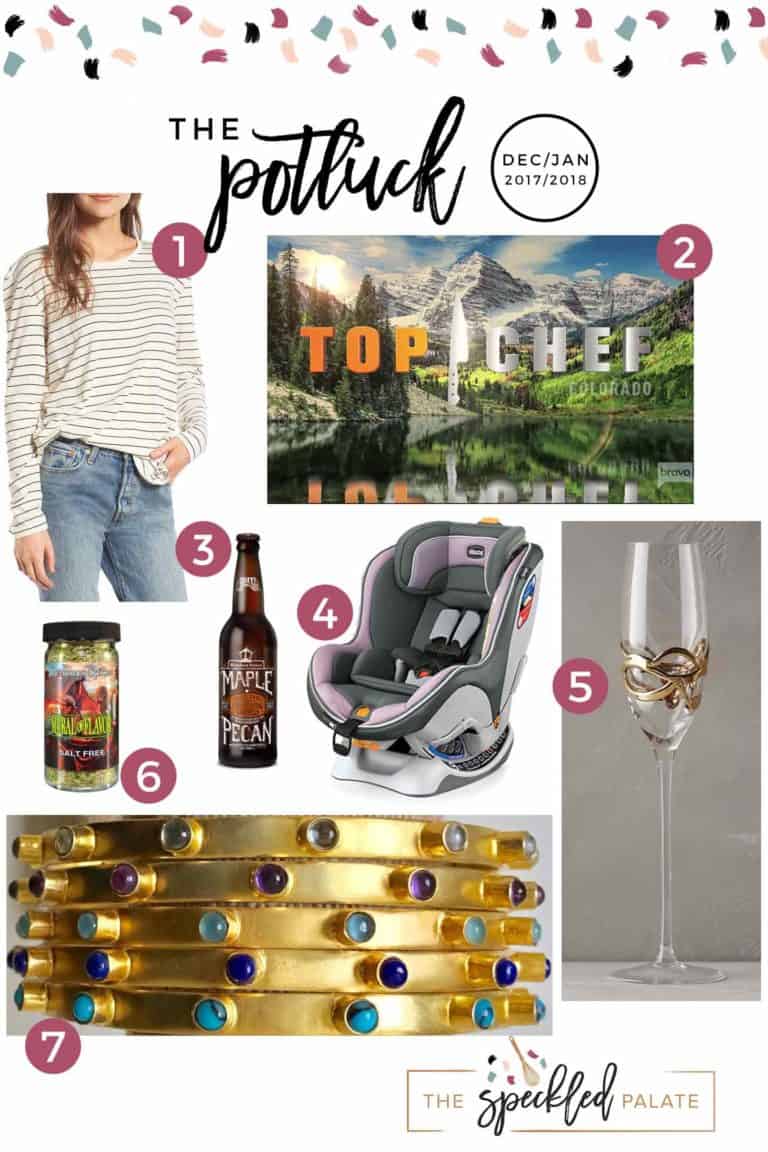 This post contains affiliate links. If you were to make a purchase through one, I would receive a small commission. For more information about the affiliate programs The Speckled Palate participates in, please refer to my disclosure page.
1. BP Side Slit Tee: I'm allllll about comfy shirts this time of year, and this Christmas present from my dad and his wife has already been worn a ton! If you've got a long torso like I do and are hunting for the perfect long-sleeved T, you should definitely get one for yourself!
2. Top Chef: Could we TALK about how much fun this season has been? I've been loving watching the cheftestants battle it out. The personalities this year have been really great, and I have several favorites. Specifically Fatima and Chris. Who are you cheering for?
3. Abita Bourbon Barrel Maple Pecan: Winston and I discovered this brown ale when we were in Atlanta in November… and then proceeded to purchase several bottles for December. A special brew that tastes of maple and pecan, bourbon barrel-aged beer is crazy flavorful and worth the price point. If you can find it in your town and enjoy a good darker beer, I highly suggest checking it out!
4. Chicco Next Fit Zip in Lavender: If it hadn't been for the removable fabric of this car seat, we would've had to get a new one for Lady A after the Great Stomach Bug of 2018. So thankful I considered the fact that I was a car sick kid and dropped a little bit extra to get a seat for Lady A that we could remove the fabric from. It certainly came in handy, even though I had to hand scrub and Q-tip clean the inside of it before it was all said and done.
5. Glimmer Flutes: My mother-in-law and sister-in-law added to my colorful cocktail glass collection this Christmas with these beauties. Obviously, I'm in love with them, and I cannot wait to use them in a shoot. The question is: What shall I make first?
6. Mural of Flavor: It might sound silly to recommend a very specific spice blend, but we ran out of our bottle last month, and I've been sorely disappointed in my homemade poultry seasoning mix. Mural of Flavor is my favorite salt-free blend from Penzey's, and I need to make a trip to their store to pick up some more! Have you used it?
7. Bangle Bracelet with Gold and Semi-Precious Stones: Most folks know my love for all things purple and gold runs deep, and my mom and her husband surprised me with this gorgeous bracelet for Christmas! It's already made a few appearances, and I have no doubt it will become a wardrobe staple come football season.
…
What Did You Love In December and January?
…
Curious about other things I've loved? Check out my other potlucks:
2014: October | November| December
2015: January | February | March | May | June | July | August | September | November | December
2016: January | February |March | April | May | June | July | August | September | October | November | December
2017: January | February | March | April | May | June | July | August | September | October | November | December
2018: January | February | March | April | May | June | July | August | September | October | November | December
2019: January | February/March | April | August