The Potluck: February 2018
My goodness, y'all. February FLEW by, and we're marching on into March, and I can't believe it.
Last month was a good one. A quick one. And later this week, our baby turns THREE. Where has the time gone?!?
Before we jump into all the goodness March brings, though, let's take a moment to talk about all the things I dug in February. Which includes a lot of random things, but hey, every month is a little different when it comes to a love list, no?
To recap, my potluck, as defined by the folks at Merriam-Webster is:
the regular meal available to a guest for whom no special preparations have been made… a communal meal to which people bring food to share —usually used attributively <a potluck supper>; whatever is offered or available in given circumstances or at a given time.
Ready for all the stuff I enjoyed? Let's do this!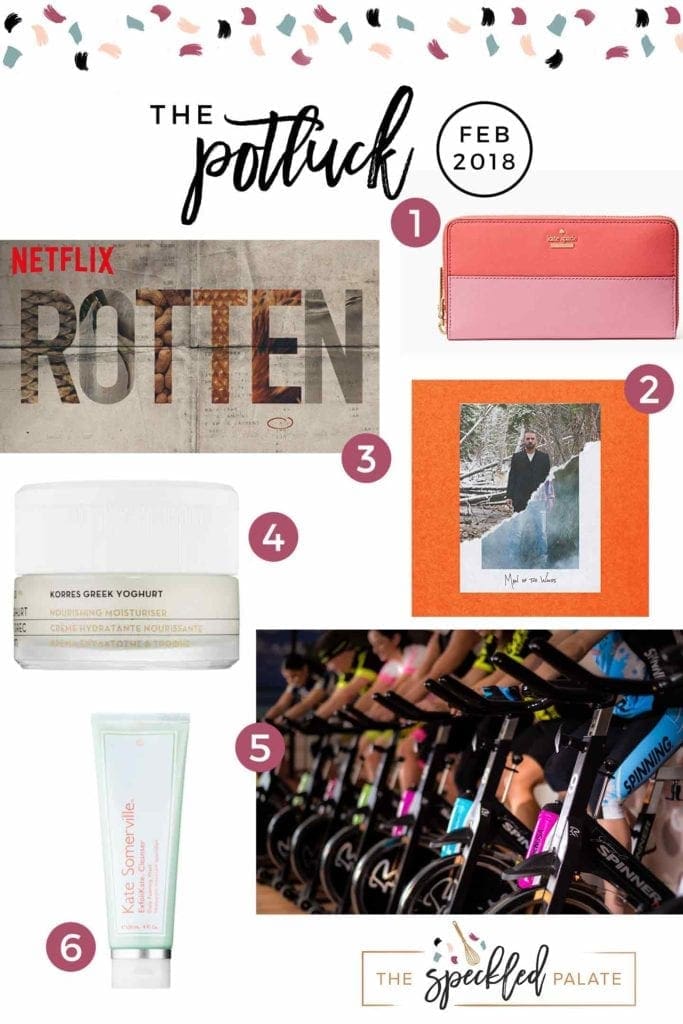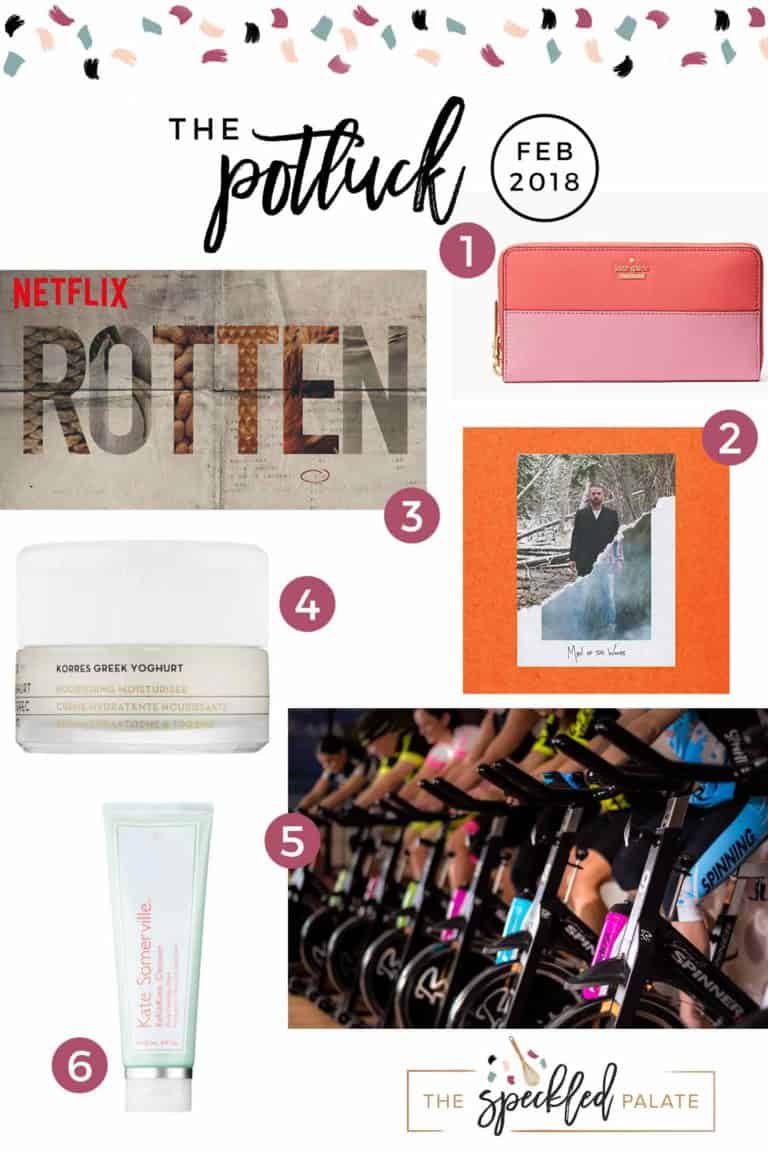 This post contains affiliate links. If you were to make a purchase through one, I would receive a small commission. For more information about the affiliate programs The Speckled Palate participates in, please refer to my disclosure page.
1. Kate Spade Cameron Street Lacey: For for last fifteen years, I've been carrying a giant cloth wallet, and it was on its last leg. For Christmas, Winston said he'd get my a wallet, and in February, I found my new one! I love the two-toned pink design and how it's a little smaller than my last one, even though downsizing was a little bit of a challenge at first. I have no doubt that this "fancy" pink wallet is going to be a favorite for years to come! And bonus points: It's really easy to find in my purse because it's so bright!
2. Rotten: GUYS. I don't know if you've watched this show about what's happening behind the scenes in various facets of the food industry, but I started watching and could not stop. I haven't truly binged a show since before our child was born almost three years ago… and I binged this one. As someone with a journalism background who loved investigative pieces, I'm drawn to shows and stories like this. And I truly believe that I was still working in journalism, I'd want to be working on pieces like this because while sometimes horrifying, they're also fascinating.
3. Justin Timberlake's "Say Something" single: Holy cow, y'all. I was introduced to this song in spin because I don't listen to the radio (hello, Spotify addict here), and I just love the rhythm and the sound of this song. While I don't know all the words yet, I have no doubt that'll happen SOON.
4. Korres Greek Yoghurt Nourishing Moisturizer: My skin is currently going through the wintertime blues, and earlier this month, I decided enough was enough. I headed on down to the mall and asked the friendly skincare ladies at Sephora for a helping hand and walked out with this moisturizer, which is the most luxurious moisturizer I've ever felt. I use it at night, and my skin feels so much happier already!
5. Spin Classes: I added spin classes to my routine in January, and I've loved attending weekly classes throughout the month of February. While I'm not someone who is good on a bike–hello, being left behind by our tour group on a bike tour of Napa–this workout is a ton of fun! (Photo by Martin Barák on Unsplash)
6. Kate Somerville ExfoliKate Cleanser Daily Foaming Wash: Another find on my skincare search, this foaming wash makes my face feel so good. Gone is the dry skin I was plagued with before and in its place, happier, healthier skin. I only use this once daily, but it feels darn good.
…
What Did You Love In February?
…
Curious about other things I've loved? Check out my other potlucks:
2014: October | November| December
2015: January | February | March | May | June | July | August | September | November | December
2016: January | February |March | April | May | June | July | August | September | October | November | December
2017: January | February | March | April | May | June | July | August | September | October | November | December
2018: January | February | March | April | May | June | July | August | September | October | November | December
2019: January | February/March | April | August