The Potluck: January 2020
Continuing the monthly tradition, The Speckled Palate's The Potluck: January 2020 includes a few seasonal clothing items, a cookbook, a TV show and more.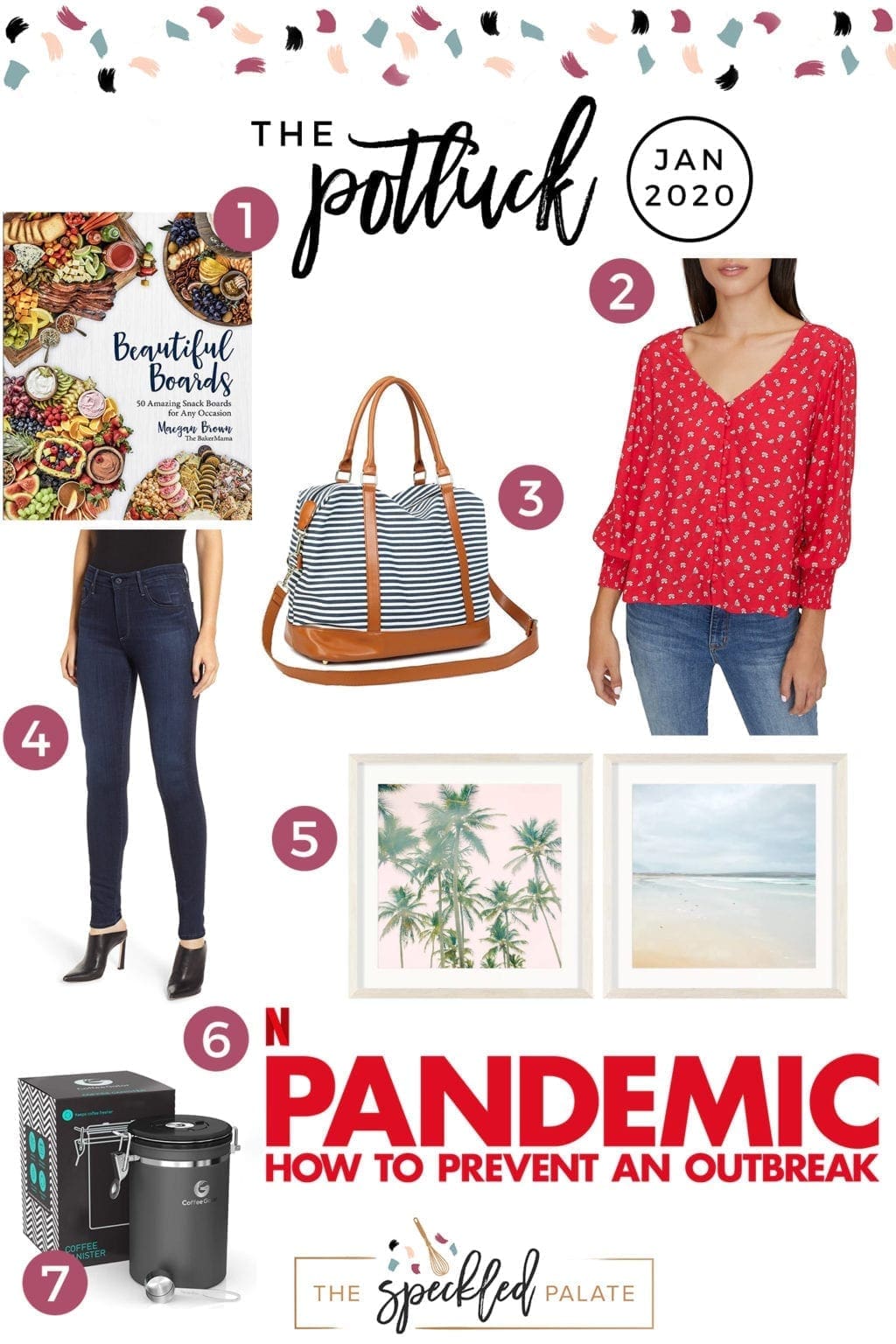 Real talk: I'm notably terrible at writing these here potlucks for y'all because, well, I have a hard time keeping all my thoughts and all the things together. But I really enjoy these posts because they say a lot about what my life was looking like during a month, so I want to keep doing them.
Some awesome things about January:
Extended time with our families and more celebrations.
Getting back into routines after the winter break
Lots of time playing with friends (and making time for myself to relax, whether it meant a face mask at home or brunch with friends)
Some not-so-awesome things about January:
Our older one had the flu and strep throat… at the same time. Luckily, they were fast and furious, but it was still scary.
I had a doctor's appointment with basically every doctor imaginable, giving me less time to work when both girls were in school. (This is the first world-iest problem ever, I'm aware.)
To recap, my potluck, as defined by the folks at Merriam-Webster is:
the regular meal available to a guest for whom no special preparations have been made… a communal meal to which people bring food to share —usually used attributively <a potluck supper>; whatever is offered or available in given circumstances or at a given time.
Ready to learn some of the things I loved in January? Let's do this potluck thing again!
The Potluck: January 2020
Continuing the monthly tradition, The Speckled Palate's The Potluck: January 2020 includes a few seasonal clothing items, a cookbook, a TV show and more.
Disclaimer: The links below are affiliate links. If you click through and take action, I will receive a small commission. Please refer to my disclosure page for more information about the affiliate programs The Speckled Palate participates in.
My sweet friend, Maegan, released this cookbook last fall, and we have been LOVING it. Specifically, we've been loving the inspiration it's given us for making snack boards after my older one's school days. Also, who doesn't adore a board full of snacks and goodness?
I'm not much of a shopper. Y'all should know this. But when I was shopping for a dress for a destination wedding earlier this month, I happened upon this top, and I just could not help myself. It's as cute on a regular sized-person as it is on the model shown here, and I have worn it to various gatherings since it makes me feel fancy. 😉
A canvas bag that can be used for a weekend bag OR a computer bag when you're traveling? Oh yes! I love the look of this blue-and-white striped bag and how functional it is. Previously, my computer bag was a massive tote that was gifted to me for my high school graduation, so this is a major upgrade for me. Also, how cute is it?
In the past, I've never been the person who invests in "fancy jeans," but here we are. My post-two-children body is different than the one I used to have, and I had a really hard time this winter finding a pair of jeans that fit well and continued fitting as I continued wearing them. These skinny jeans have fit the bill, and I love them. So much so that I've basically worn them every day since they were purchased, and I just had to share them with y'all today.
I purchased this large scale art for our younger one's bedroom last year. Why am I sharing this now? Because I still love this beachy art and the peacefulness it gives me whenever we're in her room. I have a thing for the ocean and beaches, even though I haven't visited in years, and seeing these images in her room makes me so incredibly happy. Also, it gives me hope that our whole family will see the beach before too long...
Photo Credit: www.netflix.com
This Netflix docuseries was so interesting and a little scary, considering we're in the thick of flu season. Even though I'm not a medical or a science person, I find documentaries like this one so cool because I learn about something that could have an impact on me, as well as learn what our country and others are doing in the face of disease. And considering the coronavirus threat these days, it's a fascinating watch.
This Coffee Gator (which I pronounce a "gaaaaata" because I'm seriously obnoxious before I have my coffee in the morning) is a new gadget we've been loving recently. We like to purchase the locally roasted coffee from our grocery store most of the time, and this makes storing it a breeze and significantly less messy. (Since we've accidentally burst the bags we fill this coffee in.)
2014: October | November| December
2015: January | February | March | May | June | July | August | September | November | December
2016: January | February |March | April | May | June | July | August | September | October | November | December
2017: January | February | March | April | May | June | July | August | September | October | November | December
2018: January | February | March | April | May | June | July | August | September | October | November | December
2019: January | February/March | April | August