It's somehow already June, and Lady A and I have been having adventures so far this month. But before we get too far into the month of June, let's take a look back at all the things we liked during May. Because May, while crazy busy and wild, was an amazing month!
To recap, my potluck, as defined by the folks at Merriam-Webster is:
the regular meal available to a guest for whom no special preparations have been made… a communal meal to which people bring food to share —usually used attributively <a potluck supper>; whatever is offered or available in given circumstances or at a given time.
Around the end of every month, I write up a list of my (current) favorite things. While this list might not be a traditional "meal," I hope to bring some unique products/entertainment/links/etc. that I've recently loved in the hopes that y'all will enjoy them, too.
Here are some of my favorites from May: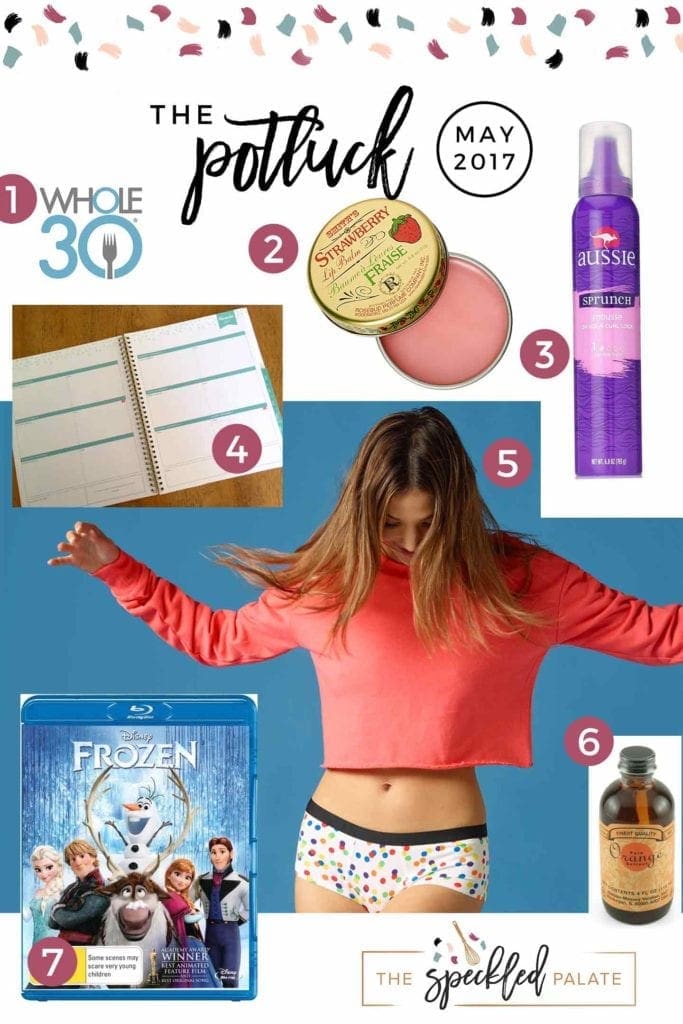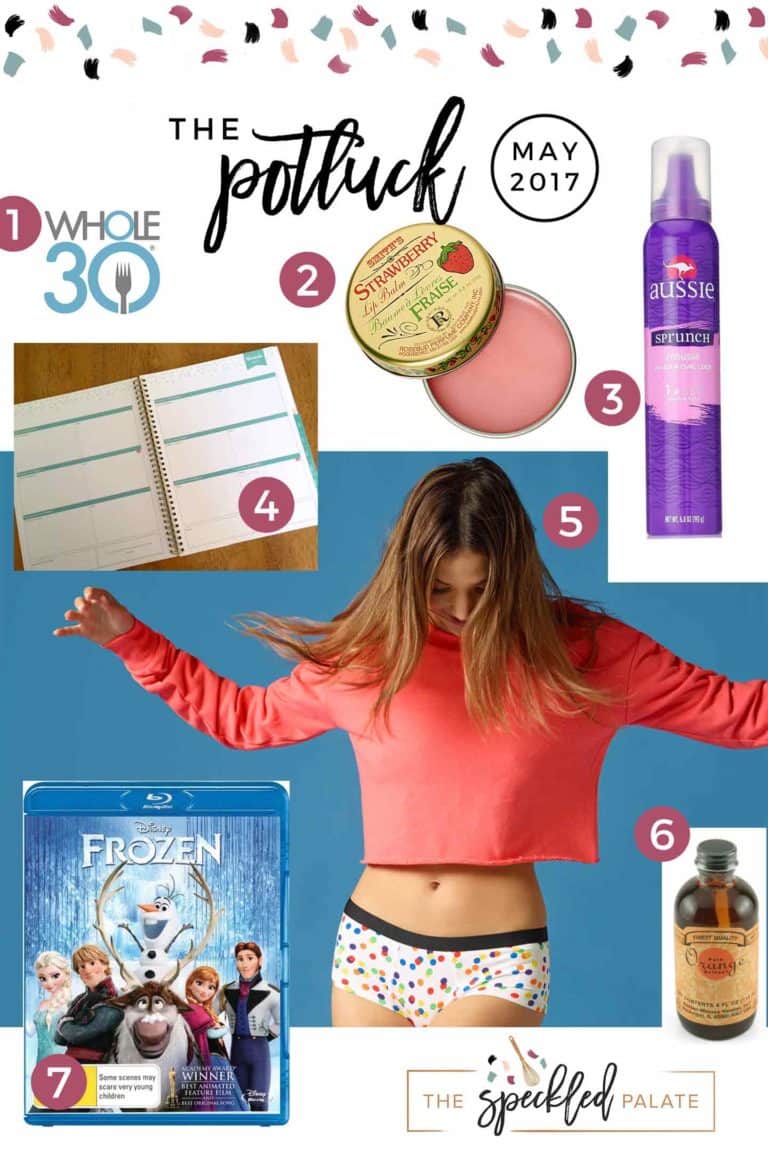 This post contains affiliate links. If you were to make a purchase through one, I would receive a small commission. For more information about the affiliate programs The Speckled Palate participates in, please refer to my disclosure page.
1. Whole30: We did it! And it wasn't nearly as impossible as we thought it was going to be. No, it wasn't easy, but yes, with some planning and organization, we succeeded! Pro tip: Breakfast casseroles are a lifesaver. And having all kinds of fruit chopped and ready is essential, too.
2. Rosebud Strawberry Lip Balm: For whatever reason, my lips have been so dry, so this lip balm has come in handy. Not only is it super effective, but it tastes and smells good, too. Win!
3. Aussie Sprunch Mousse 24 Hour Curl Lock: I chopped off my hair earlier this month, and it's shoulder-length now. Because of this, I have been using this Sprunch Mousse daily to help my curls curl right on up and be happy without being crunchy. I've loved this product for years, and since I can no longer really pull my hair up, it comes in handy.
4. A New Planner: I'm trying to do a better job about organization these days and trying to work ahead for The Speckled Palate… but in order to keep myself in line, I decided a planner was a must. And this weekly/monthly planner offers me a daily look, as well as spots for a to-do list! Brilliant! I am so pumped for the end of June so I can get started.
5. MeUndies: I know I've recommended these before and I still feel weird about mentioning them now… but honestly, y'all. The cotton is the softest. They are so comfy. And some proceeds from this month's Celebrate Undies are going to the Los Angeles LGBT Center!
6. Nielsen-Massey Pure Orange Extract: A bottle of this extract was in my swag bag at the Mediavine Conference in April. I brought it home and have used it in several baked goods already. Orange bread and muffins? Oh yeah! And this Orange Bourbon Beer Cocktail from my friend, Jenny? Amazing!
7. Frozen: We watched this movie for the first time two weeks ago… and most of the songs have been stuck in my head ever since. Not only did I find it enjoyable, but Lady A was enthralled, especially with Sven the reindeer. The plot is solid. The story is a love story, but it brings something different to the table than the cartoons of our youth, and I really enjoyed that about it.
…
What Did You Love In May?
…
Curious about other things I've loved? Check out my other potlucks:
2014: October | November| December
2015: January | February | March | May | June | July | August | September | November | December
2016: January | February |March | April | May | June | July | August | September | October | November | December
2017: January | February | March | April | May | June | July | August | September | October | November | December
2018: January | February | March | April | May | June | July | August | September | October | November | December
2019: January | February/March | April | August