Continuing the monthly tradition, The Speckled Palate's The Potluck: June 2020 includes summer shirts, a TV show, beauty items and more. Come check out my list and tell me what was on yours for the month of June.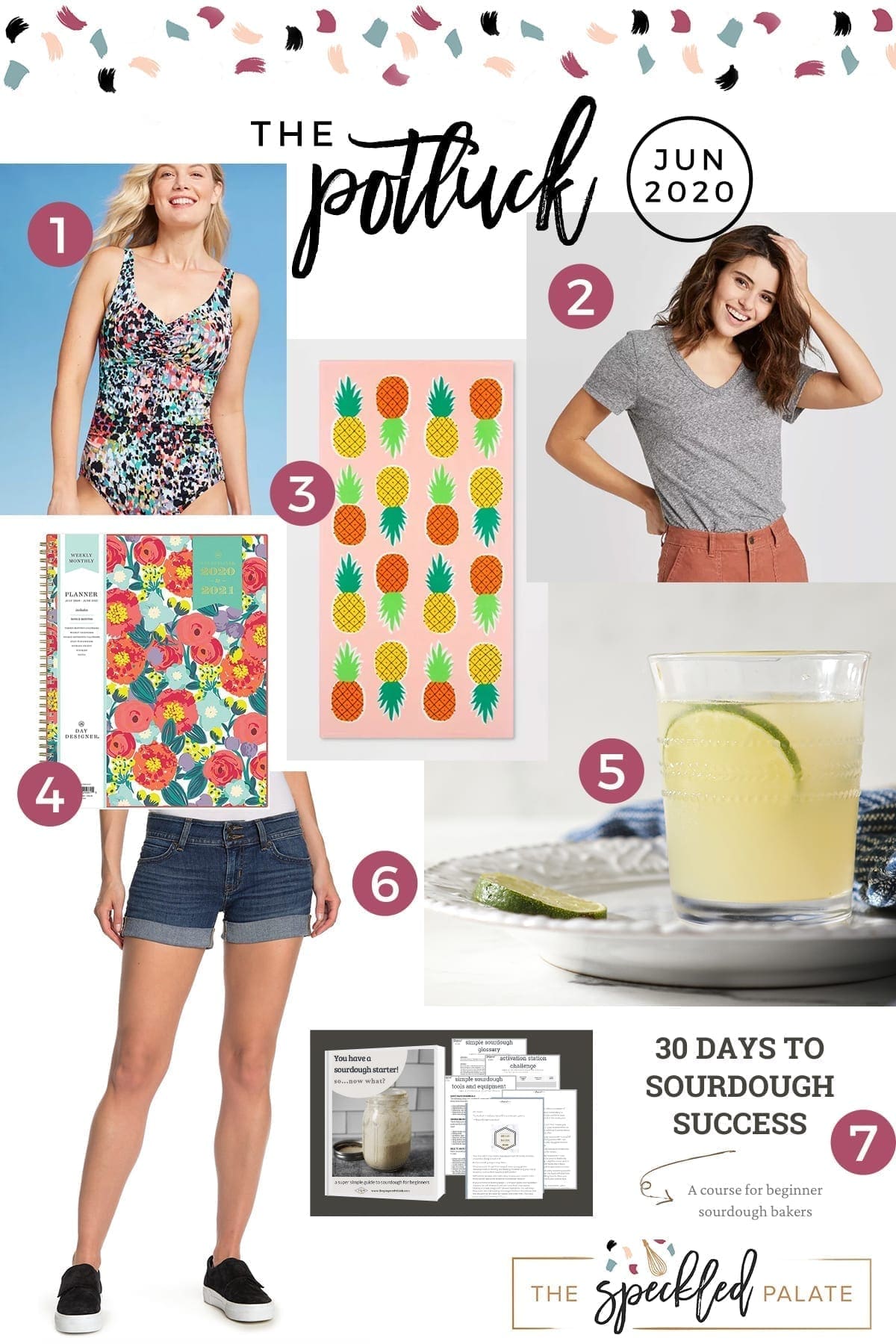 Just like May, June feels like it was a million years long and also a million years ago.
Time in the time of "the sickness," as our older one calls it, is strange.
The month of June was like a gut punch, to be honest. My eyes were (finally, finally, FINALLY) forced open to systemic racism that I've benefitted from for my entire life. And I'm now striving to do the work of unlearning and teaching my girls so that they can help as we dismantle it.
Again—I know I am unbelievably privileged to be able to educate myself about racism instead of experiencing it—and I don't view this as self-improvement work. It's something we all must do because it's necessary, it's right. Also, it's past time we fixed this.
So, once again, I wanted to share something I've found immensely helpful, what I'm calling a learning list. (And this month's learning list is one item.) This is not a part of my monthly Potluck list, and it's up here first because it's the most important.
The Antiracism Daily: This daily newsletter dives deep into so many issues and does more than just investigate various issues. (And I say this as someone who freaking loves anything that dives deep.) It offers action items, too. I love waking up to this in my inbox and try to read it first thing every day. (You can support Nicole Cardoza and her team on Patreon or sign up for a corporate subscription!)
Obviously, I'll continue talking and sharing more resources as I find, absorb and put them into action in the coming months. 🙂
Also, let me stress that this isn't an exhaustive list. And it probably won't ever be, but I want to use this platform to share and help others, so if it helps you, fabulous!
Now let's talk about this monthly love list…
To recap, my potluck, as defined by the folks at Merriam-Webster is:
the regular meal available to a guest for whom no special preparations have been made… a communal meal to which people bring food to share —usually used attributively <a potluck supper>; whatever is offered or available in given circumstances or at a given time.
Now who's ready to see what ended up on my list for June 2020?!?
The Potluck: June 2020
Continuing the monthly tradition, The Speckled Palate's The Potluck: June 2020 includes summery clothing items, a weekly planner, a drink and more. Come check out my list and tell me what was on yours for the month of June.
Disclaimer: The links below are affiliate links. If you click through and take action, I will receive a small commission. Please refer to my disclosure page for more information about the affiliate programs The Speckled Palate participates in.
Photo Credit: www.target.com
Finding a swimsuit has always been a challenge for me, but even more so ever since we had kids because the shape of my body has changed a bit, and I'm even more top heavy than before. This tie front one piece is super colorful and flattering! There was enough fabric to cover both my cleavage and my behind, and I felt cute... which is really the most important thing!
Photo Credit: www.target.com
I'm a sucker for a classic T-shirt, and this summer, I've purchased this shirt in basically every color. (Except white. Because nobody needs to see pit stains or try to stain treat a white shirt. I've tried and failed one too many times, haha.) They're comfortable and cute and lightweight enough that I don't feel like I'm covered in sweat when I wear them outdoors.
Photo Credit: www.target.com
In preparation for June's swim lessons, I purchased this towel and another Frozen-centric one for my girls because I realized that the only beach towels we had in our house were from before my husband and I got married... ten years ago. These fun towels added some pizzazz to our daily routine, and the girls adore the colors.
Photo Credit: www.amazon.com
I've had a Day Designer for Blue Sky for a few years now, and I love my weekly planner breakdown. Why? Every day, I have boxes that I can fill in and then check off as I complete items on my to-do list. I also love the cover of this planner, too!
These beauties became a family favorite during the month of June because you can't beat a good frozen drink! Also, something about the freezer brings out the spice of the ginger, and it's absolutely perfect when mixed with lime juice and vodka. I meaaaaaaaan... how could it not be?
Photo Credit: www.nordstromrack.co
I got these shorts last summer, and I've been living in them since the weather got warm enough. And for good reason--they're cute and they're comfortable and go with basically everything in my wardrobe. I've been thinking about getting myself a pair in another color, so the real question is: do I go for the black shorts or the grey ones?
Photo Credit: thegingeredwhisk.com
Back in April, I began the journey of being a sourdough starter owner (mom?) at the encouragement of a neighbor who was doing the same thing, and since then, our sourdough starter, Penelope, has truly become a fun part of every day! My friend, Jenni, has 60+ sourdough recipes on her site and put together a sourdough course for people like me, who have no earthly idea of what they're doing. This course has been educational and fun and has pushed me out of my comfort zone with baking... and led to some really tasty successes! If you're a sourdough newbie, too, I highly suggest checking this course out.
2014: October | November| December
2015: January | February | March | May | June | July | August |
September | November | December
2016: January | February | March | April | May | June | July | August |
September | October | November | December
2017: January | February | March | April | May | June | July | August |
September | October | November | December
2018: January | February | March | April | May | June | July | August |
September | October | November | December
2019: January | February/March | April | August
2020: January | February | March | April | May | June | July/August | September | October | November | December
2021: January | April | May | July | August | September | October | November/December