The Potluck: February 2020
Continuing the monthly tradition, The Speckled Palate's The Potluck: February 2020 includes a fancy dress, a pair of shoes, a TV show and more. Come check out my list and tell me what was on yours in February.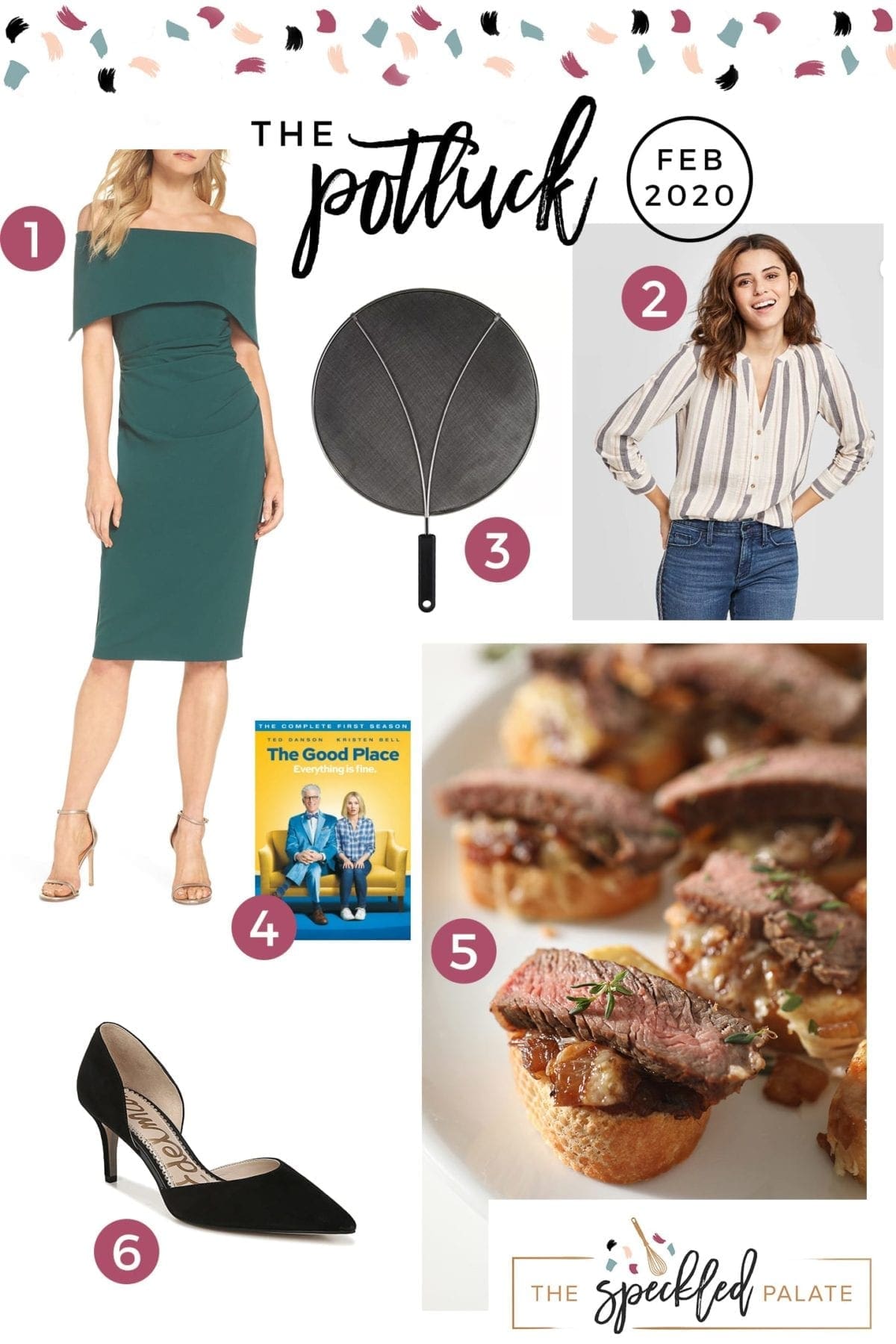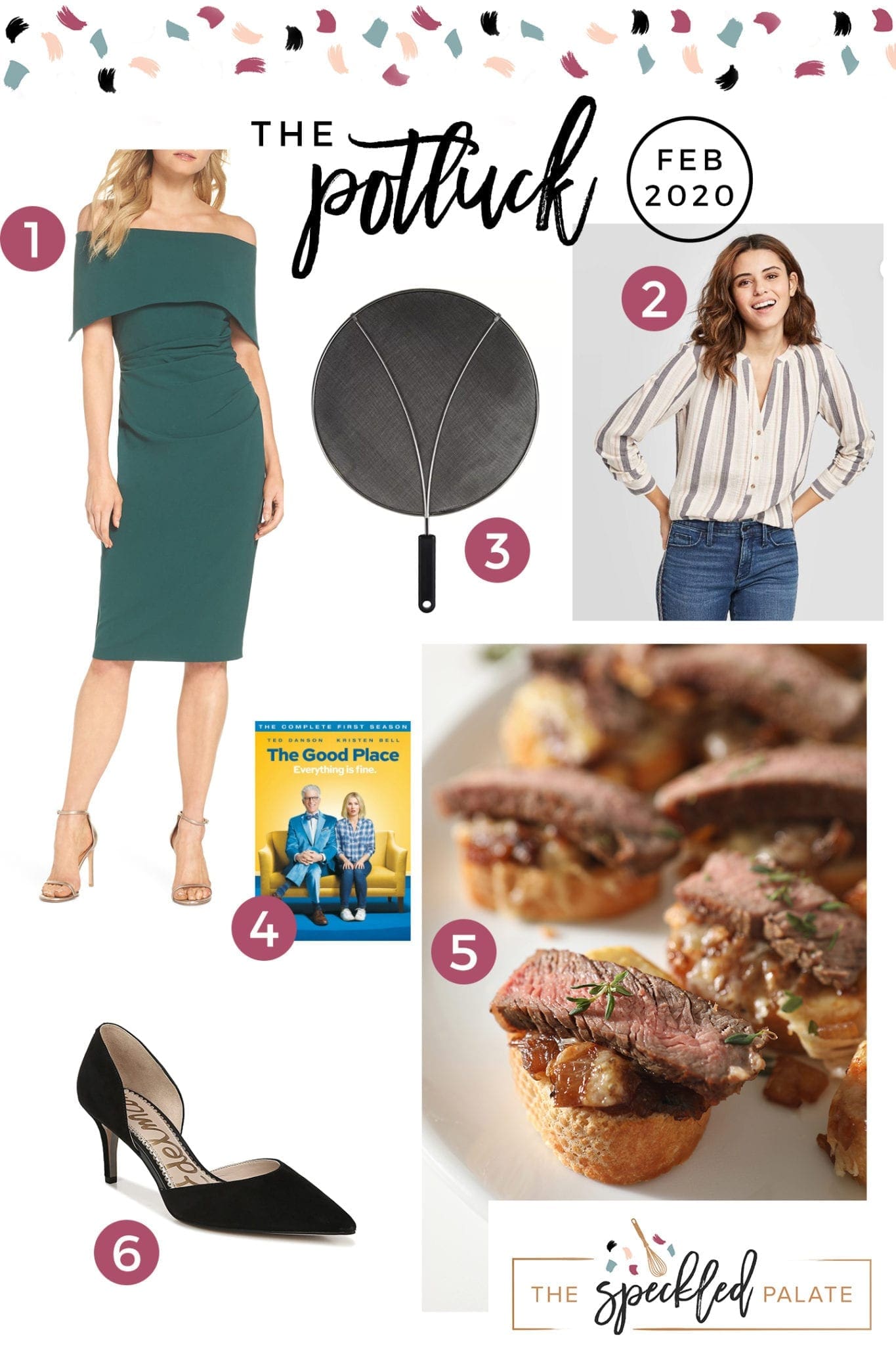 I'm squeaking in juuuuuuuuuust in time to get this Potluck up. I know. But I think we can all agree that the month of March has been unexpected and like something we've never experienced in our lives.
Before we close the door on February, though, I'd really like to take a look back at all the good things we did, experienced and shared.
Some highlights were…
Traveling to San Miguel de Allende to celebrate two friends and their wedding. We had a fabulous time–from the wedding guest gatherings to catching up with old friends to exploring the city and experiencing San Miguel. We took a cooking class and did a tequila tasting while there, too. It was magical, and I cannot wait to go back.
A ladies night dinner. I'm fortunate enough to have several good friends, and some of them and I carved out an evening in February to get together and have a "fancy" dinner. We ate at City Hall Bistro here in Dallas, and it was a dream.
We celebrated "Fat Sunday" (instead of Fat Tuesday) with friends and ate shrimp and grits, as well as a giant king cake that my sister-in-law left in our freezer.
To recap, my potluck, as defined by the folks at Merriam-Webster is:
the regular meal available to a guest for whom no special preparations have been made… a communal meal to which people bring food to share —usually used attributively <a potluck supper>; whatever is offered or available in given circumstances or at a given time.
Ready to learn some of the things I loved in February? Let's do this potluck thing again!
The Potluck: February 2020
Continuing the monthly tradition, The Speckled Palate's The Potluck: February 2020 includes a fancy dress, a pair of shoes, a TV show and more.
Disclaimer: The links below are affiliate links. If you click through and take action, I will receive a small commission. Please refer to my disclosure page for more information about the affiliate programs The Speckled Palate participates in.
Photo Credit: www.nordstrom.com
I wore this dress to the San Miguel wedding, and I received so many compliments on it that evening. I love the green color because it's something I don't have a ton of in my closet. It's comfortable for dancing, too, so that's a win!
Photo Credit: www.target.com
A flowy, comfortable shirt for everyday use? YUP. I love this blouse that I snagged at Target and have been wearing it with jeans and shorts ever since. The sleeves roll up super easily, too, so that makes it more versatile for different weather.
Photo Credit: www.target.com
It's going to sound silly that I've really dug a SPLATTER SCREEN for pots and pans on the stovetop, but honestly, it's the little things, y'all. This has kept my stovetop so much cleaner in the month and a half that I've owned it, and I just love that it's making my life easier.
Photo Credit: www.nbc.com
I started watching this show around the beginning of the month, and I have loved laughing along with it as Eleanor and her friends figure out the afterlife. While I haven't made it completely through the show, it has been a lighthearted delight. And I think we can all agree that's something we could all use these days.
Who doesn't love a little fancy bite every once in a while? This festive bruschetta has become a favorite of ours, and I made it several times in February as a celebration of flavors to share with my husband and our children. If you're into French Onion flavors, you absolutely need to check this finger food out!
Photo Credit: www.nordstrom.com
Normally, I'm not a heels person. (Let's call it the work-from-home, momming life. It's definitely not the they-hurt-my-feet situation.) However, I purchased these beautiful suede pumps before we headed down to Mexico in preparation because the vast majority of my heels are from college. I was surprised by how comfortable these were. Even though I didn't wear them for the duration of the wedding and reception (because we did hike it across town after the ceremony), I love them and look forward to wearing them again for another event soon.
2014: October | November| December
2015: January | February | March | May | June | July | August | September | November |
December
2016: January | February |March | April | May | June | July | August | September |
October | November | December
2017: January | February | March | April | May | June | July | August | September |
October | November | December
2018: January | February | March | April | May | June | July | August | September |
October | November | December
2019: January | February/March | April | August