Continuing the monthly tradition, The Speckled Palate's The Potluck: March 2020 includes a few pairs of shoes, beauty items, a TV show and more. Come check out my list and tell me what was on yours for the month of March.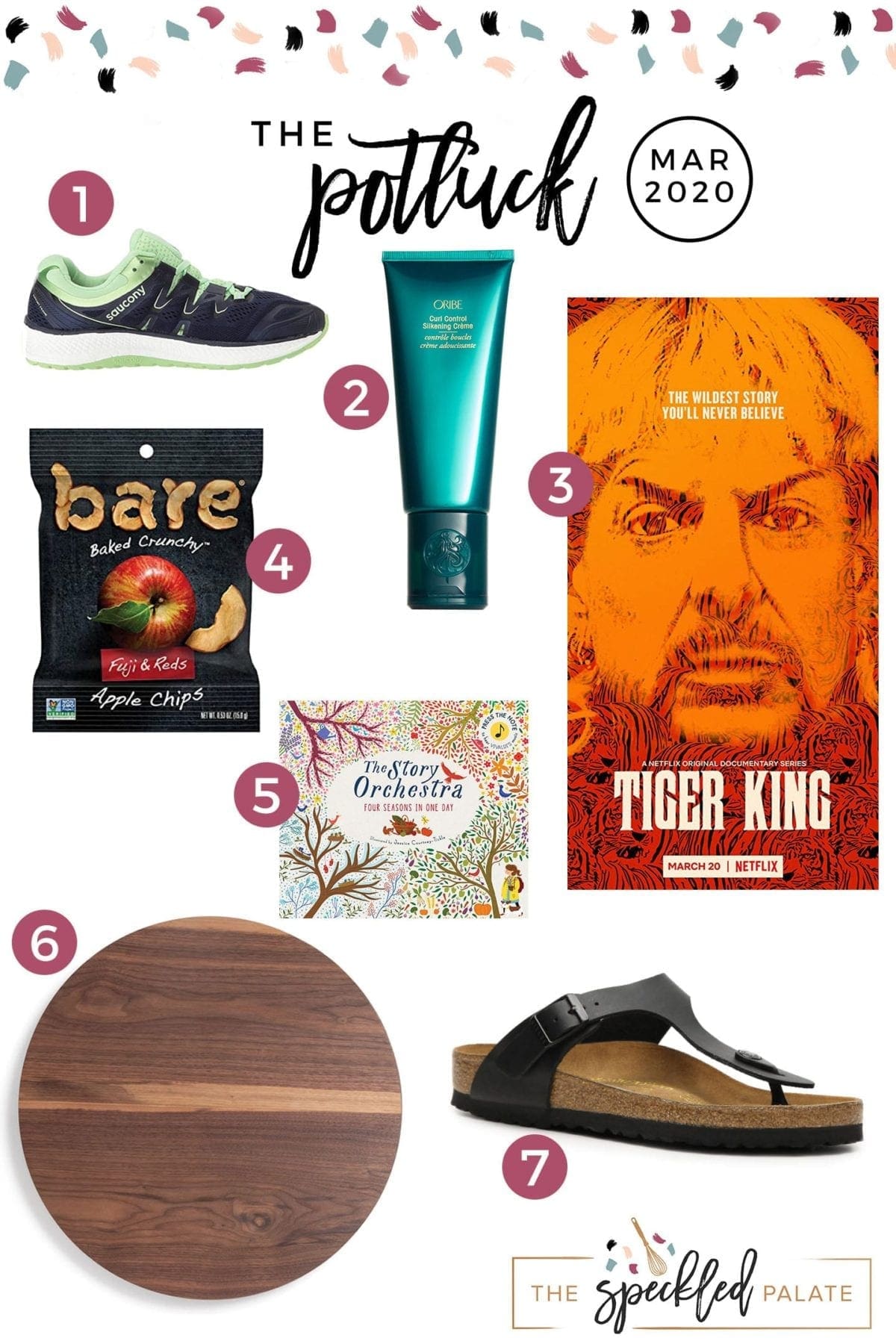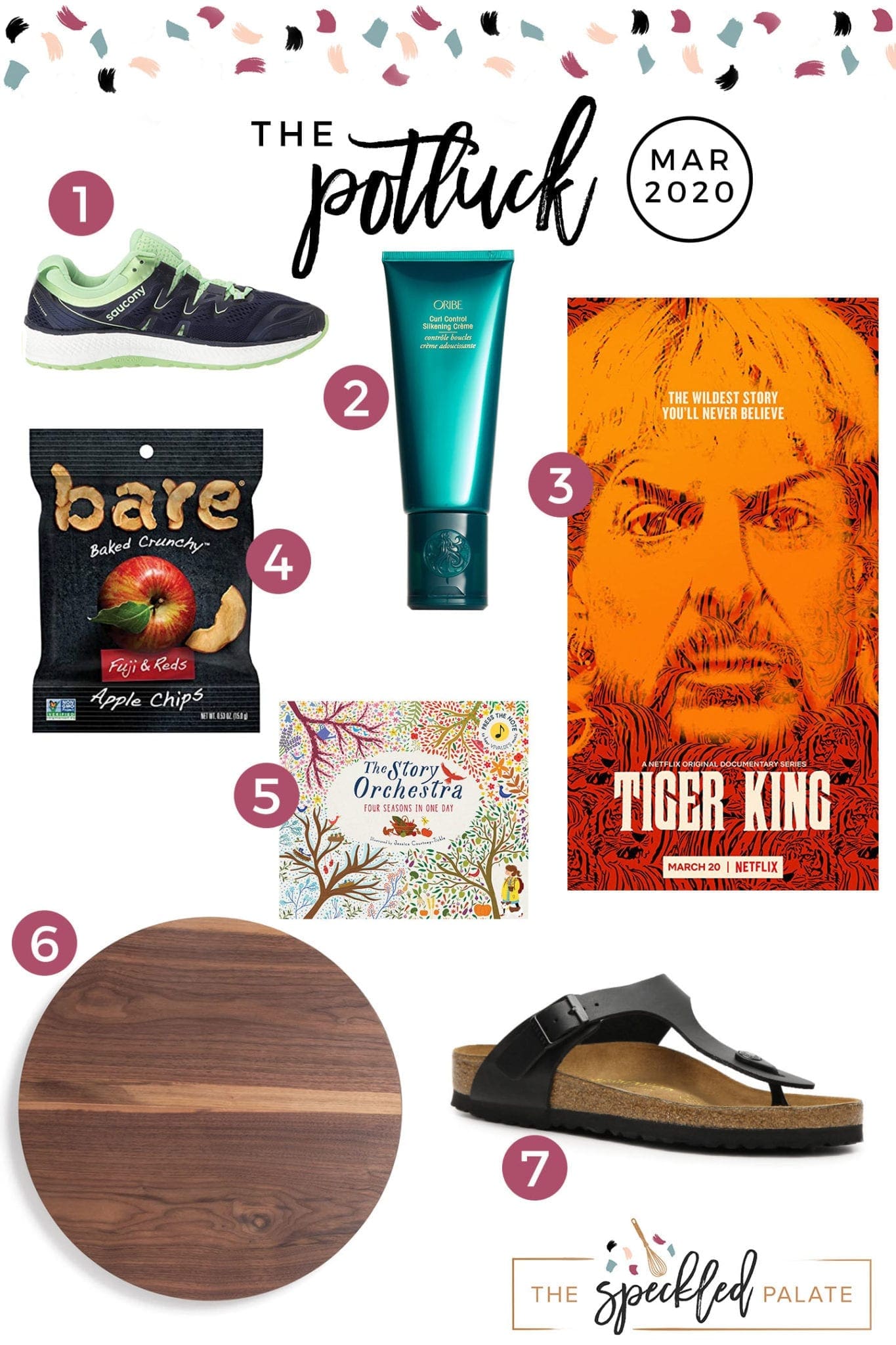 Man. March. Maaaaaaaaaaarch. Otherwise known as the second longest month of the year.
Worldwide events made March one of the more interesting months in recent memory, though not in a good way. We began sheltering-in-place officially the week after spring break, but since we didn't go anywhere or do anything during spring break, we kicked off the fun early and have been staying home ever since.
There were some bright points in March, though. Here are a few:
We celebrated said 5-year-old's fifth birthday by throwing a joint party with one of her sweet school friends. It was SO MUCH FUN, and there were ponies, a bounce house and all the outdoor things to do. We also consumed our traditional Chocolate Chip Cookie Bars AND the prettiest unicorn layer cake, decorated by her friend's grandmother.
My mom and her husband came to celebrate A's birthday, which was amazing. It was also the weekend before everything started to hit the fan here in the U.S., which was fortunate since we haven't been able to see any family members since.
We've been getting outside a TON, walking and riding our bikes. We even pulled out the wagon a few days AND blew up an inflatable watermelon pool that was purchased last year but never used. I'm all for finding things for us to do while we aren't cooped up indoors.
So. You know, it's not all bad, though March 2020 will definitely go down in history as one of the strangest months we've ever experienced.
To recap, my potluck, as defined by the folks at Merriam-Webster is:
the regular meal available to a guest for whom no special preparations have been made… a communal meal to which people bring food to share —usually used attributively <a potluck supper>; whatever is offered or available in given circumstances or at a given time.
Ready to learn some of the things I loved in March? Let's do this potluck thing again!
The Potluck: March 2020
Continuing the monthly tradition, The Speckled Palate's The Potluck: March 2020 includes shoes, some easy entertaining items and more.
Disclaimer: The links below are affiliate links. If you click through and take action, I will receive a small commission. Please refer to my disclosure page for more information about the affiliate programs The Speckled Palate participates in.
Photo Credit: https://www.zappos.com/
My previous pair of running shoes were purchased in mid-2017, meaning they were well before my second pregnancy and during a time in which I was training for a half marathon. In short, they had a LOT of miles on them and were le tired.
I retired those shoes in March and replaced them with a newer, souped up version of what they were. And these truly make me feel like I'm walking on air, which is a good thing since we've been walking daily since we began sheltering in place.
Photo Credit: www.dermstore.com
I last saw my hair stylist in February, and I walked away from my cut with a big 'ol container of this Oribe Curl Creme after Chantal used it and made my curls look AMAZING.
My curls are looking so happy these days, thanks to this creme paired with my regular mousse and using the method where I basically step out of the water and immediately massage the curl creme into my hair. It makes all the difference, and I've gotten a lot of compliments while FaceTiming. 😉
Photo Credit: www.netflix.com
At the recommendation of a friend, we hopped on the Tiger King bandwagon mid-month, and we could NOT stop watching this heartbreaking trainwreck of a docu-series. We're not really television bingers these days (we tend to read books at night instead of watching shows), but we finished this in a week.
Have you seen it, too? What did you think?
Also, did you need to use the subtitles to understand what certain people were saying? Inquiring minds want to know (because said inquiring minds could understand the accents...)
Photo Credit: www.amazon.com
My kids are snack monsters these days, and when I saw the writing on the wall about sheltering-in-place here in Dallas, I ordered a TON of snacks in the hopes that my kids would like some of them.
Well, these apple chips were the clear winners, and we've officially added them to our Amazon monthly subscription because the girls (and I!) loved 'em.
Photo Credit: www.amazon.com
We're big readers in our house, and my kids ADORE these Story Orchestra books because you click a button to hear the songs. The Four Seasons in One Day is especially enchanting for us because they get to hear music that their mama used to know how to play once upon a time. (I played the violin for 14-ish years. FUN FACT!)
The stories are lovely, too, and it's so much fun to stop and read them with both girls, who love to hear them and the music paired together.
Photo Credit: https://boardsbythebakermama.com
I ordered this GIANT cheese board just before our daughter's 5th birthday, hoping it would arrive in time for us to make a giant fruit and veggie rainbow board. Well, it arrived, and it is stunning!
The Baker Mama is one of my friends here in Dallas (and her cookbook is amazing), and I just love supporting her business. Also, if you like to entertain, a 20" wooden board like this one is a must-have!
Photo Credit: https://www.birkenstock.com/us
Chances are, if you see me between the months of March and October, these sandals will be on my feet. My Birks have been my go-to since I spent a summer abroad in Italy, and I've gone through three pairs since.
I love them because they are so comfortable once you break them in and they go with basically anything. Also, you can still move relatively well while wearing these sandals, which means you can chase down an errant toddler if need be.
2014: October | November| December
2015: January | February | March | May | June | July | August |
September | November | December
2016: January | February | March | April | May | June | July | August |
September | October | November | December
2017: January | February | March | April | May | June | July | August |
September | October | November | December
2018: January | February | March | April | May | June | July | August |
September | October | November | December
2019: January | February/March | April | August
2020: January | February | March | April | May | June | July/August | September | October | November | December
2021: January | April | May | July | August | September | October | November/December