The Potluck: January 2021
Continuing the monthly tradition, The Speckled Palate's The Potluck: January 2021 includes new kitchen must-haves, a book, a drink and more. Come see my love list and tell me what was on yours for January.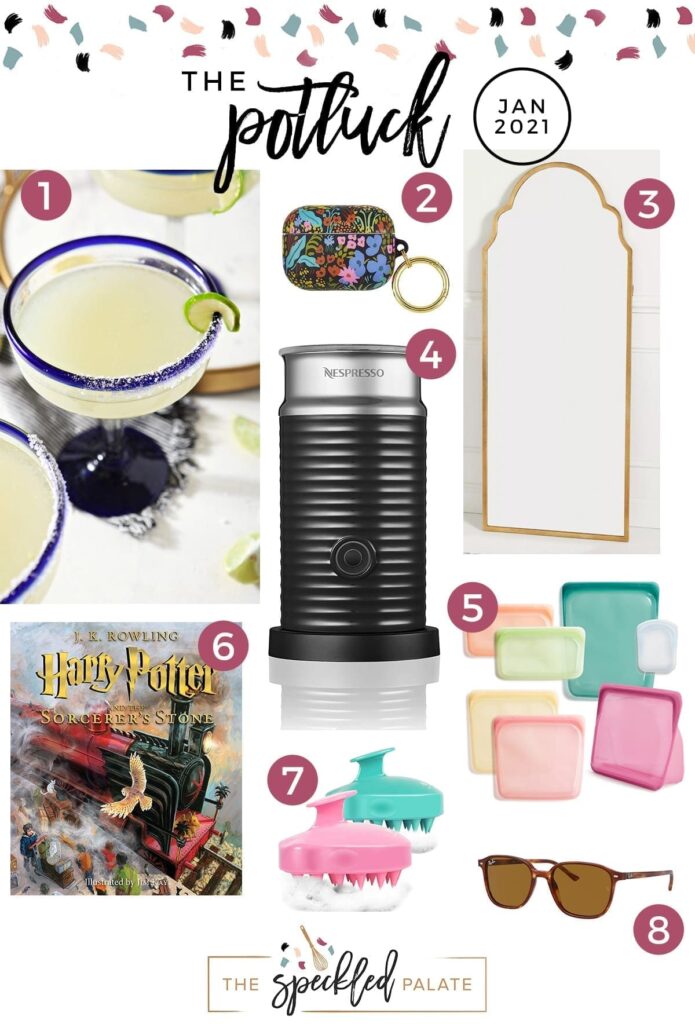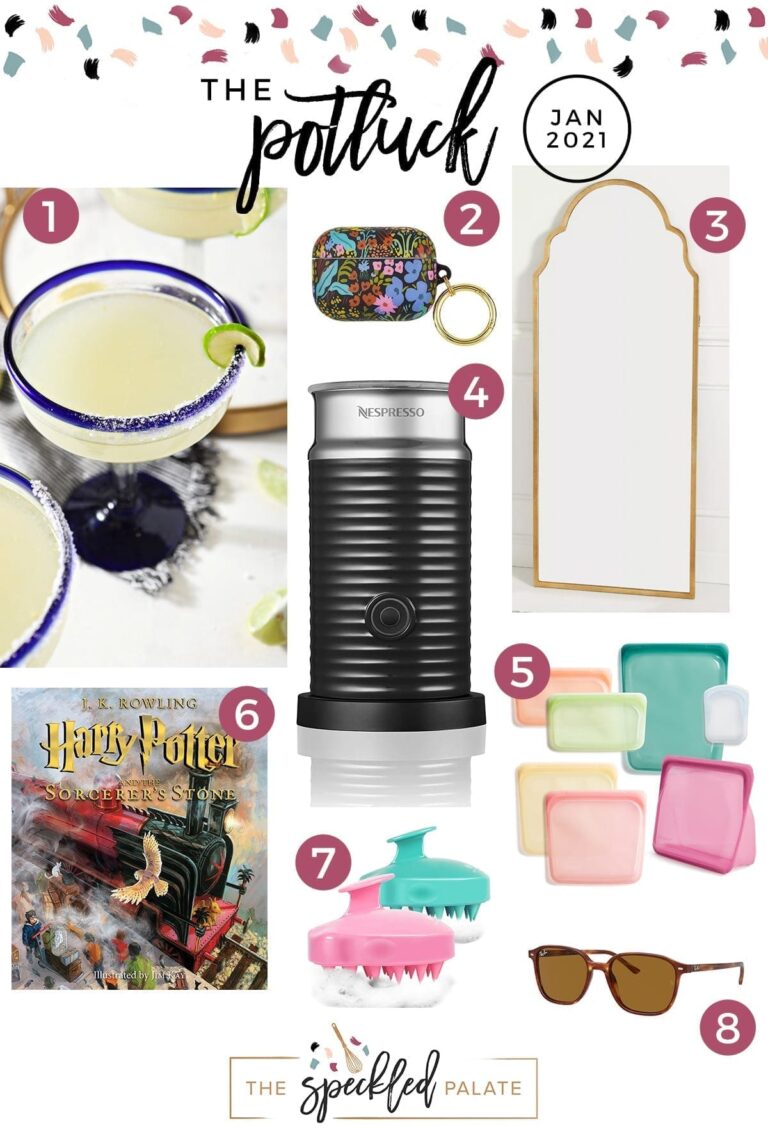 Wow. 2021 started off hopeful, and then we got smacked in the face a few days in.
It almost feels like we take a few steps forward and then fall even more steps behind, and that it's a constant thing.
I feel like the biggest news event was the insurrection at the Capitol, where rioters attempted to overthrow the government because they didn't agree with the results of a free and fair election. (Let's be clear: This isn't how democracy works. Every person involved, including government officials, needs to be prosecuted.)
And that, of course, was followed by the Inauguration, which was a huge highlight.
In addition to these news events, we got back into our usual routine, which was nice after the holiday break. Our girls have been scootering like nobody's business, and we spend a ton of time outside in the playhouse they got for Christmas.
Let's talk January highlights:
I don't know about you, but I was really happy to say, "Good riddance" to 2020, even though I knew 2021 was going to be a lot of the same, especially on the pandemic front.
Here are some happy things that happened in January:
The Inauguration. Quite honestly, this felt like a breath of fresh air, though it was quite harrowing up until it took place. The ceremony itself was beautiful, and the moments of inclusivity (including the signing of the Pledge of Allegiance as it was spoken) brought tears to my eyes. I think we can all agree that Amanda Gorman reading "The Hill We Climb" was breathtaking. So was watching Kamala Harris being sworn into office as the first woman vice president.
I fell down the curl rabbit hole, thanks to my friend Aline, and it has been so much fun figuring out my hair, curl pattern and how to wear it more than once before needing to pull it into a ponytail/bun situation until I wash it again. (Spoiler alert: If you've got curls and aren't sleeping with your hair in a pineapple, fix that!)
We're making a concerted effort to eat more fruits and veggies. This is something we try every January, but I feel like we're being a lot more intentional about it. We've made a lot of Whole30-friendly meals, even though we're not doing a Whole30, and have really enjoyed them. Some of our favorites include Hibachi-Style Chicken with Magic Mustard Sauce, Sweet and Sour Chicken Meatballs and Creamy Tuscan Garlic Salmon.
Let's talk January action items:
After the insurrection at the Capitol, my husband and I stayed up talking about what we can do to help ensure this never happens again.
The one thing I keep coming back to is accountability. And electing leaders who believe there's a problem to begin with.
In order to make changes to things like systemic racism, policing, etc., we need to have people in office recognize the problem. That's our first step. (And God knows there will be lots of steps. I have no clue how we fix these so many of these problems that have been present since this country was founded on stolen land.)
So, with that in mind, my action items for the month are:
Find a way to get involved locally with elections. While I don't know if this will involve campaigning for candidates whose platforms I agree with, working to get voters registered or helping at the polls, I think focusing on my city is where I should begin.
Continue speaking out. I recognize I have an immense amount of privilege. I want to continue to use my voice and my platform to make a positive change.
Continue learning. Now, more than ever, is a time to educate ourselves. The Insurrection should've been a wakeup call to everyone, and the education piece is so important. As Maya Angelou said, "I did then what I knew how to do. Now that I know better, I do better."
What are your action items of the month?
Now Let's Talk About This Monthly Love List…
To recap, my potluck, as defined by the folks at Merriam-Webster is:
the regular meal available to a guest for whom no special preparations have been made… a communal meal to which people bring food to share —usually used attributively ; whatever is offered and available in given circumstances or at a given time.
Now who's ready to see what ended up on my list for January 2021?!?
The Speckled Palate participates in affiliate programs. As an Amazon Associate, I earn a commission from qualifying purchases. Please refer to my disclosure page for more information about these affiliate programs.
[show_shopthepost_widget id="4353184″]
The Potluck: January 2021
Continuing the monthly tradition, The Speckled Palate's The Potluck: January 2021 includes new kitchen must-haves, a book, a drink and more. Come see my list and tell me what was on yours for January.
Disclaimer: The links below are affiliate links. If you click through and take action, I will receive a small commission. Please refer to my disclosure page. for more information about the affiliate programs The Speckled Palate participates in.
You might've heard, but I've had some bad experiences with margaritas. But since 2021 is the year of the margarita, I'm trying to lean in and also make better decisions when it comes to this tequila drink. I've found that using high-quality ingredients certainly helps, and this classic margarita recipe is beautifully balanced. If you're in the mood for one, I highly recommend it!
Photo Credit: www.riflepaperco.com/
It's true: I am obsessed with Rifle Paper Co. and their patterns, and I won't apologize for it. My husband and I both got AirPods for Christmas, and we wanted a way to tell them apart, so we each got a case for ours. I love the colors of this Rifle Paper Co. protective case, and now, it's easy to tell mine apart from my husband's.
Photo Credit: www.anthropologie.com/
I ordered this for myself back in November, and it arrived mid-December. I am obsessed with the floor length bronze one we got, even though it has a crack in the mirror. While Anthro is going to be sending us a new one, we're enjoying this one in our bedroom. It's really nice because this is the only floor length mirror we have in the entire house, and it's nice to be able to see full outfits again.
Photo Credit: www.target.com
This was another Christmas list item, and ever since it arrived, I've been making frothy milk every morning to go in my coffee. For the past few years, my husband has purchased me various coffee items for our "coffee bar" at home, and this is the final piece of it. My current favorite thing to froth is NutPods Oat Creamer.
Photo Credit: www.amazon.com
In an effort to cut down on single use plastics in our household, we got these bags. And y'all, they are magic! You can store all kinds of things in them, heat them or even freeze them. I've got some black eyed peas in the freezer in one and have stashed snacks in another to bring along with us for afternoon carpool and the inevitable wait we always have with it. If you're looking to get rid of plastic bags in your life, I highly recommend giving these a try!
Photo Credit: www.amazon.com
Santa brought this for the girls, and we have really enjoyed reading it, as well as looking at the beautiful illustrations. In fact, we're on our second read-through and read a little of it every night before we put the girls in bed because they both love it.
Photo Credit: www.amazon.com
This is one of the things I started using this month to assist my scalp and curls be happier. And every member of my family is loving this scalp massager, haha. I use it whenever I shampoo my hair (so 2-3 times a week tops), and it makes my scalp feel so good.
Photo Credit: www.ray-ban.com/
My old Ray Ban sunglasses are a mess. (They've been crushed by an over exuberant 2-year-old more than once, and their lenses have a lot of weird scratches on them, probably from the same child.) I added these beauts to my Christmas list in the hopes that new sunglasses would be in my future, and let me tell y'all: I am loving them. From the color to the shape to the feel, they're fabulous!
2014: October | November| December
2015: January | February | March | May | June | July | August |
September | November | December
2016: January | February | March | April | May | June | July | August |
September | October | November | December
2017: January | February | March | April | May | June | July | August |
September | October | November | December
2018: January | February | March | April | May | June | July | August |
September | October | November | December
2019: January | February/March | April | August
2020: January | February | March | April | May | June | July/August | September | October | November | December
2021: January | April | May | July | August | September | October | November/December