The Potluck: December 2020
Continuing the monthly tradition, The Speckled Palate's The Potluck: December 2020 includes some new technology and music, as well as recipes for sharing. Come see what's on my list for December, and tell me yours, too!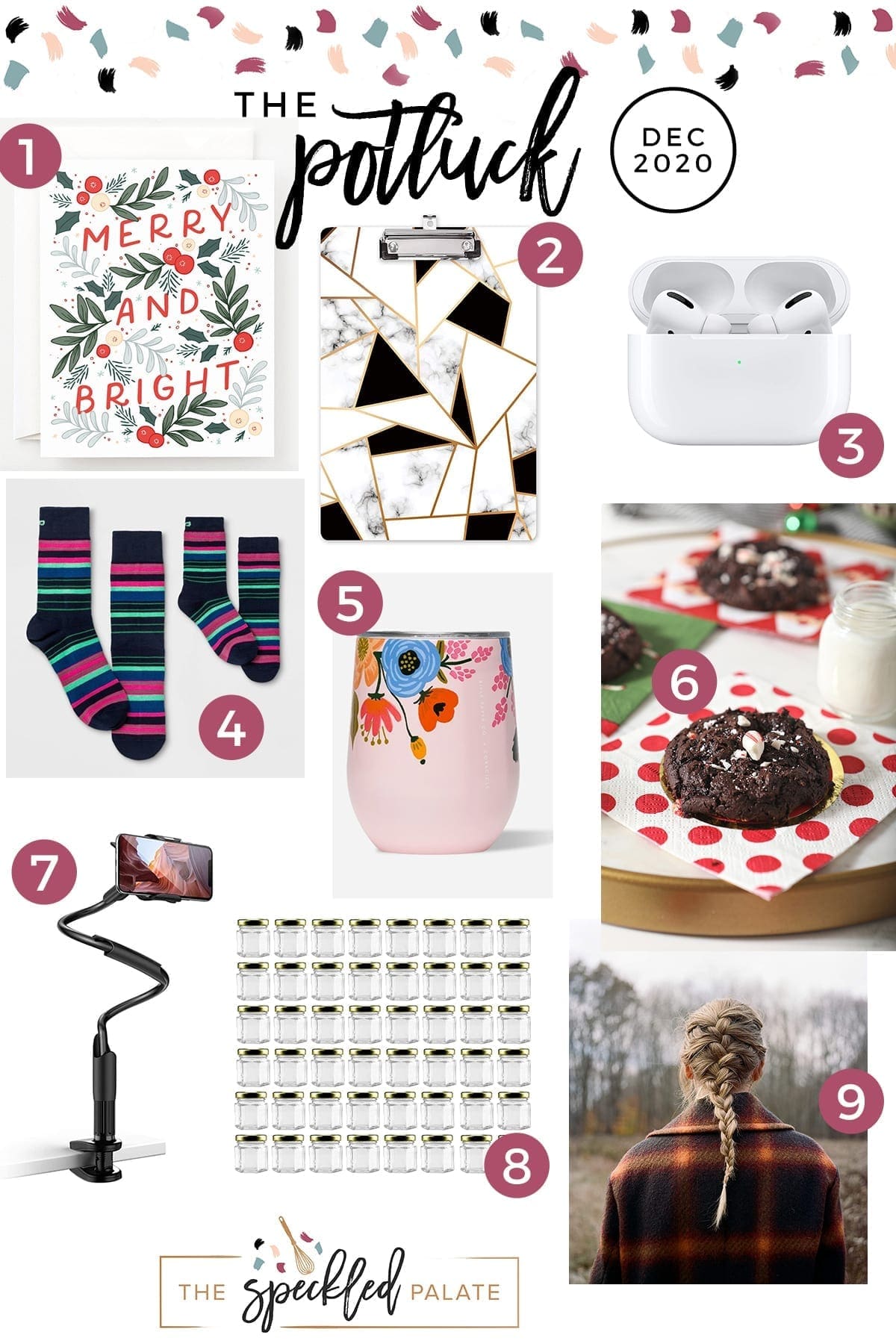 This month, like so many months in 2020, has had its fair share of ups and downs. Mostly because while there has been great joy, it's also been tempered with disappointment and sadness.
In a normal year, we host our families—my mom and her husband, my dad and his wife, and my husband's parents (and sometimes his sister, too!)—during the holiday break between Christmas and New Year's. Friends have joked that we run a bed and breakfast this time of year because we typically have grandparents clamoring to come visit and spend time with us.
This year, that didn't happen. We didn't see our families for Christmas. We're seeing no one for New Year's. And we're not hosting our annual gumbo party because, well, there's still a pandemic happening.
Not all is lost, though.
Let's talk December highlights:
My little sister, who is a traveling nurse and frontline worker, drove through Dallas this month and stopped to say hello. While we couldn't give her hugs (and still wore masks as we stood outside in the cold), it was so lovely to see her face. We spent 45 minutes chatting before she headed on her way.
We still shared cookies with our friends. While this year's sharing was a little different, we made it happen with the people who were OK with homebaked goodies. We served Dark Chocolate Peanut Butter Blossom Cookies, Greek Yogurt Cut Out Sugar Cookies, Potato Chip Cookies and Gingerbread Cookies.
Our girls have been playing together pretty much nonstop, and it's terribly cute. Also, we've been spending so much time outdoors since the weather has been lovely.
So many of our frontline worker friends and family members have received the COVID vaccine. I feel a glimmer of hope that maaaaaaaaybe life will look more "normal" come this time next year.
Now, let's talk about this monthly love list…
To recap, my potluck, as defined by the folks at Merriam-Webster is:
the regular meal available to a guest for whom no special preparations have been made… a communal meal to which people bring food to share —usually used attributively ; whatever is offered and available in given circumstances or at a given time.
Now who's ready to see what ended up on my list for November 2020?!?
The Speckled Palate participates in affiliate programs. As an Amazon Associate, I earn a commission from qualifying purchases. Please refer to my disclosure page for more information about these affiliate programs.
[show_shopthepost_widget id="4322502″]
The Potluck: December 2020
Continuing the monthly tradition, The Speckled Palate's The Potluck: December 2020 includes some new technology and music, as well as recipes for sharing. Come see what's on my list for December!
Disclaimer: The links below are affiliate links. If you click through and take action, I will receive a small commission. Please refer to my disclosure page. for more information about the affiliate programs The Speckled Palate participates in.
Photo Credit: https://www.etsy.com/shop/PhoebeAndJune
These cards were so beautiful and perfect for dropping our families' Christmas presents into. While we didn't celebrate with family this year, it was nice to send them something in the mail and to send a card to pretty. If you're into paper products like I am, you'll be pleased with the quality of this paper, as well as the print.
Photo Credit: www.amazon.com
I got two of this clipboard for my office because I needed a better way to track what I'm working on, as well as what I'm working toward. They're currently hanging on the wall in my office closet and I *love* them. I also hope they'll keep me on course for 2021 and all my work goals, too!
Photo Credit: www.amazon.com
I'm so late to the AirPods game, y'all. I'm also late to the having-a-phone-that-isn't-from-5-years-ago game, too, and my goodness, what a change it is. I upgraded from an iPhone 6s (circa 2015) to an iPhone 12 Pro a few days ago, and all I can say is WOW. I also love the wireless headphone situation so far, though I'm nervous that one of my girls is going to make off with my AirPods, never to be seen again. Hopefully, I can keep these for myself so I can continue listening to music and podcasts as I wash dishes.
Photo Credit: www.target.com
Santa has brought matching socks for my husband and our older one for years now... and our little one and I were added to this tradition last year. So the whole family now has matching socks, thanks to Santa and his elves!
Photo Credit: www.corksicle.com
I purchased several of these stemless Corksicle/Rifle Paper glasses because they were so cute and because I wanted to share them with friends. I also ordered an extra one for myself and my stocking (and got a regular one for my husband.) It seemed like a brilliant idea and turns out that it WAS because this glass keeps drinks cold or warm for as long as you need 'em to be.
We made these cookies the week before Christmas, and oh my word, y'all. I forgot how decadent and gooey these double chocolate cookies are! Studded with peppermint pieces, they're wonderfully decadent and all kinds of perfect for this month and season.
Photo Credit: www.amazon.com
OK, so this is for you photo nerds and Instagram aficionados out there. I had a phone holder before, but the combination of my phone and its case were too heavy for that, and it never stayed put. This one is sturdy as all get out, and the mount is one you screw onto a solid surface. If you're looking for a phone holder, I highly recommend this one.
Photo Credit: www.amazon.com
I purchased a pack of these glass jars to share homemade peppermint vodka with my friends this holiday season. Because in addition to baking cookies and sharing 'em, I decided we all needed some booze, too. And these jars were the perfect thing to transport the vodka in since they're each 1.5 oz.
Photo Credit: www.amazon.com
I'm not a Swiftie... or whatever Taylor Swift fans call themselves... but I just might become one because of this album. Typically, I'm not into super poppy or popular music. But goodness gracious, I have fallen in love with this album this past month. My three favorites are "'Tis the Damn Season" (because I love a sad song), "Marjorie" and "Ivy." Also, "No Body No Crime" is so damn catchy, too, that I can't help but sing it every time it comes on.
2014: October | November| December
2015: January | February | March | May | June | July | August |
September | November | December
2016: January | February | March | April | May | June | July | August |
September | October | November | December
2017: January | February | March | April | May | June | July | August |
September | October | November | December
2018: January | February | March | April | May | June | July | August |
September | October | November | December
2019: January | February/March | April | August
2020: January | February | March | April | May | June | July/August | September | October | November | December
2021: January | April | May | July | August | September | October | November/December