Continuing the monthly tradition, The Speckled Palate's The Potluck: April 2021 includes a new favorite cocktail (and a glass), clothing recs, a book and more. Come see my love list and tell me what was on yours for April.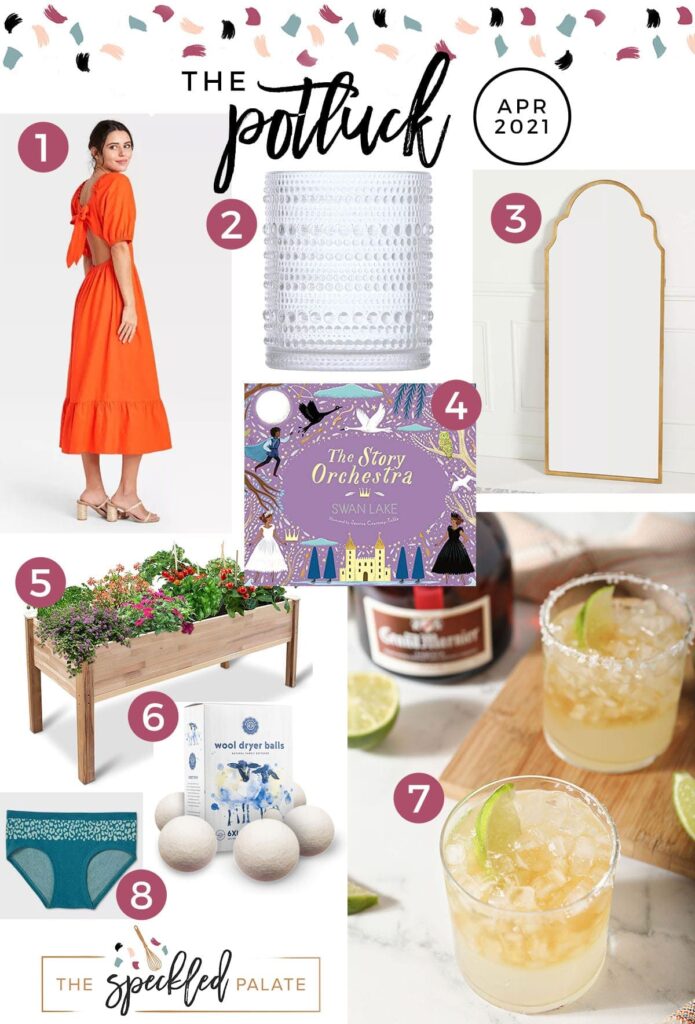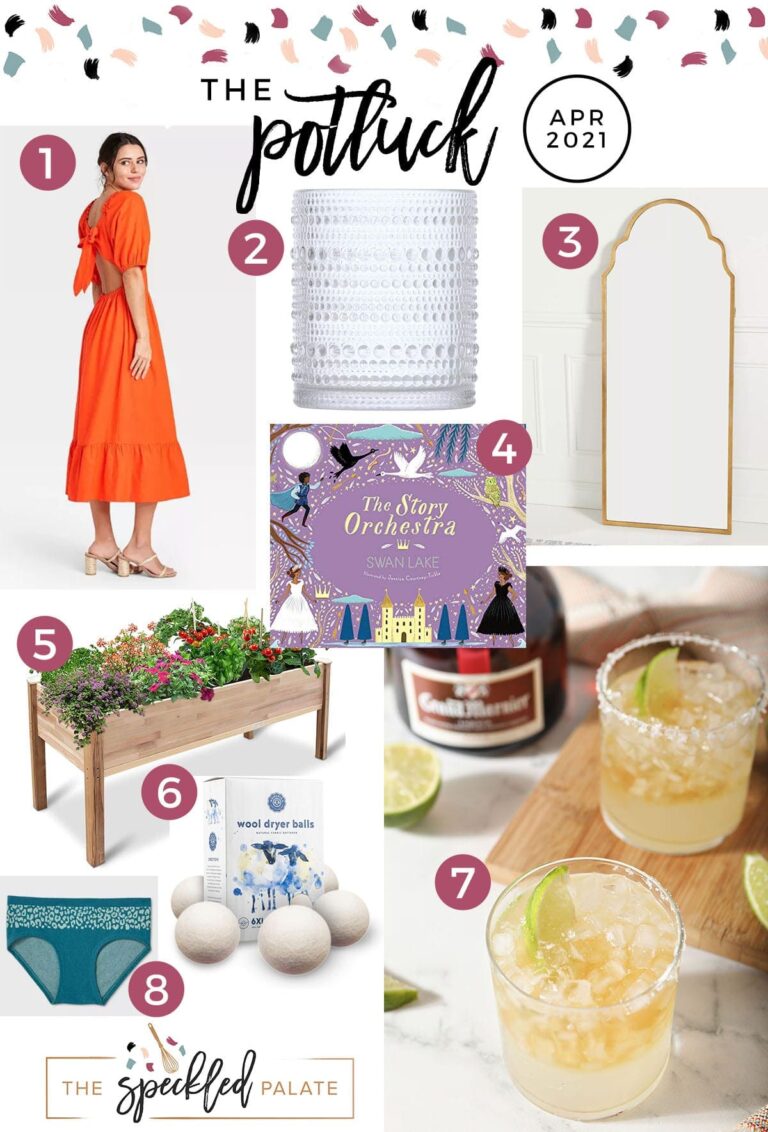 April, like many months this year, has had super high ups and downs.
Personally, it's been a good month for us. Nationally, there's been shining hope and heartbreak.
I guess we could go ahead and summarize all the months are like this now, but I feel like it needs to be noted.
Let's talk April highlights:
It was a good month for us. Not only did we get back into our routine after Daylight Savings Time and spring break, but we found our feet, once again. (I feel like this is how things are constantly when you're a parent, haha.)
Here are some happy things that happened for us in April:
Vaccines! I got my first shot at the end of last month, and I got my second one yesterday! Honestly, I am thrilled that I was able to receive it so soon, especially since I thought we'd have to wait until this summer, at the earliest. While I might not be feeling the best today, I'm so appreciative of science and all the people who worked on these vaccines to roll them out safely to our country. Seriously. Science is amazing.
Reconnection. Because our family members have gotten vaccinated, too, we've been able to see more of them! In addition to seeing vaccinated grandparents last month, we got to see another set this month for Easter, and it was so much fun.
A new routine. I've always struggled getting out of bed, but I've made a concerted effort to do it this month. I've also been trying to start my day off with exercise. I joined the PowerZonePack's Spring Challenge, so that (and my team!) have been encouraging me to get up and moving. I really enjoy PowerZone training, too, because it reminds me of the tempo runs I lived for during marathon training so many years ago.
Let's talk April action items:
While there's been a lot of personal good happening for me this month, I'm aware that it hasn't been an excellent month for many. A lot of people are in pain. Our country (and world) have a LOT of issues to face, and none of them are pretty or easily solvable.
That doesn't mean we can't try, though, and I, for one, want to do my part.
Racial justice. The girls and I listened to the judge deliver the verdict of the Chauvin murder trial, and it felt like a turning point. However, this verdict doesn't mean our work is over, even if it felt like a victory in the moment. Quite honestly, it has just begun. Just this week, we've learned of more Black and brown people who were killed by police, including the teenager, Ma'Khia Bryant.
Environmental justice. Earth Day was last week. Like so many of my generation, I was led to believe that individuals recycling and reducing our carbon footprints would help lessen the climate crisis. Obviously, us doing our parts helps, but companies need to reduce their footprint, too. Because theirs is significantly larger than ours. You can get involved and find environmental organizations near you at 350.org.
Continue learning. As always, now is a time to educate ourselves and continue educating ourselves about all the issues we're faced with. I know what a privileged life I've led to get to learn about racism instead of live it. But I want to continue learning, gaining more knowledge and finding new ways to use my platform and privilege for the greater good.
What are your action items of the month?
Now Let's Talk About This Monthly Love List…
To recap, my potluck, as defined by the folks at Merriam-Webster is:
the regular meal available to a guest for whom no special preparations have been made… a communal meal to which people bring food to share —usually used attributively ; whatever is offered and available in given circumstances or at a given time.
Now who's ready to see what ended up on my list for April 2021?!?
The Speckled Palate participates in affiliate programs. As an Amazon Associate, I earn a commission from qualifying purchases. Please refer to my disclosure page for more information about these affiliate programs.
[show_shopthepost_widget id="4442999″]
The Potluck: April 2021
Disclaimer: The links below are affiliate links. If you click through and take action, I will receive a small commission. Please refer to my disclosure page. for more information about the affiliate programs The Speckled Palate participates in.
Photo Credit: www.target.com
Look. I don't really have anywhere to go just yet, but hope springs eternal, and this dress is CUTE! Not only that, but it's flattering and fits my curves! (Ladies who've got a larger chest, this is a good one and fits nicely without the rest of the dress looking awkward, too!)
Photo Credit: www.amazon.com
I am OBSESSED with how these glasses look and am pumped to be able to make all the cocktails in them. They're a good sturdy glass, too, so I don't have to worry that they'll shatter easily. (Did you see how I used them in my Mint Julep recipe?)
Photo Credit: www.anthropologie.com
IT IS FINALLY HERE! After a five-month wait, our gilded mirror arrived unbroken and looks absolutely fabulous in our bedroom. It's super exciting to finally have a full-length mirror again and I just love the look of this one.
Photo Credit: www.amazon.com
The Easter Bunny brought the girls this book, and we've all been loving it—the story, the music and the illustrations. If you have a kid who likes music, you've got to check out this series of books!
Photo Credit: www.amazon.com
We replaced a LOT of plants that died during our Snowmaggedden this month, and we decided to add a raised planter beside our home, too. This spot gets awesome afternoon light and is housing our tomatoes, peppers and a few herbs, too. Very excited to see how it works out and also pleased with how this looks (and how simple it was for my husband to construct.)
Photo Credit: www.amazon.com
After an unsuccessful attempt to make my own, I purchased these dryer balls, and so far, we are really liking them! We haven't added essential oils to them to make them have a scent (yet), but I like how our clothing are soft and less staticky, too!
Our Year of the Margarita is going strong, and my husband and I are wild about these Cadillac Margaritas, which are essentially top shelf margs. Come see the secret to them and why we love them as much as we do...
Photo Credit: www.target.com
It seems silly to link to underwear and to make a panty recommendation to y'all, but I've been on a hunt for underwear that works while I exercise. I've recently started a new biking program that is different than what I've done in the past, and I need something that's comfortable as all get out. These hipsters are exactly what I was looking for and I ended up purchasing five pairs because I liked them so much.
2014: October | November| December
2015: January | February | March | May | June | July | August |
September | November | December
2016: January | February | March | April | May | June | July | August |
September | October | November | December
2017: January | February | March | April | May | June | July | August |
September | October | November | December
2018: January | February | March | April | May | June | July | August |
September | October | November | December
2019: January | February/March | April | August
2020: January | February | March | April | May | June | July/August | September | October | November | December
2021: January | April | May | July | August | September | October | November/December